Warble Entertainment's
Ben The Caricaturist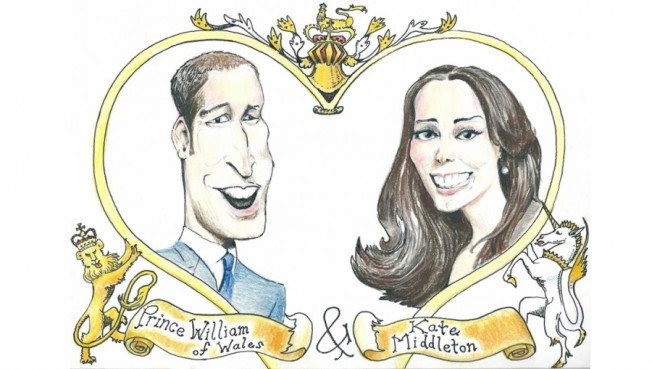 Location Birmingham
Starting from £184.00
Location Birmingham
Starting from £184.00
Introduction
Get a feel for them
Intro
Ben is an energetic and fun addition to your party. Weddings, work parties, black-tie events and street fairs, Ben has bumbled through all of these sketching partygoers to hilarious effect. With his pin-point accurate yet very silly caricatures, Ben is guaranteed to get your guests howling with laughter, blinking in disbelief!
13 reviews
Gallery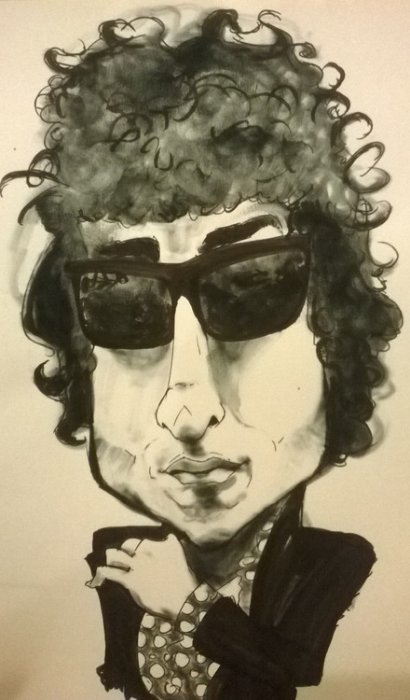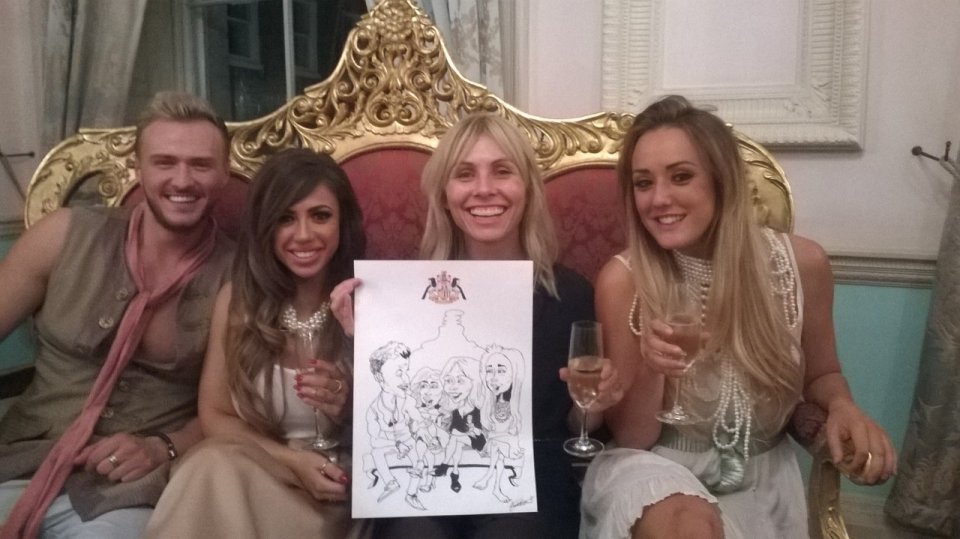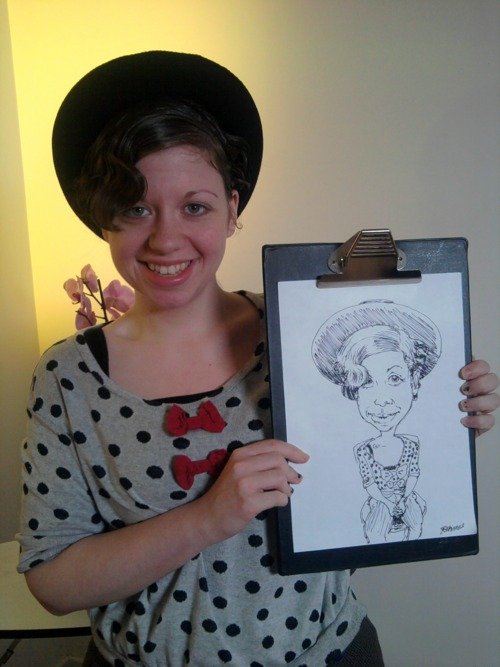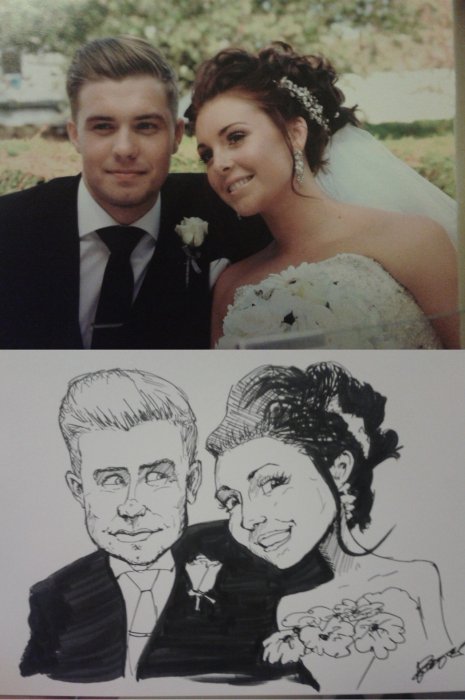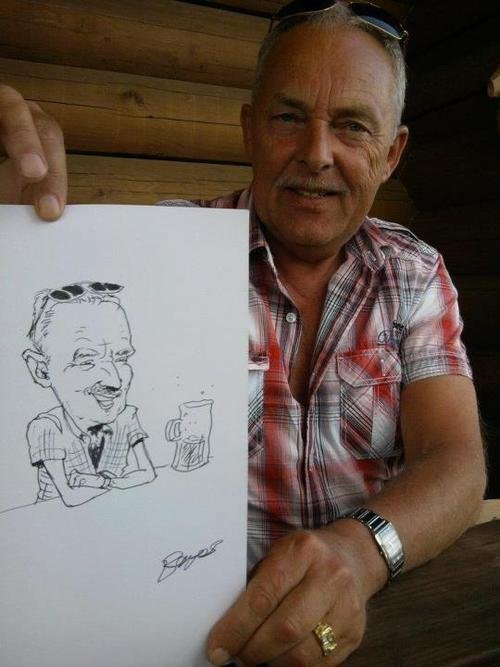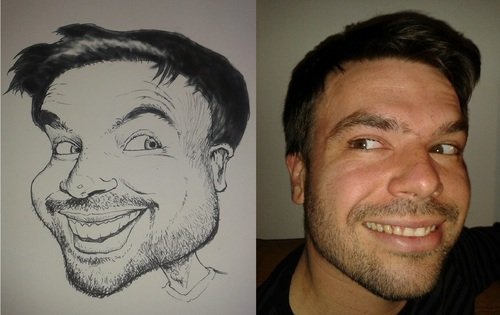 Ben The Caricaturist
Number of Reviews and Counting... 13!
Ben is a trained Wildlife Illustrator, now more adversed to capturing human wildlife at it's best, and has since leaving university cartooned for childrens books, poetry books and has earnt his chops caricaturing on the streets of London.
What defines Ben apart from other caricaturists is his speed and accuracy, and while some caricaturists will make you look like a human lollipop, his caricatures double as a good portrait.
But don't be fooled by the 'serious artiste' act, Ben is more often than not making silly faces to try and distract his subject, in fact he was recently voted the least straight-faced of all the caricaturists!
Ben also has a background working in children's entertainment, and so has successfully managed to caricature even the very young by means of distractions and funny noises. The epitome of this was when he rose to the challenge of drawing every single child at a nursery playgroup in 2 hours - not an easy task, they move!
Claire Strong

, Wedding Event, Isle of Wight
Ben was great at communicating before the event and when he turned up was friendly and punctual. He interacted well with all the guests and had lots of requests to draw people which he dealt with very well. Our guests loved the portraits and it was really worth it to have him entertain them during the drinks. Thank you very much.
---
Katy Selisko

, Wedding Event, Surrey
We are so pleased we booked Ben for our wedding, as he went down a treat with everyone. From the moment I met him on the day I knew he was going to be a hit.... As he introduced himself as "my cousin", which led to me panicking that I didn't know someone in my own family! If you are looking for entertainment for your wedding do not hesitate to book Ben, as not only are guests being entertained they get a souvenir to remember your day! Thank you Ben
---
Roxanne Shorey

, Private Party Event, Essex
Absolutely great, thank you! Really friendly and the pictures were fantastic.
---
Ross Carrington

, Wedding Event, Surrey
This guy was fantastic he was on time got round a lot did lots of pictures and kept all our guests entertained was well worth the money. Thank you Ben for adding that extra something to our wedding day... Mr & Mrs Carrington
---
Paula Lane

, Wedding Event, Cambridgeshire
Ben was fantastic. We had people queuing to be drawn by him. He managed to capture each persons personality accurately but in a fun way. We wouldn't hesitate in booking Ben again for any future functions. Brilliant.
---
Steven Duffett

, Birthday Party Event, Kent
Ben was absolutely fantastic. He was very quick with his drawing so managed to get through a decent number of people. His drawings were impressive and very funny. Thank you to both Ben and Warble for making our event very memorable! First class service throughout the process.
---
Colin Alsop

, Private Party Event, Cleveland
Absolutely Great Guy..... a true gent..... and fantastic with our guests..... was above and beyond our expectations.... we would highly recommend ..... please pass on our gratitude to Ben and we hope to hire him in the future too.... Thanks Colin & Tracey xxx
---
Julie Markham & Andy Moye

, Wedding Event, Cambridgeshire
Ben was excellent Andy and I were very happy that we booked him, all our guests LOVED their pictures! We would definitely book him again and recommend him to anyone.
---
Helen Gelbier

, Birthday Party Event, London
We were really pleased with Ben. Not only did he look well presented, but he was punctual, polite and drew amazingly accurate caricatures of the 12 year old children at my daughter's party. He kept them entertained the whole time and was very approachable. Prior to the event, he was in contact with me a couple of times to fine tune the details. Thank you for finding him for us.
---
Matt & Michelle Hasler

, Wedding Event, Essex
Ben was awesome and we couldn't asked for a nicer person to come and demonstrate their talents in the way Ben did! He was professional for the entire time he was with us and everyone and I mean everyone had a picture drawn at some point through the night! BOOK THIS MAN HE IS AWESOME!!!
---
Julia Riches

, Wedding Event, Essex
Ben was fantastic, he arrived on time and was very friendly and made everyone feel at ease on the day and of course the pictures were fantastic. I would definately recommend him to anyone in the furture. Kind regards, Julia Fagan
---
Vicky Brewer

, Wedding Event, London
Ben was brilliant people couldn't get enough of him and they really enjoyed getting their pictures drawn and some of them were really funny, thank you.
---
Rikki Brown

, Other Event, Hertfordshire
Very easy to book and very helpful and my guests loved the pictures. Ben was really nice and the day after the wedding people were asking us if we had our picture done. Was a great idea thank you so much 5*****
---
MTV
Eurostar
Help for Heroes
The Institute of Mechanical Engineers
Regent's College
Amp advertising
Videojug
Flor-Unikon
The Russell Hotel, Russell Square, London
How long does a caricature take? And how many can you do per hour?
My caricatures take approximately 5 minutes each, so I can produce roughly 12 per hour. If you'd like 'Fast Mode' however I can produce a sketchy, spritely caricature in 2 minutes so that at a push I can get 30 out in an hour. After that I need a glass of water!
What materials do you use?
Black Fineliner Pen and A4 pad, lightweight and compact, for the stealth caricaturist!
Can I request certain people drawn first?
The Bride/Groom or Birthday Girl/Boy always get first dibs if that's what they want, and some people need to be drawn quickly before they pass out(!). Other than that, I judge the order by how much someone grins at the prospect of being caricatured.
How do we collect our caricatures?
At a certain time at the end of the night I collect together all the caricatures I've made and display them on a table for guests to come an look at, laugh at and collect. This is also a fantastic photo opportunity.
Does my bum look big in this?
If you're asking if I'm kind, I'm generally a quite flattering caricaturist and will be more so if you ask me too. Alternatively I could be nastier if you ask me that too!
Do you mingle with the guests or stay in one spot?
Either, I can do whichever will suit you on the day
Ben can perform for anything up to 4 hours (longer with breaks) and is able to perform in all manner of climactic and atmospheric conditions. In other words, anything from a phone box to a stadium!
Please Note: The fees indicated below are approximate and based on a central location for each county. They are intended to provide a rough guide only and exact quotes can only be given once the date and exact location of your event have been provided.
Scotland
Aberdeen
£230.00
Inverness
£230.00
Perth
£230.00
Sutherland
£230.00
Ayrshire
£195.50
Fife
£195.50
Stirlingshire
£195.50
West Lothian
£195.50
Dumfries-shire
£195.50
East Lothian
£195.50
Lanarkshire
£195.50
Midlothian
£195.50
Glasgow
£195.50
Edinburgh
£195.50
Foreign Locations
Europe
£425.50
Rest of the world
£885.50
North East
Durham
£195.50
Northumberland
£195.50
North Yorkshire
£195.50
South Yorkshire
£195.50
Tyne and Wear
£195.50
West Yorkshire
£195.50
Yorkshire
£195.50
East Yorkshire
£195.50
Leeds
£195.50
North West
Cheshire
£195.50
Cumbria
£195.50
Manchester
£195.50
Lancashire
£195.50
Merseyside
£195.50
Liverpool
£195.50
East Midlands
Derbyshire
£195.50
Leicestershire
£195.50
Lincolnshire
£195.50
Northamptonshire
£195.50
Nottinghamshire
£195.50
Rutland
£195.50
East
Cambridgeshire
£195.50
Norfolk
£195.50
Suffolk
£195.50
Norwich
£195.50
Wales
Anglesey
£195.50
Caernarvonshire
£195.50
Denbigh
£195.50
Flint
£195.50
Cardigan
£195.50
Brecon
£195.50
Carmarthen
£195.50
Glamorgan
£195.50
Monmouth
£195.50
Pembroke
£195.50
Wrexham
£195.50
Cardiff
£195.50
West Midlands
Gloucestershire
£195.50
Herefordshire
£195.50
Shropshire
£195.50
Staffordshire
£195.50
Warwickshire
£195.50
Worcestershire
£195.50
Birmingham
£184.00
South East
Bedfordshire
£195.50
Berkshire
£195.50
Buckinghamshire
£195.50
East Sussex
£195.50
Essex
£195.50
Hampshire
£195.50
Hertfordshire
£195.50
Isle of Wight
£195.50
Kent
£195.50
Oxfordshire
£195.50
Surrey
£195.50
Sussex
£195.50
West Sussex
£195.50
London
£195.50
Middlesex
£195.50
South West
Cornwall
£195.50
Devon
£195.50
Dorset
£195.50
Somerset
£195.50
Wiltshire
£195.50
Bath
£195.50
Bristol
£195.50
You may also like
Customers who have enquired for Ben The Caricaturist have also been interested in the following Caricaturists who are also available in London and the South East. For more information or further options, please call 0845 643 9384.