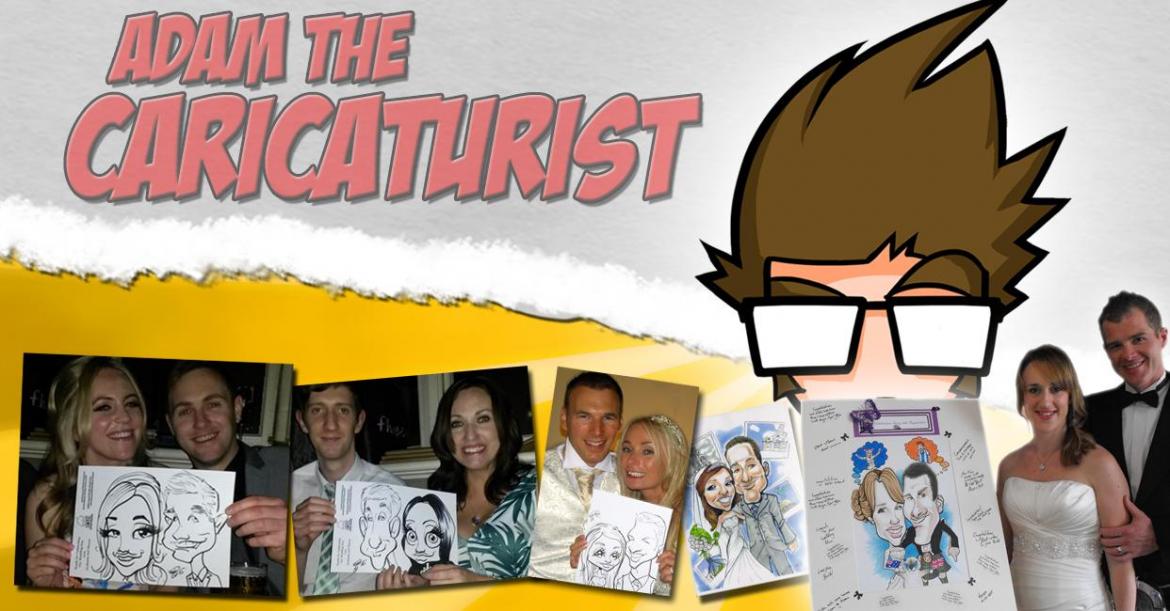 Location Cheshire
Starting from £300.00
Adam is an extremely talented caricaturist and cartoonist.

Adam has always had a passion for drawing. He has been a full-time Caricaturist and Illustrator since 2007 years and within this time he has produced first class artwork for numerous Private and Corporate Clients, such as; Audi, Manchester United and O2.
Adam provides fast and fun entertainment for Private Parties, Weddings and Corporate Events and he is able to produce approx. 40 Black and White outlined Caricatures per 2 hour block booking.
Number of Reviews and Counting... 7!
Adam is an extremely talented and young cartoonist who has always had a passion for drawing. Adam is a Professional Member of the National Caricaturist Network and a professional full-time caricaturist and cartoonist.
Adam offers the option of pre-printed headed A4 paper with your details on for the personal touch for a slighty extra charge for printing.
Adam is able to work sitting, standing, or mingling among the crowd and sketching them quickly. On average, Adam can produce between 40 to 42 drawings in a 2 hour block booking and is able to create amusing sketches of people or animals... in fact, anything!
From quick caricatures to studio work, Adam is able to provide a gift for all that is something very different.
Adam entertains at Corporate Events and Private Parties nationwide with live, amusing caricatures. His caricatures are also extremely popular at Weddings, Christenings, Birthdays and Retirements.Any event you want to have different entertainment.
In addition, Adam's caricatures and cartoons may be put to good use as an effective and fun way of advertising in the corporate zone. Adam will draw both group caricatures of staff members, and, a certain person such as the coordinator or managing director, incorporating the right background, to reflect the type of industry or product it is promoting.
His caricatures are known for entertaining large groups at trade shows and ensure that potential clients visiting the stand keep take away their own caricature, which will include the company's publicity on it. Ideal as a keepsake rather than throw away leaflets.
If you want an event with a difference, or, you are looking for something unique to entertain your guests for a few hours, then by hiring Adam you will have a brilliant caricaturist draw side-splitting cartoons of your guests. Which they can keep and will remember your event every time they see their caricature.
Emma Morris

, Wedding, Thornton Hall Hotel, Wirral, Merseyside, Merseyside
Adam was a huge hit at our wedding. He was busy from the start of his slot until the end. Family and friends loved their drawings with several saying they plan to frame them. Thank you Adam! Would definitely recommend.
---
Julie Boughey

, Wedding, Lancashire
We had Adam at our wedding a few weeks ago and I can highly recommend. Great communication beforehand, arrived before time and the drawings he did were amazing! All our guests kept Adam very busy, I don't think he had a minute from the moment my guests bombarded him! Haha! They all loved their caricatures and had so many amazing comments about our caricature and what a great extra touch it was. Adam didn't get time to draw myself and my husband, or my daughters as we were having professional photos but he is going to send us these through the post which is lovely if him too :) If you are pondering on booking... Get him booked! You won't regret it :)
---
Peter Williams

, Wedding, Manchester
Very good at what he does, all my guests were very happy with his work and he was very complimentary to the ladies. Definitely recommend him.
---
Helene Monks - Vestas

, Corporate, Merseyside
Adam did a great job, everybody loved his pictures.
---
Mike Phillips

, Corporate, Liverpool
I wanted to email to express my thanks for Adam attending our event on Saturday. The service he gave was excellent. The caricatures were great and everyone was made up with the pictures. We would have no problem using him again or recommending him to anyone else.
---
Mr & Mrs Bibbly

, Wedding, Liverpool
Hi Charlotte, I would like to thank you for providing Adam for our event, especially as it was very last minute. Adam was excellent and everyone was made up with their drawings, which were brilliant. We would highly recommend Adam to family and friends, and would hire him for future events. Thank you all very much.
---
Steve Morgan

, Wedding, Lancashire
Excellent! Would use his services again and would recommend him to others :)
---
Here Is A List Of Some Of Adam's Previous Clients And Some Venue Where He Has Drawn Caricatures:
Shell UK Ltd
Carlton Freight
Clarion Solicitors
T B W A Manchester
Groundlevel Ltd
E A D Solicitors Children In Need Event 2010
Holland Hall Hotel
Stoke City Football Team And Mangers Christmas Party 2009
Stoke City Football Club
Circle Club Manchester
Peckforton Castle
Tours Of Excellence
Haydock Race Course
Doncaster Race Course
Baby Jupiter Leeds
Scientific Laboratory Supplies (Nottingham)
The Bond Hotel (Blackpool)
The Cockhedge Shopping Centre
Scientific Laboratory Supplies (Nottingham)
Audi Car Dealership
Streamline Taxis (Blackpool)
O2
United Utilities, Tall Ships (Liverpool)
Orford Park (Warrington)
Superdrug, Golden Square
Alton Towers
Leeds Metropolitan University
M B N A
St Georges Hall (For Wedding )
Imagine Charity Event At St Georges Hall Liverpool
The Minimum Wage Theatre Company
Amy Winehouse Look A Like
Johnny Vegas
Dean Sullivan 50th Party (Aka Jimmy Corkhill From Brookside)
Mini Cam Ltd. (Golborne)
Roxanne Pallet (Emmerdale Actress)
Steve Brookstein (X Factor Winner)
TA (Wigan)
N S P C C
The Tim Parry Jonathan Ball Foundation For Peace
Plus Many, Many More...
Here are Some Q & A s people ask before booking me to draw caricatures for their event.

Q: How many caricatures can you draw in 2 hour booking ?
A: I can draw approximately 40 to 44 in a 2 hour booking so long as I have the guests co operation.
Q: What size paper do you draw on?
A: A4 high quality paper.
Q: How long does each drawing take?
A: My black and white outlined caricatures head and shoulders only - Roughly 4-5 minutes. They are quick and very good value for money.
The time period spent on the caricatures drawings depends on, for example how much or how little detail is put into drawing. Also, I can control a steady speed of my pens but I can't control a person behavior or conversion time. Also, I find that children under the age of 5 can take a little longer to draw owing to they have a shorter attention span. And they find it harder to sit still for any length of time. Each of my caricature takes approximately 4/5 minutes any quicker might lessen the quality.
Q: How many people can you draw on one A4 paper.
A: I can draw individuals, couples, and small groups of 3 people on one A4 paper
Q: Do we have to provide you with anything ?
A: If I am drawing caricatures in an area roughly 2 x 3 meters I will need a few chairs, small table and access to an electric outlet socket and plenty of light so I can draw my caricatures. If I am doing what I call a mix and mingle around your guests, I will need plenty of light and just your guests so I can draw my caricatures.
Q: If I wanted you to wear a tuxedo to my event (party) would you wear one ?
A: Depending on what the event is, I try to dress to suit every occasion. But if you wanted me to wear tuxedo then I would add the hire to your bill.
Q: If I wanted to book you for my event, how much time do I need ?
A: Book early to avoid disappointment. As I get bookings everyday so I get booked up fast. The booking is taken on first come first served basis.
Normally at Weddings, Birthdays, Engagments, Anniversaries, Christmas parties, Adam performs 2 or 3 hours but can be hired for any number of hours.
At corporate events Adam can be hired from anything from a few hours to 1 full day to 2 or 3 depending on the event duration.
Please Note: The fees indicated below are approximate and based on a central location for each county. They are intended to provide a rough guide only and exact quotes can only be given once the date and exact location of your event have been provided.
North East
North Yorkshire
£480.00
South Yorkshire
£408.00
West Yorkshire
£360.00
Yorkshire
£402.00
North West
Cheshire
£300.00
Cumbria
£504.00
Manchester
£300.00
Lancashire
£330.00
Merseyside
£300.00
East Midlands
Derbyshire
£456.00
Leicestershire
£510.00
Nottinghamshire
£510.00
Rutland
£570.00
Wales
Anglesey
£480.00
Denbigh
£306.00
Flint
£300.00
West Midlands
Shropshire
£360.00
Staffordshire
£306.00