Warble Entertainment's
Adam The Magician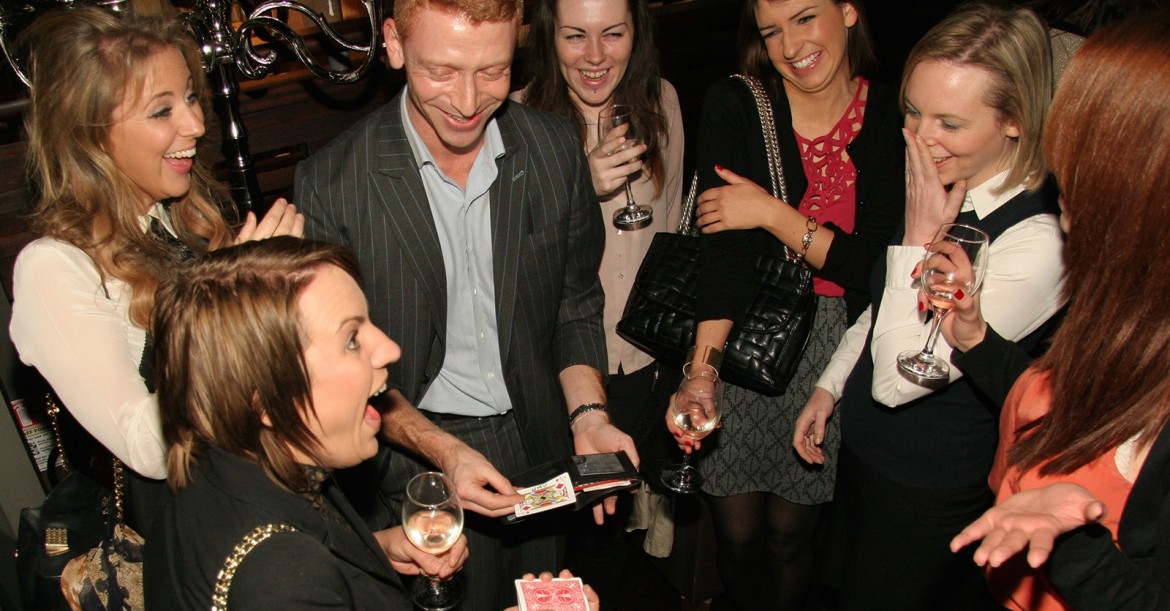 Location London
Starting from £360.00
Location London
Starting from £360.00
Introduction
Get a feel for them
Intro
Adam is a London based, award winning Close-Up Magician who captures and directs his audiences attention leaving them surprised and baffled but always entertained.
A Silver Star, Magic Circle member and Associate of the Inner Magic Circle, his dry wit and impeccable sleight of hand would be the perfect addition to any event.
*Outstanding Magician highly experienced in Weddings, Parties and Corporate Events*
16 reviews
Adam The Magician
Number of Reviews and Counting... 16!
Adam is an award winning Close-Up Magician who captures and directs his audience's attention leaving them surprised and baffled but always entertained. A member of the prestigious Magic Circle and Associate of the Inner Magic Circle with Silver Star his dry wit and impeccable sleight of hand would be the perfect addition to your event.
Adam naturally stays well clear of the typical image of some guy in a cheap tuxedo with cheap lines performing basically, card tricks. Adam entertains and uses magic as a tool... enjoyment, amazement and wonder are what he does best and the fact you get fooled along the way is just a bonus. The type of magic Adam performs is extremely close-up, performed right under your very eyes without the aid of lighting, mirrors, cumbersome props or special assistants.
Adam uses cards, coins and borrowed objects. Finger rings, bank notes, pens, watches, rubber bands, napkins, bottles, glasses and cutlery. Basically, common familiar objects, which can always be examined prior, during and after the show.
Adam has performed at every type of event, from corporate hospitality, trade shows, product launches and exhibitions to Weddings, Birthdays and Barmitzvas. Along the way gaining invaluable experience in presenting quality Close-up Magic as enjoyable entertainment.
Close up magic is a unique form of entertainment at any social event, helping to break uneasy silences and allowing your guests to interact. Magic is the perfect ice breaker; formal occasions, social events or just plain mix and mingle we've all been in a situation where we don't know everyone quite as well as we're supposed to.
Having Adam perform will engage everyone with a moment of wonder allowing them to react together and have an experience that will be talked about long after he is gone.
Pam Jansons

, Charity Event, Bisham Abbey, Buckinghamshire
Adam was absolutely brilliant, everyone was asking where I had found him. His close up magic tricks are unbelievable, we are still examining the bent 5p! Many of my guests have said they would love to see him again and I would most certainly use him again. A lovely and very talented magician.
---
Rhodri Edwards

, Military Event Event, Royal Artillery Barracks Woolwich, London
Adam was an excellent act. Conscientious, he stayed for half an hour longer than his allotted time. Very professional and entertaining.
---
Clive Hunt

, Wedding Event, Milton House Hotel, Oxfordshire
What a perfect way to entertain your guests during a wedding breakfast. All I could hear was roars of laughter and wows of amazement. The quote of the day was 'amazing, how did he do that? Just brilliant, really brilliant.
---
Sarah Johnson - AMResorts

, Corporate Event, London
Adam was a great addition to our event and all our guests raved about him. He was a pleasure to deal with, professional and worked his way around the crowd perfectly. Thank you Adam.
---
Michelle Tatam

, Wedding Event, Essex
Adam was amazing! His magic left all our guest amazed and he was extremely entertaining! He responded to any of my quieries very promptly and also text on the day to re confirm arrival time. Would 100% recommend to friends and family.
---
Raj Rajasekar

, Venue Club Event, London
Adam was very much understanding and co-operative with crowd. Magically, he took the floor easily. I think people also liked him, they found him comfortable. Thanks.
---
Emma Baker

, Private Party Event, London
Nicola, they were all great. People loved the magician and the singers were a great addition to the party. I am glad we added them at the last minute. Thanks
---
Hannah Smillie - John Lewis

, Corporate Event, Berkshire
I thought Adam was very professional, arrived on time and thoroughly entertaining. He was very polite and made his way round the tables over dinner providing great fun and laughter. I would definitely use Adam again for any future events.
---
Caroline Noon - UNUM

, Corporate Event, London
The feedback that we have had was very good - especially changing £20 into £50 notes... although they were sad that he then changed them back again to twenties! But on the whole people were very impressed and the feedback was positive. Thanks for your help with the event and pass my thanks onto Adam - I did speak to him briefly but unfortunately was busy working so did not see any of the tricks myself.
---
Diane Hinds

, Private Party Event, London
Adam was very entertaining. We all really enjoyed his magic. One parent emailed me the following day to say 'We told the kids about some of the magic tricks and could only reply "we haven't got a clue" when they wanted to know how they were done!' It was just the right amount of entertainment for my little soiree.
---
Denise Gallagher - August Equity LLP

, Corporate Event, London
Just a quick word of thanks for your help in getting the acts together for our James Bond event last week. The magician (Adam) was well magical! He left a lot of us guessing how he did his tricks! Thanks again and we will keep you in mind for any other events we hold in future.
---
Anita De

, Birthday Party Event, London
Very much enjoyed Adam's magic. He's a true performer and did a great job at surprising us all. Would highly recommend him and his magic to entertain anyone. Thanks again.
---
Dianne Thompson

, Wedding Event, Middlesex
Adam was very friendly and his magic tricks were fantastic, everybody is still talking about how he managed to execute the tricks, he was great fun and we would recommend him to anybody who is looking for a magician.
---
Jignasha Pandya

, Private Party Event, London
Thanks for your e-mail. I was going to write to you as the evening went very well. The whole event went very smoothly and Adam was fantastic. To be honest, I did not had an opportunity to see his performance as I was busy looking after the guests, but the feedback I am getting from families and friends is, that he was very good, he kept everyone entertained. His tricks were really amazing and he was very friendly with everyone. Once again, thank you very much for recommending Adam I will definitely contact you if we require any entertainer/magician in future.
---
Carol Perry

, Birthday Party Event, London
My daughter, Hannah, has asked me to reply to your e-mail as the entertainment was for my surprise birthday party. Adam went down so well with my friends and many of them have commented since - how on earth did he do that!? He was very personable, clever and extremely entertaining. Everyone thoroughly enjoyed his magic and were open mouthed at times. The weather was very bad that evening but he arrived early rather than risking being late. All in all we couldn't fault him. Please pass on our thanks to him.
---
Amit Sodha

, Birthday Party Event, London
I was at ease the moment I contacted Warble. Emily was so so helpful. Responded to emails within minutes. Pleasant to talk to and help negotiate good prices. Adam the Magician was very professional, approachable and very happy to take on personal requests. His magic tricks blew everyone's socks off, attracting large crowd of people. I'm just looking for an excuse to hook up with Warble and Adam again.
---
Previous clients include:
- Royal Sun Alliance
- National Heritage
- Bartle Bogle Heggarty
- Unilever
- RAC
- The Sway Club
- The Grand Hotel Brighton
- Abbot Mead Vickers
- Just St James
- Mainline Fun Casinos
- Olympia Exhibition Centres
- NEC London
- Arm Fund Management
- Creative Events
- Heat Magazine
Please Note: The fees indicated below are approximate and based on a central location for each county. They are intended to provide a rough guide only and exact quotes can only be given once the date and exact location of your event have been provided.
East
Cambridgeshire
£540.00
Norfolk
£540.00
Suffolk
£540.00
South East
Bedfordshire
£438.00
Berkshire
£414.00
Buckinghamshire
£414.00
East Sussex
£402.00
Essex
£402.00
Hampshire
£402.00
Hertfordshire
£426.00
Isle of Wight
£780.00
Kent
£390.00
Oxfordshire
£438.00
Surrey
£390.00
Sussex
£390.00
West Sussex
£390.00
London
£360.00
Middlesex
£402.00
South West
Cornwall
£690.00
Devon
£690.00
Dorset
£690.00
Somerset
£690.00
Wiltshire
£690.00
You may also like
Customers who have enquired for Adam The Magician have also been interested in the following magicians also available to hire in London, South East. For more information or further options, please call 0845 643 9384.