Alice In Wonderland Characters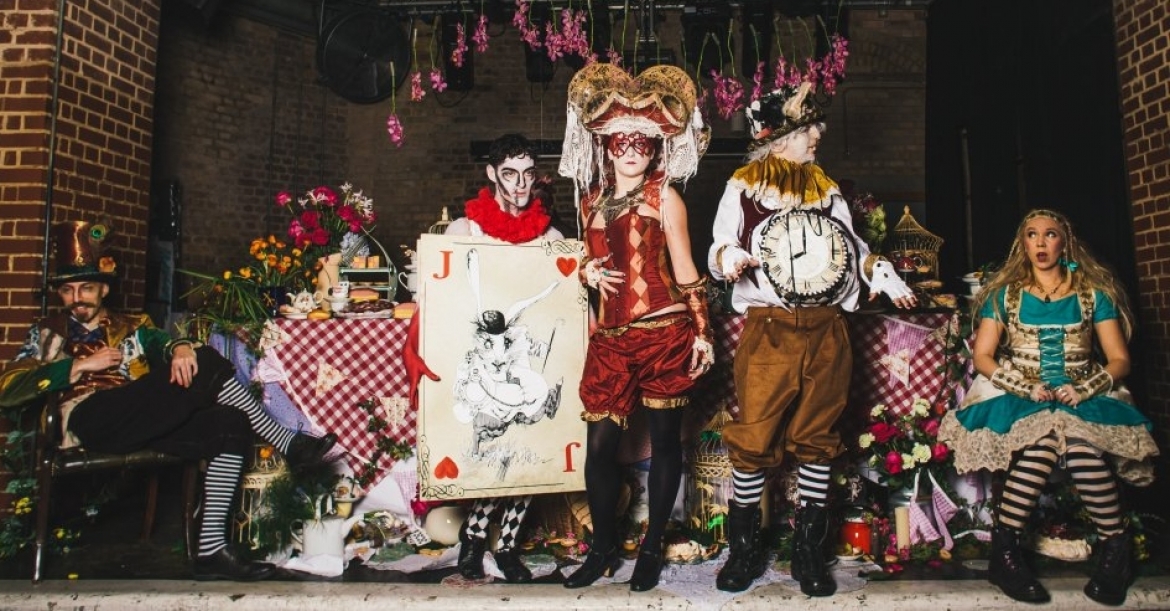 Location London
Starting from £2,400.00
The Alice In Wonderland Characters are brilliant interactive entertainment suitable for Corporate Events, Weddings or Themed Events. All The Characters have skills including Fire Performer and Contortionist to add a fantastic touch to any event!

The White Rabbit and the Mad Hatter perform a living installation tea party; either creating a visual picture/scene for the audience to watch or inviting audience in themselves to sit and have tea and cake whilst they chat and entertain. They have pockets full of oddities, a sock puppet white mouse, biscuits and Lego to name a few, constantly surprising the audience to what they'll talk about, play with or perform with next.
Alice In Wonderland Characters
Number of Reviews and Counting... 2!
As well as performing as an immersive theatre piece throughout the venue, Alice the knave and the Red Queen play interactive games with guests such as Flamingo Croquet, House of Cards, Limbo and chess!
To compliment these interactive acts, skilled performers have been cast to add something extra special to the event. A contortionist show from the knave, a fire dance from the Red Queen or circus sideshow from the Mad Hatter (think Sword swallowing, contortion, stapling or blockhead) as well as a musical busking act from our White Rabbit.
You can hire any number of the characters but the more characters, the more oportunity for interaction and immersive theatre pieces can take place
If booking only a couple of characters, The White Rabbit and Mad Hatter have performances that work well teogether or the Red Queen and Knave also work well together
Vicky Greaves

, Corporate, London
Charming, quirky and exactly what we needed for our Mad Hatter's Tea Party. They were also very professional and super lovely people. Extremely pleased :)
---
Santiago Genochio

, Corporate, London
They have contributed to our events on numerous occasions, and each time they create a bigger, better and more amazing world for our crowd to wander into and interact with. They seamlessly combine an abundance of creativity with a rare level of professionalism and an ability to constantly over deliver.
---
Cath Kidston
Wonderland Events
X-Factor
Prangsta
Rumpus
Gorilla Zoo
The Stubnitz
Slamboree
2 x 45 Minute Walkabout acts
Alice In Wonderland Characters can also provide short stage shows that are suitable for both children and adults
Please Note: The fees indicated below are approximate and based on a central location for each county. They are intended to provide a rough guide only and exact quotes can only be given once the date and exact location of your event have been provided.
Scotland
Aberdeen
£3,600.00
Inverness
£3,600.00
Perth
£3,600.00
Sutherland
£3,600.00
Ayrshire
£3,600.00
Fife
£3,600.00
Stirlingshire
£3,600.00
West Lothian
£3,600.00
Dumfries-shire
£3,600.00
East Lothian
£3,600.00
Lanarkshire
£3,600.00
Midlothian
£3,600.00
Glasgow
£3,600.00
Edinburgh
£3,600.00
Foreign Locations
Europe
£4,200.00
Rest of the world
£6,000.00
North East
Durham
£3,120.00
Northumberland
£3,000.00
North Yorkshire
£3,000.00
South Yorkshire
£3,000.00
Tyne and Wear
£3,000.00
West Yorkshire
£3,000.00
Yorkshire
£3,000.00
East Yorkshire
£3,120.00
Leeds
£3,000.00
North West
Cheshire
£3,000.00
Cumbria
£3,000.00
Manchester
£3,000.00
Lancashire
£3,000.00
Merseyside
£3,000.00
Liverpool
£3,000.00
East Midlands
Derbyshire
£2,760.00
Leicestershire
£2,760.00
Lincolnshire
£2,760.00
Northamptonshire
£2,760.00
Nottinghamshire
£2,760.00
Rutland
£2,760.00
East
Cambridgeshire
£2,520.00
Norfolk
£2,520.00
Suffolk
£2,520.00
Norwich
£2,520.00
Wales
Anglesey
£3,120.00
Caernarvonshire
£3,120.00
Denbigh
£3,120.00
Flint
£3,120.00
Cardigan
£3,120.00
Brecon
£3,120.00
Carmarthen
£3,120.00
Glamorgan
£3,120.00
Monmouth
£3,120.00
Pembroke
£3,120.00
Wrexham
£3,120.00
Cardiff
£3,120.00
West Midlands
Gloucestershire
£3,120.00
Herefordshire
£2,760.00
Shropshire
£2,760.00
Staffordshire
£2,760.00
Warwickshire
£2,880.00
Worcestershire
£2,880.00
Birmingham
£3,120.00
South East
Bedfordshire
£3,000.00
Berkshire
£3,000.00
Buckinghamshire
£3,000.00
East Sussex
£2,760.00
Essex
£2,760.00
Hampshire
£2,760.00
Hertfordshire
£2,760.00
Isle of Wight
£3,600.00
Kent
£2,760.00
Oxfordshire
£2,760.00
Surrey
£2,640.00
Sussex
£2,640.00
West Sussex
£2,760.00
London
£2,400.00
Middlesex
£2,640.00
South West
Cornwall
£3,360.00
Devon
£3,360.00
Dorset
£3,360.00
Somerset
£3,240.00
Wiltshire
£3,360.00
Bath
£3,000.00
Bristol
£3,000.00