If it's a festival themed wedding, if you have the folk fever, or, if you're just a free-spirit looking for something to go with your theme, here are ten bohemian bands that will bring the best in boho-chic to your big day.
The Faradays
Location – Staffordshire
Starting from – £840.00
The Faradays are a 3 piece family folk band with a musical connection second to none. Their harmonies along with their chemistry makes for a true folk take on hits that we all know and love so it won't just be them on stage singing along.
The Nutmegs
Location – Manchester
Starting from – £744.00
Two of our most renowned solo acts: Helena Scott and Paul Matthews form the folky base of the The Nutmegs who can work up to a quartet if you'd like all the trimmings. The Nutmegs can even offer props such as record players, peacock chairs and suitcases to add to the theme of your Boho wedding.
Dai & The Dusty Keys
Location – London
Starting from – £1,140.00
Dai & The Dusty Keys will shake the cobwebs off at any occasion but are particularly perfect for any foot stomping folk wedding. From Solo guitar to a quartet with a fiddle and accordion, Dai can dust off his keys and suit any stage or budget.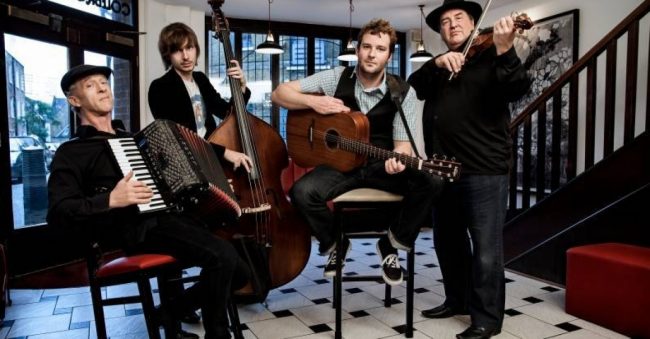 The Fable
Location – London
Starting from – £1,914.00
Legend has it that there's a band that have already played festivals such as Glastonbury and are now available for your wedding. The Fable is real and the four piece folk band can be booked for your boho ball through Warble Entertainment.
Festival Fire
Location – Hampshire
Starting from – £2,136.00
Festival Fire! Fear not, their equipment is fully PAT tested and the are fully insured but they are one of the hottest festival/folk acts around so don't panic, you can have them perform at your very own boho wedding.
Absolutely Vintage
Location – Hampshire
Starting from – £1,734.00
Absolutely Vintage are an absolutely fantastic addition to your folk theme wedding. This free-spirited five piece add a vintage twist to modern classics and classics alike, giving them all that bohemian vibe with the help of an upright bass and a banjo.
The Wagon Wheels
Location – Cheshire
Starting from – £1,890.00
The Wagon Wheels will keep em' rolling on the dance floor from dusk till dawn. With all 5 members on vocal duties they will fill a room with folky festival sounds with ease.
The Buskers
Location – London
Starting from – £1,560.00
What is more bohemian than a busker? A whole band of buskers! The Buskers can perform as a 4 or 5 piece and can perform fully acoustic to roam the room whilst performing. These guys are actually suited and sponsored by Marcy Darcy suits too so bringing style to your wedding is not an option, it's mandatory!
New Vintage Collective
Location – Hampshire
Starting from – £1,890.00
The New Vintage Collective brings new life to a vintage style. The quintet create bohemian sounds by playing modern hits on vintage instruments for a folky blend of fresh music.
Gentlemen Of The Road
Location – Surrey
Starting from – £912.00
Taking their name from the sell-out Mumford & Sons tour, Gentlemen Of The Road are an amazing option for adding a true modern folk vibe to your wedding entertainment. When the drinks are flowing they will add a full on party set to finish; giving you the best of both worlds in one brilliant boho bundle.
It can seem like the hardest part of planning when you're piecing together the parts that fit your theme but for boho, we've got bundles of bands on hand that will feel right at home.
Published by Warble Entertainment