If you're thinking about booking and hiring a caricaturist but not sure if one would be worth it… think again! A caricaturist is an ideal way for breaking the ice at your party, entertaining guests between proceedings (especially for weddings), or, attracting attention to your exhibition stand.
Most importantly, having a caricaturist at your event will entertain your guests, provide a great talking point and leave them with a cherished memento of your day.
We recently caught up with one of our most popular Caricaturists in the West Midlands – Rich to gain some insight about what goes on behind the scenes so to speak and here's what he had to say:
"What I love about my job most is being able to take my creativity to its limits and get paid for it. I also love being part of everyone's families all over the country for the two or three hours they have booked me. We have some side splitting laughs together.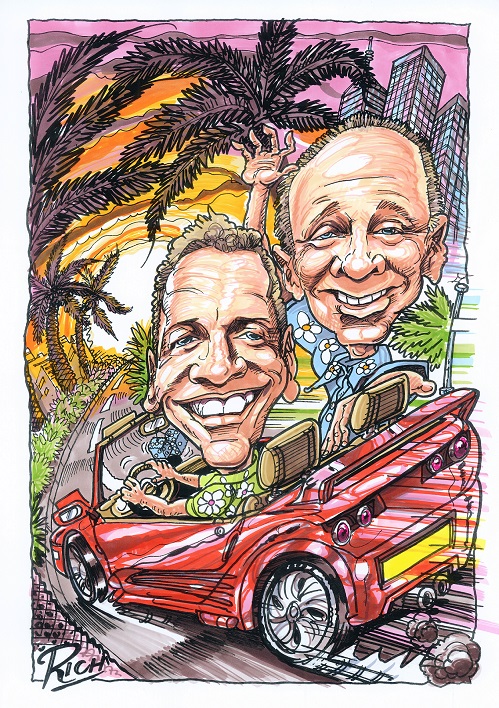 The preparation before any event is very important. I like to know I have everything in place so when I'm there I can just concentrate on providing the best service possible. My customers have the option to have their Wedding Names or Corporate Brand printed on the paper I draw on. To get this ready I ask them to send me their logo or message which I prepare to be printed with my branding software. I use about 10 different pens to get special effects on my drawings. I have to keep pens in stock as they run out so quickly. All these things are checked and double checked before I leave for any booking.
Unlike many caricaturists who will not travel more than 75 miles from their home, I will travel to most parts of the country. I also charge less for travel and the reason for this is simple – I love what I do and so if I travel I get three times as many bookings as I would get locally.
When I get to a venue I find an internet picture of a celebrity with crazy facial features on my phone like Jim Carey for example. I then test all my pens to makes sure none are running out. If they are I have a brand new replacement with me always. I am always 30 minutes early so I sit somewhere out of the way and warm up my caricature techniques by drawing the celebrity from my phone. I present myself to the host at least fifteen minutes early and ask if there are any special people or preferences I need to accommodate in my performance. Some people do not see it as performance but for me it is no different to the table magician they might hire instead.
I like to get claps from people when my drawing is funny and looks "an absolute spit of them". I like to get gasps of amazement when people cannot believe how life-like the drawing is. I like to play the surrounding peoples excitement so that I am "ambushed" by requests to have their caricatures drawn. The event host or bride and groom hiring me look on with satisfaction thinking…" Our guests are anything but bored!" If this happens at the venue then I have done my job.
Some people have 'face parts paranoia' and so are worried about having a caricature. Coming from a sales background I have the words "empathy" and "body language" entrenched in me. A smile, or lack of, is the first sign to look for as well as a hand in the air. If the person is slouched at their table and giving you a really funny look… I realise that they may have been called "wingnut" since a child and have a real hang up about their "big ears" it might not be wise to force them to have it done even if their friends are all pointing at them etc. If there is 200 people in a room, in three hours you are lucky if you draw 50 of them so you would be wiser to just look for the people who are smiling at you most, or tapping you on the shoulder most saying "Me next!". You will be surprised who is smiling and showing the right body language. Sometimes a guy with a "ski slope" nose and a "shovel chops" chin can be the one howling with laughter and satisfaction at his picture and showing it to all the family.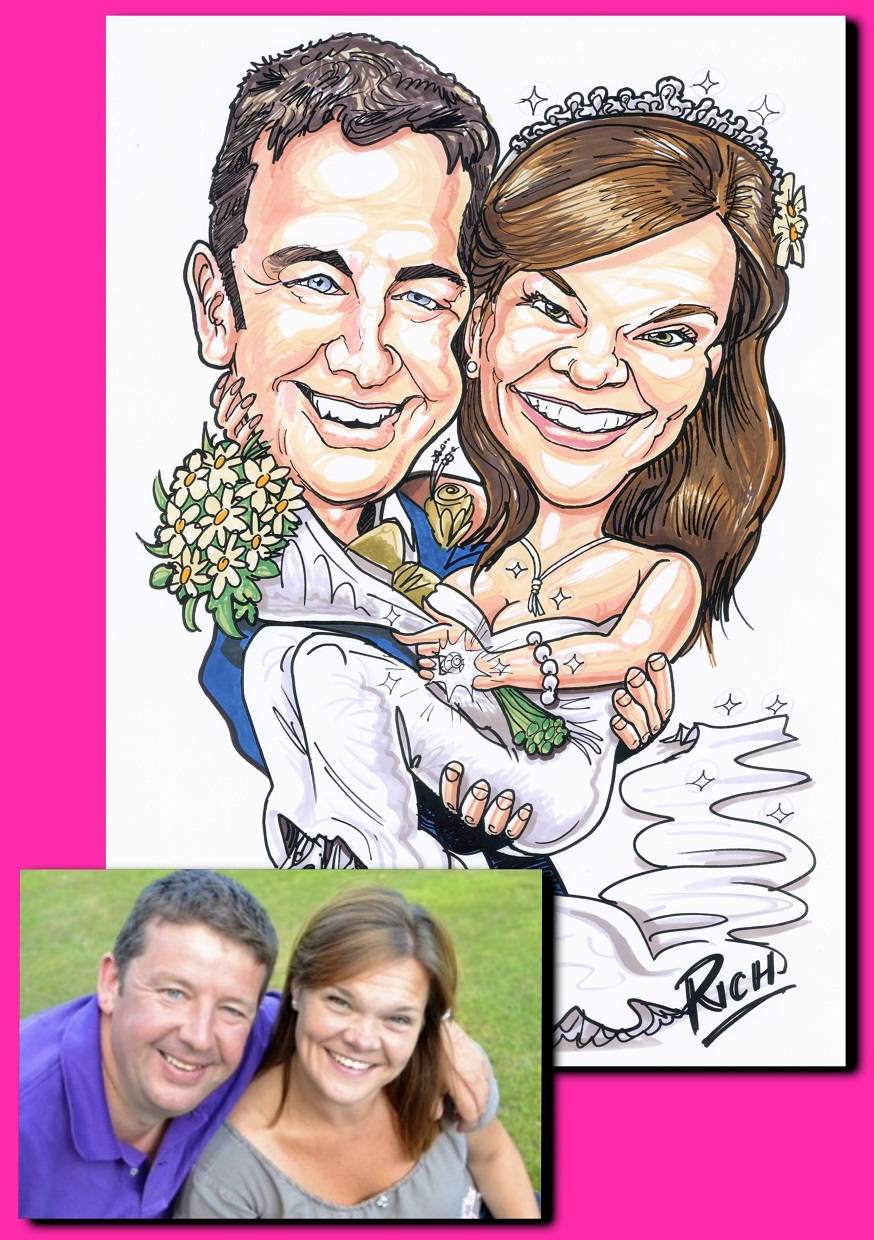 There are a variety of contributing factors that help me do my job better. Mainly, it is my job to give the best possible service to my customers. To do that I need to gently guide them in understanding a little about the art of caricature as it is their face and the position they look at me from which is important to me. I need to always smile and interact with the customer to make them feel confident in letting me draw them. This means they face me properly whilst sitting or standing at the party or wedding etc. and I can fully study their face to get a good likeness of them. Other things that help is having enough space to draw. I walk up to people with a box of paper so I can draw in most tight corners if the room is bursting with people.
Clients should expect a caricaturist to be "bold yet sensitive". Bold when you have a group of gents who have had a few drinks and want some back slapping laughs at each others expense. Yet sensitive if you are drawing more quiet or reserved members of a family where they want a pretty picture of their child to frame at home. Or, if you have someone who is sensitive about their nose or their ears for example. Although many books on Caricature show you how to insult politicians etc, these are paying customers and you should know who wants to be stupid and who wants some respect.
The client should expect at least 12 drawings an hour from a good caricaturist and that they are smart and on time. I always wear a suit and smart shoes to every event unless I am specifically told to turn up in a giant chicken suit."
Big thanks to Rich the Caricaturist for a great insight into your world as a caricaturist. We'll talk more about the chicken suit next time… 🙂 Meanwhile, here's a short video of Rich in action:
Tips for booking a Caricaturist
If you are thinking about booking a caricaturist for your Wedding, Event or Party then we've compiled a short list of things to remember.
Think about the timing ratio against the number of guests.
A caricaturist will typically manage between 10 – 15 caricatures per hour; so, take into account the number of guests at your event and the length of time you wish to book the caricaturist for.
Make sure there is enough light and space for a  caricaturist to work.
Adequate light and space are the main requirements for a caricaturist to operate successfully, so make sure a well lit area is provided. Furthermore, if you want the caricaturist seated then make sure there is an area of appropriate size so as to fit the artist, easel, victim and sniggering onlookers.
Caricaturists are ideal for all types of events.
Published by Warble Entertainment