Warble loves fun Wedding Entertainment Ideas and we are always happy to make suggestions for acts to liven up such a special day.
We have lots of unique and specialist acts to call upon and one of our favourites is Surprise Singing Waiters and Waitresses (or, Policemen and Firemen… but that's a different story!). We have a number of these fantastic and extremely talented acts all over the country. However, one act that is proving extremely popular for weddings and corporate events is The Singing Waiters Live who have kindly provided the following insight into what they do and how it works.
"We have been performing as Singing Waiters for almost 8 years and we now have around 12 singer/musicians currently involved with this act. In those eight years we have performed at hundreds of events and I have now been to more weddings than I can count. Whilst based in London; our performances have taken us across the UK, through Europe and even to the Middle East.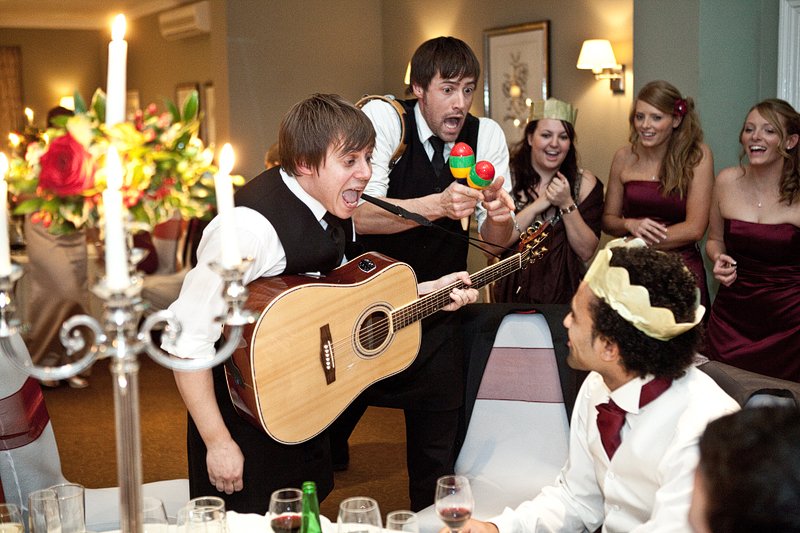 We are a unique wedding entertainment idea in the industry as all of our music is played on acoustic guitars and we deliver a larger than life performance with music designed to excite any audience. Our set list is vast and importantly all music is played live which allows us to offer unique performances that will inject energy into an event just when it is needed."
"I do feel that our act works particularly well in a wedding scenario and we do perform at a large number of these events. Whilst describing a typical "Singing Waiter" day it seems very apt to talk through a wedding performance.
We typically have three or four performers posing as real staff working at the chosen venue. We are dressed in the same uniform as other staff and all performers are taking on the role of foreign waiters; but incredibly convincingly! At a wedding we are often booked by the bride and groom; occasionally we are a gift from a relative or friend. Either way this makes for a very secretive arrival at a chosen venue and you need to be very careful not to give the game away to any early arriving guests. For example: strolling in as guests arrive with a guitar on your back and loudly informing reception that the Singing Waiters are here pretty much lets the cat out of the bag. We have had a couple of occasions where venues have been less than subtle and one Event Manager even told the groom that his Singing Waiters had arrived; considering it was a surprise for him he was pretty confused. So we can often be found sneaking in fire exits and handing guitars in through windows to avoid detection!
We are in our role as waiters from when guests arrive and help serve reception drinks and canapés. We continue to serve through the wedding breakfast; all leading up to the music performance which typically takes place over dessert and coffee. Taking on the role of real waiters at the chosen venue is a large part of the act and often has its own challenges. Usually we are pretending to be waiters for many hours before the music performance. This is very deliberate on our part as it allows us to build a wonderful rapport with guests. By serving for so long guests firmly believe that we work at the venue and so when we come to perform the surprise is much more impacting. Clients are usually surprised by how involved we get with the service; we can often be seen working pretty hard and venues always love the fact they are getting some free staff for the day!
The music element of our surprise singing waiters performance starts with an announcement followed by a dramatic serenade in honour of the bride and groom. With more serenades to others at the top table; we soon have the room rocking and you will be surprised at how many guests find themselves joining in! Our song selection is incredibly varied and covers a broad range of musical styles and genres from classic 'rat pack' music through to the modern day – with everything in between. I like to describe our set-list as "popular music"; songs that everyone will know and more importantly enjoy our versions of them. We are also happy to put together an arrangement of songs requested by clients; often the couple may have a particular song that means something to them and we are more than happy to perform it. We have had some strange requests over the years with "I am a Cider Drinker" by the Wurzels takes the prize for the weirdest.
I think one of the reasons that this act works best is the surprise element. When announcements are made and we begin performing music; guests usually start off believing that it is just the waiters deciding to put on an impromptu show. As the performance continues guests of course realise that all may not be as it seems; particularly as the vocals and music are of a high quality. The style of our performance is light-hearted and an audience get on board very quickly so before we know it we have a room singing along with us. When the music finishes people still find it hard to believe we do not work at the venue!
For a good idea of how the performance works and the style of our act; take a look at our most recent video on the Warble Entertainment Agency website. This showcases an act in a wedding situation but we are also suitable for all occasions looking to hire entertainment, such as corporate events and Christmas parties."
Thanks to Rob from The Singing Waiters Live for this wonderful insight 🙂
Published by Warble Entertainment