We just had to share the wedding of Gemma & Paul after seeing their quirky take on an Autumnal wedding. With superhero's, live music and Paul's love of Rugby being an influence on their wedding theme, it made for a gorgeous day at Eriviat Hall in Denbigh. Top Warble band 'Friends of the Bride' were the couple's choice of entertainment and when their music was more important than the dress, we couldn't agree with them more on their decision.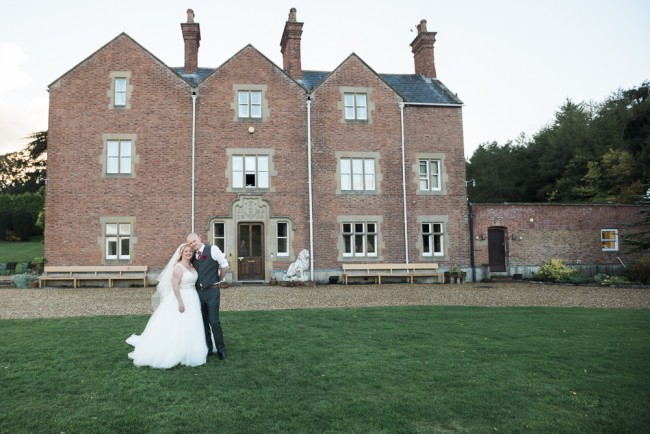 Tell Us A Bit About Yourselves…
I'd been in the same year at School with Paul's sister and cousin so we knew of each other through family but didn't know each other well. We met properly on a night out near Christmas 5 years ago and it snowed. We swapped numbers and after being quizzed in the kebab shop by my friend about his intentions and having to trudge through the snow to get home, we met up the next day for our first date – playing on the park in the snow. We kissed and it all went from there. He lived away, so the first 18 months together involved a lot of traveling, but it was worth it.
The Proposal
We'd been together for 3 and a half years when Paul proposed. It definitely wasn't expected and the only person that knew was my Dad as he asked for his permission first, which made it even more special. It was after a day out in the Lake District, on a boat, walking around and after a lovely meal in our hotel room. He knows I love the series 'Cold Feet' and I love the scene where James Nesbitt is naked with a rose between his bum cheeks. Well, I'm sure if you know the scene then you can imagine what happened. There was no rose unfortunately but he was on one knee. I couldn't quite believe he was asking me but I was so happy and the ring he'd picked (and guessed the size) fitted perfectly.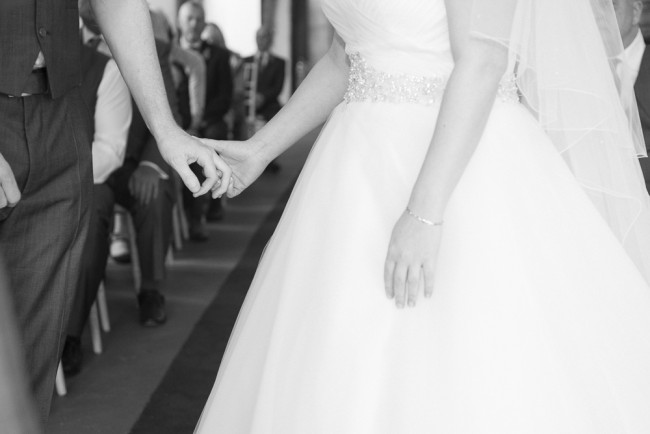 So You Said Yes… What happened next?
It took us a few days to tell everyone as we wanted to see them face to face or ring them ourselves. We had no idea where to start and what to do. We'd always joked that when we got married we would run away to Vegas, but I don't think our families would have been too happy about that. I went out and bought bridal magazines and had no idea there was so much to organise. I started making a spreadsheet (I'm very organised) with things we would need which was continuously added to and changed up to the week of the wedding. We had a rough idea of who we wanted to be there and set a budget straight away.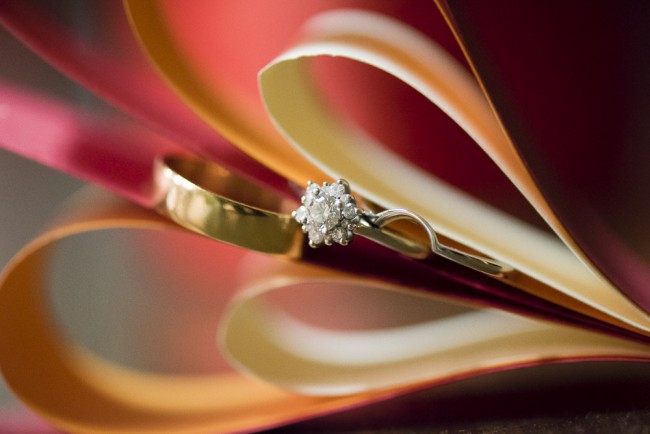 The Venue
From there we were a bit clueless so we started looking at local venues. We accidentally came across Eriviat Hall in Denbigh but instantly liked the idea of hiring somewhere for the whole weekend, having the run of the place, having the ceremony and everything else there and having our family stay there with us. We made an appointment to go and have a look around, fell in love with the place and booked it there and then, setting our wedding date for a year later. It was the first and only place we looked at. Everything else seemed to come together after this as we continued to book things. Planning the wedding was easy and I really enjoyed it. We made decisions fairly quickly and were fortunate to have booked reliable businesses throughout. We had just over a year and that was more than enough time to organise everything.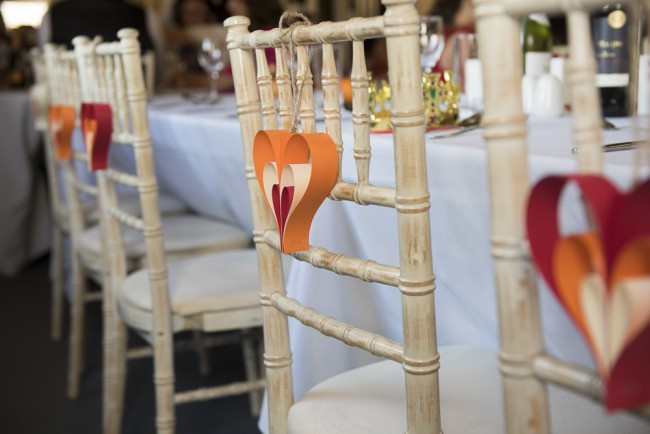 The Theme
There wasn't a particular theme to the wedding, we wanted it to be a reflection of us and the things we like. So, our mixture of themes included; St Helens Rugby, poppies, superheroes, homemade crafts, live music and fun! We wanted the day to be casual and relaxing for everyone and for us and I think we achieved that. The one thing that was an absolute must was the colour red for Paul's rugby team. I did manage to sneak some orange in there too to make it more Autumnal.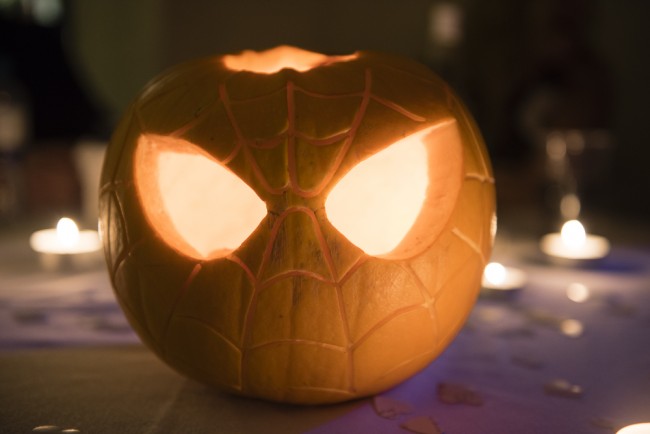 The Dress
My dress was not what I expected at all but only the second dress I tried on and I knew straight away it was the one. It was done and paid for within an hour, no messing about. A lot of people were expecting a 50's style dress so it was a big surprise when I walked out in the big dress and full veil. Wearing converse was the best decision I made. I was comfortable all day and able to dance the night away with no problems.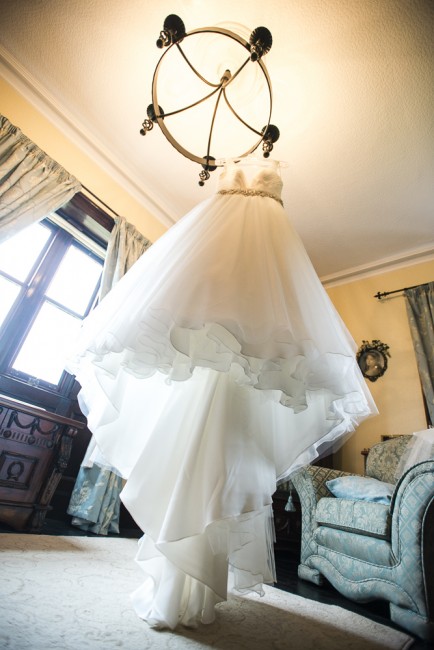 The Decor
As we did so much of the wedding ourselves, our dining room became a 'wedding room' for the year. It was full of wedding crafts, outfits and drinks. I used ebay a lot for when I was making things. From ribbons to kraft card for the invites, it was great.
Food & Drink
We decided to provide the drinks all day (we took advantage of offers on wines, beers and spirits throughout the year) and the bar was run by the catering company. Once they had finished for the day, we opened up the bar for guests to serve themselves and we'd asked them to bring their own drinks for the evening which seemed to work really well.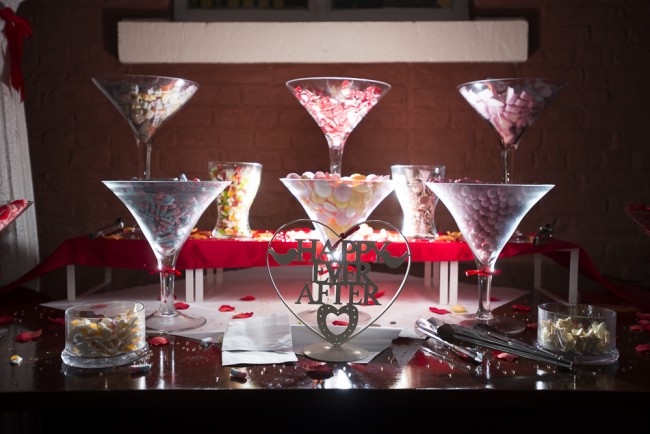 The Entertainment
We put together a playlist of love songs for through the meal. We used songs that were special to our guests, whether it was their first dance song at their wedding or their favourite song as a couple we wanted to make it personal. After the meal we played a quick game of stand up bingo in tribute to Paul's Nan. It's become a bit of a family tradition. Everyone was involved and it just added a bit of something different to the day.
I love live music and having a band was really important to me, in fact, it was probably the most important thing… even above the dress! Our band, Manchester based, Friends of the Bride, were just the perfect touch to the day. They learnt our first dance, which was beautifully gate crashed by our guests but it was so much fun. Absolutely faultless! From the first time of speaking to them to the night, everything was fantastic. Professional, organised and everyone loved them. Friends of the Bride were amazing at our wedding, the dance floor was never empty and we hope they enjoyed it as much as we enjoyed having them there. Highly recommended and would book them again in a heartbeat.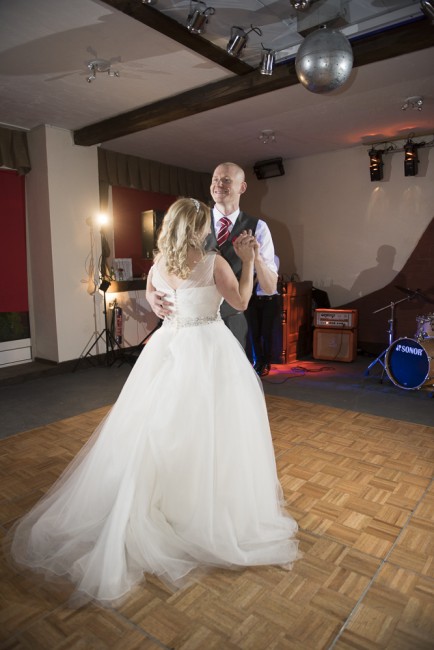 We really enjoyed spending the whole weekend with our closest family. Everyone arrived on the Friday night and left Sunday afternoon. We cooked together, ate, laughed and on the Friday night we arranged a 'pub quiz' for a bit of pre wedding fun. It was really nice having it all in one place. On the Sunday morning everyone was around helping to tidy up, cook breakfast and we couldn't believe it was all over.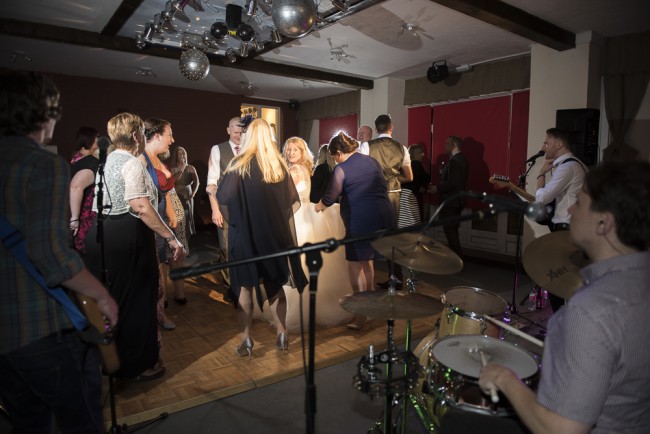 We definitely couldn't have done the whole weekend without everyone doing their bit and helping out and I love how this made it even more special as everyone was involved in one way or another. Ultimately they definitely earned their dinner 😉 Everyone who was there we love dearly, they came to celebrate Paul and I getting married and it was just a perfect day.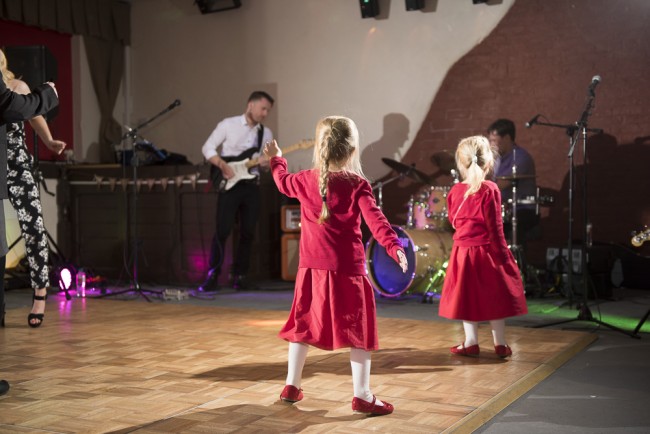 The Suppliers
Entertainment – Friends of the Bride, Warble Entertainment
Venue – Eriviat Hall, Denbigh
Catering – Outside Food, Popty Conwy Bakery, So Sweet As A Button
Photographer – Corrine Fudge Photography
Wedding Cake – Sugarperfection
Wedding Dress & Tiara – Always & Forever Bridal Boutique
Suit Hire – Youngs Hire through Debenhams
Bridesmaid Dresses – Debenhams
Maid of Honour Dress – Dishonest Sole, Warrington
Brides Shoes – Custom Converse UK
Hair– Pure Hair and Beauty
Flowers – Rosadior
Decor – The Rusty Nail Co, Snowdonia Marquees
Pagoda/Catering Tent – Peak Marquee Hire
Rings – Hearts on Fire
The Gallery
Published by Warble Entertainment