Is there anything more magical than a Christmas wedding? The time of year associated with all things party, everyone is in a festive mood – houses are twinkling with fairy lights and Christmas trees adorn the high street, glittering invitingly in windows. Decorations are covering the trees and street lamps. People are infused with the enchanting mood of Christmas and smiles are abundant so really, what could be more spectacular than getting married during the season of peace and goodwill? Hopefully, family and friends are already planning to be close to each-other so if you're planning your wedding over the party season then let the fun begin.
If you haven't thought about it already, when choosing your venue for your Christmas wedding you should always bear in mind the distance to travel from the car to the front door. If it's in a country house for example, you may need to walk from the road. If it is very snowy or icy this could pose a problem so look at car parking and make sure you (and elderly guests) won't have too much trouble getting in and out of your venue of choice. Do look at the view as well. Country hotels, country houses and village churches should have a pretty backdrop as you would want your photographs to reflect the wintery Christmas mood. If you're lucky enough to have snow don't panic, photographers will be ready for anything and the photographs will be incredible. Check out Wedding Idea's Top 5 wedding venues for a wonderful winter celebration for more inspiration.
When people conjure up images of Christmas, minds becomes a swirl of seasonal colour – think gold and silver, winter wonderlands of snowy white and use this as inspiration for your church and room décor. There are of course limitless choices of colours but the two we will focus on are the traditional berry tones and sparkly winter wonderland. Traditional colours work beautifully when the outside is cold and wintery – they are inviting and warm. When the shops are full of poinsettia and holly it is only fitting for your wedding to complement these seasonal colours. White table linen with berry runners and Christmas lanterns with chunky, golden church candles, holly and berries surrounding them at the base and a table centre of deep red roses interspersed with greenery and hints of gold will make a remarkable looking room. Adorn the ceilings or pillars (if you have them) with sparkling fairy lights, keep the lighting low and you will create a truly spectacular looking venue. You can also request golden chairs or if not, consider covering them and trimming with heavy, deep red velvet sashes. In line with the traditional Christmas theme, don't forget to serve mulled wine at the reception with tiny Christmas puddings and mince pies covered with a swirl of thick, melt-in-your mouth cream.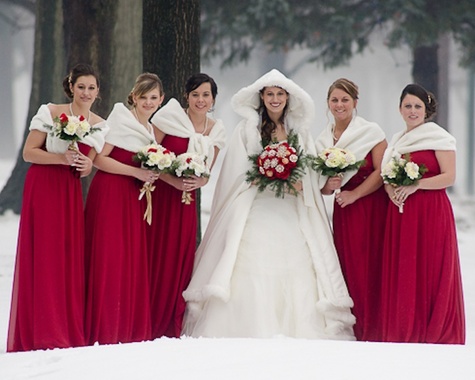 In keeping with your traditional room theme, bridesmaids and page boys will look wintery wonderful in berry tones. Plum, raspberry, grape, purple all look superb set against a backdrop of wintery trees and even snow. They bring a dash of colour to the season. Alternatively if you don't fancy your bridal party dressed in these colours, consider a sash or the bouquets in red and gold, berried ivy, red hypericum and glossy green foliage and mirror this in the men's buttonholes.
If you prefer something more modern you may be tempted to choose a silvery theme with a room of white and glittery silver decorations. Your table linen could be crisp white with silver organza runners, the chairs brushed silver and the table centres mouth-watering with silver twigs, rosebuds and crystal drops, surrounded by white roses, eucalyptus and hellebores amongst glittering silver baubles and sprayed pinecones. Add grand storm lanterns to various areas of the room with large church candles, the soft glow will bring the theme together perfectly. Your place names on the table could even be silver and gold Christmas crackers!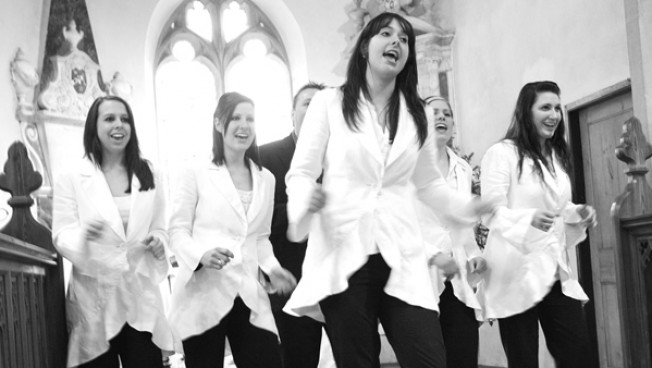 When it comes to entertainment there are so many different types of choices it's hard to know where to begin. Brides & Grooms often ask for a choir especially over the December period. The sound of Christmas carols as the guests are seated then moving effortlessly to the traditional wedding march as the bride makes her way up the aisle brings plenty atmosphere and definitely makes it extra-special but choirs will depend on space. If you are getting married in a large church the acoustics are perfect. Speak to your officiant and ask their opinion on acoustics and size, you don't want the sound to be overpowering, however, if you are getting married in a smaller church or venue you can still have a single operatic singer, grand voices carry beautifully. Alternatively, a string trio or a single harpist will create oodles of atmosphere before you say I do.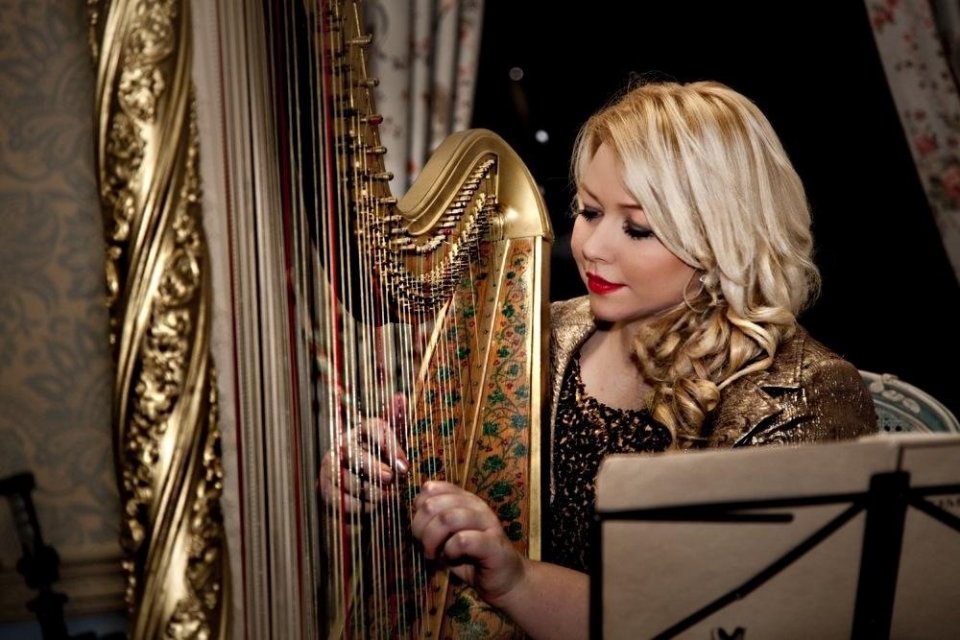 Deck the Halls – after all, it is Christmas so it's elegant to have an exquisitely decorated Christmas tree instead of floral displays at the reception in keeping with your colour theme so whether it's a traditional tree with berry shades of red, ruby and purple or a twinkling, glittery silver and gold tree make it really superb and bring a splash of colour or a dash of glamour to the reception area.
On the theme of reception, you could also keep guests entertained with something special. If you have plenty of children attending why not invite Father Christmas to the reception? He'll have children mesmerised while guests mingle drinking champagne or mulled wine. Of course if Santa Claus isn't really your thing, then choose from a single pianist with background music or a classical wedding singer – nothing too overbearing. If your reception area is large enough, you could consider a small jazz band, popular with all ages and getting everyone in the mood for the wedding party later on and if you think you will have a long reception then add in a magician or a caricaturist to keep guests engaged. Your magician could double up during the wedding breakfast too, visiting each table for a short period of time or if you want to try something different – how about a mind reader?
Talk to your venue about the food – in keeping with the tradition of Christmas, you could serve a roast, either turkey, beef or ham but add all the succulent trimmings such as sausages, stuffing, roast potatoes and seasonal vegetables. Desserts are easy at this time of year, Christmas cake, Christmas pudding, mini mince pies, a traditional Yule log, cinnamon ice cream or even a fully-loaded alcoholic trifle!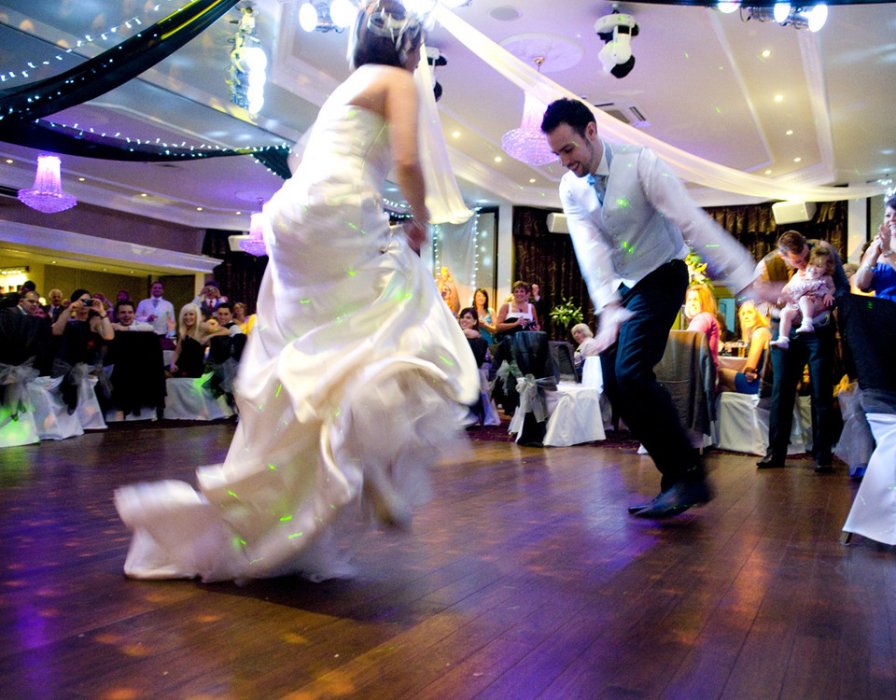 After the speeches it's time to dance – this is where anything goes! You don't want a "Silent Night" Christmas is all about having a party so choose a rip roaring band guaranteed to thrill even your oldest relative! Make sure they have a good repertoire of Christmas songs too and get the younger guests going with some giant sunglasses, glow in the dark necklaces and blowers…If you prefer a disco it's always a good idea to listen to plenty of options before you decide what you want and again, take into account size of room and acoustics. You want a fantastic party so you need a superb DJ who knows how to get people onto the dance floor! Some weddings have a band up until late evening turning into a disco into the early hours. For extra wedding wow factor and if you really want to go to town, we've even seen dancing Christmas Trees join in the wedding festivities – after too much mulled wine, Great Auntie Edith will wonder if she's seeing things…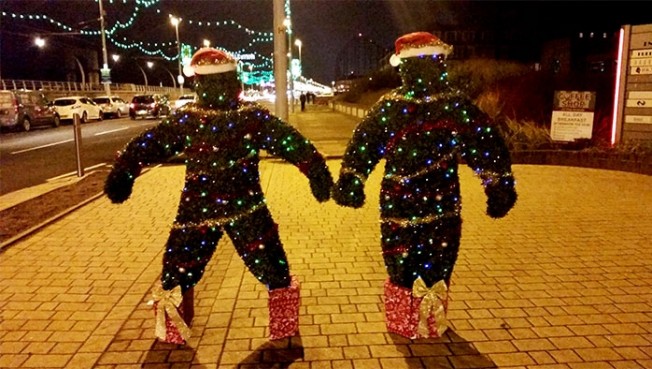 With a carefully planned Christmas wedding your guests will have a sensational day, as the song goes, Walking (or dancing) in a Winter Wonderland.
Published by Warble Entertainment