DJ Adrian is one of Warble Entertainment's fantastic range of corporate and wedding DJs. We grabbed a few words with him and got an insight into rubbing shoulders with the rich and famous, 3 (nearly 4) DJs at one party and very late finishes…
Tell us a little about yourself and what you do…
I have been a DJ since 1992 starting in nightclubs and bars throughout the midlands and then expanding all over the UK. I moved on to being a mobile DJ by offering my services to private parties as I could see a need for quality discos out there. I used to think that when I performed at the clubs the sound & light systems were stunning, but whenever I saw a mobile DJ the sound & lighting were very poor, and the DJs were of low standard. So, I knew there was a market out there. The work started to come in thick and fast with a mass of repeat bookings each year which lead me to go full time in 1999.
I have since been DJ to no fewer than 6500 events all over the UK and Europe. From weddings to high end corporate events I can easily adapt myself to suit any occasion. I have worked at some the UK's finest venues and still do to this day: London Dorchester, London SAVOY, The ICC, NEC and many more and have rubbed shoulders with the celebrity circle many times.
I love each job as they are all individual, fun and I love being out there watching people enjoy themselves. I take a lot of pride in my equipment, presentation and I love to be part of a team on an event. I can also offer more than just myself as DJ – I have one of the UKs largest stocks of LED starcloth and pipe and base systems, 3w Tri LED lighting for venue lighting, Chocolate fountain, draping and many more – all that can be booked through Warble Entertainment. Everything I do is to the highest standard and no corners are cut.
What inspired you to start?
I just had a massive love for music. When growing up I remember having family members buy me LP's and double cassettes of compilations  back in the 80s and I would spend hours listening and making my own compilations.
What do you enjoy most about your job?
I guess I enjoy the thrill of each job, going into a venue with a fresh approach to each job and finding each client is different and unique. I love seeing the dance floor busy and people dancing or even seeing clients happy with a nice simple playlist of music which they are fond of being played. I also love it when there are lots of things going on with bands, comedians etc. and I am a massive team player where I love to mix and mingle and get involved in the event and I find that if I make every event fun then this will come across in my performance. I love meeting celebrities also! I have mixed shoulders with many premier footballers, Jasper Carrott, Lenny Henry, JLS, Ronnie Corbett and many more and sitting down eating with those guys hearing the stories and seeing them from a different angle from off camera is a great experience.
What has been the best moment so far?
My best moment so far – well again that is a long one as there are many! But DJing to massive crowds is a huge buzz and doing up to 2,000 people for large corporate events is always a stunning view to have nearly all of them going crazy in a room! DJing Elton John's after-show party this year will be a huge moment! Working abroad is a great fun also!
What are your plans for the future?
My plan for the future is to keep doing what I am doing now, but doing more on the event side as I have a great wealth of event knowledge under my belt with seeing what works and what to avoid.
What's the funniest thing that has happened at an event?
I once had a bride who had experience of DJs not turning up for family functions she organised. So, on her wedding day I turned up and the venue insisted that the resident DJ was doing it, so I hung around till the wedding breakfast had finished and then another van pulled up from a DJ the bride had also booked! So, that was 3 of us! I then made my way to the bride who I had been dealing with for 9 months. She paid me in full! She was so nice and explained that in total she had 4 DJs booked and that one of them had not turned up!! So, we all had a chat and laugh and decided why don't we all do a bit! We ended up using my kit and the bride was over the moon that 3 out of 4 turned up!
What's the most embarrassing?
Most embarrassing event was when I was asked last minute to host an awards night for a division of Orange mobile phones with clients from all over the world attending. I had the call no earlier than 24hrs before the event. They were filming small adverts for a team building day and I was due on stage at 7pm with a full script wrote out for me. At 6.45pm there was still no script and they said they had lost it!! I told them I had no brief on what to say, or what the event was about but they insisted someone will knock something up for me quickly. I was asked by the MD to take to the stage and prepare to be introduced 20 mins later when they had something in writing for me. And, then voice of God came over the speaker – "Ladies and Gentlemen please welcome your host for this evening…..Adrian"… (That was a quick 20mins!!).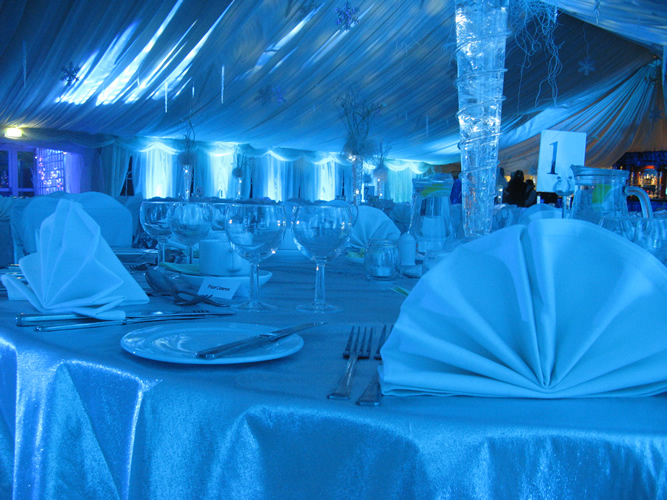 The crowd all cheered! Lights came onto me and I thought 'What am I going to say?!' I have never been dropped in it like that ever before! After a few moments of looking where the nearest exit was I decided to welcome everyone…
"I hope you all had a nice days filming and that to make the awards go a little smoother after dinner if everyone can please turn their phones off or put them on silent. And if you're a little unsure how to do that then tonight at Orange mobile phones we have booked a table with our technical advice line staff for any queries. Unfortunately, typical Orange you will have to leave a message with them as they don't work after 7pm and they may or may not get back to you – depending on how they are feeling on the day."
The crowd all burst out laughing and I left them to eat and finally had a script given to me for later! But having nearly 200 executive staff looking at you when you have no clue what you are doing was not pleasant!
What is the biggest request you get at events?
Biggest request from guests in general is "excuse me, what music do you have?" or "do you have any music we can all dance to?" I find it funny also when I am playing something like 80s music for 30 minutes and then soon as I change the genre people come up and ask for 80s! All good fun though.
Can you give us a 'Typical day in the life of….'?
A typical day in the life…. Well, this starts well before the day!!! But I tend to start my prep a few days before as I prep kit suited to the job as I have so many varied set ups etc. The day before the main electrical kit is turned on and a 5 min run through is done on all   things such as desks, CD players, laptops, lighting etc. All songs are checked and made sure that back up of main songs are on hand such as first dance for a wedding etc.
On the day of a function itself: Check all travel routes, roadwork's etc. Pack a spare sat-nav and if it's a long distance pack some lunch, and soft drinks in a cool bag. Leave house in van and make sure all fully fueled up and suit & shoes are clean!  Once at the lock up I work through the check list of all required and booked in equipment and load it into van. I then pack a back up playback system to ensure if any equipment failures then the night will continue. All kit is then double checked again whilst in the van.
When I arrive at the venue I always go and freshen up before talking to customers/guests.
I then make myself known to the client and get friendly with them and ensure them again that I am 100% flexible to their requirements. I look at it that I am not just a DJ but I play an important part of the greatest day of their lives. I then set up, grab a shower if possible, get changed into my suit and perform!
After my performance I play background music till most people if not all are out of the room. I find it very rude and unprofessional when people are breaking down to get out of the building as quickly as possible when someone's wedding or event has finished, guests will be saying goodbyes and clients talking to the organisers to thank them for the evening, so why not extend that with some chilled out music, while I can go off getting dressed to breakdown.
I then make my way to the client to offer my thanks for booking me and hope everything went to their expectations. I then pack away and drive to my lock up, unload and shower and bed. Bed can be dependent on distance but normally I am home at around between 4 – 5am.
To find out more about DJ Adrian and hire him for your own event, check out his full profile on the Warble website.
Published by Warble Entertainment