… Well, technically I'm "world famous" as somebody in Belarus has watched one of my YouTube videos! 😉
I've been a full-time professional fire juggler (aka fire-eater, fire breather or fire performer but not fire dancer as I'm too clumsy to dance!) for about seven years now. It's a great job and one of the things I love about it is the huge variety it gives me from day to day. I work at all sorts of events all over the UK and if I'm lucky even get the odd trip abroad to some exotic location that is in need of a fire show for whatever random and crazy reason.
One question I get asked a lot is where do I perform? With a circus? At festivals? Neither of these is true, I've never worked in a circus and very rarely work at festivals. Working in a full-time circus isn't for me, I love my life and my luxuries way too much to spend my time on the road touring form city to city. As for music festivals, they rarely have a budget and often offer me a free ticket. But, fire performance is a job for me, I need to pay my bills and if I'm honest I don't really like festivals. I'm not a camper and prefer Motown, Jazz and Funk to modern bands and music.
So, if I don't work at festivals or in a big top where do I strut my stuff? Believe it or not the bulk of my work is parties and weddings. I would say 75% of the gigs I do are for folks arranging parties, weddings and events who want to add something exciting to their wedding or bash.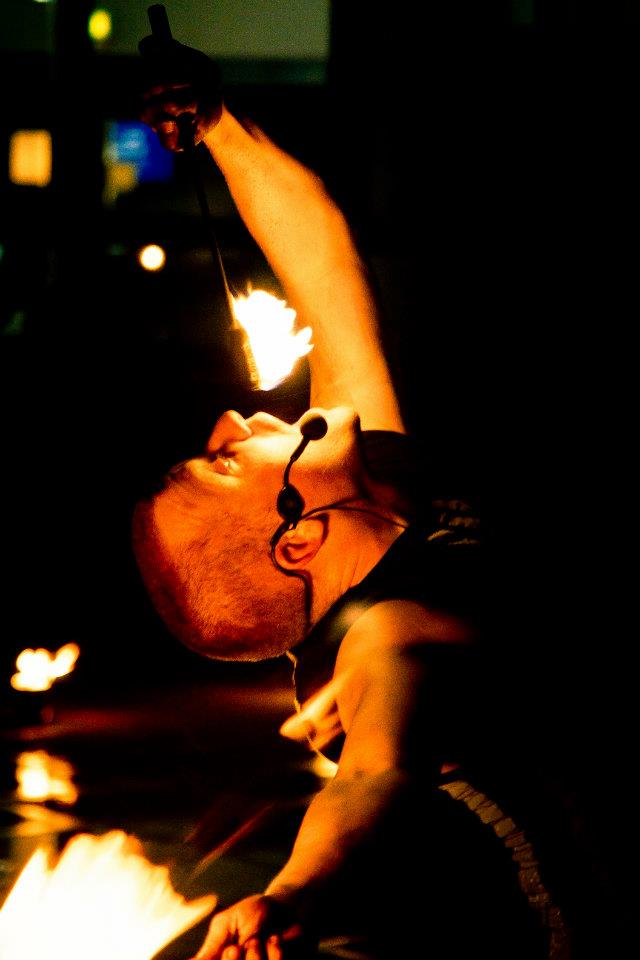 What I've learned over the years is that the British public love a good fire show. I feel very lucky that people are willing to pay me to do what I love and I put a huge amount of effort into making sure every show I do is the best it can be so my clients get as much value for money as possible.
After weddings and parties the other type of event that crops a lot is corporate functions. Usually I am booked to perform "meet and greet". As the guests arrive at the venue I am outside performing my fiery skills and welcoming them to the event. I always enjoy these type of bookings and it's fun helping to get the guests excited and get into the party mood right from the start.
Before you get jealous, I should say that it's not all glamour though. Motorway traffic jams,  Eau de Paraffin and wearing enough soot to make a chimney-sweep jealous can certainly take the shine off (literally!)! Still, even with all that taken into account it's an amazing job and I know I am very lucky to get paid to do something I love.
The crowds in the UK are amongst the best in the world (especially with a few drinks inside them) and doing a good show in front of a live crowd is one of the best feelings I've ever had.  Check out this video to get an idea of what I mean…
If you are interested in booking me or one of the team to do a show at your wedding, event or party please feel free get in touch. All of our enquiries are handled by the team at Warble so if you are in a rush just give them a shout and they will tell you everything you need to know.
Finally, if you have any questions or comments use the form below and I will responds ASAP.
Cheers, Tim 🙂
Published by Warble Entertainment