Like it or not, a major component of being successful in the music industry is a band's image. Yes, it would be great if it was all about the music but that is just not the case. This is especially true in the event entertainment side of things.
People who are booking your band don't just want to know that you sound great, they want to know that you'll look right for their event as well.
A majority of people booking bands for an event such as a wedding don't have much experience of booking entertainment and more often than not they are looking at acts that they have never seen (and won't get the opportunity to see) before, so getting your promotional material is absolutely paramount.
Although overall the most influential promotional material for a band is video and audio tracks, the most important is your images as these are what potential customers will see first. And we all know that first impressions are everything. If the first thing a potential customer sees is a poor, out of focus, pixelated photo, they're not likely to have their attention grabbed, and they are unlikely to even bother clicking on your video or audio. This is especially true in today's crowded market – if they have a wide range of bands to scroll through then they are going to go for the ones with great photos first.
If you have professional looking photos that represent your band's style and that supports the other promotional material, the customers are going to be reassured that you are a professional outfit that takes pride in their work and that you can be trusted to deliver the performance that they are looking for.
Having a great set of photos for promoting your band is a business investment and should be budgeted for appropriately. If you are looking to get better paid, professional gigs, you need to show that you are a professional band that is worth the money. As long as you do things correctly (and this blog should set you on the right path!), the money you spend on promotional images will be made back in no time in the form of extra bookings.
Planning Your Photo Shoot
The first thing to do is to sit down as a band and then work out and agree on what it is you are trying to do. What are you trying to achieve as a band and what are your priorities? If your priority is becoming famous as an original heavy metal band in the next 12 months then the images you will need will be very different to a band that is looking to book at least 4 wedding gigs a month for the next 12 months.
Once you have your priorities agreed you can work out what kind of style you want for your images in order for you to appeal to your ideal potential customers. You've got to hit them with a really compelling first impression, one that is clear, simple and impactful that makes them want to check you out further. It's no easy task but you need to aim for the right balance between appealing to as many potential customers as possible and being unique and standing out from the crowd!
Remember the purpose of the photos; to convince your target customers that you are the band for them. These are not photos for you to hang on your wall at home. Even if you are a metal-head at heart remember that you're targeting the wedding & corporate market, so you need to tone it down to make sure you're not putting people off. Yes there are couples out there that prefer heavier sounding/looking bands but try not to limit your customer base, show your personality but also show that you can adapt – this is a business not a hobby.
If you are with an agency, speak to their artist liaison and see what they suggest, they deal with bands all the time and if they're any good, they'll know what works for their customers and will be able to point you in the right direction.
As well as the style and band image side of things you also need to consider how the images will be used. If you are with an agency make sure you consider the format of their website so that you can be sure that the images you get will fit in optimally with the design. It's also a good idea to check if they have any specific requirements or restrictions in regards to image files.  Don't just think about the images on the main profile page, make sure you consider how images will look in search results (thumbnails) and social media pages etc, get the most out of your investment.
Setting A Budget
Unless you are really lucky and happen to be best mates with a professional photographer that owes you a big favour, you are probably going to have to pay for professional photos. Yes you can get someone to take them for free and you might get some decent shots just like if you buy a cheap guitar from the market, it could sound OK and might stay in tune. That's not to say that you need to throw loads of money at the shoot, you just need to ensure that you are being realistic in your expectations of what you are going to get for your money.
When supported by other appropriate media, a good set of new promotional images can easily mean a few extra bookings a month so work out what that means financially for you and budget appropriately.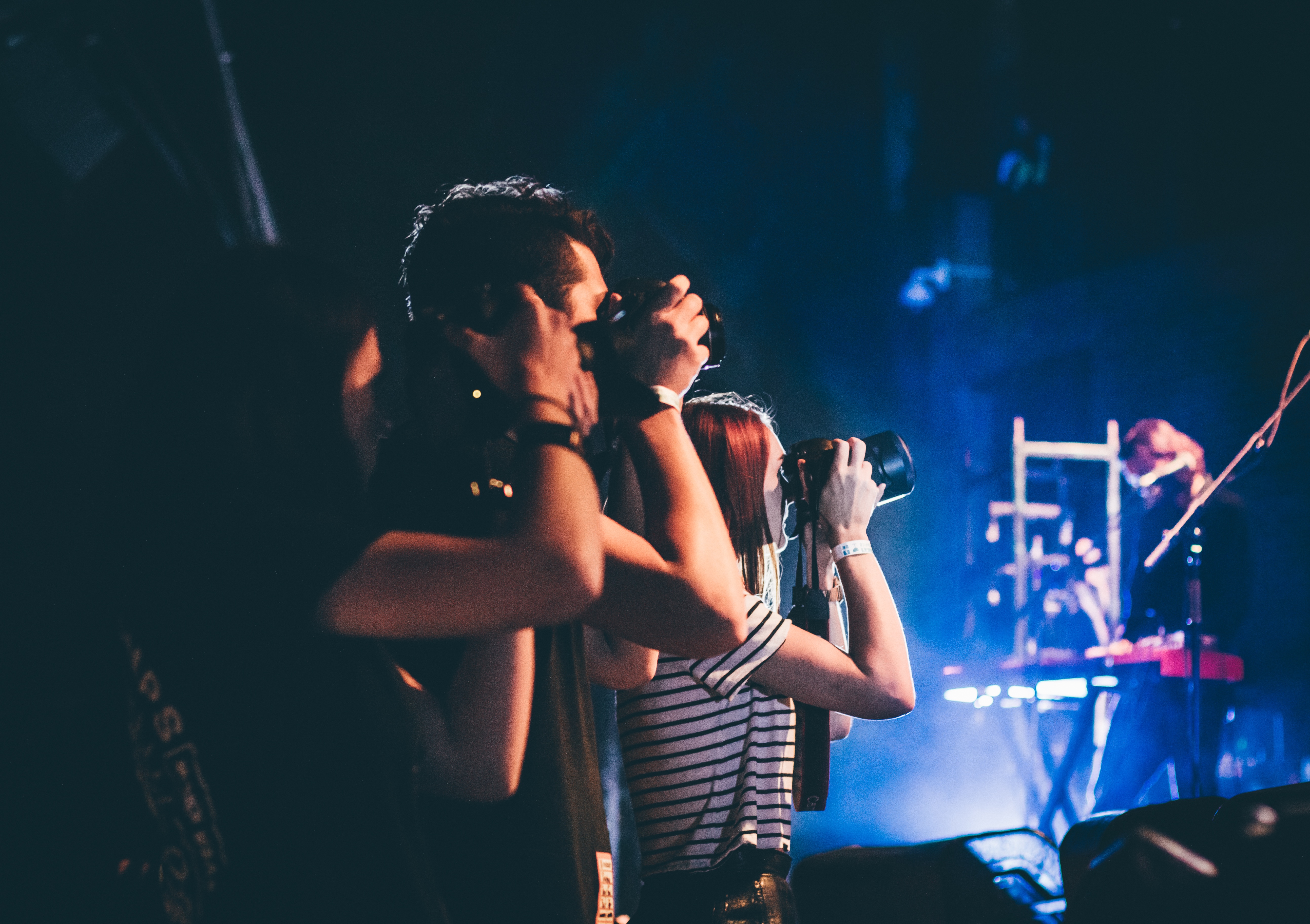 Choosing Your Photographer
Once you have your budget worked out and know what kind of style of photos you're going for, it's time to find the right person to take the photos! Different photographers have different styles so try and find one that matches you, ideally not just in the look of the images you are going for but also with their personality and work ethic. It can be hard to work out personalities online etc but you should start to get a feel by checking out their past work, clients and social media feeds to see what they are about. As well as photographers own websites, also checkout other bands and if you see images that match what you are looking for, see if they credit the photographer or get in touch and see if they'll pass on details. Draw up a shortlist and then get in touch to see if they are interested in working with you. You should work out quite quickly if they are a good match for you or not but having a face to face meeting is always a great way to make sure.
Agreeing Terms
Just like it's really important for you to ensure you agree with your customers what's included in a booking (number and length of sets, set up time, rider, DJ package etc) you need to ensure that you have everything in order with your photographer. Here is a list of some of the things you might want to consider and agree:
Selection process – different photographers work in different ways so make sure you know the photographer's workflow for selecting images and how you will be involved in that process.
Number of images – This includes the approximate number of proofs that you can expect to get and the number of delivered final images. Ideally, you should aim to get around 10-20 final images to make sure you can have options for different platforms/needs.
Image format – Some photographers have different rates for providing different formats, make sure you are getting the right resolution for what you need. If your photographer charges more for multiple formats, get the highest resolution you can afford. You can always downsize as needed using online tools such as http://www.picresize.com/ but you can't really upsize.
Editing – Make sure you know the level of editing included in the price, especially if you are looking for a more stylised look.
Examples – If you have seen some examples of photos that you really like, share these with your photographer so they can see where you are coming from. If you have chosen your photographer wisely then the examples you show should link in with their own style of shooting (or may even come from their archive of work!).
Usage rights – Even though you are hiring a photographer, they will still own the copyright of the images that they create (just like a customer who hires you to perform doesn't own your music). This means that you have to have permission to use the images in certain ways (known as usage rights or licence). You need to ensure that you agree on the usage rights included in the agreed price.
Location – If you have a location in mind make sure the photographer is ok to shoot there and has the right equipment if needed. Try and be original without making the location the focus of the shoot and try to avoid clichés (definitely no train tracks!).
Timescales – Most good photographers are busy so make sure you have an agreed timescale for sending out the proof images and the final image files.
The Shoot
By the time the shoot comes around, hopefully you'll have everything pretty much planned out but there are a few things you should keep in mind to make sure it all goes smoothly:
Preparation – Make sure that everyone is looking their best and not had a heavy night the night before (you don't want to have to fork out extra money on photoshopping out bags from under anyone's eyes!).
Branding – If you are with or are planning to join an agency (or open to the idea in the future) try to avoid including anything with your band name on it (e.g. the kick drum skin). Most agencies will require you to have an exclusive name with them so if you have your original name splashed all over your photos you may not be able to use them with the agencies.  You can easily personalise the images by adding the band name on them afterwards.
Writing – Try to avoid any clothing or backgrounds with writing on them, sometimes an image may look better if it is flipped but it is very obvious that this has been done if there is writing in the image.
Clothing – you should have agreed a look for the shoot but it's a good idea to confirm what everyone is wearing, you should all be wearing complimentary clothing but you want to avoid the dreaded 'matching outfits' look. You also might want to have a couple of outfit options per person so you can experiment. If appropriate, another good idea is to have a set of smarter/formal clothes to wear in a few shots so that customers can see that you can dress up smarter if the event requires.
Refreshments – depending on the length of the shoot and time of day, you may want to ensure that you've all got enough food and drink to keep you going.
Promote – Take a few behind the scenes photos/videos of the shoot (with the photographers permission) to use on social media to build some anticipation. Remember to tag the venue and photographer and they'll probably re-post it to their followers as well, you never know it could lead to an extra booking!
Trust your photographer – if you chosen the right photographer they should know what they are doing so let them direct the shoot and listen to their advice. You wouldn't expect them to tell you how to play the guitar so let them do their thing. You should have chosen them because you like their work and they are the best person to know how to create that kind of work.
Attitude – Probably the most important thing, remember that these photos are to promote you as a band and you all need to understand that your photographer can only do so much. You need to come at the shoot with the right positive attitude to get portrayed as you wish across in the images. Even if you all hate having your photos taken, suck it up and get it done. If someone is struggling to smile (usually the drummer!), help them out by making them laugh. If you enjoy the shoot, the images will show that and your customers are more likely to book a band that know how to have fun!
After The Shoot

Make sure you keep in touch with the photographer (without badgering them!) and send your selections to them within the agreed timescales. Although this is a business arrangement, photographers are human beings so if you like the photos make sure you let them know how much, you'll get much better work out of them if they feel appreciated!
Using The Photos

Once you have got your images, make sure you use them, they'll not get you any extra bookings sat on a hard drive at home. Get them on to your different platforms and remember to remove any older photos if they no longer match your current look/style. Remember to ensure that you stick to any agreed restrictions or requirements set out in any usage agreement.
Monitoring
Keep a record of the number of enquiries/bookings you are getting before and after the shoot so that you can monitor the return on your investment. If you see that your bookings shoot up after a promo update and then slowly drop off after 12 months, then you may want to ensure that you budget to refresh your photos every 12 months to keep the bookings rolling in (this applies to the other promo materials as well). If the new photos don't appear to be having much effect on bookings then you may need to look at your other promotional material as well.
It's all well and good giving a great first impression with amazing photos but if your audio sounds bad and your video is a grainy phone video from a gig 10 years ago, you're still going to struggle!
Published by Warble Entertainment