Well, I had such a blast doing the Top 10 Tribute Bands in an earlier blog that I thought I might just do another top 10 list… this time though, it's the top 10 Warble Acts of 2012… I know, I know it's March 🙂 Well, Jan and Feb are a very busy time at The Towers and so it's been all hands to the pump. But, I have just come up for a little air and as they say, better late than never… so, here goes…
The Story are an exciting and exclusive band to Warble who are based in the North West and cover this region plus some of the Midlands and North East of the country. The word is spreading about these guys and they are booking up very quickly for 2013 as well and so we're expecting to see them on the list again this time next year. The band have just updated their audio and added a couple of videos as well.
One of Warble's longest serving and most amazing cover bands for weddings and parties is number 9 on the list… The Hype! These guys are not only consistently flying off the shelves because they have such a great sound, feedback and repertoire list, but, they are also not too shabby to look at 🙂 The band are based in Sussex and cover the South East through to the Midlands… here's a little video of The Hype…
Bristol based party band The Hijackers are just awesome! Great customer feedback, great audio, great video and great guys! Everywhere these guys play they are getting the most awesome praise and customers are telling us that not only are they a hugely talented live band, but they are also just lovely! Here's a section of feedback from Becky who's wedding the guys performed at in Herefordshire.
"What an amazing band! From our first chat with them over the phone to the day itself they were extremely professional and listened to what we wanted. They played our first dance and compiled a fantastic set list including all of the artists that we said that we liked…"
The Hijackers already have barely any dates left for 2013 such is their appeal… and, here's the reason why. Check out the video below…
Sussex based RIOT! joined the Warble ranks back in April 2012 and have already notched up an impressive 80+ gigs! The guys have rocked everything from parties to weddings to corporate events all over the UK! Their audio below should give you a pretty good impression of why. RIOT! are what we like to call the 'real thing' – they are an authentic band who give their all in every show and in turn this feeds through to any audience they perform for and the show and atmosphere becomes electric! It's far too easy for me to say 'if you want a RIOT! on the dance floor, then these are the guys you need to book'…. but, I'm going to say it anyway…. 'If you want a RIOT! on the dance floor…' … I'll be quiet 🙂
At number 6 we have one of the most outrageous and funnest cover bands on the circuit today… The Daggers! These guys know how to party and have taken crowd participation to an all new level with their now infamous 'Dag-Off'. Seeing is believing. But, that's not to belittle the musical talents of these guys… The Daggers have a front man who can rock with the best, is a multi-talented instrumentalist and can make even the most 'hard-hearted of non-dancers' take to the floor and strut their funky stuff. Get ready to party hard with these guys because 'there ain't no party like a Daggers party'… never has a truer line been typed…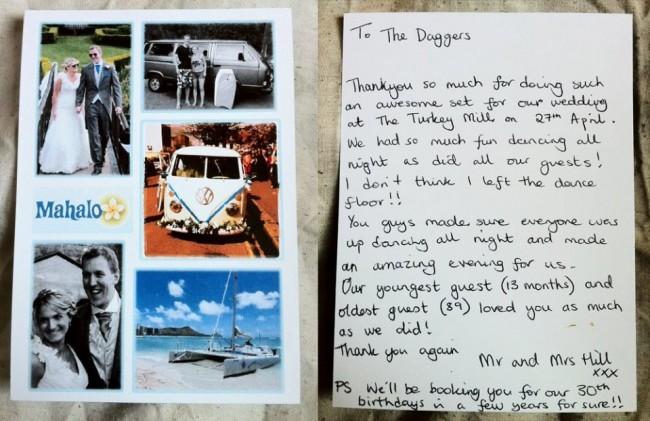 At number 5 we take a break from live party bands and would like to say a big congratulations to David the Caricaturist! David is based in the North West and besides being a hugely talented artist and caricaturist he supports Everton. Oh well, nobody's perfect I suppose. David has been a great addition to the Warble roster and featured as one of the caricaturists on the IKEA roadshow last year. Check out David's full profile and make sure you have a look at the previous customer feedback because it shows just how well received David the Caricaturist is at any wedding or event he attends.
And, at number 4 another great caricaturist! This time it is the one and only Rich… and when we say that, we mean it! Rich has us all in stitches with his brilliant wit and charm and also the lovely little pressies that he has been known to send to unsuspecting members of the team… John still plays with X-Factor buzzer even now 🙂 There is no doubt that Rich the caricaturist has a talent that is just MASSIVE and it has been spotted in the last  12 months and utilised by Nintendo, Ford and JCB amongst many other corporate customers. Plus, quite literally hundreds of weddings and parties.
Check out this great feedback we received recently for Rich from Amanda where Rich performed at a University Event in Warwickshire.
"I was so happy with the service I received from Warble and Rich the Caricaturist. Coral, my Warble representative was very efficient and always got back to any queries I had quickly and in a friendly manner. On the night, Rich arrived promptly and was really enthusiastic to get going. The caricatures he drew were hilarious and feed back I've got from the guests so far shows how much they appreciated his works of art. They made fantastic souvenirs of the event! Thanks again for being so friendly, helpful and organised, Warble really made planning an event smooth and easy!"
Here's a video of Rich doing his thing…
Things are really starting to heat up now… groan! I know, I know… Anyhoo, it would appear that brides and grooms are starting to turn away from fireworks these days as the finale to their special day because at number 3 we have the exclusive to Warble Entertainment fire performers. Fire breathing, fire eating, staff juggling… while the staffs are on fire… pyro finales, choreography to music and more! Those are the reasons why these guys proved to be so popular in 2012. And, by all accounts it doesn't look like their popularity will be waning in 2013!
Recent feedback from a re-booker Cheryl for a Birthday Party in Wiltshire said everything Warble could have wished for and more…
"Wow…. another amazing show from Tim. I booked again as the quality and fun of the show really impressed the guests at my 50th Party last August so decided to have them back for my daughter Hayley's 30th. Will be booking you again in the future."
The great thing about the fire performers is that they have all the necessary safety checks, insurances and risk assessments in place so that all you have to do is book. No messing. In fact, if you are considering booking drop us a line and we can send you over their full FAQs.
So, this brings us to the number 2 spot….. and just missing out on number one, and we mean only just… are Friends of the Bride. Friends of the Bride are a 3 piece, all male, Greater Manchester based party band with lots of experience under their belts. These guys have more  feedback than you could shake a stick at (I never understood that saying?!), always convey a real sense of enjoyment and passion in their performances and know how to work a crowd into a frenzy. Don't believe me? Then check this….
In fact, as I write this about Friends of the Bride Warble has just received the following feedback for the band… so, hot off the press…
Zoe Anthon, Wedding Event, Cheshire
AMAZING!!!!!!! Is the first and only word that pops in to my mind when I think about FoTB playing at our wedding on Fri 8th Feb 2013. There is no doubt about it, they made the evening reception extra special and I have received nothing but praise from our guests about them. They managed to please all age groups even the mother of the bride who was slightly wary when I told her there would be no ABBA at our doo. She hardly left the dance floor along with the majority of our other 100 guests, our only problem was that the dance floor was simply not big enough. I would recommend these guys to anyone who is looking for an awesome night of entertainment with professional & friendly service! Many Many Thanks Matt, Chris & Adam we will be booking you again for any future parties (once I've recovered from this one) x x Just a quick note to Tracey at Warble, thank you for all your help with the booking. Friends of the Bride were absolutely awesome and neither I or any of our guests were disappointed they really were simply brilliant and have given me some great memories of the night which is pretty high praise.
Fantastic! There isn't really much more to say about Friends of the Bride because with these guys their music talks for them. But, we would like to add that FotB are not only great musicians, but consummate professionals and a joy to work with. Thanks guys and well done for the well deserved number 2 spot!
Which bring us to the number one spot… *cough, cough* clears throat…
Ladies and Gentlemen, I give you…
Yes, for the second year running The Indie Killers have taken the top spot at Warble Entertainment Agency based on the number of bookings. And, why ever not is all we can say! The Indie Killers provide the hugest (there's a technical term for you!), most brilliant and funnest experience that any live band could possibly give. They play 2 hours (but have been known to perform a LOT longer!) of pure dance floor filling anthems! Everything from The Killers to Kings of Leon to their own classic versions of current pop hits… of course after having been given The IK treatment 🙂 If you don't believe me then check out the audio below:
In addition to being able to rock any dance floor half to death, the guys are the friendliest and most approachable you could ever wish to meet. And, when you are arranging a wedding or a corporate event, this goes a long way to making sure everything is perfect!
The Indie Killers are really, really popular and so if you are looking to book them you may well have to hope that your event is in 2015… they are literally getting booked up that far in advance. However, when you have been witness to an Indie Killers show (jumping on tables, joining guests on the dance floor, finding backing singers to join them on stage and more…!) there really can be no substitute. We have had brides and grooms who saw them performing at a friend's event or party and then arranged their own wedding based on a date that the band were actually free. Now that is high praise indeed! And, this has happened on more than one occasion as well.
With feedback like no other band we have ever come across the IKs have covered the length and breadth of the UK and also a lot of Europe to perform their show. Here's a few choice words from previous customers…
Katie Millington (Travelzoo), Corporate Event, London
Hi Tracey, Please thank the Indie Killers for Friday, really good feedback from everyone, they were brilliant. I will always recommend them! Thanks again, Katie

Ritchie Sholten, Corporate Event, Nottinghamshire
One word 'Awesome' – Saw you guys at a wedding and booked you on that basis but you were fantastic, really made the event. Everyone this morning has commented this was the best Xmas party thrown by the company for a long time. So really big thanks to you all!

Terry Preston, University Event Event, East Sussex
The Indie Killers we're fantastic to work with and played to superb sets. They had the crowed going till the very end. Absolutely Brilliant…….. Again.
It goes on…. these were just the first 3 on their profile…. but, here are some from happy wedding customers as well:
Clive & Louise Parsons, Wedding Event, East Sussex
The Indie Killers were fantastic! Have already passed their details on to others planning weddings and parties! Just hope they're free as would love to see them again! Everyone loved them 😀

Mr & Mrs Bolton, Wedding Event, Pembrokeshire
Hi Damo, David and I just wanted to say thank you so much, to you and the guys for TOTALLY ROCKING our wedding on Saturday night! We had the best time ever, as did all of our friends and family, who were absolutely blown away by you. You even managed to get David up dancing, which is generally unheard of…. he doesn't do dancing! Rob was almost beside himself in getting the chance to play drums with you, and Max loved singing with you, thank you so much for that! Also thanks for putting in such a long set for us, don't think our friends ever wanted you to end, and we really appreciate it…. you even managed to play the dirty dancing tune 'time of my life' which am sure is not usually on the set list! I believe there is video evidence of my friends doing 'the lift' to me…. comedy!! You guys are a class act and will definitely be recommending you to anyone having a party of any description, as we'll be gagging to see you perform again soon!

Caroline Jackson, Birthday Party Event, Kent
This is the most amazing band ever. They rocked the party from young people to old. Totally spectacular and very very cute too. The boys were polite, lovely, friendly. Just made our evening totally perfect. Thank you so much to the IK's, Caroline and Paul
So, it is with great pleasure that I, and indeed all of Warble Towers, would like to say a MASSIVE well done to The Indie Killers… we salute you and long may you continue to reign supreme!
And, that's it… the start of 2013 has introduced some new and pretty outstanding talent to the Warble roster and I predict a very different top 10 next year with bands like Anthem, The Weekend, The Gobots and The One Step already picking up the pace. But, until then… thanks for reading… over and out.
Published by Warble Entertainment