So you have finally agreed with your partner on the date for your big day. It is now time for preparations to begin in earnest towards a truly memorable day for everyone involved. For many, this is the most difficult stage of the process. You want a truly unforgettable experience but have to work within the confines of a specified budget. This piece offers practical ideas you can work with to find the perfect balance between spending and experience.
Choosing the Venue
To host a quintessential Sussex wedding you need to choose the right venue. Whilst there are no hard and fast rules on this front, you should look for a venue that has picturesque outdoors and backdrop. It is no surprise that many go for sea front venues.
However you can still choose any of the several venues that have superlative gardens and exceptional décor. Some options you can work with include Angel House, Barnsgate Manor, Wardhurst Castle, The George in Rye, etc. There are many locations similar to these.
So, trim down your venue options to only those reflecting some of the features that can be associated with the examples listed here. Why choose such venues? The quintessential Sussex wedding takes place in a cosy but relaxed environment that allows couples to either go for the self-service route or the formal arrangement route, or, both!
Catering Options
The food that will be served in your wedding is another important decision you will have to make. As always, there are several routes you could go.
Food Vans and Street Food Vendors
Calling in food vans and street food vendors to serve the guests is a good route to go with a self-service wedding. The downside however, is that many of them only serve a specific selection of food. You have little to no control of the menu. Some of the foods you can expect to find in food vans include fish and chips, ice cream, hot dogs, hog roast, sundae bar, sweet cart, burger and other such everyday delicacies. Some of the street food vendors however offer Sussex specials like Ceviche and Burrito wraps.
Catering Service Option
"The catering service option is preferred by most couples as it allows them to relinquish the delivery of mouth-watering delicacies to capable hands that they can trust", says Toney Brewin from Super Event Sussex. "The dishes are healthy, wholesome and made from ingredients sourced from Sussex's rich produce catalogue. You can choose items on the menu for the day or allow the caterers to craft a menu that is sure to leave an impression on the mind of your guests".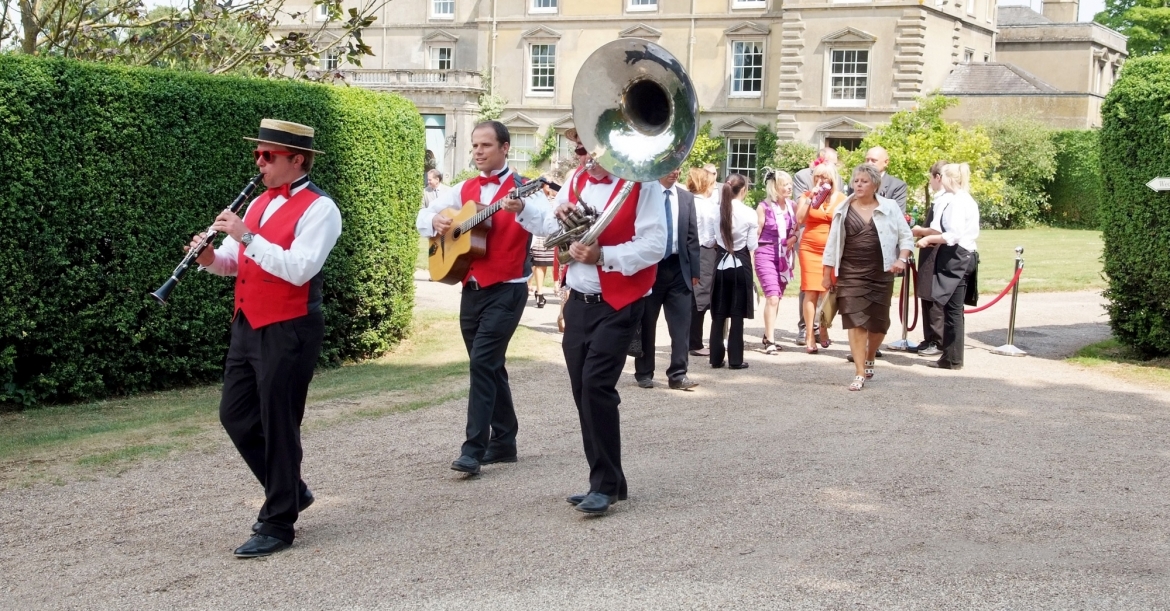 Music
Planning for music on your big day shouldn't be rushed over. The quintessential Sussex wedding usually features high quality music carefully planned from wedding breakfast all the way through to the evening reception.
Ceremony
You need some romantic music for your guests to enjoy during the procession, the signing of the register and the recessional. Options you should go for include hiring a small choir, classical guitarists or harpists.
Wedding Breakfast
Whilst the tasty meals are being served, you need fitting music in the background as well. At this point, you can choose from acoustic bands, classical musicians and piano players.
Drinks Reception
As the photographers get to work, you need to keep your guests entertained with the right music to ensure they don't feel left behind. It is also a time for guests to mingle so why not provide them with the right music? You can keep your acoustic band at this stage or bring in a jazz band.
Evening Reception
This is the peak of the day so you need the right type of music that will keep people showing off their moves on the dance floor. You can either choose a DJ for this stage or get a live band.
The quintessential Sussex wedding is easily achievable by working with the quick and practical tips contained here. Enjoy a magnificent day with your partner!