So, you want to plan the perfect rock and roll themed wedding this summer that will do justice to your energetic, ebullient and eccentric personality? You want something uniquely you?
You and your significant other have decided that you want your special day to be unmistakably rock roll, but without overdoing it. After all it is a wedding, and you still want the special traditional wedding flair and flavor?
Don't worry, you're in luck. This piece will give you a few ideas on how to plan your perfect summer rock and roll themed wedding beautifully, and get the mix just right.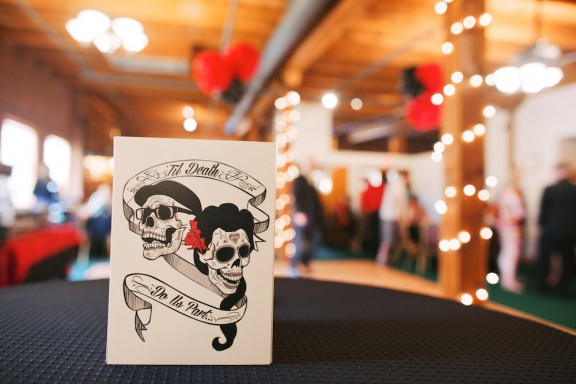 The Theme
Vintage, bold and wild colours truly reflect a rock and roll theme. You can't go wrong with black, silver and red colours as the main colours to create your wedding decorations. But you must pay attention at this stage to avoid getting it wrong.
For example, while darker wedding decorations or centerpieces, such as black seat covers or tables, are representative of rock and roll, too much of it can create a pessimistic and sober atmosphere on a day you are shooting for wild fun, joy and happiness.
There are electric colours you can combine darker colours with, such as hot pink, neon and nectarine, without losing the rock and roll theme.
Don't forget the whole theme starts from the wedding invitation card. Tease your guests and set the expectation by creating a rock and roll themed wedding card. You can even design it to look like a concert invitation, or imitate the design of your favourite rock and roll album cover.
The possibilities are endless. Once you start the process, your creativity will kick in and lead you.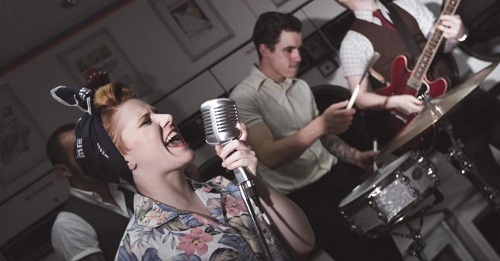 The Music
A little romance and special wedding song here and there won't be out of place, but it goes without saying that your wedding needs to be heavy with rock and roll music.
Ideally, you should hire a band to truly rock the atmosphere and enhance your theme.
Make no mistake though, there has to be a lot dancing, and you need a band that will perform your favourite songs in such a way that will keep your guests on their feet.
Bands such as Sussex based Vintage Skiffle Band Whiskey Wailers or the Rock n Roll sensation that is the Rock N' Roll Legends would do just fine, but there are lots to choose from depending on your location.
The band will have to be displayed strategically. The musical instruments, such as the drum, guitar and so on, the band will come with is very much part and parcel of making the rock and roll theme stick.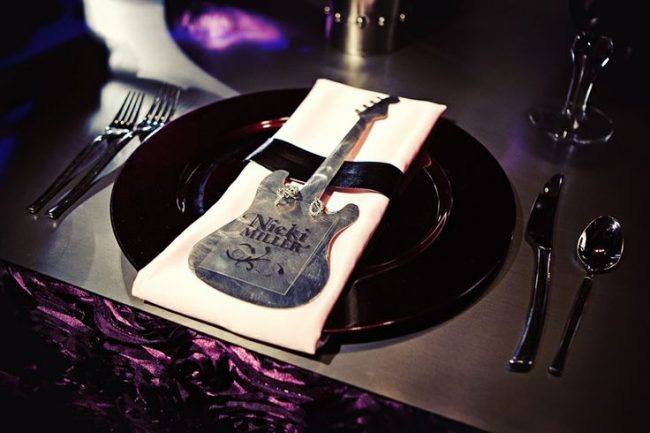 Photography and Wedding Shots
This is a very important part of your wedding. It's where the memories will be stored, and surely, you would want to look back and see the rock and roll theme elegantly captured.
Choosing the right photographer is important, and you need one that is creative and can spice up the shots in a way that will amplify the theme.
The photographer may have lots of ideas and suggestions once you let them know your theme, but you can't go wrong by giving your guests a chance to relive the unique photo booth experience of the 1960s. A photo booth will fit seamlessly to a rock and roll themed wedding.
Use vibrant colours and props at the background to give the booth a special effect. You can also gift pictures to your guests in picture frames as a wedding gift. This would be a great way to give personalised memories of the event.
Best4frames say:
"Picture frames are an ideal way to show off your treasured wedding shots, and make great pieces to display in your home, especially if they are rock n roll shots!"
Additional Considerations
To further enhance the theme, you should look into getting some vintage wedding accessories. Some special candles or chandeliers will rhyme with the atmosphere.
You don't really need to change anything when it comes to the bride and groom apparel. The traditional wedding apparel is a nice fit. However, you and/or your partner may decide to go for something darker if you prefer.
You can find other little ways to further boost the theme and you will be surprised how creative you can be once you start the process.
For example, you could attach mini-vinyl records to boxes filled with candy, or you could decide to gift your special guests a record that shows what each person means to you.
There are other ways you can spice your day up to make it truly remarkable that you will discover once you start planning.
But, once you've selected rock and roll as your theme you will realise that nobody will forget something so exciting and energetic any time soon.
Rock on Love Birds!