A white Christmas is what it's all about… isn't it?
The snow and frost can provide the most romantic backdrop for your winter wonderland wedding or event. Imagine the beautiful pictures your photographer could capture of your cute page boys and bridesmaids or even the groomsmen having snowball fights on the lawn or the amazing reflection on the snow from the fire performers you booked as a surprise for your corporate Christmas Party.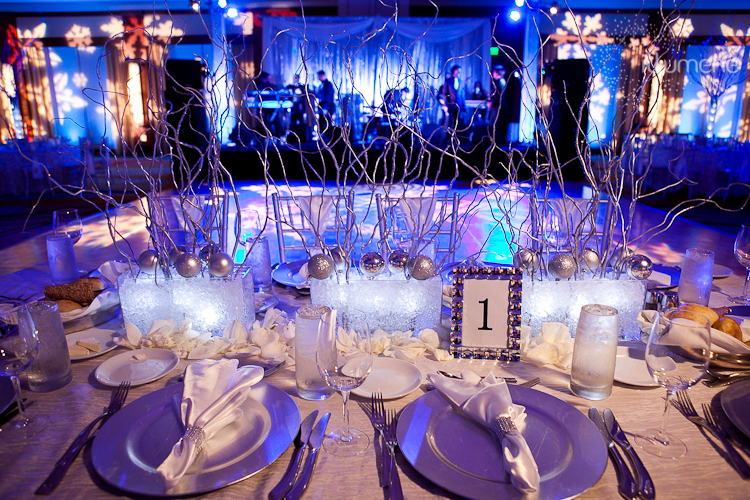 If all goes to plan there's no doubt it can be truly magical but there are certain things you need to consider when booking entertainment for your winter event. Luckily, one of our ace bands, Supercharged, are extremely experienced in all things snow and so Abi, their keyboardist extraordinaire has come aboard to tell you about their experiences and provide some very handy top tips!
"Winter is upon us! Already Wilko's have filled at least 3 aisles with Christmas decorations and I have been subjected to several mentions of Cliff Richard by people who should know better (If you've been keeping up with the Warble blogs you will know what I mean)!
Winter means it's time for us to fiddle around under the van bonnet with  anti-freeze and root around in the garage rafters for our Christmas hats & stage decorations.
From mid-November onwards it's corporate Christmas party time! As well as winter weddings with the bride looking beautiful in something white & wooly while the best man blames his red complexion on the weather.
If you're booking a band for your Christmas/winter event there are a few things to consider… the main one being the weather.
British weather is unreliable at the best of times but the last few winters have thrown some pretty impressive snowfalls at us. These have caused people to be snowed in, snowed out, and brought major motorways to a standstill. If I was planning a winter event in Devon I wouldn't rush to book a band from North Yorkshire. When the weather turns ugly it can add a lot of time onto a journey, so the longer that journey is in the first place..….. you get the picture. I know Warble Entertainment are conscientious about travel distance when recommending bands to clients for the winter period, and if you are struggling to decide between 2 acts my advice would be to pick the closest.
We tend to get annoyingly smug when it comes to extreme winter weather. We used to spend our winters gigging in the Alps, so we consider ourselves snow-trained, ice-competent, blizzard-proficient and avalanche-aware. We hope an avalanche is not something we're likely to experience whilst heading to a wedding down the M6 but it's better to be over qualified.
Before setting off to a gig in the Alps we'd usually have to dig our van out of a 6ft snowdrift which was a pretty good way to warm up.
Driving to a ski resort venue means driving up a mountain, which frequently called for snow chains. Though I say so myself (the only girl in the band), I was the best at putting on the snow chains. Mainly because in those distant rock 'n roll days I was usually the least hungover! With hindsight I was also the stupidest because the boys would sit in the warm van telling me how great I was… while I rolled around underneath it with a red nose and blue fingers.
When we bought our snow chains in France we never expected to use them in the UK in spring, but that's what happened last March…
Our very anxious client called Warble Entertainment on the morning of her wedding, panicking that we wouldn't make it and her guests would be spending the evening listening to Radio 1 from her iPhone. But she needn't have worried. With the chains we were able to get down our road past all our stranded neighbours. When we arrived at the Wedding Party we were able to go up the venue's back drive, which was a foot deep in snow, to unload our gear. The venue staff were very impressed!
That's enough snow talk, but while I'm on the subject of winter events I have 3 other small tips that might be worth considering:
1) Most bands will happily play a few Christmas songs live, but you don't want your guests to miss out on the rest of their amazing and carefully crafted repertoire. So, don't expect your band to play the 20 top Christmas hits of all time. We play 2 or 3 Christmas favourites live every year, and can take requests for any other Christmas songs via our DJ system. (Except for Mistletoe & Wine. It's been banned. By me.)
2) Don't expect the band to set up behind the biggest Christmas tree you've ever owned. Make sure you leave sufficient space for them amongst your decorations and when you gallop back from Tesco's with armfuls of fairy lights remember most bands will need at least 2 plug sockets left free!
3) We all know that Christmas is the best excuse for everyone to eat and drink way beyond their normal capacity which means the most hardcore of revelers are falling by the wayside well before Cinderella's coach turns into a pumpkin. Bear this in mind when you're planning the agenda for your event & get the band on while everyone is still upright and in a fit state to enjoy & appreciate the wonders of ROCKING LIVE MUSIC!!
I hope this helps!
Abi x"
And, just to get you in the Christmas spirit… here's a few Warble acts to get you all festive-y 😀
Published by Warble Entertainment