Many little girls start dreaming about getting married just as soon as they see their first Disney Princess movie; beautiful Princess meets handsome Prince, Prince turns into a frog, Prince defeats the baddie, kisses the Princess, Princess wakes up from a 100 year sleep on a mattress with a pea hidden inside, falls in love with the Prince they get married in a castle and everyone lives happily ever after (or something like that). Primary school drawings usually depict a pretty lady dressed in a big meringue wedding dress with a man standing next to her and similarly, stories written at school normally start with 'Once upon a time there lived a Princess who met a Prince' etc.
If this was you as a child then no doubt, you've been planning your Cinderella style wedding for years behind the scenes and now your very own Prince Charming has popped the big question it's time to plan your fairy-tale wedding. This will mean everything down to the tiniest detail is going to make your day fit for a Princess even if your other half isn't blessed with a royal title there's no reason why you can't live the dream!

Venues fit for a Princess
Firstly, it's all about the venue. Princes and Princesses tend to hold their wedding party in grand, stately homes, majestic castles and sumptuous palaces. Now mostly, royal palaces aren't for hire but there are definitely some unbelievably elegant castles in the UK which are fit for Kings, Queens, Princes and Princesses and of course – you. Warble should know, we've provided live bands and entertained in most of them. While there are plenty across the UK we've selected just a couple to mention such as Rowton Castle in the Shropshire countryside which boasts 17 acres of ground, English walled gardens and stunning architecture too, complete with turrets and Gothic styling. It was built in the 17th century but has hundreds of years of previous history too. Another fabulous venue is Lumley Castle in Durham in the North East of England, which dates back to 1388 although the origins date back to the 9th century. A castle-hotel steeped in romance, history and a location that entertained Kings and Princes many years ago is certainly a remarkable venue for a wedding. Hold a medieval wedding banquet inside either of these and you will feel every inch the historic princess. Warble can supply plenty of exciting entertainers to add colour and vibrancy to your day and keep within your castle theme. For example, Kevin the court jester, professional fire performers, walk-about jugglers, crystal ball jugglers, illusionists and stilt walkers to name a few ideas.

Arrive in Style
Along the theme of royalty and romance, every Cinderella wedding should include a horse and carriage! What Princess doesn't want to step out of a traditional carriage drawn by horses on her wedding day? Be aware though that weather can hinder your travel arrangements so if you can, organise a spring, summer or early autumn wedding (although we still can't guarantee you fine weather). However, there is something utterly dreamy about the winter wedding especially when held in a country castle set against a backdrop of moody, wintery skies and even a white blanket of snow (yes, we know it can hamper travel plans too but think of the photographs!). If you search online, you will come across true Cinderella style glass carriages with removable roof and sides so they can be used in all-weather. Alternatively, stick with something a little more traditional such as a white Landau carriage – glass fronted and fully enclosed but if the weather is good the roof folds down for a completely open-top experience and you can wave at your guests as you arrive, just like royalty.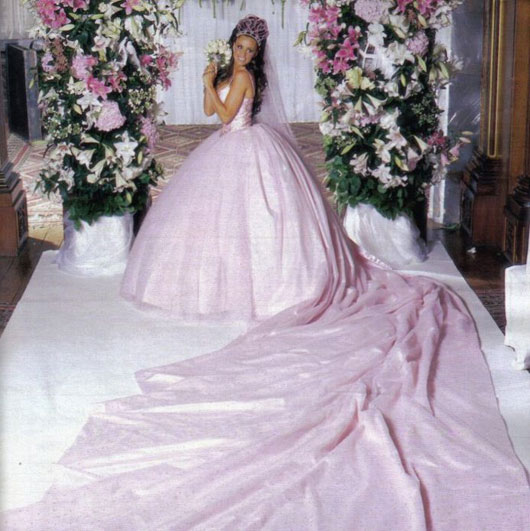 The Princess Dress
When bearing your dress in mind, Cinderella style dresses do look incredible in fairy-tale Disney movies but beware of looking too My Big Fat Gypsy Wedding or Katie Price (Jordan) when she married Mr Andre. You can look just as breathtaking in a sophisticated princess gown just like our very own Princess Kate. Lace styles are still extremely popular today thanks to the royal wedding in 2011 when Kate chose an ivory silk-satin and lace sleeved style with an A line skirt. The dress had with 58 organza covered buttons, fastened with hand-stitched rouleau loops. Absolutely sensational and designed by Sarah Burton – the train itself measured 110 inches long! Feel inspired by royal dresses, there are plenty of gorgeous, exquisite styles in many bridal shops from straight and sleek to fishtails, figure hugging dresses and full skirted styles. Remember to choose something that suits you rather than what you might imagine looks great on you. Try on as many as you want and bring trusted individuals with for their opinion (don't forget to swear them to secrecy too!), you will get an understanding as to what is right for your figure and personality.
Make-Up Fit for a Princess
Keep make up soft and dewy, if you're using a make-up artist have a trial well before the day and remember the less is more rule. Your professional make-up artist should know how to make you look beautiful without piling on too much make-up and ensuring your make-up stays put all day. Neutrals and peaches and cream skin will keep you looking like the Princesses of yesteryear and today. Wedding hair should be dreamy too – either tumbling curls or upswept but nothing too severe. Finish off your dream style with wedding hair jewellery, crystal encrusted hair combs, hair pins dotted with iridescent pearls or a sparkly Swarovski tiara and make sure your hairdresser tries the veil on before your big day so you know exactly how it's going to look.
Invitations
Wedding invitations for Cinderella inspired weddings should be soft, feminine, dainty and above all romantic. Don't feel you have to restrict yourself to pastel shades. Black ink on white paper is perfect, add a shimmer to the invitation card and some filigree detail not to mention a border and you have a fairy-tale inspired invitation. Ribbons, bows and other forms of applique are all fine as long as you don't go too over the top. The key is to keep all elements of your wedding romantic but chic.
Royal Flowers
When choosing your flowers for a fairy-tale wedding, you may conjure up images of hand-tied bouquets crammed full of seasonal flowers in pastel shades; roses and sweetpeas, in peach, lilac, pale pink, ivory but you can also use plenty of colour too. Creamy shades work just as beautifully with rich red roses; hydrangeas and gardenias or modern white orchids look dramatic too. Remember, Princess Kate held a small bouquet of Sweet Williams and looked every inch the romantic Princess bride. On the theme of flowers, for table centres seek out tall candelabras and lanterns together with sparkly tea-lights which make for ultimate romance. These look fabulous intertwined with either colourful or soft, creamy roses and adorned with tiny pearls or crystals which twinkle in the nightlight on tables with crisp white linen and dreamy silver satin runners and chairs.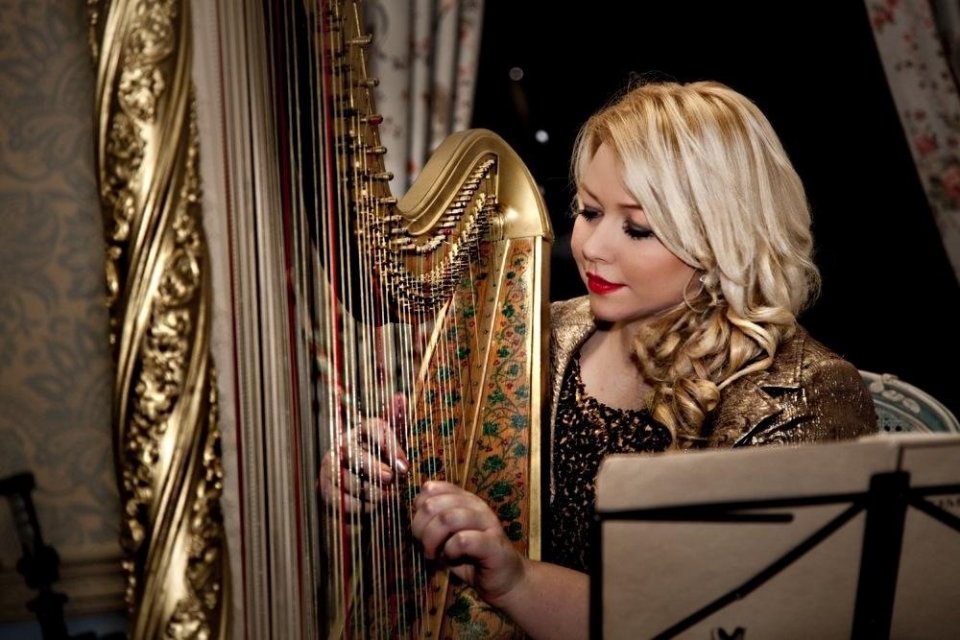 Music for your Royal Celebration
The Cinderella wedding would not be complete without atmospheric music at the ceremony. You don't have to be married in a church or other religious venue to have a fairy-tale wedding – it's about creating the ambience using floral displays, silvery or golden chairs, or white linen covered chairs with dramatic sashes and moody lighting. Warble Entertainment has a host of harpists, pianists and violinists to gently serenade guests on arrival adding no end of romance to the already misty-eyed atmosphere or consider a choir singing traditional tunes or modern classics. Equally, a string quartet looks and sounds phenomenal without being too overpowering.
On the subject of music, if you want to remain on the theme of Cinderella style romance before getting all your guests dancing the night away you could include a Sinatra sound and lookalike or Rat Pack band and there's nothing like swing and jive bands to get everyone dancing. While classic acts are always great you still want to get your guests partying the night away. If Cinderella lived today she'd probably love boogieing down to the Bring the Noise! who are one of the busiest bands Warble represents or another in-demand band, Goldstar with six professional musicians all working hard to make sure you and your guests have a night to remember. Although if neither of the mentioned bands are available there are so many other excellent bands all able to make your wedding stand out from the crowd, it's best to talk to us about what you want for your Cinderella day.
We will do our very best to make sure your Cinderella wedding dreams come true by providing the ultimate in entertainment so call the experts on 0845 643 9384 or visit the Warble Entertainment website.
Published by Warble Entertainment