Take a leaf out of Kate Moss's book and plan a wedding day with a distinct twist. From what Warble Entertainment is seeing, Boho weddings are very much in style, big time and there's no doubt that getting married Boho-style is a creative and imaginative way to celebrate your nuptials. Boho is a love of all things unconventional – so if you don't want a traditional church or civil ceremony, a big meringue dress and a wedding reception in a hotel or similar then Boho style may well be the answer you've been looking for, it's about creating the wedding you really want rather than bowing to convention.
Going Boho can mean anything from choosing a venue which reflects your personality – so if you're a nature girl, the outdoors is perfect, beach side weddings, garden weddings, rustic farmhouse weddings, gazebos – anywhere which is less formal and gives an air of let's relax and have fun – to hand-making all your decorations and perhaps your dress. They are also notoriously small and intimate – wave goodbye to the formalities and have your nearest and dearest, and it's a great way of not having to invite Auntie Ethel your Dad's fourth cousin, you may have last seen her when you were three…! If you the bride wants to wear a garland of locally sourced, seasonal flowers in your hair, think laid back chic, tumbling beach-inspired curls, just got out of bed tousled looks with simple flowers strategically placed… or a floral style crown among loose plaits then so you will! Even go barefoot! Or choose flat white or silver sandals to adorn your feet.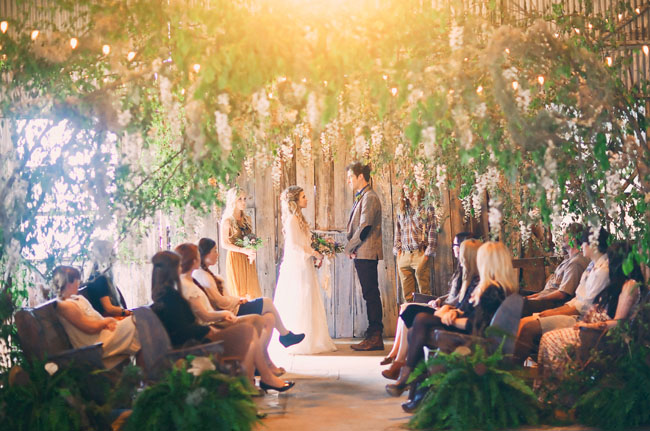 Even your invitations can be Boho so think hand painted, hand drawn and on rustic paper or card – undyed, natural. Find a stationer who can do this for you unless you have an artistic friend you could commission, there's nothing better than a bespoke, beautifully finished hand-made card popping through the letterbox.
Many Boho brides look for their dream wedding dresses in places you would never imagine and then get them customised to suit their taste. So if your mother or grandmother has a stunning vintage style dress hidden away in a chest in the attic, now's the time to hunt it out, dust it off and see what you can do to resurrect it to your dream Boho dress. As a suggestion, think dainty lace, simple styling, nothing too fitted – fluid, draped soft and feminine. Search thrift shops and second hand shops for wedding dresses or even on the high street and then customise with lace, a sash, ribbons – whatever YOU want, it's your day. Let your man be comfortable too, so if he's not a suit and tie guy, let him wear a pair of trousers and open top button shirt with a casual lounge jacket, think rolled sleeves and a big daisy button hole – or a floppy silk handkerchief… whatever is his preferred style.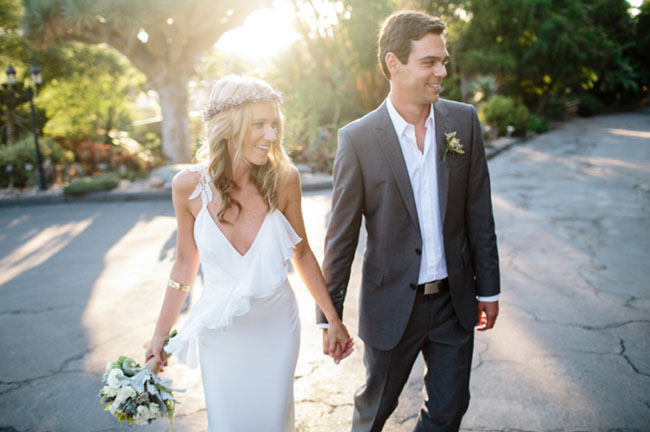 Your flowers should be soft and pretty, daisies, bluebells, sunflowers, loose bouquets, with a hand-tied finish. Ask your florist to add in foliage, ribbons, feathers and create something elegant but out of the ordinary or if you really want to go to town with your Boho wedding – get friends to make your bouquets or floral table arrangements themselves! We love the look of different sized jars filled with an array of bright colour or soft pastels. Jars can be bought at any kitchen shop and there are plenty of gorgeous sizes and coloured glass to choose from.
While on the subject of décor, think fairy lights, twinkling in the dusk, banners and bunting with lanterns to mix in with your garden flowers and if you want colour, pastel hues on the cotton table linen will bring a fresh, soft and feminine finish.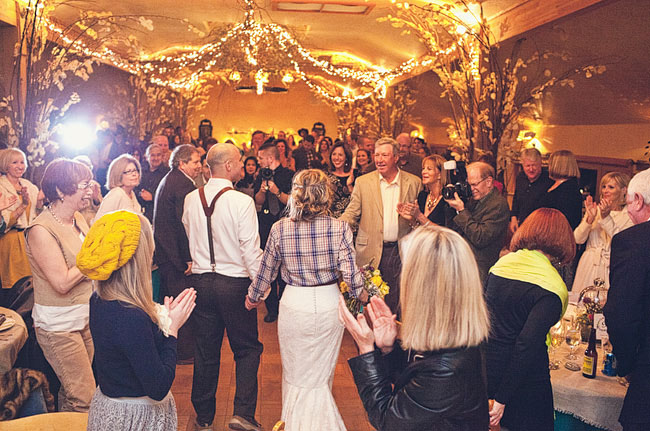 Even your ceremony can be Boho – plenty of today's weddings are humanist (non-religious) or if you do want some tradition then bring your vicar or officiant to a stunning backdrop perhaps get married beneath a pagoda or in a summerhouse, or choose a rustic looking wooden archway with climbing flowers. Many Boho weddings are outdoors, or if the weather is bad bring the outdoors inside!
Your photography needs to be relaxed and steered away from posed family groups. Choose a photographer who can capture the essence of the day without getting people to stop and smile – they should be looking for very natural, creative shots.
Probably the most popular food we see at Boho weddings is afternoon tea but there is no hard and fast rule. The key to Boho is doing what you want to do – no tradition need apply, you set your own tradition. However, afternoon tea with vintage mix and match china looks fabulous. Cucumber sandwiches, egg mayonnaise, smoked salmon and an array of home-made cakes and scones with clotted cream and strawberries perhaps even a wedding cake made out of the lightest, fluffiest Victoria sponge, delicious – of course, serve as much sparkly champagne as you like!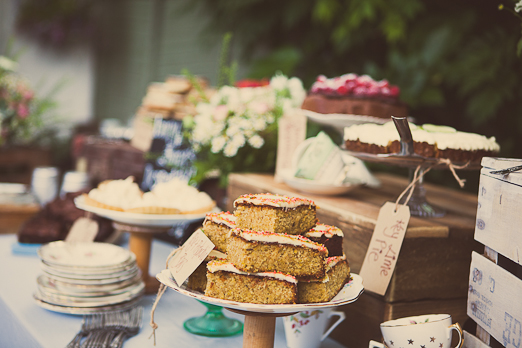 Your entertainment should reflect your day so Warble thinks that soloists are always a great choice. Whether it's a guitarist serenading both of you as you walk toward your ceremony or the classic harpist who fits in with any style of wedding. For music to get your guests dancing, think swing and jive, The Jumping 5 are a sensational male fronted band with their own individual style playing all the classic covers of the era. Or you could go for Folk style, the Celtic Twins who perform ancient music with a modern twist originating from Ireland and Scotland – high energy reels, jigs and harmonies. They are an amazing duo. Keltus are an excellent choice for a barndance if you want to get all your guests involved and if you are seeking something different from a harpist or pianist then why not listen to Warble's very own electric violinist, Amy who has 18 years of experience and will provide whatever music you want from classic to modern and also breath-taking bridal entrance music. For more musical ideas to suit your boho theme check out our vintage bands and singers.
Whatever your choice, Warble Entertainment can help with any style of wedding – for more information call
0845 643 9384
to chat through your needs with one of our exceptional team.
Published by Warble Entertainment