We Loves Vintage! We can't help it, we have fallen in love with vintage. And from the huge number of 40's, 50's, 60's, 70's and 80's bands that all you soon-to-be-weds have been enquiring after, it's fairly evident that you have too!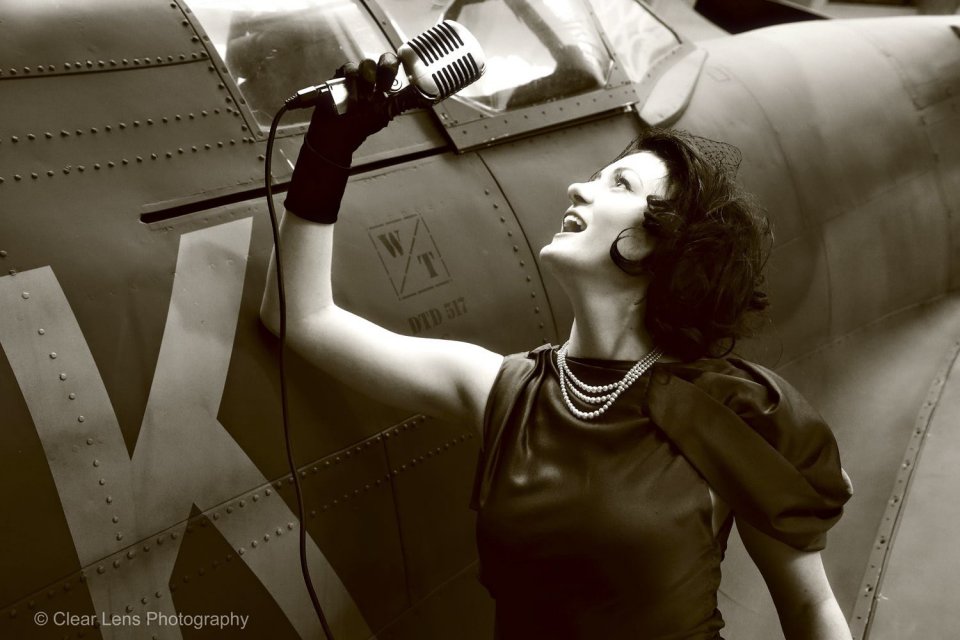 What we have found from speaking to our array of fantastic and enthusiastic vintage acts and our clients is that loving vintage isn't all about nostalgia, it's about style, a love of the music, and, in some cases a love of the food. We at Warble couldn't agree more, so we are going to be popping up every now and again with vintage theme blogs, from Gatsby to Rock-a-billy along with some awesome act and supplier guest blogs to get your creative juices flowing 🙂
We thought we would start with a great British favourite and give you some great entertainment ideas for a 1940s style wedding, and when we say 'style' we mean it.
1) Pack Up Your Troubles
Starting Price £300
The bride and bridesmaids could put a Gil Elvgren Pin Up to shame, the groom is in a pinstripe waistcoat with shirt sleeves rolled up and that heart-breaker side parting. The happy couple have spent months making sure the details are just so, and the entertainment is no different.
The drinks reception is accompanied by 'Miss Marie' a WWII 1940s singer in authentic attire, a 40s siren so convincing you could swear you had been transported to pre-war Britain. She serenades and entertains all of the guests right up to the wedding meal.
Following the wedding breakfast the party really gets started with an outstanding swing group, 'Stars Of Swing' who perform all of the 40s greats from Bing Crosby to Frank Sinatra. These guys can quote for many different line-ups, from a solo right up to an 8 piece band so no matter what the size of your venue, budget or guest list, we can provide the right act for you!
2) Tonight And Every Night
Starting Price £1200.00
This package is all about entertainment leading up to the end of the evening. And where better to start then when everyone is eating and drinking! 'The Dotty Dolls' are an amazing 3 part harmony group who can move from table to table performing for your guests and work amazingly well as a surprise act either in the full 40's get up, or sneakily disguised as waitresses! Another great aspect of the girls is that they are acapella so they do not need PA taking up valuable room at your venue 🙂
When moving into the evening reception, you may want something a little different, keeping the vintage style but with a little twist. Look no further than 'Crystal Collective' – this is no dreary wedding band you've had various nightmares about. These guys (and gal) are young, cool and have the talent to boot. Performing current and classic songs alike with a 40s twist that is certain to get your guests dancing their socks off. They can also provide music between sets too, tailored to your requirements so need to worry about hiring an additional DJ!
Need something of this vibe but prefer a male singer? No problemo, have a look at 'Black Cadillac'. These suited and booted heart-throbs will have your guests suffering from palpitations by the time they are done.
3) Goodnight Sweetheart
Starting Price £1900.00
Entertainment for a 40s theme event doesn't need to be confined just to music (though it is completely wonderful in itself) you can also look into walkabout entertainment. Illusionists and magicians are also a popular entertainment choice. Andrew the Magician is a complete professional who always comes in suit and tie to blow your guests minds with his sleight of hand and easy nature. Stephen the Magician is another firm favourite who has been wowing crowds for years with tricks of the trade. This is great ice-breaker entertainment especially when evening guests are arriving.
The evening's entertainment should always go off with a bang and 'The Sisters' give you just that. These girls eat, sleep and live their music performing worldwide for all different events and have enjoyed a 3 year stint at the Wimbledon Tennis Championship. So, grab your strawberries and champagne, make sure the ladies have gel cushions in their kitten heels and prepare to dance.
They can perform for any time of the wedding, when it's all about the evening they can perform alongside a fully professional live band to make sure the atmosphere is as high as possible.  Their show can be split into three separate parts of cabaret, Hollywood and soul and Motown which means you don't have to be concerned about pigeon holing the guests as their will be a little something for everyone to make sure the dance floor is filled and stays that way 🙂
Published by Warble Entertainment