Wedding bands have become incredibly popular over the last few years. There is something special about being able to create your own personal concert for friends and family to celebrate the occasion by hiring a wedding band.
The surge in the popularity of the live music scene in general really shows when it comes to weddings these days, and the standard of wedding bands is in an amazing place right now.
So what exactly can a live band bring to your wedding?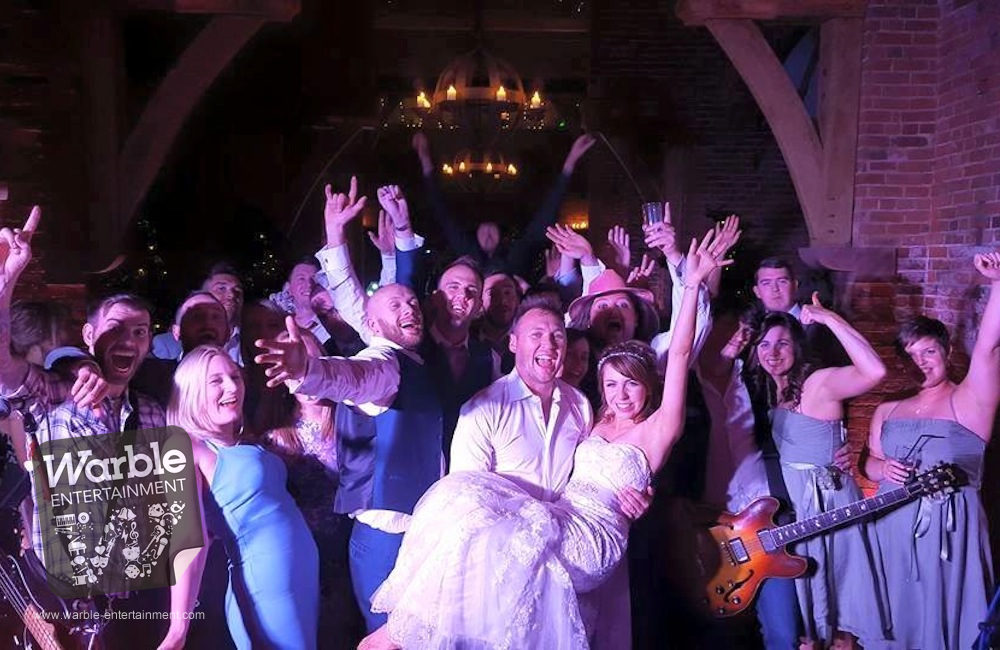 High Energy & Excitement
The atmosphere that a live band can create is truly infectious and authentic. Booking a live band will really create that concert atmosphere and generate a buzz around the room.
It can also provide that much needed focal point for the whole evening. When you walk into a room and see a drum kit, guitars, amps and microphones, your eyes are just instantly drawn to it all! There's a genuine excitement just by having the set-up of a live band before they even perform.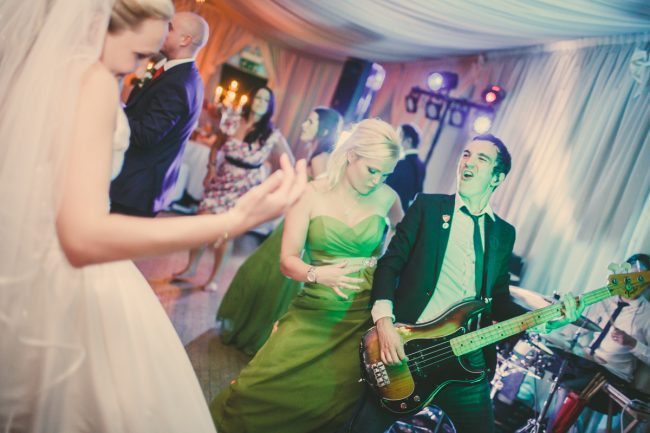 Bop The Air
Stress Relief
Your wedding day can be a stressful affair, but having a live band can actually remove an element of stress from the newlywed couple. A band can pretty much host your entire evening so it means that you actually have a chance to now enjoy yourself and spend some quality party time with your guests, instead of having the extra worry that everyone is doing okay and having a good time.
A Full Dance Floor
Of course the important one these days is getting that fun party spirit to flow throughout the room and to your guests. A live band is perfect at providing that genuine party mood and interaction. These bands want nothing more than to see everyone on the dance floor… It is their duty and they will not rest until they have achieved this!
Things To Consider
You might think that booking a band is complicated compared to booking a DJ for example, but the band will mostly take care of themselves. There are however a small handful of things you need to check with the venue.
Make sure there's enough space for the band to perform in! A 12 piece soul band is going to struggle with a 3m x 3m performance space so make sure you can accommodate them. As standard a 4-5 piece band will require a performance area of approximately 5m x 4m.
Check to see if there is enough power close to the performance area. Generally 2 standard plug sockets is fine but the band will usually let you know if they require anything different.
Does the venue have any insurance requirements? Usually the venue will require a PAT certificate (Portable Appliance Test) to prove the band's electrical equipment is safe and a PLI Certificate (Public Liability Insurance) to cover the band in case of any damages. All professional bands should be able to supply these and so you just need to check with the venue exactly what they require.
One thing that can dictate the type of band you book is if the venue has a sound limiter. Many bands are able to work within sound limiters these but it can depend on what level the limit is set at. Ask your venue for any details on the type of limiter and pass these details on to the band or agent to check they are happy to perform before you confirm the booking.
Choosing Your Band
Once the venue has given the all clear on these points the next part is quite literally sitting down and choosing the band for you!
Check the bands promotional material – photos, audio, videos – how much has the band invested in themselves. Do they take what they do seriously? Promotional material speaks volumes about not only the style of band you'll be getting, but also the degree in which they are invested in being the best band possible for your wedding!
Also, check for feedback and testimonials from previous customers – especially wedding ones.  Performing at a wedding is very different from performing at the local pub. Seeing what previous couples have said about how the band performed at their wedding is so valuable to help you decide if the band is right for you.
The last thing to check is the bands setlist. It's always wise to ensure that there is a bit for everyone in there, and not to alienate any of your guests. At the end of the day, you want your dance floor as full as possible right?!
So now that we know what to look for when choosing the right band, what can we do to make sure we get the most from our act?
Step Away From The Set List!
Well one of the biggest and most common mistakes that couples can make is being way too hands on and controlling with the band's setlist. We know it's hard and we know you want your day to be perfect, but trust your band to deliver a storming set. A professional band will be performing at weddings week in and week out and hey know what songs work where in the set for maximum effect and which songs are a must-have. That's not to say that you shouldn't have any say – bands will be happy to perhaps not play songs you definitely don't want, and add in songs you definitely do. But, we'd always recommend letting the band choose things like running order and the majority of songs to be performed. You hired them because they are professionals and know what they are doing – so trust them.
Look After Your Band
This one is often overlooked but if you look after your band, they will look after you! Bands don't ask for much with regards to a rider these days. The day can be long for bands with a lot of heavy work, setting equipment up, travelling, loading and unloading, all before giving the performance of their life at your wedding. It is in your best interest to keep them at their best. You can do this by simply providing some soft drinks and either a hot meal or helping from the buffet. They will be super grateful and it will really go that extra mile.
Get Your Timings Right
Timings are a tricky one. When considering your evening reception and planning the timings the natural reaction for many couples is to get the band on a soon as possible to get the party started… Don't fall into this trap as it simply doesn't work. Even if you have the best band in the world, the most amazing musicians and the perfect set list, their first set will be a flop if you try and force the party to start too early. To give you an idea, the ideal start time for a band is 9pm.
Remember that having a live band is one of the most exciting things you can have at your wedding so make sure you really take the time to get the right one. And when you've found them, book as early as possible before somebody else snatches them up!
Published by Warble Entertainment
Top image courtesy of Steve Gerrard