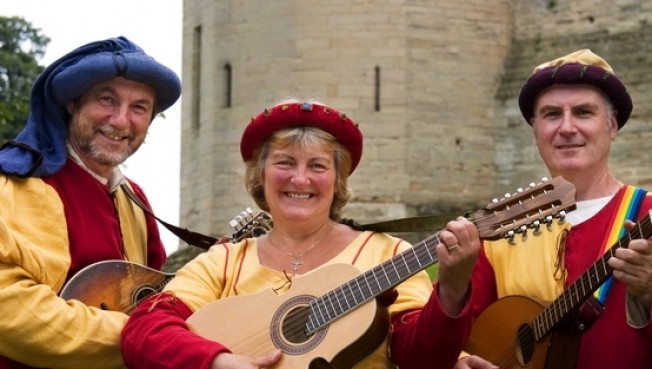 Location Leicestershire
Starting from POA
Audiences of every type from all over the World have been entertained over the years by this versatile act during their spell as resident musicians at Warwick Castle and at venues the length and breadth of the country. Songs and tunes including well known and original are performed on a range of instruments to give an excellent balance. Brandywine Bridge perform at most events including Mediaeval Banquets, Ceilidhs, Weddings, Promotions, Receptions and Corporate.
Number of Reviews and Counting... 8!
Since 1982 Brandywine Bridge have performed at Mediaeval Banquets at venues as diverse as castles to village halls all over the country. The act performs at such places as the fabulous Warwick Castle, Belvoir Castle, Leeds Castle, Cearphilly Castle, the RSC in Stratford upon Avon, Halls Croft, Shakespeare's Birthplace Trust, Forces Bases across England, the list of venues played goes on...
Songs and tunes including well known and original are performed on a range of instruments to give an excellent balance. Brandywine Bridge perform at most events including Mediaeval Banquets, Ceilidhs, Weddings, Promotions, Receptions and Corporate.
Brandywine Bridge can be booked as a duo or on occasions, a trio. They can also supply a chamberlain who will run the event with humour and wit, a juggler, a fire eater, a magician, fighting knights, an archer or even falconers.
Duo or Trio Options Available.
The Ceilidh Band consists of 3 musicians and a caller.
Linda Redhead - Soroptimist International

, Charity, Cheshire
We were well entertained all evening and felt they were well worth their fee.
---
Katie Hodson - Team Spirit

, Corporate, Hampshire
The band were brilliant, thank you! Really lovely to work with - I will have no hesitation in booking them in the future. Thanks for your help.
---
Jane Miller- BDO LLP

, Corporate, Hampshire
The musicians were really entertaining and everyone thoroughly enjoyed their performance. Their costumes were really authentic and set the standard for our medieval theme at the party. Would highly recommend them.
---
Fiona Hetherington

, University / School, Cambridgeshire
Sheila and Stuart were an absolute delight to have performing at our event. Guests loved the music and themed costumes, and students even sang along as the night progressed! They were entirely professional, lovely people and real good fun to chat with too. I'd love to recommend them to future Events committees at our college.
---
Tracey Worthington

, Birthday Party, Nottinghamshire
Absolutely fabulous. Please pass on my thanks again. These two really helped set the atmosphere and were professional, courteous and friendly all evening. Would highly recommend.
---
Bethan Evans

, Wedding, Manchester
Brandywine Bridge provided superb entertainment for our wedding, which was perfectly suited to the surroundings of the medieval hall. Everyone thoroughly enjoyed their music, especially the Christmas carols. The whole experience flowed very smoothly and they were professional, entertaining and charming. We were both extremely happy with the music they provided and would definitely recommend them in the future.
---
Deborah Jackson

, Corporate, Lancashire
Excellent. The booking process was straightforward and friendly. The artists were very good, and our guests were complimentary of them.
---
Angela Bowman

, Birthday Party, Oxfordshire
Dear Tracey, Brandywine Bridge were outstanding and I couldn't have wished for anything more, in terms of the music and ceilidh at my medieval event. They were professional, friendly and provided brilliant music and entertainment. Their music created the perfect atmosphere during the meal and the ceilidh which they ran after the meal was really great fun. I have had so many emails from friends and family saying how much they enjoyed the dancing - and commending the minstrels for their excellent performance. I was very impressed with the booking process, in that I contacted Warble Entertainment one afternoon and, by the same evening, I had booked the band and paid my deposit - so Warble Entertainment sorted out the arrangements very quickly. Tracey, through whom I booked Brandywine Bridge, was very helpful and responded to my emails very quickly. As will be clear from what I have said above, the artists more than lived up to my expectations! I would be grateful if you will also pass on my above comments and thanks to Sheila and the other band members, for such a great evening.
---
A selection of previous clients includes; IBM, ICI, BMW, Kraft Jacobs Suchard, Powergen, Allied Dunbar, Halifax Society, Rover, Scottish Widows, IMF, Nationwide, BOC Baker, Post Office, 3M, Mercedes, UEFA, Jaguar, Lloyds Bank, Ford, HM Forces, Midland Bank, RSC, British Airways, Coombe Abbey, Lufthansa, NAEA, Jewson, Avon.
Ceilidhs: The Brandywine Ceilidh Band is ideal for weddings, corporate events, private parties, etc. 4 Musicians and a caller will ensure your event is an unqualified success as you dance the night away! An event for everyone, children and adults alike, all can take part. For those who do not wish to dance, then you can enjoy your conversation with your friends and look on and enjoy the dancing and the music. The instruments comprise of either a Fiddler, Piper or Accordionist, together with Guitar, Mandolin, Cuatro, Concertina and Percussion. The dances are for everyone and are all explained and demonstrated in a most affable and entertaining way.
Weddings: Are you looking for something a little different for your Wedding Reception? If so, Brandywine Bridge can provide music, colour, dancing and humour to ensure that your special day goes with a swing. For civil Weddings Brandywine Bridge can play appropriate background music during the ceremony. Your reception will be enhanced by the ensemble who will stroll around the room singing songs and playing tunes whilst your guests enjoy their meals. Following the meal you might like to book the Ceilidh (similar to Barn Dancing) where Brandywine Bridge's Caller's infectious enthusiasm will encourage your guests to dance the night away.
Corporate: Brandywine Bridge has entertained at various types of functions for many major companies in many UK locations. Delegates can be entertained "Mediaeval Style" in their own hotel or a venue of your choice. Brandywine Bridge can perform on their own or as part of a package including Chamberlain, Jester, Juggler, Fighting Knights, an Archer or even Falconers. For something different why not consider a Ceilidh where your delegates will spend a great evening dancing with a caller who will explain the dances with humour and wit.
Brandywine Bridge can also play a selection of well known and not so well known background music to delight your guests during dinner.
Performance times are flexible as the act tries to fit in with the clients requirements.
However, the Ceilidh / Barn Dance band normally performs 2 x 1 1/2 sets.
Please Note: The fees indicated below are approximate and based on a central location for each county. They are intended to provide a rough guide only and exact quotes can only be given once the date and exact location of your event have been provided.