Buddy Holly Tribute - Alan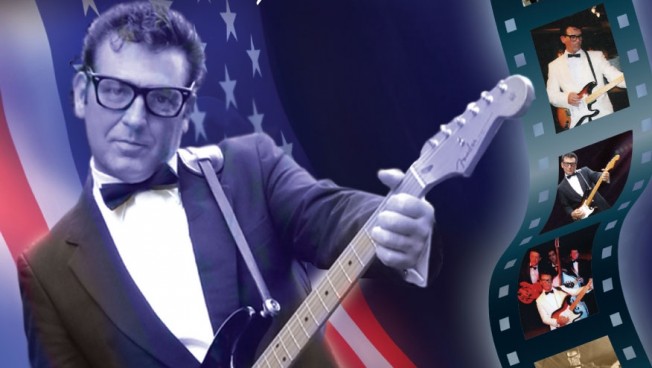 Location West Yorkshire
Starting from £660.00
Get ready for some serious Rock 'n' Roll folks as we take you back in time to experience that nostalgic era again as Alan performs a fantastic tribute to one of the world's all time greatest legends and one of the most influential singers from the 1950's 'Buddy Holly.
Listen




Buddy Holly Tribute - Alan
Number of Reviews and Counting... 1!
Once again you will witness the amazing and diverse natural talent of Alan as he pulls out all the stops for this high energy, exciting and dynamic performance.
Alan's extraordinary ability to portray the late 1950's star along with his extremely versatile vocal range captures that unique singing style that we all associate with Buddy with true accuracy and perfection.
Alan has performed his tribute show throughout the UK and Internationally, and is widely recognised as the ultimate tribute to Buddy Holly!!
This show is ideal for all types of venue and will have audiences of all ages hopping and bopping in no time at all featuring all the greatest hits of Buddy Holly.
Rave on, Peggy Sue, Oh boy, Heartbeat, True Love Ways, That'll Be The Day... and many more!
The show is available on professional digital playback or with full live Rock 'n' Roll band and dancers.
Solo (to Playback), or,
Full Live 5 Piece Rock 'n' Roll Band
THAT'LL BE THE DAY
RAVE ON
HEARTBEAT
MAYBE BABY
PEGGY SUE
OH BOY
THINK IT OVER
ITS SO EASY
NOT FADE AWAY
EVERYDAY
RAINING IN MY HEART
BROWN EYED HANDSOME MAN
IT DOESN'T MATTER ANYMORE
BO DIDDLEY
LISTEN TO ME
BLUE DAYS BLACK NIIGHTS
TRUE LOVE WAYS
PEGGY SUE GOT MARRIED
ROCK AROUND WITH OLLIE VEE
VALLEY OF TEARS
CRYING, WAITING, HOPING
TELL ME HOW
WISHING
REMENICING
READY TEDDY
WELL ALRIGHT
MAILMAN BRING ME NO MORE BLUES
(YOUR SO SQAURE) BABY I DON'T CARE
LOOKING FOR SOMEONE TO LOVE
I'M A GONNA LOVE YOU TOO
LOVE IS STRANGE
WORDS OF LOVE
I'M GONNA SET MY FOOT DOWN ON YOU
Lynne & Roy Muldoon - Lynroys Cabaret Bar & Restaurant

, Restaurant, Leicestershire
What a super show! Thanks for another wonderful performance at Lynroys. Your tribute to Buddy Holly was superb. You are certainly popular here at our venue. Having booked your show many occasions, We must say that you are an excellent performer and always have the dance floor packed!
---
Queen Mary 11
Dorchester Hotel – London
Grosvenor Hotel – London
The Renaissance Hotel – Dubai
Montreaux Place Hotel – Geneva
Starlegendens – Munich
The Rocks Casino & Resort – Turkish Republic Of Northern Cyprus
Sporting Club – Monte Carlo
Tewksbury Water Festival
Redworth Hall – Bishop Aukaland
Queens Hotel – Leeds
The Green Room - Liverpool
Bibis Italianisimo Society Restaurant & Café - Leeds
Flemings Hotel – Mayfair
Grand Hotel – Brighton
Down Hall Country House Hotel – Bishop Stortford
Grosvenor Casinos- Nationally
Alea Casinos - Nationally
Stanley Casinos - Nationally
Colorline Cruises – Norway
Carlton Towers Hotel – Kensington
Gillingham Town Football Club
Walsall Football Club
Bradford City Footballl Club
Derby Rugby Football Club
Derby County Football Club
Thomson Gold Holidays
The Sands Venue – Gainsborough
Hartsbourne Golf & Country Club – Bushey
Sonning Golf Club – Sonning –On-Thames
Rocks Casino & Resort – Girne , Turkish Republic Of Northern Cyprus
Haven Holidys
Pontins Holidays
Route 66 – Berlin
Major Hotel Chains – Best Western , Hilton , Holiday Inns , Ramada
Jarvis , Marriott , Brittania Hotel Group
Corporate Companies & Charity Events
CIBA – Geigy - Crawley
Continental Tyres
Jaguar - Bradford
Mercedes Benz – Chesterfield & Birmingham
Fullers Chiswick Brewery - London
Great Scottish Walk Awards Ceremony - Edingburgh
John Lewis Stores - Liverpool
Wessex Heartbeat - Southampton
Breakthrough Cancer
FTL Worldwide
Lords Ladys Taverners - London
British Heritage Foundation
Restaurants – Golf And Country Clubs – Cabaret Venues Etc…
Please Note: The fees indicated below are approximate and based on a central location for each county. They are intended to provide a rough guide only and exact quotes can only be given once the date and exact location of your event have been provided.
Scotland
Aberdeen
£1,020.00
Inverness
£1,200.00
Perth
£1,080.00
Sutherland
£1,200.00
Ayrshire
£900.00
Fife
£900.00
Stirlingshire
£840.00
West Lothian
£840.00
Dumfries-shire
£840.00
East Lothian
£900.00
Lanarkshire
£900.00
Midlothian
£900.00
North East
Durham
£720.00
Northumberland
£720.00
North Yorkshire
£660.00
South Yorkshire
£660.00
Tyne and Wear
£780.00
West Yorkshire
£660.00
Yorkshire
£720.00
North West
Cheshire
£780.00
Cumbria
£840.00
Manchester
£750.00
Lancashire
£750.00
Merseyside
£720.00
East Midlands
Derbyshire
£720.00
Leicestershire
£720.00
Lincolnshire
£780.00
Northamptonshire
£780.00
Nottinghamshire
£780.00
Rutland
£780.00
East
Cambridgeshire
£780.00
Norfolk
£780.00
Suffolk
£780.00
Wales
Anglesey
£840.00
Caernarvonshire
£780.00
Denbigh
£840.00
Flint
£780.00
Cardigan
£780.00
Brecon
£840.00
Carmarthen
£840.00
Glamorgan
£780.00
Monmouth
£780.00
Pembroke
£840.00
West Midlands
Gloucestershire
£780.00
Herefordshire
£780.00
Shropshire
£780.00
Staffordshire
£750.00
Warwickshire
£720.00
Worcestershire
£720.00
South East
Bedfordshire
£840.00
Berkshire
£840.00
Buckinghamshire
£840.00
East Sussex
£900.00
Essex
£840.00
Hampshire
£840.00
Hertfordshire
£810.00
Isle of Wight
£960.00
Kent
£900.00
Oxfordshire
£810.00
Surrey
£840.00
Sussex
£900.00
West Sussex
£900.00
London
£900.00
Middlesex
£840.00
South West
Cornwall
£960.00
Devon
£1,020.00
Dorset
£960.00
Somerset
£900.00
Wiltshire
£840.00