Warble Entertainment's
Captain Caveman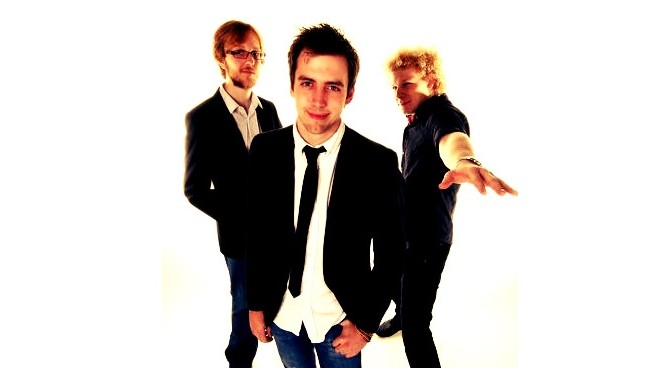 Location Buckinghamshire
Starting from £780.00
Captin Caveman are a 3 Piece Wedding Band for Hire in Milton Keynes, Buckinghamshire and available throughout the UK.
Captain Caveman is a completely live, high energy, rock 'n' roll power trio guaranteed to get you on your feet and dancing the night away. Not your traditional function band - IF they even consider playing Mustang Sally it'll probably only be ironically... This is THE band if you want to get the beers in and dance your ass off!
Performing a variety of modern and classic rock/pop tracks with an extremely flexible set list and, a few surprises along the way - Captain Caveman guarantee a great evening of live music from 3 guys who just want to give you the night of your life...
Crowd participation to the max, songs flowing, beat pumping - Jager-bombs all round and let's party!
Alongside a healthy list of corporate clients, Glastonbury and other UK festivals, 'Captain Caveman' have had the privilege of playing alongside:
Eliza Doolittle
Mr Hudson
The Guillemots
Kings of Leon (Aftershow Party)
Coldplay (Aftershow Party)
Eliot Minor
The Young Guns
The Twang
**CAPTAIN CAVEMAN offer a FREE DJ Service with all bookings**
15 reviews
Song List
A Hard Days Night - The Beatles
Ain't No Sunshine - Bill Withers
All Day and All of the Night - The Kinks
All Right Now - Free
All My Life - Foo Fighters
All These Things That I've Done - The Killers
All The Small Things - Blink 182
Another Brick in the Wall (Part 2) - Pink Floyd
Are You Gonna Go My Way - Lenny Kravitz
Back For Good - Take That
Back in the USSR - The Beatles
Basket Case- Green Day
Bear Necessities - The Jungle Book
Billie Jean - Michael Jackson
Bohemian Like You - Dandy Warhols
Born to Be Wild - Steppenwolf
Breakout - Foo Fighters
Brown Sugar - The Rolling Stones
Carol - Chuck Berry
Cochise - Audioslave
Champagne & Reefer - Muddy Waters
Champagne Supernova - Oasis
Chasing Cars - Snow Patrol
Cherub Rock - The Smashing Pumpkins
Cigarettes and Alcohol - Oasis
Cissy Strut - The Metres
Come Together - The Beatles
Creep - Radiohead
Crosstown Traffic - Jimi Hendrix
Dakota - Stereophonics
Dammit - Blink 182
Day Tripper - The Beatles
Deeper Underground - Jamiroquai
Don't Look Back in Anger - Oasis
Dreaming of You - The Coral
Drive - Incubus
Dust My Broom - Elmore James
Eight Days A Week - The Beatles
Everlong - Foo Fighters
Fell in Love With a Girl - The White Stripes
Fire - Jimi Hendrix
Foxey Lady - Jimi Hendrix
Funk 49 - The James Gang
Get Lucky - Daft Punk
Gimme Some Lovin' - Spencer Davis Group
Good Times Bad Times - Led Zeppelin
Hard to Handle - The Black Crowes
Heatwave - The Jam
Heart Shaped Box - Nirvana
Here Comes The Sun - The Beatles
Hey Joe- Jimi Hendrix
Hey Jude - The Beatles
Highway to Hell - AC/DC
Hit Me Baby One More Time - Britney Spears
Hysteria - Muse
I Bet You Look Good on the Dancefloor- Arctic Monkeys
(I Can't Get No) Satisfaction - The Rolling Stones
I'm A Believer - The Monkees
I Saw Her Standing There - The Beatles
I Want to Break Free - Queen
I Wish - Stevie Wonder
If You Wanna - The Vaccines
Itchycoo Park - Small Faces
It's a Long Way to the Top - AC/DC
Jailhouse Rock - Elvis
Johnny B. Goode - Chuck Berry
Jumping Jack Flash - The Rolling Stones
Just - Radiohead
Keep On Running - Spencer Davis Group
Killing in the Name - Rage Against the Machine
Know Your Enemy - Rage Against the Machine
Lazy Song - Bruno Mars
Lithium - Nirvana
Little Wing - Jimi Hendrix
Live and Let Die - Paul McCartney
Lonely Boy - The Black Keys
Molly's Chambers - Kings of Leon
Moves Like Jagger -Maroon 5
Mr Brightside - The Killers
Mustang Sally - The Commitments
My Iron Lung- Radiohead
My Generation - The Who
Need Your Love So Bad - Fleetwood Mac
No One Knows - Queens of the Stone Age
Oh, Pretty Woman - Roy Orbison
Oh Well- Fleetwood Mac
On A Plain - Nirvana
Pick a Part That's New - Stereophonics
Place Your Hands - Reef
Play That Funky Music - Wild Cherry
Please Forgive Me - David Grey
Plug in Baby- Muse
Purple Haze - Jimi Hendrix
Red House - Jimi Hendrix
Rocks - Primal Scream
Roll Over Beethoven - Chuck Berry
Roll With It - Oasis
Seven Nation Army - The White Stripes/Ben L'Oncle Soul
Should I Stay or Should I Go - The Clash
Sleep Now In the Fire- Rage Against the Machine
Smells Like Teen Spirit - Nirvana
Song 2 - Blur
Summer of 69 - Bryan Adams
Sunny Afternoon - The Kinks
Sunshine of Your Love - Cream
Supersonic - Oasis
Superstition - Stevie Wonder
Teenage Dirtbag - Wheatus
Territorial Pissings - Nirvana
Ticket To Ride - The Beatles
Time is Running Out - Muse
Times Like These - Foo Fighters
Town Called Malice - The Jam
Under the Bridge- Red Hot Chilli Peppers
Use Somebody - Kings of Leon
Valerie - Amy Winehouse
Vultures - John Mayer
Voodoo Child (Slight Return) - Jimi Hendrix
Wish You Were Here - Incubus
When the Sun Goes Down - Arctic Monkeys
Wonderwall - Oasis
Yellow - Coldplay
You Really Got Me - The Kinks