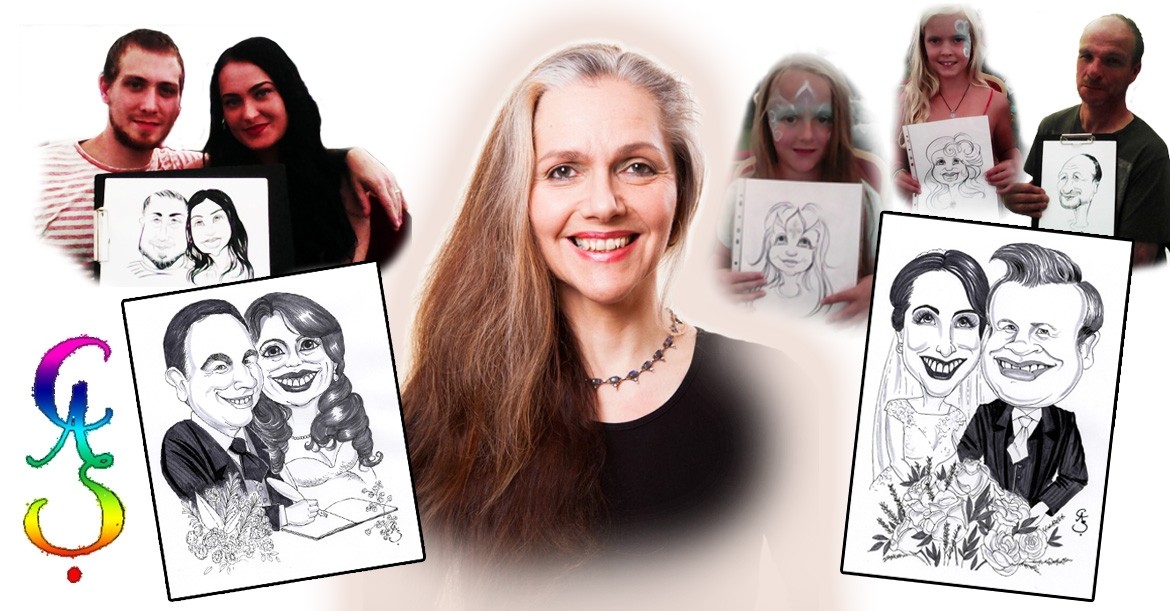 Location Worcestershire
Starting from £240.00
Bright, lively and entertaining, Cathy is a very experienced cartoonist and illustrator whose first caricature was published many years ago. She is one of very few female members of the Professional Cartoonists' Organisation.
She has provided drawings at a wide variety of events... corporate publicity, festivals, family fun days, weddings, parties and shopping centres. Cathy will wear silly clothes if asked and would be more than happy to fit in with YOUR theme!
Number of Reviews and Counting... 1!
Cathy studied illustration and graphic design at St Martin's School of Art (now Central St Martin's) and her drawing skills really stand out in her work. She takes a moment to look at a client and decide what really makes them look like them! You won't find huge noses and giant buck teeth - unless of course, they really look like that...
She is particularly good at working with children - who are amongst the best audience ever!
She is quick to put people at their ease, and likes to make caricaturing a spectator sport by working from a fixed spot - so any queue can be entertained while they wait.
Clare Turner

, Wedding, Kent
Huge thanks to Cathy who was booked as a surprise entertainer at our wedding. The caricatures are brilliant! It was a great way to break the ice for guests. 100% professional service. We would not hesitate to recommend Cathy.
---
Previous clients include:
The NHS
Brighton & Sussex Medical School
Landor Travel Publications
Harley Davidson UK
Cats Protection
Greens Insurance
Hastings Area Chamber of Commerce
Hastings Athletics Club
Children's Respite Trust
The Met Office
Horsham Rotary Club
Evesham Riverside Shopping Centre
Touchwood Shopping Centre, Solihull
The Hastings Cartoon Festival
The Herne Bay Cartoon Festival
The Shrewsbury Cartoon Festival
The Russell Hotel
Highbury Hall Birmingham
The Hilton Hotel Brighton
Wroxall Abbey Worcestershire.
She has also worked at hundreds of weddings and private parties.
How many drawings can Cathy do at my event?
Cathy produces around 10-12 caricatures an hour, more if they're all bald blokes.
How are the drawings presented to guests?
All caricatures are supplied in plastic pockets, to protect them from red wine and chocolate ice cream.
Can the drawings be branded in anyway?
She can produce them on paper pre-printed with the date, occasion or your company's logo and corporate message. This means that they're not only a memento of the day, but can also be a valuable marketing tool.
What do we need to provide at the venue for her?
She is very low maintenance, and only needs a pair of chairs and enough light to work by - natural light's fine if there's any around, otherwise she'll need either good ambient lighting or a lamp.
What's the best way to ensure that the bride and groom get a great caricature?
Event organisers, especially the married couple at weddings, are often far too busy to sit and be drawn... so Cathy can arrange to produce a studio caricature after the event from photos.
Can Cathy produce digital caricatures at my event?
Cathy's live caricatures are produced with pen on paper; digital ones are produced in the studio only.
Cathy's standard booking times are two or three hours, though she can work a five or six hour day. If the latter, she will need a short break after each two hour session.
Please Note: The fees indicated below are approximate and based on a central location for each county. They are intended to provide a rough guide only and exact quotes can only be given once the date and exact location of your event have been provided.
East Midlands
Derbyshire
£264.00
Leicestershire
£288.00
Lincolnshire
£312.00
Northamptonshire
£312.00
Nottinghamshire
£240.00
Rutland
£288.00
West Midlands
Gloucestershire
£312.00
Herefordshire
£312.00
Shropshire
£312.00
Staffordshire
£288.00
Warwickshire
£240.00
Worcestershire
£240.00
Birmingham
£240.00