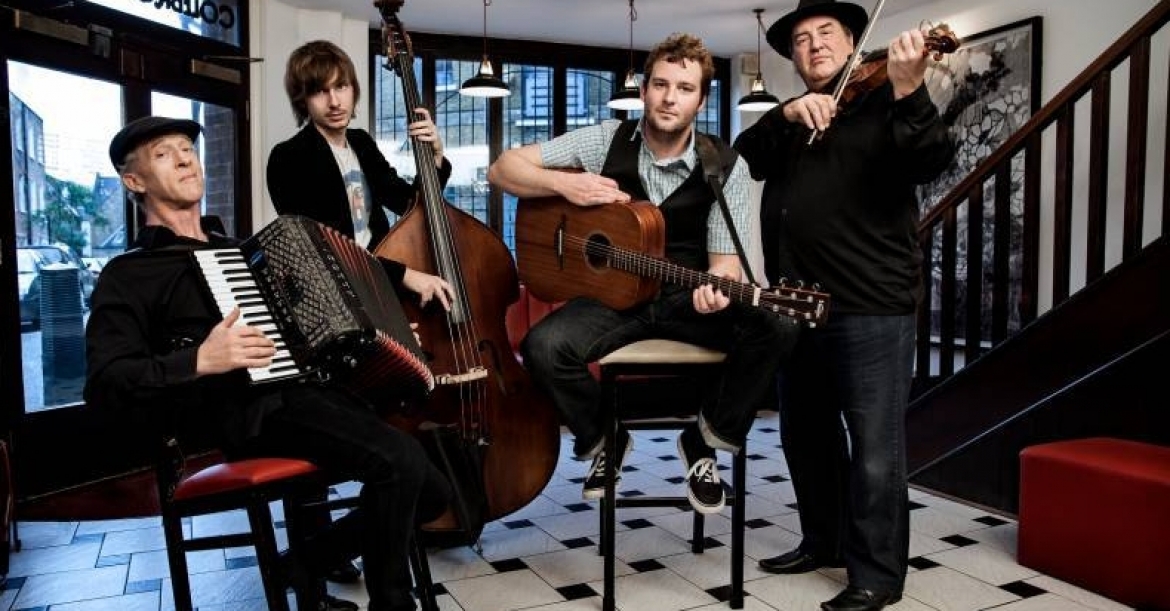 Location London
Starting from £1,140.00

With a sound located somewhere between the Deep South and South Wales, Dai & The Dusty Keys play the rootsiest honky-tonk, zydeco, jazz, folk and R&B in London. They like nothing better than to play foot-stompin' tunes that you can dance the Texas Polka to.
Number of Reviews and Counting... 9!
With a sound located somewhere between the deep south and South Wales, Dai & The Dusty Keys play the rootsiest honky-tonk, zydeco, jazz, folk and R&B in London. They like nothing better than to play foot-stompin' tunes that you can dance the Texas polka to.
Regularly delighting audiences of all ages with their barnstorming acoustic sound, the full quartet line-up includes guitar and vocals, double bass, fiddle and accordion, though the band also sound great as a duo or trio. Their regular musicians are all experienced pros who have worked alongside stars such as Van Morrison, Paul McCartney, Jeff Beck, Bob Geldof, Nick Lowe, Loudon Wainright III, The Penguin Cafe Orchestra and Richard Thompson.
Dai & The Dusty Keys' large repertoire means that the band can turn their hand to many types of event. The band often play amplified but can also perform unplugged if needs be. If you're looking for a quartet to play rollicking 50s R&B and rock 'n' roll to get the room up and dancing then you've come to the right place. Equally, if you're looking for a duo or trio to provide a completely instrumental set of vintage jazz then Dai & The Dusty Keys fit the bill perfectly.
Dai & The Dusty Keys can perform as:
a solo act (guitar and voice)
a duo (guitar and voice plus accordion, fiddle or double bass)
a trio (guitar and voice, double bass and either fiddle or accordion)
a quartet (guitar and voice, double bass, fiddle and accordion)
Zydeco & Honky-Tonk
Iko Iko - Dr John
Sugar Bee - Cleveland Crochet
Ay Tete Fee - Clifton Chenier
Honky Tonkin' - Hank Williams
Jambalaya - Hank Williams
Settin' The Woods On Fire - Hank Williams
Gamblin' Man - Jimmy Rodgers
Folk
Man Of Constant Sorrow - Soggy Bottom Boys
Lonesome For You - Carter Family
The Water Is Wide - Carter Family
Wildwood Flower - Carter Family
Worried Man Blues - Carter Family
I Ain't Got No Home - Woodie Guthrie
Tonight I'll Be Staying Here With You - Bob Dylan
River Man - Nick Drake
Wild Wood - Paul Weller
The Night They Drove Old Dixy Down - The Band
Crazy - Willie Nelson
Rockabilly
Folsom Prison Blues – Johnny Cash
Hey Porter - Johnny Cash
Blue Moon of Kentucky - Elvis
That's All Right Mama - Elvis
Night Train To Memphis - Roy Acuff
Hound Dog - Elvis
R&B, Blues & Gospel
Flip Flop And Fly - Big Joe Turner
Shake Rattle And Roll - Big Joe Turner
The Chicken And The Hawk - Big Joe Turner
I Would Rather Go Blind - Chicken Shack
Freight Train - Elizabeth Cotton
Georgia On My Mind - Ray Charles
I Got A Woman - Ray Charles
Unchain My Heart - Ray Charles
What'd I Say - Ray Charles
Up Above My Head - Sister Rosetta Tharpe
Is You Is Or Is You Ain't My Baby - Louis Jordan
Jazz

Don't Get Around Much Any More - Duke Ellington
Little Sunflower - Freddie Hubbard
Chameleon - Herbie Hancock
Song For My Father - Horace Silver
Moanin' - Hank Snow
Brazil - Arry Barroso
Autumn Leaves - Joseph Kosma
Summertime - George Gershwin
Lonesome Road - Nathaniel Shilkret
Blue Monk - Thelonius Monk
Gemma Pollard

, Wedding, The Bustard Inn, Lincolnshire
Exactly what we wanted - Thank you!
---
Peter Highland

, Birthday Party, London
Very good band. Ideal for the occasion. Played at the right volume and caught the right mood. Perhaps could have played for a bit longer - I thought 2 hours was almost too short!
---
Ed and Rosanna

, Wedding, Cambridgeshire
Dai and the Dusty Keys were fantastic at our wedding yesterday. It was great to get so many friends and family dancing. They were up for playing their first set acoustically (which sounded awesome) outside so we could enjoy the great weather at the same time as their tunes. When they amped up inside they really helped to set the party mood for our big day. They were friendly, professional and played excellent music. Thank you Dai and the Dusty Keys.
---
Tim Gibb - Crown Lodge Hotel

, Hotel, Cambridgeshire
Great guys, lovely to work with and fantastic quality sounds. Our customer feedback was excellent.
---
Boydlee Pollentine

, Wedding, Norfolk
Highly recommended - everyone at our wedding commented on how great the band was and how much they enjoyed it. Very easy to work with as well so thank you!
---
James Bailey

, Wedding, Suffolk
Great guys, amazing voices, talented musicians and something for everyone! We love all genres and eras of music and wanted a band to reflect this - these guys smashed it and helped make the day as magical as it was! Big love to all invloved x
---
Toby Smedley

, Wedding, Sussex
We couldn't have chosen a better band for our wedding day. The guys were punctual, extremely polite and very friendly. They're also brilliant musicians. The music was fabulous and boy, did we all have a good dance. Thank you so much guys, you really helped make our day such a very special one. Several of our guests said ours was the best wedding they'd been to (it was an emotional day!) and you played your part in that. Toby Smedley
---
Chris Pierce

, Wedding, Hampshire
David and the band were brilliant. The booking process was fine and communications beforehand were simple and effective with the minimum of fuss. The band turned up exactly as planned on the day and although we kept them waiting because we were running behind, they accepted it all in good humour and waited patiently to start. Our guests were full of praise for them and loved their originality and musicianship. I just wish that it hadn't been quite so warm in the venue that evening and a few more people had danced along.
---
Lizzie Charlton

, Wedding, Northamptonshire
Dai and the Dusty Keys were fantastic! We danced all night and had the best time. All our guests really enjoyed the atmosphere they helped to create. The booking process was very simple. The band phoned me three weeks before the wedding to discuss requirements and this lead to a more relaxed event on the night. Superb!
---
Dai & The Dusty Keys have played at hundreds of events over the last few years including weddings, corporate events, private parties, charity events, music festivals, vintage tea parties, bar mitzvahs and even a couple of marriage proposals.
Each event is different, and they've found themselves playing in town halls, barns, gardens, restaurants, night clubs, bars, pubs, churches and markets all over the UK, from Scotland to the South East and Cornwall.
What styles of music do you play?
We play a wide repertoire, including vintage jazz, 50s R&B, folk, rockabilly, zydeco and jump blues.
Can you play purely instrumental music?
Yes, you can decide whether you want the music to have vocals, or whether you'd prefer it to be purely instrumental.
Can you play without amplification?
Yes, we can and often do!
What amplification do you use?
As well as our own amplifiers, We can provide a 680 watt PA system - that's suitable for most types of event where fewer than 200 people are attending.
Can you dress smartly for a formal event?
We can dress more formally if that's what you require.
Can you play in more than one location in my venue?
It's possible, though it might take around 45 minutes to move all our equipment and set it up elsewhere.
Can you play outside?
As long as there is a marquee, gazebo or something similar to shelter the equipment from the weather we can play outside.
How much space do you need to set up?
We fit into some very tight spaces! Generally, a minimum of 2.5 square metres is enough.
Can you supply music between your sets?
Yes, we can supply appropriate interval music using an iPod through our amplification system, or if you prefer you can provide your own iPod or playlist which we can connect to our system.

Do you have your own lighting rig?
Unfortunately not.
Please Note: The fees indicated below are approximate and based on a central location for each county. They are intended to provide a rough guide only and exact quotes can only be given once the date and exact location of your event have been provided.
Scotland
Aberdeen
£4,440.00
Inverness
£4,440.00
Perth
£4,440.00
Sutherland
£4,440.00
Ayrshire
£3,840.00
Fife
£3,840.00
Stirlingshire
£3,840.00
West Lothian
£3,840.00
Dumfries-shire
£3,240.00
East Lothian
£3,240.00
Lanarkshire
£3,240.00
Midlothian
£3,240.00
North East
Durham
£2,640.00
Northumberland
£2,640.00
North Yorkshire
£2,640.00
South Yorkshire
£2,640.00
Tyne and Wear
£2,640.00
West Yorkshire
£2,640.00
Yorkshire
£2,640.00
North West
Cheshire
£1,860.00
Cumbria
£1,860.00
Manchester
£1,860.00
Lancashire
£1,860.00
Merseyside
£1,860.00
East Midlands
Derbyshire
£1,260.00
Leicestershire
£1,260.00
Lincolnshire
£1,260.00
Northamptonshire
£1,260.00
Nottinghamshire
£1,260.00
Rutland
£1,260.00
East
Cambridgeshire
£1,260.00
Norfolk
£1,260.00
Suffolk
£1,260.00
Wales
Anglesey
£2,340.00
Caernarvonshire
£2,340.00
Denbigh
£2,340.00
Flint
£2,340.00
Cardigan
£1,980.00
Brecon
£1,500.00
Carmarthen
£1,920.00
Glamorgan
£1,500.00
Monmouth
£1,440.00
Pembroke
£1,920.00
West Midlands
Gloucestershire
£1,260.00
Herefordshire
£1,260.00
Shropshire
£1,260.00
Staffordshire
£1,260.00
Warwickshire
£1,260.00
Worcestershire
£1,260.00
South East
Bedfordshire
£1,140.00
Berkshire
£1,140.00
Buckinghamshire
£1,140.00
East Sussex
£1,140.00
Essex
£1,140.00
Hampshire
£1,140.00
Hertfordshire
£1,140.00
Isle of Wight
£1,560.00
Kent
£1,140.00
Oxfordshire
£1,140.00
Surrey
£1,140.00
Sussex
£1,140.00
West Sussex
£1,140.00
London
£1,140.00
Middlesex
£1,140.00
South West
Cornwall
£1,980.00
Devon
£1,980.00
Dorset
£1,980.00
Somerset
£1,980.00
Wiltshire
£1,980.00