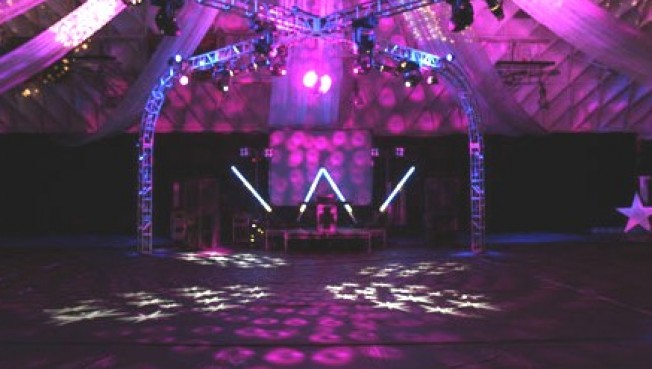 Location Staffordshire
Starting from £414.00
Bob is a fantastic professional Wedding DJ, Corporate DJ and Party DJ. Each year he successfully performs at hundreds of venues all over the UK utilising only the best sound equipment and lighting.
For example, Bob has a wide variety of awesome DMX pushed lasers and the latest LED ranges from ADJ, NDJ, Equinox, Shine and Chauvet. Able to DJ at venues of any size Bob has previously performed for Festivals to celebrity weddings.
*Although based in the Midlands Bob travels all over the UK satisfying clients nationwide*
Number of Reviews and Counting... 9!
Bob is a fantastic professional DJ, suitable for Corporate and Wedding work, with many years of experience. Each year he successfully performs at hundreds of venues all over the UK utilising only the best sound equipment and lighting. As a versatile DJ and Presenter he also has a great deal of experience with Stage, Venue, Festival, TV and Radio events. His motto is "We turn crowds into parties".
He says "I love getting that big cheer from the crowd at the end of the night, then I know it was something really special, they'll remember it forever!"
He has been building his dream system for over fifteen years now but still endlessly strives to perfect it. With a music collection including every UK chart song since 1957 and thousands more beside you always get exactly what you want.
Bob has performed at hundred of events, so you can be sure that you are get the very best and a show that will be boasted & envied for years to come. If you need a professional DJ to provide a high-end disco-show tailored to your exact needs, then Bob's your uncle.
Available to DJ at venues of any size, and with rigs ranging from 1000 watts RMS to 30,000 watts RMS.
Bob is able ensure that the correct equipment will be used for your event to make the sound nothing short of fantastic. In addition, Bob has a wide range of lighting, including: DMX pushed lasers and the latest LED ranges. Perfect for marquees where cold run lighting is vital.
Bob will play all your requests and says that these are his most frequently requested tracks:
Amazing - Lonestar
Lost - Michael Buble
Words - Westlife
Spinning Around- Kylie
Abba - Mama Mia
It's Not Unusual - Tom Jones
Viva Las Vegas - Elvis
I Believe - Cher
Simply the Best - Tina Turner
Dance The Night Away - Mavericks
Daydream Believer - Monkees
Let me Entertain You - Robbie
Cha-Cha Slide - DJ Casper
500 Miles - Proclaimers
Amarillo - Tony Christie
Build Me Up Buttercup - Foundations
Love Shack - B52'
Dont Blame It On The Boogie - Michael Jackson
Music - Madonna
Wannabe - Spice Girls
Don't Cha - Pussy Cat Dolls
Summer of 69 - Bryan Adams
We Built This City - Star-Ship
Firestarter - Prodigy
Don't Stop Me Now - Queen
I love Rock & Roll - Joan Jet & The Black Hearts
Never Forget - Take That
David Thompson

, Wedding, Lodore Falls Hotel, Cumbria
Fan-bloody-tastic! brilliant. great value, really nice guy.
---
Mark Palmer

, Wedding, Staffordshire
Bob was great - he really gets people involved, including asking my son to start the music for the start of his set! Which he loved. I highly recommend.
---
Jennie Johnson

, Private Party, North Yorkshire
Bob was great, I danced all night. It was a warm evening so lots of the guests were outside so it took a while to get them in to dance but once they got going we had great fun. Bob's a brilliant dancer!
---
Worleston Village Hall

, Venue Club, Cheshire
We soon realised that we had made a good choice in Bob for our village hall opening day. He was especially good with the children in the early evening. He organised musical games in a very professional manner and I know that he will get more work in our area as a result. He does not just sit behind his mic all night but interacts really well with his audience.
---
Ellie Costello

, Charity, Warwickshire
Bob was fantastic. Friendly, professional, fun, lively, enthusiastic, accommodating and clearly loves what he does. What more could you possibly ask for?
---
Lorraine Woodhead & Matthew Hyde

, Wedding, East Riding of Yorkshire
DJ Bob was a fantastic DJ, he catered to everyone's music tastes. DJ Bob made our evening celebrations with his impromptu dancing encouraging myself the bride to dance gangnam style as well as thinking on his feet giving us fantastic first dance photo's, and the guests on the terrace music in the blistering heat of the day. Would thoroughly recommend DJ Bob for any occasion he really is everything you hope for from a DJ and more.
---
Jonathan Griffiths

, Military Event, Hampshire
Great job DJ Bob, really pulled off a great show and kept the dance floor packed all night. Was really helpful and punctual, comes highly recommended.
---
Anthony Cahill

, Wedding, Warwickshire
Our wedding DJ was fantastic. Arrived early to set up and did us very proud. He even made balloon animals for he kids and brought glow sticks too. Would give a 100% referral if anyone ever asks.
---
Stuart Mackinnon

, Other, Derbyshire
Had no problems at all with DJ Bob, everyone really enjoyed the night and he mixed in all of our playlist. Thanks to Warble and their team, everything went smoothly on our big day.
---
Bob has previously performed for festivals to celebrity weddings and has extremely presentable equipment. Some of the venues he has worked at include: The Rookery, Littlecote House (Summer Palace of King Henry the 8th and Queen Elizabeth the 1st) and Blenheim Palace. Bob contracts to Local Education Authorities, Local Government, NHS trusts and The British Army. He use "saferate" lights where needed. Bob is pround to be the DJ of choice for Her Majesties Armed Forces, and performs nationally for their troops every year, 10% automatic discount given with pleasure.
He provided sound and lighting services for the Encam Awards in Manchester at the Grand Midland Hotel (one of Britain's most exclusive and prestigious conference centres with news presenter Moira Stewart as host). and provided technical crew for sound reinforcement at the Brit Awards and has also previously team managed the stage for Party in the Park. In addition, Bob managed the sound crew and personally played at the "Hate Racism - Love Music" Festival in Staffordshire for over 10,000 people every day.
Bob Specialises in Weddings
Bob is a fun loving DJ with twenty years of DJ experience to call on and has developed a sixth sense for knowing what to play and when to play it. His motto is "We turn crowds into parties." "For your big day, why compromise and use a cheapy pub DJ, its embarassing, so book the best you afford."
Bob has played at some of Britain's most prestigious venues, including The Rookery, Clearwell Castle, The Old Trafford, Eltam Palace, Caverswall Castle, Littlecote House, Chester Grosvenor, , Muncaster Castle, Blenheim Palace, Weston Hall, Wigan DW Stadium, Stoke Britannia Stadium, Alton Towers, to name a few.
The Wedding Package
Perfect for 100 to 400 Guests. A stunning disco, sound system, laser & light-show for those that want to impress their special guests! This is perfect for your fairytale weddings and ideal for large marquees, hotels and stages.
Massive 10 speaker system. Designed for clarity and impact. Powered by 2 x Intimidation 215-Units, 2 x Active JBL EONS and 4 Active Satellite speakers ( to take to music to the back of the room without harsh volumes at the front ). This package includes a sophisticated overhead intelligent light show using state-of-the-art Light Cannons and Lasers with over 10,000 pulsating light beams sweeping over the guests through a lightly scented effect smoke. Bob includes your complete choice of play list up to 99 songs. As this is a large rig it takes in excess of 90 minutes to set up
Corporate Events Package
Suitable for 400 to 1000 Guests; AWESOME for when you need real power and enough effects to cover a BIG area. One of the most powerful mobile systems around.
Each performance is unique and tailored to your needs.
Please Note: The fees indicated below are approximate and based on a central location for each county. They are intended to provide a rough guide only and exact quotes can only be given once the date and exact location of your event have been provided.
Scotland
Aberdeen
£714.00
Inverness
£714.00
Perth
£714.00
Sutherland
£714.00
Ayrshire
£594.00
Fife
£594.00
Stirlingshire
£594.00
West Lothian
£594.00
Dumfries-shire
£534.00
East Lothian
£534.00
Lanarkshire
£534.00
Midlothian
£534.00
North East
Durham
£462.00
Northumberland
£510.00
North Yorkshire
£510.00
South Yorkshire
£474.00
Tyne and Wear
£510.00
West Yorkshire
£510.00
Yorkshire
£510.00
North West
Cheshire
£414.00
Cumbria
£474.00
Manchester
£438.00
Lancashire
£474.00
Merseyside
£834.00
East Midlands
Derbyshire
£414.00
Leicestershire
£438.00
Lincolnshire
£438.00
Northamptonshire
£438.00
Nottinghamshire
£438.00
Rutland
£438.00
East
Cambridgeshire
£414.00
Norfolk
£438.00
Suffolk
£438.00
Wales
Anglesey
£474.00
Caernarvonshire
£438.00
Denbigh
£438.00
Flint
£438.00
Cardigan
£438.00
Brecon
£474.00
Carmarthen
£474.00
Glamorgan
£474.00
Monmouth
£474.00
Pembroke
£474.00
West Midlands
Gloucestershire
£438.00
Herefordshire
£438.00
Shropshire
£438.00
Staffordshire
£414.00
Warwickshire
£438.00
Worcestershire
£438.00
South East
Bedfordshire
£510.00
Berkshire
£510.00
Buckinghamshire
£510.00
East Sussex
£510.00
Essex
£510.00
Hampshire
£510.00
Hertfordshire
£510.00
Isle of Wight
£594.00
Kent
£510.00
Oxfordshire
£510.00
Surrey
£510.00
Sussex
£510.00
West Sussex
£510.00
London
£954.00
Middlesex
£510.00
South West
Cornwall
£954.00
Devon
£714.00
Dorset
£714.00
Somerset
£714.00
Wiltshire
£654.00