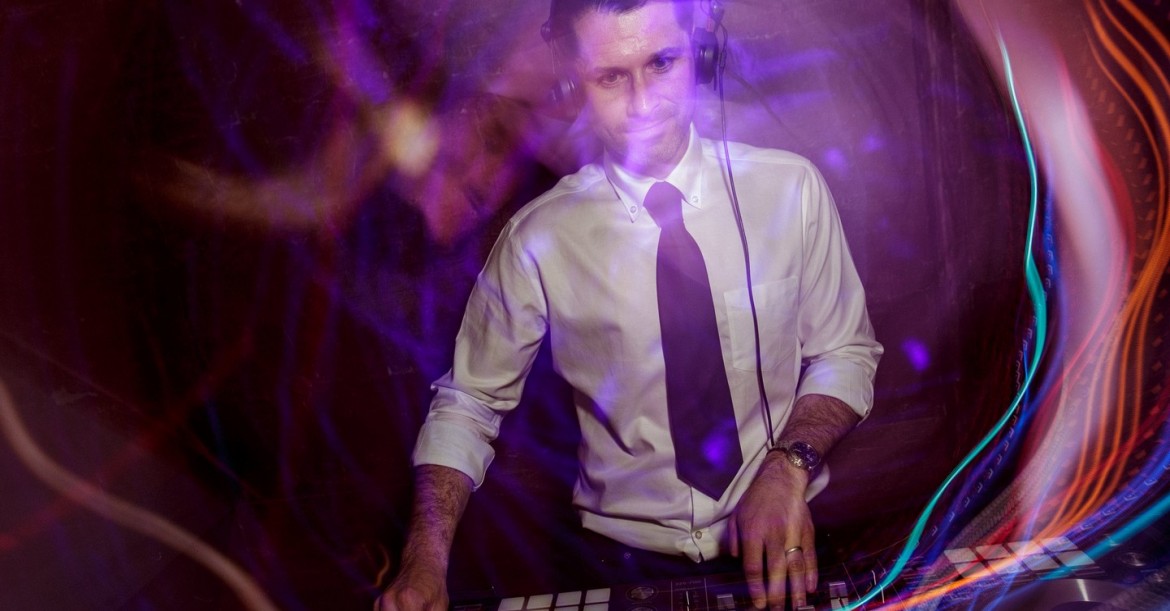 Location Gloucestershire
Starting from £360.00

DJ Luke is a highly sought after DJ with 15 years of experience playing in top nightclubs and private events around the world.
Luke's experience spans weddings, birthdays, corporate events, nightclubs and everything in between.
Prestigious clients and venues include Ministry of Sound, Jamie Cullum, Philip Schofield, Wimbledon Tennis tournament, Arsenal FC and The Grosvenor Hotel to name a few.
Number of Reviews and Counting... 24!
DJ Luke is driven by a deep passion for music and this is reflected in his high energy, floor-filling DJing style. Although his real passion lies in dance music, his love for good music has resulted in an impressively eclectic music collection spanning the timeline of great music – from 1950's Rock n Roll and 1960's classics, through to modern R&B and Pop. Of course, no DJ would be complete without a generous helping of Motown, Disco and dance classics.
Luke has developed an impressive list of past clients since he began in the late 90's – this includes Ministry of Sound, Residencies at Martini bar and Club Iguana in Miami, an audience of 10,000 at Miami Winter Music Conference, Jamie Cullum, Philip Schofield and several intimate celebrity performances for Premiership footballers and Royalty as well as performing at Wimbledon. Alongside this, Luke has played at hundreds of private events, residencies and weddings throughout the UK.
If you are looking for a DJ with a difference, look no further than DJ Luke – he prides himself on providing a bespoke song list, in which the client can work closely with him to ensure that their tastes are catered for and truly compliment the event requirements.
Back catalogue of 15,000+ songs from the 1950's up to all current chart hits.
DJ Luke is happy to work with clients to create a bespoke playlist tailored to the event.
Paula Smith - The Book Depository Ltd

, Corporate, Gloucestershire
As always Luke was brilliant - would highly recommend.
---
Paula Smith - The Book Depository Ltd

, Corporate, Gloucestershire
Great to see Luke again, highly recommend as a DJ - he will tailor to whatever you require, flexible, reliable and a great DJ! Thanks Luke for helping us celebrate our 1st Anniversary of the opening of our new site.
---
James Burke

, Wedding, Devon
Luke was absolutely incredible and personable. The whole service was really easy and great value.
---
Paula Smith - The Book Depository Ltd

, Corporate, Gloucestershire
We have used Luke before to entertain our associates - again he was a star and everyone enjoyed the music he played. Thanks Luke for an entertaining morning. We will be using him again.
---
Vicky O' Mahony

, Wedding, Eastnor Castle, Herefordshire, Herefordshire
Luke was an amazing DJ and asset to our wedding! The songs were great and he kept our guests on the dance floor all night. Nothing was too much trouble and he played all of our requests! We would definitely recommend him!! :) Thank you!
---
Paula Smith - The Book Depository Ltd

, Corporate, Gloucestershire
Fabulous DJ - the staff absolutely loved him. He played anything and everything they asked for even Eastern European music. Very personable, arrived on time, little disruption. Would recommend and definitely would use him again. Thanks Luke for raising spirits at a busy time for our business.
---
Faye Newton

, Wedding, Rivervale Barn, Hampshire, Hampshire
5 Stars!
---
Lisa Merron

, Wedding, Cantley House Hotel and Barn, Berkshire, Berkshire
DJ Luke was fantastic at our recent wedding! On the big day, Luke played the specific songs we had requested and then read the crowd perfectly to play the tunes that kept the guests on the dance floor and having a great night. He took requests from guests and was incredibly fun and personable. In the lead-up to the wedding, Luke was responsive to emails and was happy to discuss what we were looking for so that we were reassured the day would go off without a problem. He located and found our first dance song which was not very well known. We would highly recommend Luke if you're looking for someone who can actually DJ properly and who is willing to work with you across any genre to make your event perfect.
---
Lynsey DeSouza - Sterling Relocation Ltd

, Corporate, The LookOut, Hyde Park, London
Luke is a fantastic DJ and I would definitely recommend. He played a mixture of great music which went down really well at our Summer Network Event with clients.
---
Rachel Graff

, Birthday Party, Verzon House, Herefordshire
Brilliant. DJ Luke was friendly, professional and happily accommodated my requests before the event and on the night. Great quality kit/lights etc. Made a very special event even better!
---
Lindsay James

, Wedding, Thornfield House, Leeds
DJ Luke provided an excellent service. His DJ set was everything and more than I expected. He made my wedding day very special and my guests loved him. Some people thought he was eye candy which always helps ;-) 5 star service I would definitely recommend to anyone!
---
Elizabeth McCumisky

, Wedding, Stanbrook Abbey Hotel, Worcestershire, Worcestershire
DJ Luke was absolutely fantastic and we would highly recommend him. He was very professional, kept to our brief and most importantly created a fantastic atmosphere on the dance floor!
---
Stuart McCowan & Jason Morrow

, Wedding, Balbirnie House, Fife
DJ Luke was fantastic! He tailored his set to our specifications and kept his personal picks to the same genres. We'd love to recommend him to anyone who wants a proper dance party for their big event!
---
Richard Rogan

, Birthday Party, London
DJ Luke was fantastic. Highly recommended. Great setup, brilliant lighting & a great playlist. I would not hesitate in hiring DJ Luke again.
---
Leila-Marie Dickinson

, Wedding, London
Luke was incredible. We could not have asked for more. So friendly, helpful and fun. No request was too big and he made our night perfect. Thank you so much Luke for everything. Look forward to hiring you again.
---
Jessica Saunders - Ecotricity

, Private Party, Somerset
Perfect for the job, kept people on the dance floor and is very professional. Would definitely book again!
---
Cheryl Bailey and Stuart Bunce

, Wedding, Northamptonshire
Luke was absolutely fantastic, we couldn't fault him. We sent him a large list of songs we wanted playing and even though a lot of them weren't the genre of music he would normally play (a LOT of pop-punk and even a death metal song!) he did an amazing job of mixing them in with more traditional wedding songs which kept all of our guests, young and old, happy. Before the day he was great at responding to our emails which helped to put us at ease. We would happily recommend him to anyone needing a DJ for a wedding. Luke - thank you for all your hard work contributing to a perfect evening for us! Stuart & Cheryl x
---
Joe Lynch

, Wedding, Hampshire
What can i say? Luke really made the evening part of our wedding. I can't thank him enough. We created a playlist of songs we wanted and Luke managed to play every single one, whilst mixing the songs to keep the party vibe going. He was polite and didn't even wince at the prospect of a demanding wedding couple who had a very clear idea of songs we wanted. One of a kind guy, friendly, affordable and actually great to chat to. He brought all the kit and our guests had a fantastic time. We had lots of comments on how good the music was. I highly recommend Luke for any occasion and wouldn't think twice booking him again in the future.
---
David Butler

, Birthday Party, London
Very professional - good music choices and coped with several random requests. Prepared to stay on a bit longer and so gave good value for money. Booking process easy.
---
Antonia Partellas

, Wedding, Oxfordshire
DJ Luke was great - he completely understood the type of music we wanted and he adapted to the timings on the day no problem. I would 100% recommend him to anyone who wants this type of DJ.
---
Nicole Pingitore

, Wedding, Gloucestershire
Everybody loved the music!
---
Sarah James

, Wedding, Gloucestershire
Luke was great. Nice guy and kept the dance floor busy, we would certainly recommend him.
---
Roberta Allan - Glide

, Wedding, Worcestershire
I honestly can't thank Luke enough, he was a perfect wedding DJ for us! Myself and my husband are perfectionists and we honestly can't fault him! He played songs to suit everybody and was more than happy to take requests and everybody commented on how lovely and professional he was and of course on the brilliant tunes he was playing all night, there was always loads of us on the dance floor! He was also so helpful with everything prior to the day too, we owe him a massive thank you as well for sorting our first dance song so last minute. Can't recommend highly enough!!
---
Mr and Mrs Gardiner

, Wedding, Gloucestershire
We cannot recommend Luke enough - he was fantastic. He created a brilliant atmosphere for our wedding with the lighting and music choices. It really put our minds at rest that we could email across our music tastes, and his set up was quick and easy... We really didn't need to worry about anything as he had it all covered with a great mix of tunes. Thanks so much for making our wedding evening so special.
---
Previous clients and venues include
Ministry of Sound
DJ set with Jamie Cullum
Philip Schofield
Wimbledon Tennis tournament
Arsenal FC
The Grosvenor Hotel
H&M Bullring
Ice Tank London
Ice Bar London
Party Boat Erasmus London
Mechu Birmingham
Prom Club
Prom Bar
Harleys Nightclub
plus many more clubs, corporate and wedding venues across the country
How long does it take DJ Luke to set up?
Normally about an hour but this depends on the event and the set up required.
What kind of equipment does DJ Luke use?
PA: 2 x QSC K12 loudspeakers, 1 x Mackie DLM12 Subwoofer. Other kit: Table with lighting rig over, 3 x scanner lights, 1 x UV, 2 x lasers, 1 x smoke machine, 1 x mirror ball, 1 x star cloth, 2 x wireless microphones, Macbook and Pioneer DDJSX controller.
Will Luke add some songs to his playlist for my event?
Yes, DJ Luke is happy to work with clients to create a bespoke playlist tailored to the event.
Is DJ Luke fully insured for all events?
Luke has full PAT electrical testing certificates and full Public Liaibility Insurance.
Standard performance time: Up to 4 hours
Please Note: The fees indicated below are approximate and based on a central location for each county. They are intended to provide a rough guide only and exact quotes can only be given once the date and exact location of your event have been provided.
Scotland
Aberdeen
£600.00
Inverness
£600.00
Perth
£600.00
Sutherland
£600.00
Ayrshire
£600.00
Fife
£600.00
Stirlingshire
£600.00
West Lothian
£600.00
Dumfries-shire
£600.00
East Lothian
£600.00
Lanarkshire
£600.00
Midlothian
£600.00
Glasgow
£600.00
Edinburgh
£600.00
Foreign Locations
Europe
£600.00
Rest of the world
£960.00
North East
Durham
£600.00
Northumberland
£600.00
North Yorkshire
£600.00
South Yorkshire
£600.00
Tyne and Wear
£600.00
West Yorkshire
£600.00
Yorkshire
£600.00
East Yorkshire
£600.00
Leeds
£600.00
North West
Cheshire
£480.00
Cumbria
£480.00
Manchester
£480.00
Lancashire
£480.00
Merseyside
£480.00
Liverpool
£480.00
East Midlands
Derbyshire
£420.00
Leicestershire
£420.00
Lincolnshire
£420.00
Northamptonshire
£420.00
Nottinghamshire
£420.00
Rutland
£420.00
East
Cambridgeshire
£480.00
Norfolk
£480.00
Suffolk
£480.00
Norwich
£480.00
Wales
Anglesey
£480.00
Caernarvonshire
£480.00
Denbigh
£420.00
Flint
£420.00
Cardigan
£480.00
Brecon
£360.00
Carmarthen
£420.00
Glamorgan
£420.00
Monmouth
£360.00
Pembroke
£480.00
Wrexham
£420.00
Cardiff
£360.00
West Midlands
Gloucestershire
£360.00
Herefordshire
£360.00
Shropshire
£360.00
Staffordshire
£360.00
Warwickshire
£360.00
Worcestershire
£360.00
Birmingham
£360.00
South East
Bedfordshire
£420.00
Berkshire
£420.00
Buckinghamshire
£420.00
East Sussex
£420.00
Essex
£480.00
Hampshire
£420.00
Hertfordshire
£420.00
Isle of Wight
£480.00
Kent
£480.00
Oxfordshire
£360.00
Surrey
£420.00
Sussex
£420.00
West Sussex
£420.00
London
£420.00
Middlesex
£420.00
South West
Cornwall
£480.00
Devon
£480.00
Dorset
£480.00
Somerset
£420.00
Wiltshire
£360.00
Bath
£420.00
Bristol
£360.00