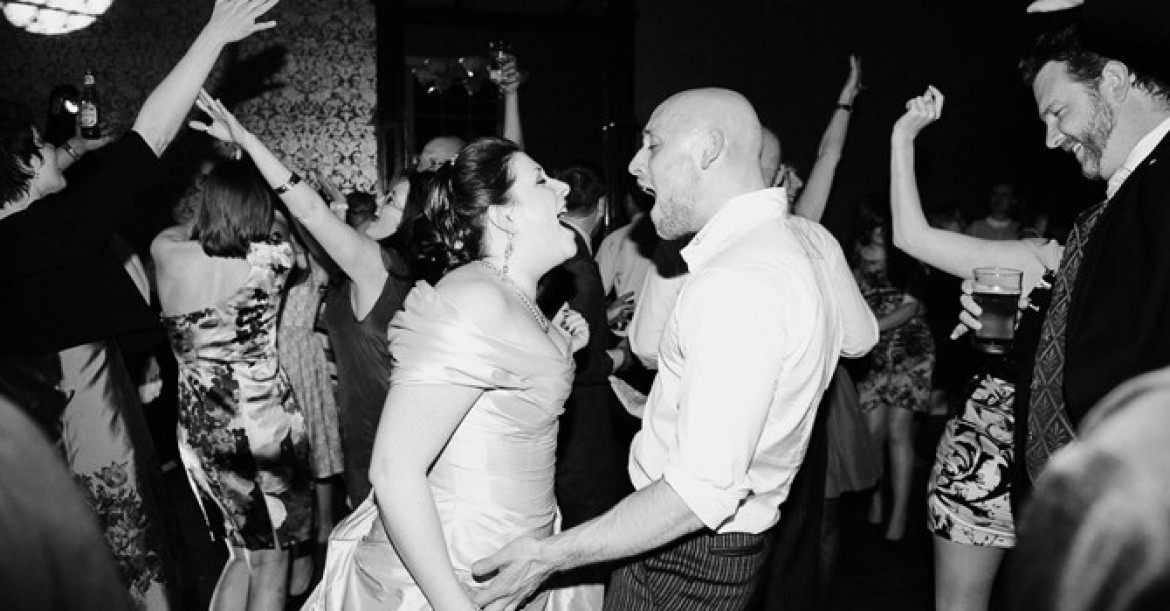 Location East Sussex
Starting from POA
If you are reading this, it means you are looking for a great DJ, something more than a mobile disco, that can help you make your event unique.
You may want the perfect music tailored for your wedding, something special to transform your corporate event or a personalised service for a celebrity shin-dig... then look no further than DJ Mitch.
Mitch has over 18 year's international experience DJ-ing at major clubs, leading corporate and private events, weddings, and exclusive bars.
*Amazing DJ who will perform a pre-event meeting and make sure your event is perfect! See previous feedback*
Number of Reviews and Counting... 5!
If you're reading this, it means you're looking for a great DJ – something more than a mobile disco – that can help you make your event unique. You may want the perfect music tailored for your wedding, something special to transform your corporate event or a personalised service for a celebrity shin-dig... then look no further than DJ Mitch.
Mitch has over 18 years international experience DJ-ing at major clubs, leading corporate and private events, weddings, and exclusive bars, playing a well-loved mix of music at venues including the Royal Albert Hall, Harrods and Brighton beach. He is known for taking a dance floor and making people party like they have never partied before... whether it's a family wedding for 75 people, or 150,000 at a festival!
Mitch started DJ-ing at 16. By the time he was 18, he was running 1,000 capacity club nights in Nottingham.
The journey so far for Mitch has led him to perform for the Rip Curl pro-surf tour in Hossegor on the West Coast of France – where he bagged the title of 'best European party' – he has also been flown by private jet to DJ in the French Alps, played with Carwash on part of their UK tour and had crowds of thousands of clubbers singing the whole of their favourite song when he turns the sound down!
Packages
DJ Mitch offers 3 different service levels:
Off The Peg £545 – (the same as a Wedding DJ offers but with Mitch's own special knowledge of how to build the party); Mitch will play your list of music plus all suitable requests and the music that he feels will go best with your list.
Made To Measure £660 – Mitch will work closely with you via email and telephone. Part of the service is to highlight the dancefloor thinning choices on your list, which is usually 30 - 50%. Mitch will get you to redo your list in a different way, help you to channel your ideas and break down your list into music for each different group at your reception, help you to help him to understand which groups will dance first and Mitch will do everything he can to help you to make your wedding reception unique, brilliant and unforgettable for everyone.
Bespoke £770 – everything from made to measure plus working face to face wherever possible. Including, meeting at the venue to discuss; the latest creative ideas to involve your friends and family in the party, suggested lighting – including mood lighting, The correct PA and volume levels.
Daniel Harrison

, Wedding, London
My wife and I were absolutely delighted with Mitch from the start (including our initial phone calls with him and his helpful sheet to fill in with songs we wanted) right through to the finish (including the night itself). He was always super friendly, helpful and professional. We trusted him from the beginning and our trust was well-placed, because he delivered a fantastic party. In short, we couldn't have been happier. Thank you Mitch!
---
Mr and Mrs Syalon

, Wedding, Nottinghamshire
I just wanted to contact you to let you know just how amazing we and the rest of the wedding guests thought Mitch was. I will be contacting him personally to let him know just how perfect he made our wedding. He completely listened to me and Dom when he came to visit us and I really felt like he personaliised our wedding and played the tunes and created the vibe that we had wished for. I know it was my own wedding so may be biased but I have never been to a wedding or a party where the atmosphere was so electric on the dance floor, the floor was never ever empty and to say he ended it on a high is an understatement. We have had so many people comment on him and I am just so pleased we had him for our wedding. I would definitely recommend him and hope other couples have the same experience that we had.
---
Natalie Daniels

, University / School, Sussex
Apologies for the delay, its been a busy couple of days! With regards to DJ Mitch, we found him to be a very likeable guy who, despite not having done an event like this before, thrived at the challenge of entertaining 50 over excited teenage girls! We would definitely use him again for a future event or alternatively recommend him. Many Thanks for all your help.
---
Anna Corfield

, Wedding, Hertfordshire
Just got back yesterday and obviously have a lot to catch up on. I will send you a full testimonial in August but if I haven't by the end of the month, please send me a chasing email. But very briefly, both Elizabeth and Mitch were fantastic. Mitch especially was particularly great as I didn't want a cheesy wedding DJ and he certainly wasn't that. Nearly everyone asked where I found him from as he was so brilliant. Also, your service was very professional and, above all, easy to work with which I can tell you makes life so much simpler. So please don't change anything!
---
Georgina Freeland

, Wedding, Buckinghamshire
Mitch was undoubtedly the star of my wedding!!! He had a massively hard challenge as we gave him 70 tunes and wanted every one to feature - HE WAS AMAZING! Everyone was shaking his hand and saying it's the best nights entertainment they'd had had in years! Seriously fantastic DJ, anyone thinking of booking Mitch - think no more - he is quality beyond belief!! Thank you again Tracey.
---
For over 18 years Mitch has played music in places from bars and clubs, to high-end venues such Harrods, not to mention kicking off the Brighton Festival Fringe! He loves playing a broad mix of music to a dance floor full of fun-loving people and watching them having the time of their lives.
Taking inspiration from over 60 years of amazing tunes made for dancing and singing along too Mitch doesn't have a set play list, or a strict routine of 20 minutes of house, 20 minutes of disco, 20 minutes of Indie... Instead, he plays what the crowd loves dancing to, plus, some great songs they'd forgotten they love; tunes that grab hold of them shake them around and deposit them at the end of the night in a smiling mess.
Mitch has played '70s disco with Carwash, moved a vice president of HSBC America to perform some of the worst '80s break dancing ever seen at the Groucho Club in London, DJ'd for professional ski bums at the Natives/ Metro Ski Show after-party and got affluent skiers of all ages grooving at the Ski Club of Great Britain Summer Ball. In addition, Mitch runs his own club nights around Europe, and followed Judge Jules playing underground house music to 1,000 people in London and will be DJ-ing on the main dance float at this year's Gay Pride parade in Brighton.
Mitch has all his own equipment utilising turntables and mixers that are market-leading (for example, Denon DN-X1500 and DN-S3500 and Mackie SA 15-30 Z's speakers).
Corporate Events
Mitch is the first-choice DJ for numerous corporate event clients and he has played events from an exclusive party for Earnst & Young's directors at Harrods, to seasonal celebrations for Sheraton Hotels UK managers, while the International Special Events Society selected him to DJ at their members-only event in June. He is also the preferred DJ for Tickled Pink, ASDA's breast cancer charity.
Weddings
Finding the right DJ for your wedding can be just as stressful as finding the right dress! You want someone that can entertain everyone together at your wedding, not just certain groups, so all your guests have a night to remember. A mobile DJ can play the same tracks on rotation at every wedding, making each event sound the same. Wouldn't you rather a professional DJ worked with you to find out what you really want to make your night unique? Spending £500 on a professional DJ means you get exactly that – a DJ worth £500.
Mitch has DJ'd exclusive weddings at venues such as London's most expensive hotels, the Lainesborough and The Mandarin Oriental , to more private weddings for the director of the UK's best event company Smyle, The defence correspondent of The Daily Telegraph, the International Marketing Director of Vodafone and the former editor of Loaded magazine.
Mitch is happy playing whether you have 50 or 500 guests at your wedding and booking him means everyone – from the best man to the bride's mother – will find a night full of music they love and enjoy dancing to!
Private Party
DJ-ing a private party is different to entertaining thousands of people at a club, but Mitch can easily switch between the two. Whether it's a surprise party for the vice-president of HSBC America at the Groucho Club in London, or a birthday celebration for Amanda Blanch the owner of The Hanbury Club in Brighton – co-owned by the former manager of the Pharmacy and the Atlantic – Mitch has the tunes, equipment and experience to make your party unique. If you can't afford James Brown, Fat Boy Slim and Elvis at your party, book Mitch instead!
Celebrity Charity Events
An evening like Asda's Tickled Pink at The Royal Albert Hall is unique; a combination of comedy and music aimed at raising awareness and support for two charities, Breast Cancer Care and Breast Cancer Campaign. Attending the event is a combination of international music stars, comedians, celebrities and executives from a variety of blue chip companies. The event finishes with an exclusive after-show party for these celebrities and invited guests. Mitch was the only DJ to play alongside names including Tom Jones, El Divo, Catherine Tate and Mariah Carey for Tickled Pink in 2004 and 2005.
Mitch has also provided music for the launch night of The Hanbury Club, an exclusive members-only supper club and entertainment venue, and a number of art auctions and exhibition launches for celebrity artists in his hometown of Brighton.
Festivals
After years of playing to Alpine party people, Mitch is now the preferred DJ for the Ski Club of Great Britain and Natives Ski Workers, playing for their seasonal balls and the Natives/ Metro Ski Show Workers after-party. Natives was voted the best UK based party in the World Snow Awards 2006.
Mitch is also the regular DJ for Brighton Fringe Festival events, England's largest fringe festival, and he has played on the main stage at the Strawberry Fair festival, Cambridge, which attracts crowds of up to 70,000.
Club nights
Mitch began his extensive DJ career playing 1,000 capacity student nights in Nottingham before moving to Cambridge and running the highly successful GBH club nights, which he then took to the Alps. When '70s disco phenomenon Carwash went on their UK tour, he played on the Cambridge leg. He also headlined at the Bug Bar in Brixton, legendary home of The Basement Jaxx, on regular rotation with Milo Speedwagon and Dave Stelfox. In Prague, he was asked to headline at the Roxy, their top underground club, and he DJ'd after Judge Jules to over 1,000 people at the Complex in London.
International Events
Mitch has played in 6 countries in the last year; he was one of the first British DJs in the French Alps playing clubs in resorts such as Courchevel and Chamonix. He has entertained everyone from older skiers and holidaymakers to season workers, culminating in being collected by private jet to DJ end-of-season balls. He is now the DJ of choice for the ski club of GB and Natives. He has also played a 10-city stadium tour of the Czech Republic, for crowds of up to 10,000, to launch Phillip Morris L&M Cigarettes and out of a low-loader truck, while models, local TV stars and the Czech chapter of the Hell's Angels joined in! The tour was so successful, he was asked to guest headline at the Roxy, Prague's top underground club, after Prague's best DJs. He has also headlined Intels Gala dinners in Rome, Vodafone Portugal's 3000 guest 15th birthday party in Lisbon to an intimate wedding on a Turkish beach.
Please Note: The fees indicated below are approximate and based on a central location for each county. They are intended to provide a rough guide only and exact quotes can only be given once the date and exact location of your event have been provided.