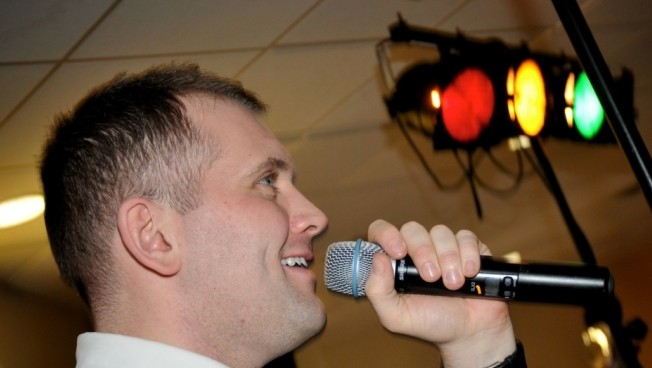 Location Glasgow
Starting from £600.00
Stuart is a professional DJ that specialises in creating the perfect day for your entertainment needs. Having performed at many weddings and events across the UK, make Stuart the first choice for your important day.
"Stuart, you went beyond the call of duty for any DJ..."
Number of Reviews and Counting... 1!
Like many people, Stuart grew up listening to the music of The Beatles, Rolling Stones, Elton John and Neil Diamond, amongst others.
He remembers the day he was 10 and his mother bought him a rock 'n' roll tape (C90 for all you oldies) that blasted off with "Good Golly Miss Molly". Ever since then, he has had a fervent desire to play only the best in music.
Stuart started DJing whilst at school, performing at the "Gladiator Games" and at his sister's 14th birthday party (she is now 30)!
As a result of his success at these events, Stuart became employed in the United States, working for Disneyworld in 1998. Gaining experience at "the entertainment capital of the world", Stuart's repertoire became even more advanced, and continues to influence his style today.
Whilst living in the States, Stuart started DJing at house parties, and along the way, developed an intense inclination to develop his skill and passion into a lifelong career
Stuart has provided entertainment at many prestigious venues, from Cameron House and Lodge on the Loch at Loch Lomond to Stirling Castle and even Cordoba, Spain. Stuart has invested heavily in his audio and lighting systems this year, giving you even more reason to book Stuart above other mobile DJ suppliers. Additionally, he holds full public liability insurance to the value of £10M.
Stuart strives to ensure that your event is as memorable and enjoyable as possible and firmly believes that flexibility, professionalism and interaction with you and your guests are the keys to a successful party disco. Excellent customer service is paramount to him and is the foundation upon which the good name that DJ Stuart is built.
Every party is unique so DJ Stuart provides all clients with an online planner...
Lisa & Deryk

, Wedding, Glasgow
Stuart just wanted to say a huge thank you to you for the fantastic service! From the first contact we had with you, right up to and including our wedding music. Fabulous night, the atmosphere was amazing and the dance floor was always full! Everyone is still commenting on the music and atmosphere. Will certainly be recommending you! Thanks again. Lisa & Deryk x
---
What do I get for my money?
When you book with Stuart you get a first class service, an interactive DJ with top quality sound and lighting.
Do you carry public liability insurance?
Yes, I have full Public Liability Insurance (PLI) of £10 million for your peace of mind.
Why should I book with Stuart?
I truly feel that I offer a service that is second to none. I can play virtually any request you have and you'll hear it performed by the original artist. A DJ can offer a wider variety of music to cater for any age group. Many bands only play for a couple of hours, so if you would like to keep your guests dancing, book a DJ.
When do you need access to the event venue?
Ideally we would like to access the venue as early as possible to set up but we appreciate this will not always be the case. It takes about 45 minutes to 2 hours to set up our equipment and 30 minutes on average to pack up.
Will the DJ dress smartly?
Yes, Stuart will dress smartly and suitable for the occasion.
Are you reliable?
Stuart specialises in disco services and prides himself on customer service, before, on and after the disco. Once you have booked you can be assured your event will be my highest priority, I never double book.
My mate says he knows somebody that can do the disco for £100, why should I book you?
As the saying goes, you get what you pay for, £100 may seem like a good value, but you are unlikely to get the reliability and high quality equipment and service a professional disco can provide. In our experience, we find that a cheap DJ will easily cancel on you with no valid reason purely as they are getting offered more money elsewhere. In all the years of performing I have NEVER done this unprofessional act and will NEVER do this!
When should I place my booking?
As soon as possible, to ensure you get the date and venue you require you should book everything as early as possible. The majority of my bookings are placed around 3-4 months in advance, although other events such as weddings are placed over a year in advance.
Do you accept and request playlists? What music will you play?
Yes, I welcome requests before and on the night, when you place a booking with me I also email you a request form for you to fill in and tell me about your favourite artists and must play tracks. When choosing music you would like to be played put into consideration music that you listen to at home or in the car may not be right for the dance floor.
What equipment do you use?
All equipment is modern and well kept and I have invested thousands recently to bring the sound and light to an extremely high standard. I update equipment every 6-8 months to keep our set upfresh.
Do you carry backup equipment?
I do carry a backup for all unforeseen circumstances however in all the years of performing I have never had to turn to my backup equipment. All equipment is fully insured and looked after extremely well.
How long do you need to set up and pack up?
Depending on the venue, if we have to carry the equipment up ten flights of stairs it will take longer. Generally it takes around an hour to set up and also to disassemble our equipment.
Can you set up in the afternoon?
Yes, early set up times can be arranged when you make your booking.
How many people will your sound system cope with?
Our current sound system can cope with up to 500 guests. If you are planning on having a huge party with more guests please contact us.
Where do you travel to?
We are based in central Scotland but will travel anywhere in the UK and abroad. Depending on the location we may ask for you to provide us with lodging for the night but we are not looking for a 5 star hotel, just a cheap B&B is fine!
If you have any other questions, no matter how minor, then please get in touch
The Special Wedding Disco Package is typically a whole day event. Stuart will set up before the ceremoy until the end of the evening.
Stuart does charge an extra fee per hour after midnight.
The Evening Disco is based on up to 5 hours.
Please Note: The fees indicated below are approximate and based on a central location for each county. They are intended to provide a rough guide only and exact quotes can only be given once the date and exact location of your event have been provided.
Scotland
Aberdeen
£960.00
Inverness
£960.00
Perth
£720.00
Sutherland
£720.00
Ayrshire
£600.00
Fife
£720.00
Stirlingshire
£600.00
West Lothian
£720.00
Dumfries-shire
£720.00
Glasgow
£600.00
Foreign Locations
Europe
£960.00
Rest of the world
£1,200.00