Warble Entertainment's
The Dundee Harpist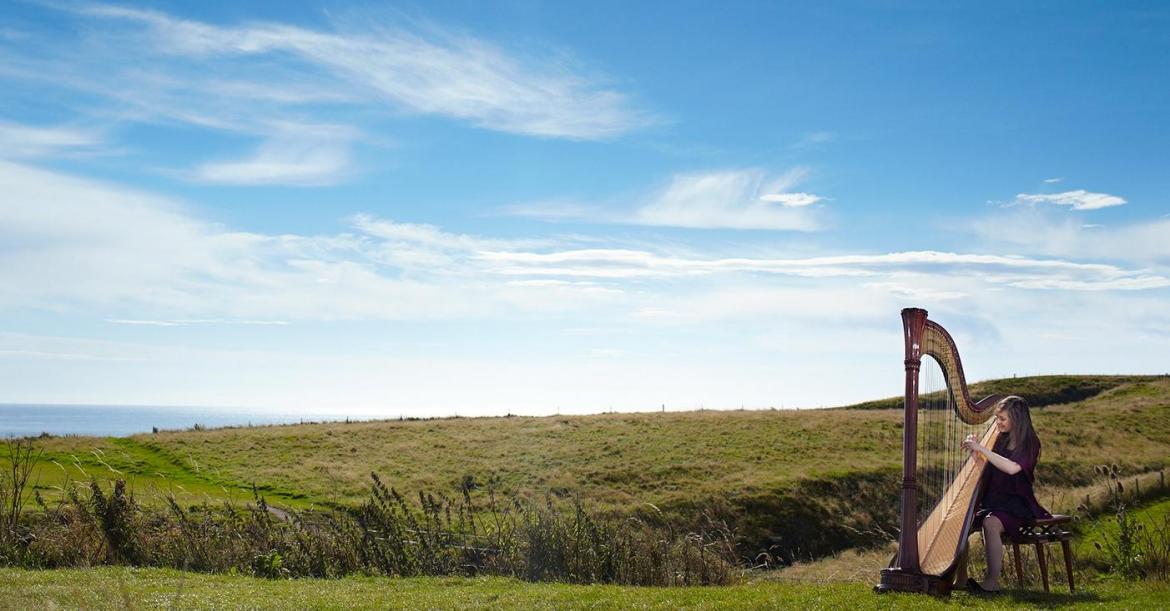 Location Fife
Starting from £240.00
The Dundee Harpist is an exceptionally talented harpist, that plays both the concert harp and Celtic harp or Scottish harp (clarsach).
The Dundee Harpist plays elegant music and can adapt her performance to each client's individual requirements.
She plays a vast repertoire including popular, classics and her own compositions.
A true virtuoso on the harp.
3 reviews
Song List
Any requests can be accommodated.
Classical
Canon in D – Pachelbel
Jesu Joy Of Man's Desiring – Bach
Ode to Joy - Beethoven
O Mio Babbino Caro – Puccini
Prelude in C - Bach
Sonata in C minor - Dussek
Song in the Night – Salzedo
The Little Fountain – O Pratt
The Minstrel's Adieu - Thomas
Una Mattina – Einaudi
Watching the Wheat – Thomas
Traditional
All Through the Night (Welsh)
Amazing Grace
Ashokan Farewell (Scottish)
Auld Lang Syne (Scottish)
Banks of the Ohio
Da Slockit Light (Scottish)
French Boure (French)
Greensleeves
Hamnatang (Scottish)
Hey Bystra Woda (Polish)
House of the Rising Sun
John O'Connor (Irish)
Leaving Stoer (Scottish)
Looking at a Rainbow Through A Dirty Window (Scottish)
Londonderry Air (Danny Boy)
Lord Willoughby (English)
Mingulay Boat Song (Scottish)
Miss Drummond of Perth (Scottish)
My Love is Like a Red, Red Rose (Scottish)
Sileas (Scottish)
Skye Boat Song (Scottish)
The Dark Island (Scottish)
The Distressed Soldier (Irish)
The Miller's Dance (English)
The Minstrel Boy (Irish)
The Queen's March (Welsh)
The Rising of the Lark (Welsh)
The Sally Gardens (Irish)
There Was a Lad (Scottish)
Water Sound Shore (Scottish)
Popular
Angels
Annie's Song
Blowing in the Wind
Bridge Over Troubled Water
Can You Feel the Love Tonight
Clocks
Chariots of Fire
Colours of the Wind
Come What May
Don't Let the Sun Go Down On Me
Every Breath You Take
Everybody Hurts
Everytime
Eternal Flame
Fields of Gold
Happy Birthday
I Can See Clearly Now
I Don't Want To Miss A Thing
Imagine
I Will Always Love You
Killing Me Softly With His Song
Love Changes Everything
Love Me Tender
Moon River
Morning Has Broken
My Heart Will Go On
No Matter What
One Moment in Time
Over the Rainbow
Sailing
Smile
Stand By Me
Tears in Heaven – Eric Clapton
The Scientist – Coldplay
The Wind Beneath My Wings
Unchained Melody
What a Wonderful World
When You Say Nothing At All
With A Little Help From My Friends
Yesterday
You are My Sunshine
Your Song
You're Beautiful
Please note: some pieces can only be played on the pedal harp.