Warble Entertainment's
Hobo Jungle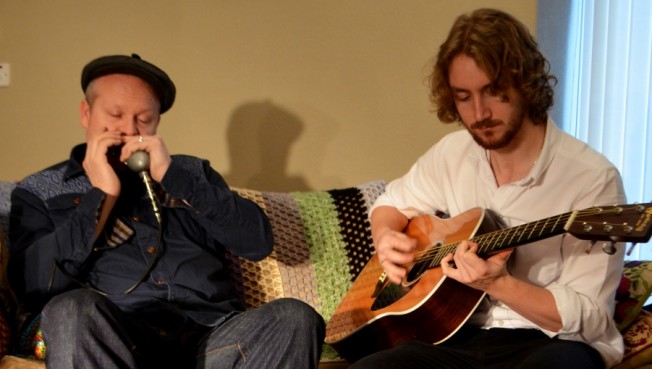 Location Merseyside
Starting from £504.00
Hobo Jungle are an Acoustic Guitar & Blues Harmonica Duo with an absolute raw talent! Pure authenticity at it's finest!
Hobo Jungle perform everything from popular 50's and 60's material right up to the modern day chart hits.
3 reviews
Song List
Pre 1950's...
Rat Pack - Mack The Knife
Rat Pack - Mr Bojangles
Rat Pack - Little Old Wine Drinker
Rat Pack - Witchcraft
Rat Pack - High Hopes
Lead Belly - Rock Island Line
Hank Williams - Hey Good Lookin'
1950's...
Elvis - Hound Dog
Elvis - Jailhouse Rock
Chuck Berry - Johnny Be Goode
Chuck Berry - Roll Over Beethoven
Little Richard - Long Tall Sally
Eddie Cochran - Twenty Flight Rock
The Everly Brothers - Bye Bye Love
The Everly Brothers - Wake Up Little Susie
1960's...
Johnny Cash - Folsom Prison Blues
Johnny Cash - Walk The Line
Johnny Cash - Ring Of Fire
Johnny Cash - Boy Names Sue
Johnny Cash - It Ain't Me Babe
The Beatles - Please Please Me
The Beatles - All My Loving
The Beatles - Love Me Do
The Beatles - Twist & Shout
The Beatles - In My Life
The Beatles - Help!
The Beatles - You've Got To Hide Your Love Away
The Beatles - Norwegian Wood
The Beatles - Come Together
The Beatles - Here Comes The Sun
Simon & Garfunkel - The Boxer
Simon & Garfunkel - Homeward Bound
Simon & Garfunkel - Mrs Robinson
Simon & Garfunkel - Cecilia
Simon & Garfunkel - I Am A Rock
Simon & Garfunkel - The Only Living Boy In New York
Simon & Garfunkel - Feelin Groovy
Jackson C. Frank - Blues Run The Game
Bob Dylan - Blowing In The Wind
Bob Dylan - Don't Think Twice
Bob Dylan - Times Are Changning
Bob Dylan - Like A Rolling Stone
Bob Dylan - Subterrenean Homesick Blues
Bob Dylan - Mr Tambourine Man
Bob Dylan - Knocking On Heavens Door
Van Morrison - Brown Eyed Girl
Neil Diamond - Sweet Caroline
Neil Diamond - Forever In Blue Jeans
Don Mclean - American Pie
Harry Nillsson - Everybody's Talking At Me
Creedence Clearwater Revival - Bad Moon Rising
1970's...
James Taylor - You've Got A Friend
James Taylor - Fire & Rain
James Taylor - Sweet Baby James
Crosby, Stills & Nash - Teach Your Children
Crosby, Stills & Nash - Wooden Ships
Crosby, Stills & Nash - Long Time Gone
Neil Young - Helpless
Neil Young - Heart Of Gold
Eric Clapton - Wonderful Tonight
Eric Clapton - Knocking On Heavens Door
The Eagles - Hotel California
Cat Stevens - Father & Song
Cat Stevens - Wild World
Cat Stevens - Moonshadow
The Band - The Weight
The Band - Up On Cripple Creek
Paul Simon - 50 Ways To Leave Your Lover
Paul Simon - Me & Julio Down By The Schoolyard
1990's...
Oasis - Wonderwall
Oasis - Don't Look Back In Anger
Oasis - Songbird
Oasis - She's Electric
James - Sit Down
I'll Be There For You (Friends Theme Tune)
Deep Blue Something - Breakfast At Tiffanies
2000's Onwards...
David Gray - Babylon
Damian Rice - Cannonball
Coldplay - Yellow
Coldplay - The Scientist
The Killers - Mr Brightside
Kings Of Leon - Use Somebody
Kings Of Leon - Sex On Fire
James Blunt - You're Beautiful
Paolo Nutini - Candy
Paolo Nutini - Alloway Grove
Paolo Nutini - Pencil Full Of Lead
Adele - Someone Like You
Ed Sheeran - A Team
R Kelly - Ignition
Nelly - Ride With Me
Jason Mraz - Im Yours
Jack Johnson - Better Together
Jessie J - Price Tag
Jessie J - Do It Like A Dude
Rhianna - We Found Love
Rhianna - Umberella
Amy Winehouse - Valarie