Warble Entertainment's
I Got Rhythm Jazz Band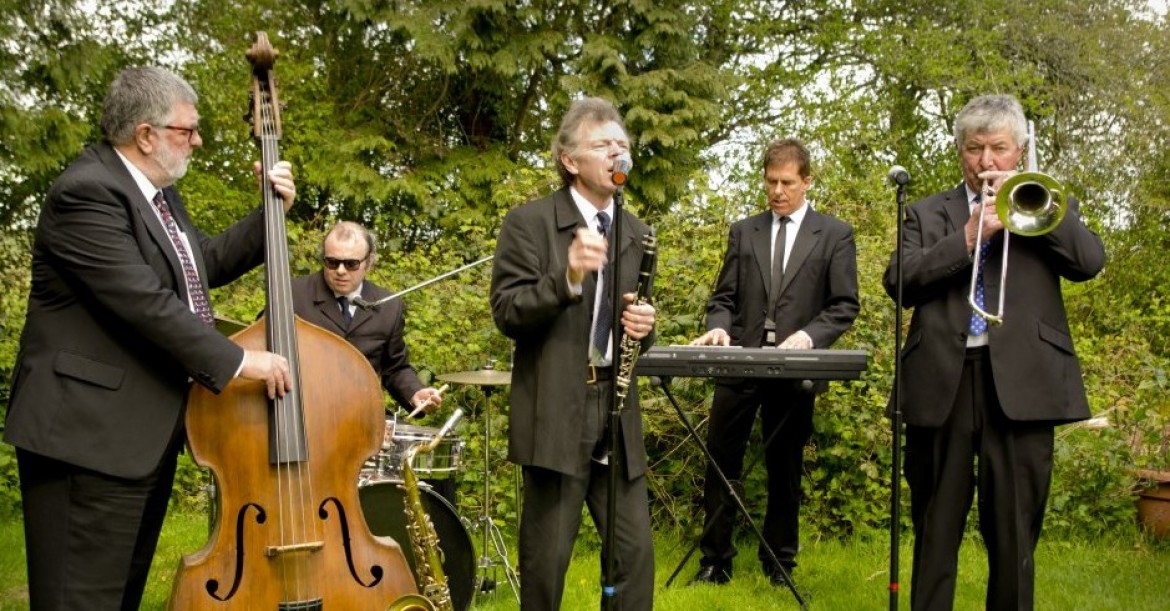 Location Cornwall
Starting from £216.00
Static Traditional and Swing Version - Available from 3 up to 6. Singing & playing popular Traditional & Swing numbers.
Strolling Traditional Dixie Swing Version - Authentic Trad Jazz outfit playing and singing popular tunes. Available from 3 up to 6 piece.
Ideal for weddings corporate events, family events and the acoustic dixie for also strolling around towns.
A marching version of the band also available.
1 reviews
Song List
THE I GOT RHYTHM JAZZ BAND LIST OF SONGS
DOWN BY THE RIVERSIDE
WHEN THE SAINTS GO MARCHING IN
FIVE FOOT TWO EYE ARE BLUE
WHEN YOUR SMILING
STRANGER ON THE SHORE
MY BLUE HEAVEN
IV' E GOT MY MOJO WORKING
AIN'T MISBEHAVIN
ICE CREAM YOU SCREAM
MAC THE KNIFE
BLUE MOON
ON THE SUNNY SIDE OF THE STREET.
ALL OF ME
SWEET SUE
THE SHEIK OF ARABY
BOURBON STREET PARADE
PLEASE DON'T TALK A BOUT ME WHEN I'M GONE
ALEXANDER' S RAGTIME BAND
PASADENA
AIN' T SHE SWEET
WHO'S SORRY NOW
AT THE DARKTOWN STUTTERS BALL
MARGIE
MARCHING THROUGH GEORGIA
DINAH
CHEEK TO CHEEK
GOING TO CHIGACO
SWEET GORGIA BROWN
HAPPY FEET
SUMMERSET
SUMMERTIME
JAMBALIA
HEY GOOD LOOKING
YOUV'E GOTTA MOVE
THE LAUGHING SAMBA
AFTER YOU'VE GONE
KING OF THE SWINGERS
IT DON' T MEAN A THING IF AIN' T GOT THAT SWING
THE SHEIK OF ARABY
YOU RASCAL YOU
THERE' LL BE SOME CHANGES MADE
SEE SEE RIDER
I WANT TO BE HAPPY
BYE BYE BLUES
YOUV' E GOTTA MOVE
I'M GONNA SIT RIGHT DOWN AND WRITE MYSELF A LETTER
BYE BYE BLACKBIRD
SHINE
I GOT RHYTHM
NAGASAKI
DOCTER JAZZ
BILL BAILLY WON' T YOU PLEASE COME HOME
JUST A CLOSER WALK WITH THEE.
THINGS AIN'T WHAT THEY USED TO BE
SHIMMY LIKE MY SISTER KATE
SUMMERSET
THE STATIC TRAD. & SWING VERSION OF THE BAND ALSO PLAYS THE NUMBERS BELOW AS WELL AS THE LIST ABOVE.
CALADONIA
JUMP JIVE AND WAIL
FLY ME TO THE MOON
JUMP JIVE & WAIL
I' VE GOT YOU UNDER MY SKIN
NIGHT TRAIN
C JAM BLUES
SUNNY
THE LADY IS A TRAMP
ROUTE 66
LET THE GOOD TIMES ROLL
CHOO CHOO CHA BOOGIE
MOONDANCE
MOONRIVER
SATIN DOLL
DON'T GETAROUND MUCH ANYMORE