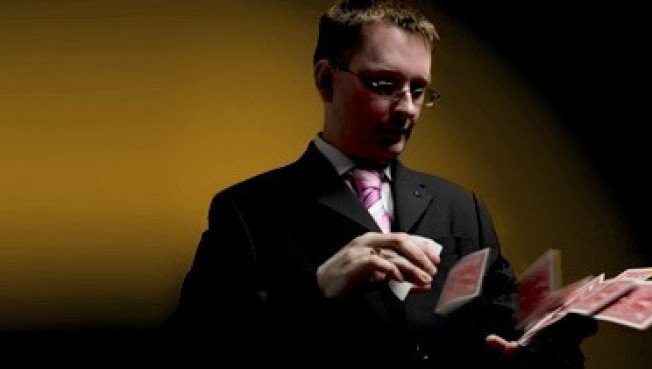 Location Manchester
Starting from POA
"Utterly brilliant. You are amazing!" Andrew Flintoff MBE - Cricketing Legend - You will not see any top hats and rabbits here.
Iain's magic is modern, cutting-edge and innovative, providing the most amazing experience for you and your guests.
Iain is based in Manchester but available for corporate and private events throughout the UK and abroad.
Number of Reviews and Counting... 1!
Iain is a highly skilled magician who can transform any event into a unique and magical occasion. Whether it is a sales conference, drinks reception or formal dinner, he will provide a magical performance that will leave your guests entertained and impressed.
Whether you are planning an executive lunch with a few dozen guests or a banquet with two hundred or more, Iain provides strong magical entertainment in a format tailored to your event.
Iain has performed his magic at large functions nationwide. His corporate clients include: The BBC, Shell UK, Granada Television, SKY, The Labour Party, The National Health Service, Sharp Electronics, ntl and Manchester United Football Club.
Iain is an Associate of the Inner Magic Circle and has won several awards during his twenty-year career as a magician. He is punctual, reliable and polite. The most important reassurance for someone booking Iain for the first time is that 75% of his work is either repeat bookings or recommendations.
Iain is highly regarded amongst his peers and his two DVD's Covert Magic and The Cullfather have received rave reviews from magicians worldwide. He is regularly invited to lecture at magic societies and organisations all over the world and is recognized as being one the UK's foremost authorities on close-up magic.
Over the past few months, Iain has appeared on television teaching magic to cricketing legend Andrew "Freddie" Flintoff, performed his one-man show to glowing acclaim in Lancashire, performed magic on the radio for the BBC and been promoted by some of the top magicians in Europe to Associate of The Inner Magic Circle.
Karen Wheatley - Trapeze Group (UK) Ltd

, Corporate, Manchester
Iain is a genius! He disarms guests with his warmth and charm as he wows them with what seem on the face of it to be such simple tricks. All our delegates were amazed and still talking about the tricks a week later! Iain is the perfect act for a corporate event, adapting to the needs of the organisers and undemanding. Excellent value for money and highly recommended.
---
Iain has also performed his magic at large corporate functions nationwide. His clients include: Shell UK, Granada Television, SKY, The Labour Party, The National Health Service, Sharp Electronics, ntl and Manchester United Football Club.
Iain performs the following types of magic:
Close-up/Table/Mix & Mingle- Close-up magic is an involving, intimate piece of personal entertainment, designed to be enjoyable, mystifying and, above all, memorable. It is magic performed to small groups of people by a magician who carries everything he needs on him and who can move smoothly from one group or area to another, providing an unusual mobile entertainment service. In Iain's expert hands, cards, coins and other everyday objects do impossible things, right under your nose and sometimes even in your own hands.
Because Iain works to small groups, he is able to involve his spectators completely, in a way that virtually no other form of entertainment can. Many people have never seen magic performed so close before and it is a source of enormous fascination and amusement!
It is suitable for any group, of practically any size. It requires no special staging, lighting or venue. It is perfect for creating atmosphere and it is an ideal adjunct to music, dancing or eating.
Cabaret- This type of magic is suitable for medium to large audiences, when there is no stage available. All the action happens much closer to many spectators than in theatre performances; cabaret contains a lot of audience participation. Not only does Iain borrow various objects from audience members but often the volunteers themselves take part in creating the magic. During the performance, Iain performs a variety of astonishing feats, including some incredible mind reading, which the audience will remember for a long, long time.
The show can last from 15 to 40 minutes and is suitable for audiences of up to 150 people.
Please Note: The fees indicated below are approximate and based on a central location for each county. They are intended to provide a rough guide only and exact quotes can only be given once the date and exact location of your event have been provided.