Warble Entertainment's
Joey Acoustic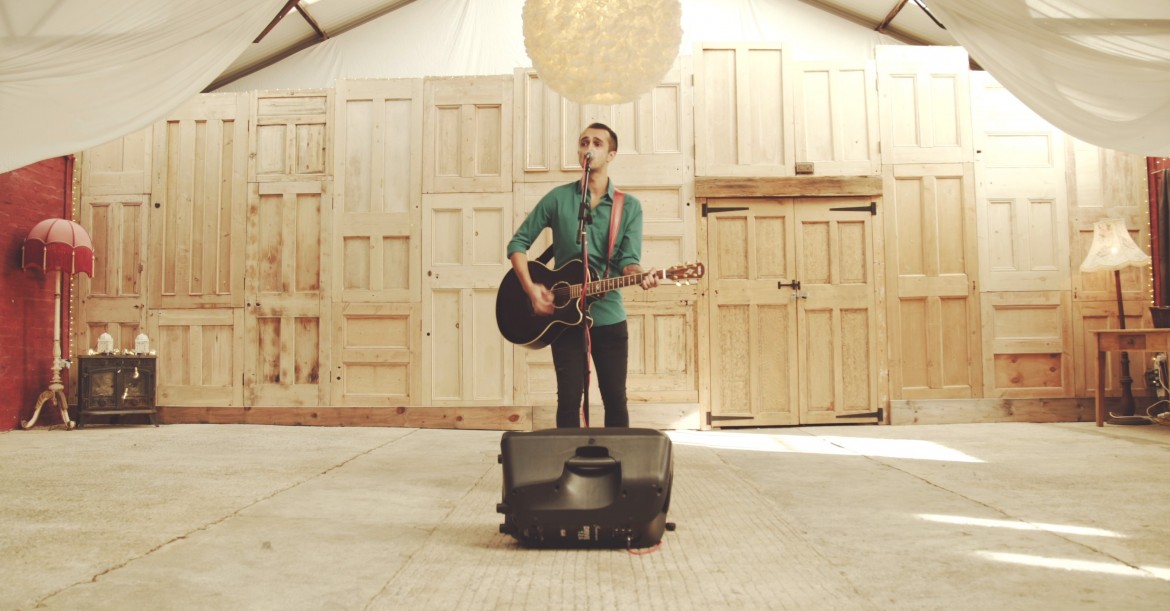 Location Shropshire
Starting from £240.00
Joey is a talented solo acoustic singer and performer with an eclectic setlist and engaging style for any event or party.

He is perfect at providing vibrant and memorable performances packed with nostalgic songs from the 90's and 2000's as well as current pop hits and lively rock covers with an acoustic twist. Guaranteed to fill the dance floor with sing along anthems or set the desired atmosphere with more intimate performances.

Joey is also great at setting a warm and relaxed backdrop to your event or wedding with laid back songs and soothing vocals.


10 reviews
Song List
7 - Catfish & The Bottlemen
7 Days - Craig David
7 Years - Lukas Graham
19 - 2000 - Gorillaz
500 Miles - The Proclaimers
A Thousand Miles - Vanessa Carlton
A Thousand Years - Christina Perri
Adventure Of A Lifetime - Coldplay
Angels - Robbie Williams
Ain't Nobody - Chaka Khan
Ain't No Other Man - Christina Aguilera
Ain't No Sunshine - Bill Withers
All Rise - Blue
All Star - Smash Mouth
All The Small Things - Blink 182
Always - Blink 182
America - Razorlight
American Boy - Estelle
Attention - Charlie Puth
Baby One More Time - Britney Spears
Basket Case - Green Day
Beating Hearts Baby - Head Automatica
Believe - Cher
Best Day Of My Life - American Authors
Bitter Sweet Symphony - The Verve
Blame It On Me - George Ezra
Blue (Da Ba Dee) - Eiffel 65
Bohemian Rhapsody - Queen
Boulevard Of Broken Dreams - Green Day
Budapest - George Ezra
California - Phantom Planet
California Girls - Katy Perry
Californication - Red Hot Chili Peppers
Can't Help Falling In Love - Elvis Presley
Careless Whisper - George Michael
Castle On The Hill - Ed Sheeran
Chasing Cars - Snow Patrol
Cheerleader - OMI
Chop Suey - System Of A Down
Clint Eastwood - Gorillaz
Clocks - Coldplay
Coffee & TV - Blur
Complicated - Avril Lavigne
Crazy In Love - Beyonce
Cry Me A River - Justin Timberlake
Dakota - Stereophonics
Don't Let Me Down - The Chainsmokers
Don't Look Back In Anger - Oasis
Don't Stop - Fleetwood Mac
Don't Stop Believin' - Journey
Don't Worry Be Happy - Bobby McFerrin
Down - Blink 182
Everlong - Foo Fighters
Evil - Interpol
Feeling Good - Nina Simone
Feel It Still - Portugal. The Man
Fireflies - Owl City
Freestyler - Bomfunk MC's
Fresh Prince Of Bel Air - DJ Jazzy Jeff & The Fresh Prince
From Yesterday - 30 Seconds To Mars
Follow Me - Uncle Kracker
Forget You - Cee Lo Green
Genie In A Bottle - Christina Aguilera
Get Lucky - Daft Punk
Get Thru This - Daniel Bedingfield
The Ghost Of You - My Chemical Romance
Girl All The Bad Guys Want - Bowling For Soup
Girls & Boys - Good Charlotte
Girls Just Want To Have Fun - Cyndi Lauper
Gives You Hell - All American Rejects
God's Plan - Drake
Good Riddance - Green Day
Go With The Flow - Queens Of The Stone Age
Handlebars - Flobots
Happy - Pharrell Williams
Hard Times - Paramore
Havana - Camila Cabello
Have A Nice Day - Stereophonics
Heathens - Twenty One Pilots
Heaven Is A Halfpipe - OPM
Hero - Enrique Iglesias
Hey Jude - The Beatles
Hey There Delilah - Plain White T's
Hey Ya - Outkast
High - Feeder
Ho Hey - The Lumineers
Hollaback Girl - Gwen Stefani
Hot In Here - Nelly
How Soon Is Now? - The Smiths
Hungry Like The Wolf - Duran Duran
Hyperballad - Bjork
Ignition - R Kelly
I Fought The Law - The Clash
I Like It - Cardi B
I Miss You - Blink 182
I'm Yours - Jason Mraz
In The End - Linkin Park
In Too Deep - Sum 41
Iris - Goo Goo Dolls
It Ain't Me - Kygo & Selena Gomez
It Wasn't Me - Shaggy
I Write Sins Not Tragedies - Panic! At The Disco
I Want It That Way - Backstreet Boys
I Want To Break Free - Queen
JCB Song - Nizlopi
Jolene - Dolly Parton
Karma Police - Radiohead
Katy On A Mission - Katy B
Kiss Me - Sixpence None The Richer
Knockin' On Heavens Door - Bob Dylan
LaLaLa - Y2K
Learn To Fly - Foo Fighters
Leave Right Now - Will Young
Lego House - Ed Sheeran
Let's Get It Started - Black Eyed Peas
Let Her Go - Passenger
Lifestyles Of The Rich & Famous - Good Charlotte
Livin' On A Prayer - Bon Jovi
Lose Yourself - Eminem
Love Yourself - Justin Bieber
Machines - Biffy Clyro
Mercury Summer - Fightstar
The Middle - Jimmy Eat World
The Middle - Zedd
Misery Business - Paramore
Mr. Brightside - The Killers
Movies - Alien Ant Farm
Mustang Sally - The Commitments
My Hero - Foo Fighters
Mysterious Girl - Peter Andre
New Rules - Dua Lipa
Next Year - Foo Fighters
No Scrubs - TLC
No Tears Left To Cry - Ariana Grande
Numb - Linkin Park
On A Mission - Katy B
Overload - Sugababes
Paparazzi - Lady Gaga
Paradise - George Ezra
Party In The USA - Miley Cyrus
Perfect - Ed Sheeran
Perfect Day - Lou Reed
Pieces - Sum 41
Place Your Hands - Reef
Pompeii - Bastille
Praise You - Fatboy Slim
Price Tag - Jessie J
Propane Nightmares - Pendulum
Pure Shores - All Saints
Rockstar - Nickelback
Rock Your Body - Justin Timberlake
Royals - Lorde
Say You Won't Let Go - James Arthur
Sex On Fire - Kings Of Leon
Shake It Off - Taylor Swift
Shape Of You - Ed Sheeran
She Moves In Her Own Way - The Kooks
Shotgun - George Ezra
Shut Up And Dance - Walk The Moon
Shipyards - The Lake Poets
Side To Side - Ariana Grande
Sk8r Boi - Avril Lavigne
Smooth Criminal - Michael Jackson
Stacy's Mom - Fountains Of Wayne
Steal My Sunshine - Len
Stop Crying Your Heart Out - Oasis
Stressed Out - Twenty One Pilots
Sugar We're Goin Down - Fall Out Boy
Summer of '69 - Bryan Adams
Superstar - Jamelia
Sweetness - Jimmy Eat World
Sweet Child O' Mine - Guns N' Roses
Take Your Mama - Scissor Sisters
Teenage Dirtbag - Wheatus
thank u, next - Ariana Grande
That Don't Impress Me Much - Shania Twain
Thinking Out Loud - Ed Sheeran
This Is America - Childish Gambino
Thnks Fr Th Mmrs - Fall Out Boy
Twist And Shout - The Beatles
Umbrella - Rihanna
Uptown Funk - Mark Ronson
Use Somebody - Kings Of Leon
Valerie - Mark Ronson (ft. Amy Winehouse)
Wake Me Up Before You Go-Go - Wham!
Walk Like An Egyptian - The Bangles
Walking On Sunshine - Katrina & The Waves
The Way You Make Me Feel - Michael Jackson
Welcome To The Black Parade - My Chemical Romance
What's My Age Again? - Blink 182
When I Come Around - Green Day
Where Is The Love? - Black Eyed Peas
White Flag - Dido
Wonderwall - Oasis
Year 3000 - Busted
Yellow - Coldplay
You Need Me, I Don't Need You - Ed Sheeran
You've Got The Love - Florence & The Machine
You To Me Are Everything - The Real Thing
And more...