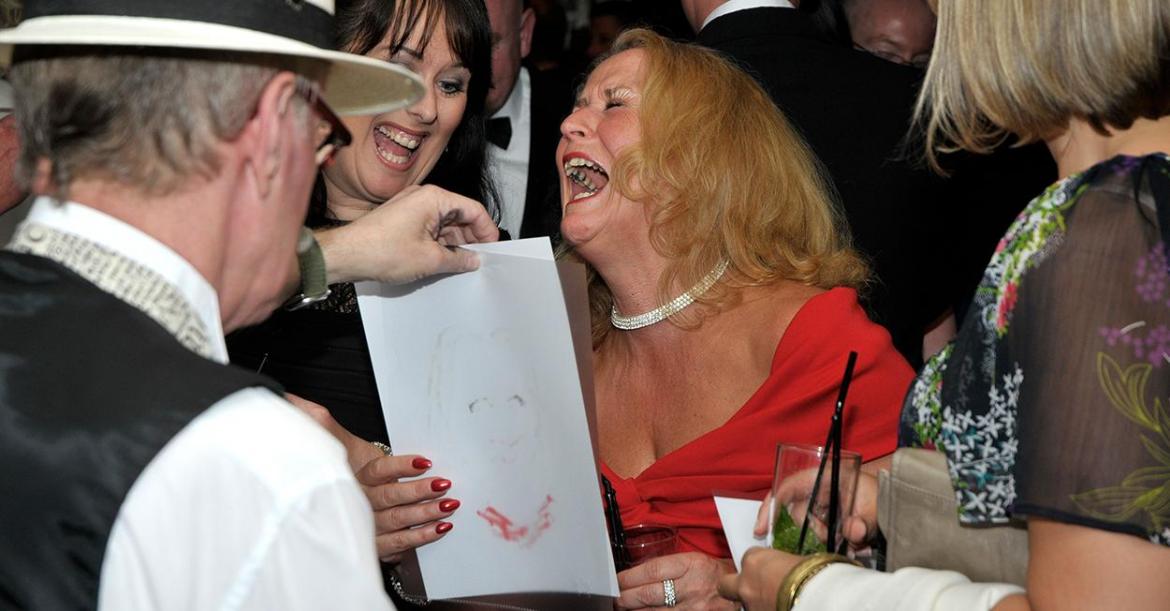 Location Cheshire
Starting from £384.00
What? So you think this REALLY looks like me? YES?? Okay, well YOU have your caricature drawn and lets all have a laugh!
Comments typically overheard when John works at an event!
With over 10 years experience as a live caricaturist / entertainer John has adapted his drawing skills to work in any situation drawing caricatures by mix and mingling with your guests, or around the dining tables, exhibition stands, weddings etc.
Hoots of laughter and applause (with a few crest-fallen egos!) abound as the party takes off!
This is an opportunity for guests not only to take home a very personal memento of the occasion but also an ORIGINAL work of art!
Number of Reviews and Counting... 6!
International award winning professional cartoonist and caricaturist John has been published widely. His caricatures of celebrities highlight his very own style of humour. In addition to years of cartoon and caricature work, John is one of the UK's most sought after professional on-the-spot caricaturists working at numerous corporate events, car launches, exhibitions, private dinners, weddings etc. all over the country.
John can effortlessly mingle with your guests, drawing quick caricatures while entertaining them. He works with black pen and various grey washes to A4 size and presents the finished artwork in a plastic presentation envelope for protection.
The various cartoons, caricatures, and illustrations highlighted show John's depth as an artist and creative mastermind. John has competed against world renowned cartoonists, illustrators, and caricaturists to win several International awards.
Lauren Murphy

, Wedding, Cheshire
John was absolutely fantastic, all our guests took great delight in getting their caricatures done!
---
Angela Mehra-Patel

, Private Party, London
The party was a great success and John was fantastic. He was the icing on the cake and the children and parents loved him! He added another dimension to the whole party. His work was fabulous, funny and entertaining and put a smile on everyone's faces. Thank you for taking our booking so late in the day and making it happen for us!
---
Stacey-Marie Chalk - Wedding Planning & Coordination

, Wedding, Shropshire
John was excellent, he was on time and provided great entertainment for the guests. He looked great with his outfit and just moved around the crowd with ease with his personable approach! My clients were very happy with John, thank you. Warble Entertainment were very quick at responding to my queries, provided clear and precise details of entertainers and were speedy in their confirmation of booking. The booking process was efficient, all details provided were correct and the pricing was also competitive. The service was excellent, thank you! I will certainly keep Warble Entertainment on my supplier register to contact for future client requirements. Many thanks and best wishes.
---
Michelle Booty

, Wedding, Yorkshire
Very well organised and made our day easy. John worked so well at our wedding venue, initially I was unsure how many pictures John would be able to do but I'm sure he managed the majority of the guests! I had so many people come to me on the night showing me their pics very excited and lots of comments on what a great and different idea! Our wedding was amazing and John added to it. Thank you so much, Rich and Michelle.
---
Mark Austin

, Military Event, Cheshire
Many thanks to John for adding to the enjoyment at our Summer Ball. The caricatures he produced were exceptional and he looked the part too. I would book again at future functions. Thanks
---
Hilary Hughes

, Wedding, Cheshire
Oh my goodness John was brilliant. He not only looks the part but is a very talented artist. He kept everyone thoroughly entertained during the whole of the meal at my daughters wedding on Saturday. He moved between tables to ensure everyone had the chance to join in the fun. Those who managed to get their 'portrait' done were thrilled with their picture. There were lots of laughs around the room. I would 100% recommend John to anyone considering a caricaturist. The booking process was easy and all queries were responded to promptly in order for me book exactly what we wanted. Well done Warble and of course John.
---
John has worked at both the Labour and Conservative Party conferences, Manchester United (two seasons), UEFA Champions League (three seasons), British Airways, BT, Coca-Cola, Ford Motors, HBOS, Microsoft, O2, Orange, Virgin, United Utilities... go on, add YOUR name to the list!
John has adapted his drawing skills to work in any situation drawing caricatures by 'mix and mingling' with your guests, or around the dining tables, exhibition stands, weddings etc.
Please Note: The fees indicated below are approximate and based on a central location for each county. They are intended to provide a rough guide only and exact quotes can only be given once the date and exact location of your event have been provided.
Scotland
Aberdeen
£540.00
Inverness
£540.00
Perth
£540.00
Sutherland
£540.00
Ayrshire
£540.00
Fife
£540.00
Stirlingshire
£540.00
West Lothian
£540.00
Dumfries-shire
£480.00
East Lothian
£480.00
Lanarkshire
£480.00
Midlothian
£480.00
North East
Durham
£504.00
Northumberland
£480.00
North Yorkshire
£480.00
South Yorkshire
£420.00
Tyne and Wear
£480.00
West Yorkshire
£420.00
Yorkshire
£420.00
North West
Cheshire
£384.00
Cumbria
£420.00
Manchester
£384.00
Lancashire
£384.00
Merseyside
£384.00
East Midlands
Derbyshire
£384.00
Leicestershire
£420.00
Lincolnshire
£480.00
Northamptonshire
£420.00
Nottinghamshire
£420.00
Rutland
£420.00
East
Cambridgeshire
£480.00
Norfolk
£480.00
Suffolk
£480.00
Wales
Anglesey
£420.00
Caernarvonshire
£420.00
Denbigh
£420.00
Flint
£420.00
Cardigan
£480.00
Brecon
£456.00
Carmarthen
£456.00
Glamorgan
£456.00
Monmouth
£456.00
Pembroke
£480.00
West Midlands
Gloucestershire
£420.00
Herefordshire
£420.00
Shropshire
£420.00
Staffordshire
£420.00
Warwickshire
£420.00
Worcestershire
£420.00
South East
Bedfordshire
£456.00
Berkshire
£456.00
Buckinghamshire
£456.00
East Sussex
£456.00
Essex
£480.00
Hampshire
£456.00
Hertfordshire
£456.00
Isle of Wight
£480.00
Kent
£480.00
Oxfordshire
£456.00
Surrey
£456.00
Sussex
£456.00
West Sussex
£456.00
London
£480.00
Middlesex
£480.00
South West
Cornwall
£504.00
Devon
£504.00
Dorset
£480.00
Somerset
£480.00
Wiltshire
£480.00