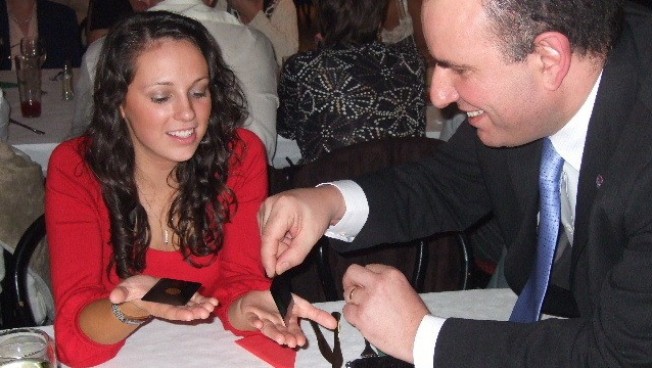 Location Leicestershire
Starting from £438.00
John offers high quality magic and entertainment at events and special occasions. He combines excellent magic with a personable manner and a witty approach ensuring that everybody thoroughly enjoys the experience.
John performs close up, 'strolling' and cabaret magic. His magic is the culmination of 30 years of experience - study, practice, research and development and of course hundreds of live performances. He presents the strongest magic by some of the best magicians in the world in addition to his own original routines.
With John you are guaranteed amazing and engaging entertainment - delivered with wit and charm - for your event.
Number of Reviews and Counting... 1!
John performs close up, 'strolling' and cabaret magic. He performs the close up magic of the top magicians in the world together with his own original routines. Captivating magic includes turning blank paper into £20 notes and his close up magic is highly interactive. John can also offer pyschological / ESP magic to include spoon bending and mind-reading.
• Member Leicester Magic Circle and member of Equity
• Performing for well over 30 years, professionally for over 20 years
• Recent engagements include numerous weddings, adult birthdays and corporate events. Amongst the latter clients include HSBC, Morrisons, Omnibus Systems, and numerous firms of solicitors both large and small
• Educated, well-spoken, and articulate
For businesses John can offer customised magic at open days and trade shows to promote your brand. At the latter John's role is to drive traffic to your stand & proactively assists in generating and qualifying leads.
Ailsa Stafasani

, Corporate, Leicestershire
We had a fabulous night. John was very polite and had time for everyone his magic was magic!! We will use him again.
---
HSBC Bank
Morrisons Supermarket
Omnibus Systems

Fruedenberg Simrit

Leicester City Football Club VIP Suites

Please Note: The fees indicated below are approximate and based on a central location for each county. They are intended to provide a rough guide only and exact quotes can only be given once the date and exact location of your event have been provided.
North East
South Yorkshire
£450.00
North West
Cheshire
£480.00
East Midlands
Derbyshire
£438.00
Leicestershire
£438.00
Lincolnshire
£438.00
Northamptonshire
£438.00
Nottinghamshire
£438.00
Rutland
£438.00
East
Cambridgeshire
£474.00
West Midlands
Gloucestershire
£474.00
Warwickshire
£474.00
South East
Bedfordshire
£480.00
Hertfordshire
£480.00
Oxfordshire
£480.00
London
£504.00
South West
Cornwall
£516.00
Devon
£516.00