Jonathan The Classical Guitarist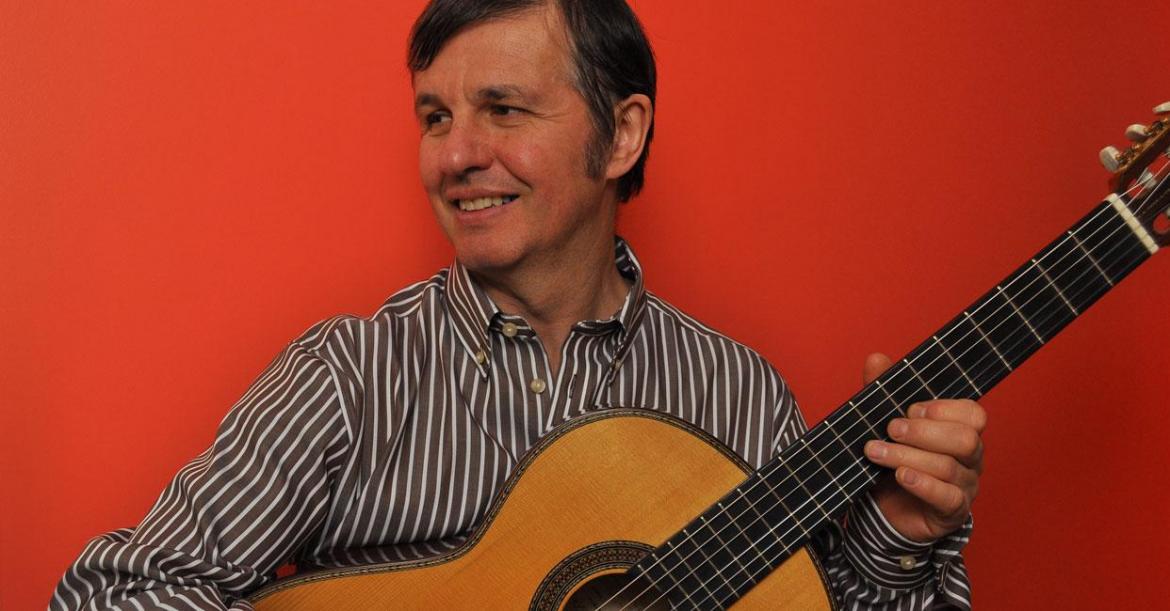 Location Hampshire
Starting from £300.00
Jonathan The Classical Guitarist began playing the guitar when he was twelve and offers a wide range of classical and popular music for weddings and events.
Jonathan The Classical Guitarist
Number of Reviews and Counting... 1!
Jonathan The Classical Guitarist studied guitar with Adrian Neville in Southampton and then with international classical guitarist, Carlos Bonell, in London (with whom he performed a highly successful show based on the life and writing of the Spanish poet Federico Garcia Lorca).
He has performed solo classical guitar concerts regularly at the Edinburgh Festival since 1992. In 1994, he accompanied the legendary Eartha Kitt in her one-woman show: Yes. He is a member of chamber music group, The Ruskin Ensemble. Tours with them include appearances at the Brighton Festival, the Tunbridge Wells Festival, the Edinburgh Festival, Rural Touring Schemes inNottinghamshire, Sussex, Devon, Scotland and Wales and Music Societies throughout the British Isles.
Outreach work is an important part of his experience as a musician and he works for the charity Music in Hospitals as well as, with the Ruskin Ensemble, working on the outreach projects of the City of London Sinfonia and he has taken part in schools workshops throughout the UK.
In the summer of 2007 he performed with the Orchestra of St John's, Smith Square in the Grange Park Opera production of Verdi's Falstaff.
Classical
Pachelbel's Canon
Greensleeves
Dowland - Fantasia
Bach - Bourrée and Gigue
Bach - Prelude and Fugue
Bach - Lute Suite in A minor
Bach - Jesu Joy of Man's Desiring
Bach - Air on a G String
Handel - Suite in E minor
Weiss - Passacaille
Weiss - Fantasia
Sor - Study in E minor
Sor - Study in B minor
Villa Llobos - Preludes 1 to 5
Lauro - Valses Venezolanos
Walton - 5 Bagatelles
Peter Maxwell Davies - Farewell to Stromness
Spanish and Flamenco
Rodrigo - Concierto de Aranjuez
Spanish Romance
Albeniz; - Asturias
Albeniz; - Rumores de la Caleta
Albeniz; - Mallorca
Albeniz; - Torre Bermeja
Granados - Spanish Dance No. 5
Granados - Spanish Dance No. 10
Granados - Maja de Goya
Paco Peña - Colombiana
Paco Peña - Soleares
Paco Peña - Farrucca
Tarrega - Recuerdos del Alhambra
South American / Tangos
Cumparsita
Jealousy
Piazzolla - Verano Porteño
Piazzolla - Yradier
Piazzolla - La Paloma
Jorge Morel - Danza Brasilera
Jorge Morel - Misionera
Brouwer - Dansa del Altiplano
Brouwer - Elogio de la Dansa
Jose Luis Merlin - Suite del Recuerdo
Barrios - La Catedral
Barrios - Maxixe
Barrios - Las Abejas
Barrios - Julia Florida
Film / Musicals
The Third Man
Moon River (from Breakfast at Tiffany's)
Over the Rainbow (Wizard of Oz)
Memory (Cats )
Don't Cry for Me Argentina (Evita)
Singin' in the Rain
(She's the One (A Chorus Line)
A Whole New World (Aladin)
She (theme from Notting Hill)
Cavatina (theme from The Deerhunter
Everything I Do (Theme from Robin Hood, Prince of Thieves)
Jazz
Fascinatin' Rhythm
Scott Joplin (e.g. The Entertainer)
Take Five
I get a Kick out of You
Let's Do It
Just One of Those Things
Lullaby of Birdland
Aint Misbehavin'
Fly Me To The Moon
Basin Street Blues
I Won't Dance
Standards
Someone To Watch Over Me
Summertime
Misty
Smoke gets in your Eyes
Moon River
Nice Work if you Can Get It
Tico Tico
Mona Lisa
Sous le Ciel de Paris
I Love Paris
In the Still of the Night
The Man I Love
They Can't Take That Away from Me
The Way We Were
Night and Day
Begin the Beguine
Ol' Man River
Unchained Melody
Popular
What a Wonderful World
Bridge Over Troubled Water
Scarborough Fair
Girl from Ipanema
Beatles (Michelle, Yesterday etc.)
Stairway to Heaven
Stand by Me
Stand by Your Man
Windmills of Your Mind
The Carpenters (various)
Inspiration (Gipsy Kings)
Waterloo Sunset
House of the Rising Sun
Whiter Shade of Pale
Up Where you belong
Wonderwall
Tears in Heaven
Unchained Melody
Fields of Gold
Daydream Believer
Elvis Presley medley
Emma Hawkings

, Wedding, Ansty Hall, Warwickshire, Warwickshire
Perfect and a fantastic addition to our day.
---
2 hours with a short break
Please Note: The fees indicated below are approximate and based on a central location for each county. They are intended to provide a rough guide only and exact quotes can only be given once the date and exact location of your event have been provided.
South East
Berkshire
£324.00
Buckinghamshire
£324.00
East Sussex
£324.00
Hampshire
£300.00
Sussex
£324.00
West Sussex
£300.00