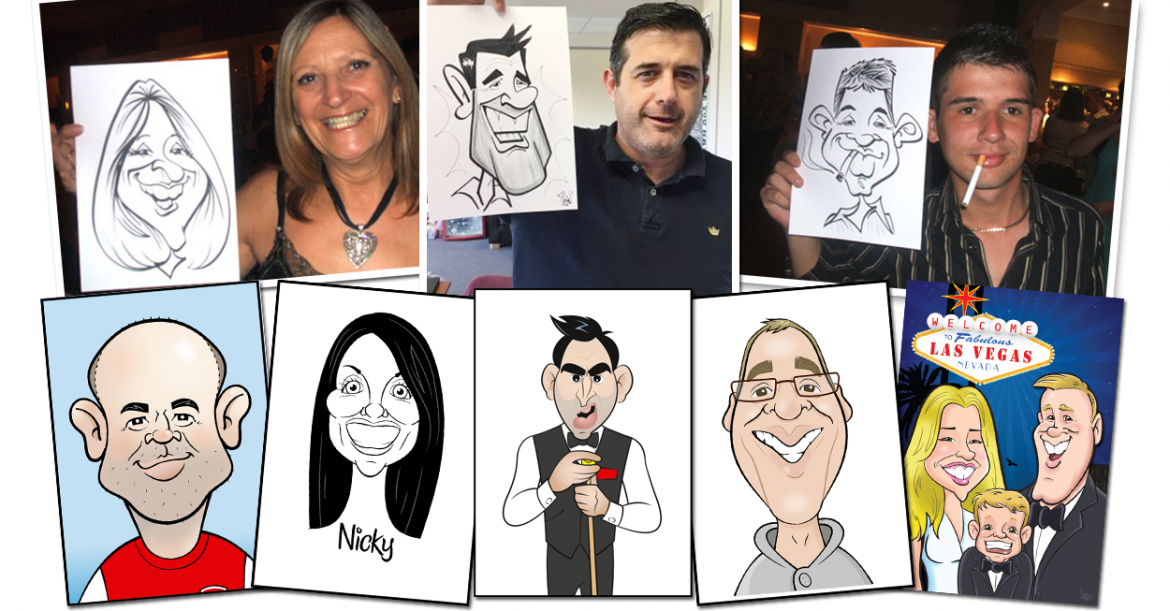 Location Essex
Starting from £240.00

Justin has become a firm favourite at weddings, corporate events and private parties, entertaining guests with his hilarious and brilliantly-observed live caricatures for over ten years.

Thousands of guests across the South East and London have come away from special days and evenings made all the more memorable by being immortalised in one of Justin's huge, striking caricatures, giving them a unique memento to take home along with the rest of their memories of the day.
Number of Reviews and Counting... 3!
Never one to be found tucked away in a corner hidden behind an easel, Justin prefers to mix and mingle with guests as he works. His likeable personality and ready sense of humour instantly win everybody over and are as much the reason for his repeat bookings as his caricatures. In case you're worried how your guests might be portrayed, never fear – Justin's caricatures are always 'kind', never wicked (unless, of course, that's what they ask for!)
Your guests are drawn a lively and instantly recognisable caricature on high quality paper and presented in a protective sleeve to keep it safe from the drink spillages and freak profiterole accidents that occur at all the best events.
Live caricatures are a perfect icebreaker and a great way to liven-up the lulls between the ceremony, meal and dancing at weddings.
Justin can draw up to 20 caricatures per hour (sometimes more), so plan for around 40-50 for a two-hour booking... and don't worry about fitting everyone in, as not everyone will want to be drawn – many people love simply watching the caricatures being drawn and egging-on their partners and friends to have theirs done!
At Corporate events, Justin can draw (literally!) potential customers to your trade stand at exhibitions.

Caricatures are also a great addition to corporate events. Training days, exhibitions and team-building events are always welcome changes to the work routine for staff, and a caricature session can give a great injection of fun into the proceedings – especially when it's unexpected.
Grant Robinson

, Wedding, Nettlestead Place, Kent
Justin was amazing and everyone loved him. He broke up the day nicely and was super professional. I would recommend to anyone.
---
Dhruv Doshi - Doshi Accountants Ltd

, Corporate, London
Great work and a great attitude - everyone was very happy.
---
Mr and Mrs P Cunningham

, Wedding, Essex
Hiring Justin for our wedding day was a great decision. He drew many of our guests and everyone was extremely happy, amused and entertained. Totally professional and friendly, Justin is a great addition to any wedding. We highly recomend him.
---
Barclays Bank
BP
Deloitte
American Express
May Gurney
Ministry of Defense
Plus many more Weddings, Parties and Corporate Events throughout the South East.
How long does each caricature take to draw?
Black and white caricatures take approx 3-4 mins each for individuals (around 20 per hour) and slightly longer for couples.

Where do you need to set up?
I prefer to mix and mingle with guests in a decently lit and not too crammed area of the venue.

What size are the caricatures?
A4 size on high quality paper. Each drawing is presented in a clear plastic sleeve for protection.

How many people do you draw per sheet?
Couples or individuals per A4 sheet.

Can we have pre-printed paper?
The paper can be pre-printed with a small message of your choice at no extra charge.

How long can we book you for?
Typically I perform for 2-3 hours at weddings and parties. Longer for corporate events (up to 7 hours).
Please Note: The fees indicated below are approximate and based on a central location for each county. They are intended to provide a rough guide only and exact quotes can only be given once the date and exact location of your event have been provided.
East Midlands
Northamptonshire
£348.00
East
Cambridgeshire
£282.00
Norfolk
£348.00
Suffolk
£282.00
Norwich
£348.00
South East
Bedfordshire
£282.00
Berkshire
£282.00
Buckinghamshire
£282.00
East Sussex
£282.00
Essex
£240.00
Hampshire
£282.00
Hertfordshire
£258.00
Kent
£240.00
Surrey
£264.00
London
£240.00
Middlesex
£240.00