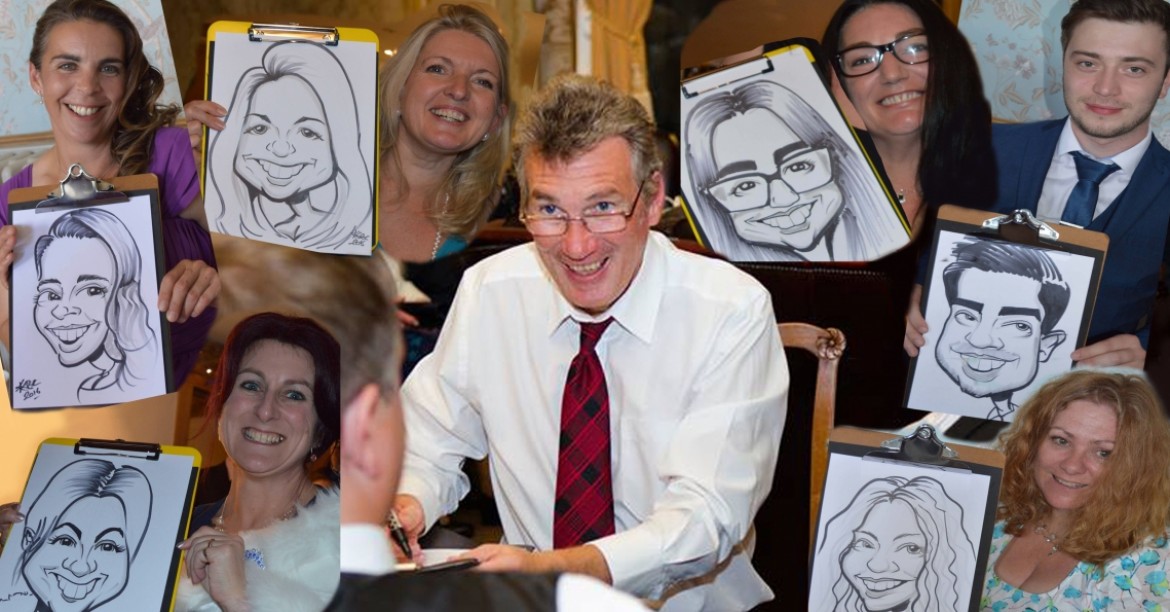 Location Devon
Starting from £300.00
Kev is a fantastic caricature entertainer. His work always draws the crowds and guarentees fun and laughter - with big smiles, big teeth, big noses and then there are the drawings!
Kev is a top British caricature artist. Imagine Richard Gere drawing your guests. Kev has often been told he looks a lot like the film star but more importantly Kev is talented with the marker pen. Kev is an East Devon based caricature artist with many years experience as an artist and entertainer. Kev's caricatures are a great addition to any event – weddings, parties, corporate functions and trade stands. His drawings provide a superb talking point and are just the thing to bring people together.
Number of Reviews and Counting... 9!
Kev loves providing laughter and entertainment for guests.
Kev usually draws at an easel but can be mobile with his clipboard. As a guide, more people can be drawn while Kev sits at an easel. Drawing at an easel allows guests to stand behind and watch as the caricature is drawn, which also provides most of the entertainment. Essential for Kev's drawing is good lighting and willing victims.
Kev uses high quality A4 card and specialist marker pens. Each caricature takes approximately 5 minutes (or less) and thus could produce 12 to 15 faces per hour if there is a continuous queue of smiling faces. Included are clear plastic pockets to protect the finished artwork. Kev is often accompanied by his wife Jill who will take photographs of your guests with their caricature. Jill is great at striking up a rapport with guests while they wait to have their caricature drawn.
Kev also draws caricatures from photographs. He can produce colour or B&W artwork from your photographs. The caricatures can be 'head and shoulders' or 'full body' and can be personalised with sporting kits and equipment or hobbies. Kev requires at least 3 good quality photographs of the subject's head, plus 2 full body pictures if a full body caricature is required.
Laura Ketchen

, Birthday Party, Somerset
Great drawings and fun interaction.
---
Leanne Gregory

, Wedding, Kitley House Hotel, Devon, Devon
5 Stars! He was amazing.
---
Abbie Knight

, Wedding, Hornsbury Mill, Somerset, Somerset
Kev was a real pleasure to have at our wedding and was a real hit with our guests. So glad we decided to go ahead and would highly recommend.
---
Sally Huxham - Wrigley Ltd

, Corporate, The Wrigley Company Ltd, Devon
Kevin was a very popular attraction at our event. His quality of work is very good. Would highly recommend and wouldn't hesitate to book again in the future. Thank you Kevin, best wishes. Sally Huxham, Wrigley.
---
Darren Treloar

, Wedding, Burrow Farm Gardens, Devon
AMAZING! Such a talented man, went down REALLY well with all of our guests, was so friendly and made the day so much more special! Thanks Kev!
---
Christa

, Wedding, Clevedon Hall, Somerset, Bristol
Kev was quick at responding, friendly and helpful. He called when arranged and turned up on time. His drawings were really fun and our guests enjoyed themselves.
---
Andy Heyes

, Private Party, Clevedon Hall, Somerset, Somerset
Kev did a fantastic job for us last night; he mingled with the guests and played a huge active part in such a memorable and successful evening. Would thoroughly recommend him to anyone and would certainly book again - top stuff!
---
Anne Akile

, Birthday Party, Devon
Kev was brilliant and worked really hard. Everyone was delighted and so was I.
---
Trish and Chris Smith

, Wedding, Devon
Thank you so much for the fabulous caricatures at our wedding. Our guests really enjoyed having these done. I just wish we had booked you for longer.
---
What equipment do you need to provide at the venue?
Kev needs very little – 4 chairs, a small area with good lighting that's clear of obstacles and loud music.
What would be the duration of the booking?
Kev's preferred booking is 2 hours, but he can booked for 3 hours.
How long does it take to draw each caricature?
Kev takes approximately 5 minutes (or less) to draw each person but each drawing provides entertainment for all those gathered around watching – especially for those who feel compelled to chip in with witty remarks.
Please Note: The fees indicated below are approximate and based on a central location for each county. They are intended to provide a rough guide only and exact quotes can only be given once the date and exact location of your event have been provided.
West Midlands
Gloucestershire
£312.00
South West
Cornwall
£312.00
Devon
£300.00
Dorset
£312.00
Somerset
£312.00
Wiltshire
£312.00
Bath
£312.00
Bristol
£312.00