Warble Entertainment's
Key West Acoustic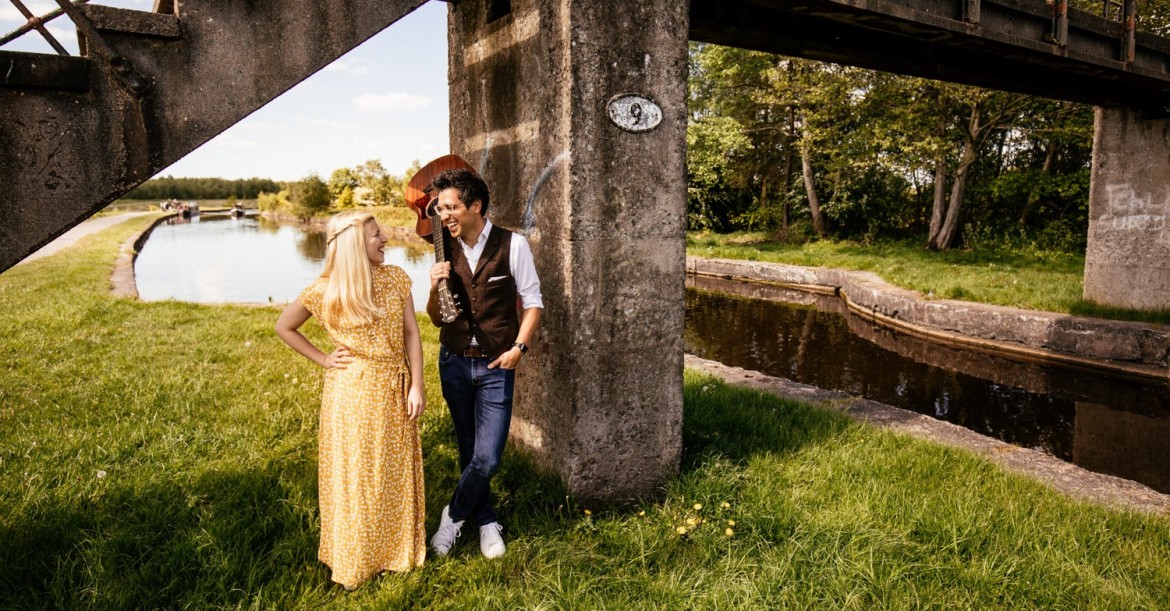 Location Cheshire
Starting from £480.00
Based in Manchester, Key West Acoustic combine the sound of acoustic guitar with both male and female vocals and harmonies.
Key West Acoustic both sing, and accompanied with acoustic guitar, they perform a mix of popular songs with original arrangements, typical of a "Live-Lounge" performance.
Available UK wide and internationally, The duo are happy to travel for your event.
3 reviews
Song List
22 – Taylor Swift
2002 - Anne Marie
3AM – Matchbox Twenty
3 Nights - Dominic Fire
A Life That's Good – Nashville Cast, Lennon & Maisy
A Little Respect - 2009 Remastered Version – Erasure
A Thousand Years – Christina Perri
Accidentally In Love – Counting Crows
Across The Universe - Remastered – The Beatles
Ain't It Fun - Paramore
Ain't Nobody – Chaka Khan
All About That Bass – Meghan Trainor
All I Want Is You – U2
All My Life – K-Ci & JoJo
All Night Long (All Night) - Single Version – Lionel Richie
All of Me – John Legend
All That She Wants - Ace of Bass
All We Ever Knew – The Head and the Heart
All You Need Is Love - Remastered 2015 – The Beatles
American Boy (feat. Kanye West) – Estelle, Kanye West
At Last - Single Version – Etta James
Attention – Charlie Puth
Baby – Justin Bieber, Ludacris
Baby, I Love You – Ramones
Baby, I Love Your Way - Live – Peter Frampton
Babylon – David Gray
Be Somebody – Kings of Leon
Better Now - Post Malone
Big Yellow Taxi – Counting Crows, Vanessa Carlton
Bitter Sweet Symphony – The Verve
Black Coffee – All Saints, Mark Stent
Black Magic – Little Mix
Blackbird - Remastered – The Beatles
Blame It on Me – George Ezra
Blank Space – Taylor Swift
Boom Clap – Charli XCX
Brand New Day – Kodaline
Breakfast At Tiffany's – Deep Blue Something
Bubbly – Colbie Caillat
Budapest – George Ezra
California Gurls – Katy Perry, Snoop Dogg
Call Me Maybe – Carly Rae Jepsen
Can't Buy Me Love - Remastered 2015 – The Beatles
Can't Feel My Face – The Weeknd
Can't Sleep Love – Pentatonix
CAN'T STOP THE FEELING! (Original Song from DreamWorks Animation's "TROLLS") – Justin Timberlake
Candy – Paolo Nutini
The Cave – Mumford & Sons
Champagne Supernova – Oasis
Chained To The Rhythm – Katy Perry, Skip Marley
Chasing Cars – Snow Patrol
Chocolate - Revised Album Version – Snow Patrol
City Of Stars - From "La La Land" Soundtrack – Ryan Gosling, Emma Stone
Closer – The Chainsmokers, Halsey
Complicated – Avril Lavigne
Coward Of The County – Kenny Rogers
Crazy – Gnarls Barkley
Dakota – Stereophonics
Dancing in the Moonlight – Toploader
Destiny – Zero 7, Sia, Sophie Barker
(Sittin' On) the Dock of the Bay – Otis Redding
Don't Call Me Up - Mabel
Don't Dream It's Over - Crowded House
Don't Know Why – Norah Jones
Don't Look Back In Anger – Oasis
Don't You Worry Child - Radio Edit – Swedish House Mafia, John Martin
Down To The Bottom - Dorothy
Dream Catch Me – Newton Faulkner
Drive – Incubus
Drops Of Jupiter - Train
Eight Days A Week - Remastered 2015 – The Beatles
Elastic Heart – Sia
Empire – Shakira
Empire State of Mind (Part II) Broken Down – Alicia Keys
Everlong – Foo Fighters
Everybody Wants To Rule The World – Tears For Fears
Everybody's Talkin' - From "Midnight Cowboy" – Harry Nilsson
Falling – HAIM
(I Can't Help) Falling In Love With You – UB40
Falling Slowly – Glen Hansard, Markéta Irglová
Fast Car – Tracy Chapman
Feel It Still – Portugal. The Man
Firework – Katy Perry
First Day Of My Life – Bright Eyes
Flowers - Sunship Radio Edit – Sweet Female Attitude, Ceri Evans
Flowers in the Window – Travis
Fly Me To The Moon – Frank Sinatra, Count Basie
Free Fallin' – Tom Petty
Friday I'm In Love – The Cure
From Now On - The Greatest Showman
Get Lucky (feat. Pharrell Williams & Nile Rodgers) - Radio Edit – Daft Punk, Pharrell Williams, Nile Rodgers
The Girl – City and Colour
The Girl From Ipanema – Amy Winehouse
Girlfriend – *NSYNC
Give A Little Bit – Supertramp
Give Me Love – Ed Sheeran
Go Your Own Way - 2004 Remaster – Fleetwood Mac
Good Enough – Dodgy
Good Grief – Bastille
Graceland – Paul Simon
The Greatest – Sia, Kendrick Lamar
Green Light – Lorde
Groovejet – Spiller
Grow Old with Me – Tom Odell
Half The World Away – Oasis
Hallelujah – Jeff Buckley
Halo – Beyoncé
Hanging By A Moment – Lifehouse
Happy – Various Artists, Pharrell Williams
Hard Sun – Eddie Vedder
Hard Times – Paramore
Harvest Moon - Neil Young
Have I Told You Lately – Van Morrison
Heart Of Glass - Special Mix – Blondie
Heartbeats – José González
Heaven – Bryan Adams
Here Comes The Sun - Remastered – The Beatles
Here For You – Gorgon City, Laura Welsh
High And Dry – Radiohead
High Hopes – Kodaline
(Your Love Keeps Lifting Me) Higher & Higher – Jackie Wilson
Ho Hey – The Lumineers
Hold Back The River – James Bay
Hold On, We're Going Home – Drake, Majid Jordan
Home – Edward Sharpe & The Magnetic Zeros
How Deep Is Your Love – Calvin Harris, Disciples
How Far I'll Go - From "Moana" – Alessia Cara
I Ain't Leaving Without Your Love – Nashville Cast, Sam Palladio, Chaley Rose, Jonathan Jackson
I Don't Care - Ed Sheeran
I Don't Like It, I Love It (feat. Robin Thicke & Verdine White) – Flo Rida, Robin Thicke, Verdine White
I Will Follow You Into The Dark – Death Cab for Cutie
I Won't Give Up – Jason Mraz
I'm Like A Bird – Nelly Furtado
I'm Not The Only One – Sam Smith
In the Blood – John Mayer
Iris – The Goo Goo Dolls
Ironic – Alanis Morissette
Is This Love – Bob Marley & The Wailers
It Ain't Me (with Selena Gomez) – Kygo, Selena Gomez
Jolene – Dolly Parton
Just Breathe – Pearl Jam
Millionaire – Kelis, André 3000
Kids – OneRepublic
Kiss Me – Sixpence None The Richer
I'm Kissing You – Des'ree
There She Goes – The La's
La La La – Naughty Boy, Sam Smith
Last Nite – The Strokes
Latch - Acoustic – Sam Smith
Lean On (feat. MØ & DJ Snake) – Major Lazer, MØ, DJ Snake
Lego House – Ed Sheeran
Learn to Fly – Foo Fighters
Let Her Go – Passenger
Let It Be - Remastered – The Beatles
Let Me Love You – DJ Snake, Justin Bieber
Let's Stay Together – Al Green
Like A Star – Corinne Bailey Rae
Little Things – One Direction
Locked Out of Heaven – Bruno Mars
Lonely Boy – The Black Keys
Love Song – Sara Bareilles
Love Yourself – Justin Bieber
Lovely Day – Bill Withers
Lucky – Jason Mraz, Colbie Caillat
Magic – Coldplay
Malibu – Miley Cyrus
Man On The Moon – R.E.M.
Sunday Morning – Maroon 5
Message In A Bottle - Remastered 2003 – The Police
Move on Up - Extended Version – Curtis Mayfield
Movin' on Up – Primal Scream
My Hero – Foo Fighters
My Love Is Your Love – Whitney Houston
Naive – The Kooks
Neon – John Mayer
New Rules – Dua Lipa
New Shoes – Paolo Nutini
No Diggity – Blackstreet, Dr. Dre, Queen Pen
No One – Alicia Keys
Nothin' on You (feat. Bruno Mars) – B.o.B, Bruno Mars
Nothing Ever Happens – Del Amitri
On the Road Again - Live – Willie Nelson
The One – Kodaline
One Dance – Drake, WizKid, Kyla
One Day Like This – Elbow
Only Love – Ben Howard
Out Of The Woods – Taylor Swift
Paradise – Coldplay
Penny And Me - Hanson
Perfect – Ed Sheeran
Perfect Duet (Ed Sheeran & Beyoncé) – Ed Sheeran, Beyoncé
Peter Pan – Kelsea Ballerini
Places – Martin Solveig, Ina Wroldsen
Pieces Of Me – Ashlee Simpson
Please, Please, Please, Let Me Get What I Want - 2011 Remaster – The Smiths
Pompeii – Bastille
Powerless (Say What You Want) – Nelly Furtado
Push – Matchbox Twenty
Put Your Records On – Corinne Bailey Rae
Radio – The Corrs
Radioactive – Imagine Dragons
Rather Be (feat. Jess Glynne) – Clean Bandit, Jess Glynne
Renegades – X Ambassadors
Riptide – Vance Joy
Roar – Katy Perry
Rock with You - Single Version – Michael Jackson
Rolling in the Deep – Adele
Romeo – Basement Jaxx
Roxanne - Remastered 2003 – The Police
Royals – Lorde
Rule The World - Radio Edit – Take That
Runaway – The Corrs
Runnin' (Lose It All) – Naughty Boy, Beyoncé, Arrow Benjamin
Same Old Love – Selena Gomez
Say a Little Prayer - Live – Lianne La Havas
Say You'll Be There – Spice Girls
The Scientist – Coldplay
Secret Smile – Semisonic
Send Me on My Way – Rusted Root
Send My Love (To Your New Lover) – Adele
Señorita – Justin Timberlake
Shallow - Lady Gaga & Bradley Cooper
Shake It Off – Taylor Swift
Shape of You – Ed Sheeran
Shut Up and Dance – WALK THE MOON
Titanium (feat. Sia) – David Guetta, Sia
Sing – Travis
Sitting, Waiting, Wishing – Jack Johnson
Skinny Love – Bon Iver
A Sky Full of Stars – Coldplay
Sleepyhead – Passion Pit
Slide – The Goo Goo Dolls
Slide Away - Remastered – Oasis
Smile – Lily Allen
Smooth (feat. Rob Thomas) – Santana, Rob Thomas
Somewhere Only We Know – Keane
Songbird – Eva Cassidy
Somebody Like You - Keith Urban
Sorry – Justin Bieber
Space Oddity - 2015 Remaster – David Bowie
Stand by Me – Ben E. King
Starman - 2012 Remaster – David Bowie
Starry Eyed – Ellie Goulding
Starving – Hailee Steinfeld, Grey, Zedd
Stitches – Shawn Mendes
Stop Crying Your Heart Out – Oasis
Strong – London Grammar
Suddenly I See – KT Tunstall
Sugar – Maroon 5
Suit & Tie – Justin Timberlake, JAY Z
Summertime – Louis Armstrong, Ella Fitzgerald
Sunrise – Norah Jones
Sympathy – The Goo Goo Dolls
Take It Easy - 2013 Remaster – Eagles
Thank You – Dido
There She Goes – Sixpence None The Richer
These Words – Natasha Bedingfield
This Charming Man - 2011 Remaster – The Smiths
This Girl (Kungs Vs. Cookin' On 3 Burners) - Kungs Vs. Cookin' On 3 Burners – Kungs, Cookin' On 3 Burners
This Is the One - Remastered – The Stone Roses
Time After Time – Cyndi Lauper
Times Like These – Foo Fighters
To Be In Love (Knee Deep Dub) – Masters At Work, India
Too Close – Alex Clare
Torn – Natalie Imbruglia
Treasure – Bruno Mars
Trouble - Live From Avatar Studios – Ray LaMontagne
Try Everything - From "Zootropolis" – Shakira
Uptown Funk (feat. Bruno Mars) - Radio Edit – Mark Ronson, Bruno Mars
Up All Night (Frankie Miller Goes To Hollywood) – Counting Crows
Us – Regina Spektor
Use Somebody – Kings of Leon
Virtual Insanity - Remastered – Jamiroquai
In The Waiting Line – Zero 7, Sophie Barker
Wagon Wheel - Darius Rucker
Wake Me Up - Radio Edit – Avicii
Want to Want Me – Jason Derulo
We Are Never Ever Getting Back Together – Taylor Swift
We Found Love – Rihanna, Calvin Harris
What Can I Do – The Corrs, Tin Tin Out
What Would You Do? – City High
When I'm Sixty Four - Remastered – The Beatles
When The Stars Go Blue – Ryan Adams
When You Say Nothing At All – Alison Krauss & Union Station
When You're Gone – Bryan Adams, Melanie C
Why Georgia – John Mayer
Wild World – Yusuf / Cat Stevens
Wings – Birdy
Wish You Were Here – Incubus
The Wonder of You – Elvis Presley, Royal Philharmonic Orchestra
Yellow – Coldplay
You And Me – Lifehouse
You & Me Song – The Wannadies
You Make Loving Fun - 2004 Remaster – Fleetwood Mac
You're The Best Thing – The Style Council
You've Got a Friend in Me - Remastered 2015 – Randy Newman
You've Got The Love – Florence + The Machine
Young Folks – Peter Bjorn and John
Your Song – Ellie Goulding