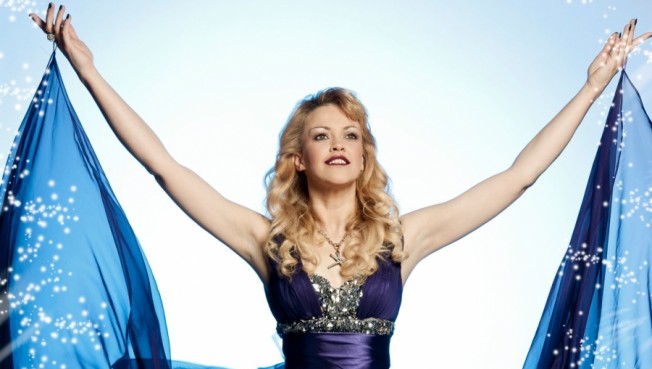 Location Leicestershire
Starting from POA
Joanne is known as the ultimate tribute to the one and only princess of Pop, Miss Kylie Minogue.
Not only does she bear an incredible likeness to the pint size pop star, but she has also perfected her vocal impression to such a standard that audiences are guaranteed a superb 'Kylie Experience'.
Listen




Number of Reviews and Counting... 1!
A stunning solo tribute to Kylie Minogue, a trained dancer and choreographer, Joanne has captured the sensual movement and stage presence of Australia's favourite export.
Joanne created a tribute to Kylie Minogue in January 2002. An entertainer since the age of 10 she has worked as a professional dancer and singer at many locations in the United Kingdom. Her career has taken her to many countries including the Arab Emirates, Norway, Kiev in the Ukraine, Greece, Turkey and Orlando, Atlanta and New York in the U.S.A.
Joanne started her career in entertainment as dancer/ singer and entertainer and worked for British Holidays at holiday parks in Rockley Park, Poole in Dorset and Lydstep Beach in Tenby. At Lakelands in Cumbria she was in a show "A Tribute to Starlight Express", choreographed the show and performed the singing part of "Dina". She was also the Assistant Entertainment Manager/ compere/ illusionist's assistant at Pendine Sands in South Wales and also had her own cabaret show with an Illusionist at Haggerston Castle near Berwick upon Tweed. She toured with a trio for the D-Day celebrations as one of the Andrews Sisters performing at venues in Bognor Regis and Guildford and sang the TV theme of the Bognor Regis Birdman when she was entertainer at Sussex Beach Holiday Village near Chichester.
Joanne fulfilled one of her ambitions with a 3-year contract at Disney's Epcot Centre in Orlando Florida as a character in a show called "The Epbots" in which she performed as "QT-1" for the show "DIGIT and QT-1". The performance involved a dance routine and interaction with visitors wearing a full chrome costume with 64 different communication sounds which were built into the costume.
After returning from the USA Joanne auditioned as a dancer/ singer for a "Robbie Williams Tribute" show and toured extensively in the United Kingdom, Madame Tussauds in London and Euro Disney performing as Kylie and singing "Kids". Joanne was often told of her likeness to Kylie and this was the inspiration for her to create the tribute in January 2002.
The show now has two female dancers - Maxine Coleman and Rebecca Davies and is fully self-contained playback with a 1000 watt P.A system with lighting, 3 costume changes and professionally choreographed dances. Joanne provides a spectacular show for any event and is suitable for private functions, weddings, birthdays, Corporate/ Commercial events and Social Clubs.
Solo (to Playback)
Optional Dancers (x2)
Paul Wells

, Hotel, Lincolnshire
Everybody had a great night and we have received nothing but excellent feedback. Joanne was very professional and I would definitely book her again.
---
Joanne has previously performed for the following clients:
Hull FC, West Midlands Golf Clubs, Livingstones, Ikea, Warner Holidays, BBC Radio Leicester, Pfizer, Marriott Hotels, Ramada Hotels, Hall Green Stadium, Euro Jam, Stardust Club, Coalville, Highwood Hotel, Leeds, Chicksands Military Base, Hilcroft Hotel ,West Lothian, The Blue Elephant, Chorley, Italian Job, Liverpool, The Mead End, Portsmouth, Summer Ball, Lincoln Inn Fields, London, Quality Hotels, Holiday Inn Hotels, Yates Wine Bars, NTL, Barclaycard, The Eye 103. FM, Hawick Rugby Club, Stockport FC, Hyde Park, Manchester, Paradise Wildlife Park, Carmathan College, Fosseway Radio, Wesley Hotel, Birmingham, Tutbury Castle, The Coniston Hotel, International Hotel, London, Beauford Hotel, Gold Cost Retaurants, Vauxhall Holiday Parks, Town Hall, Milton Keynes, The Sands, Big Top Cabaret Bar, Ingoldmells, The Renaissance Hotel London, Maudsley Hotel, Swallow Church Hotel, Hilton Hotels, Quay Mill Hotel, Jumpin Jaks, Oldswinsford PH, Stourbridge, Geest Family Fun Days, Army Base-Wretham, Sky Gay Club, Sketchley Grange Hotel, Patshull Golf and Country Club.
Joanne delivers The Ultimate Tribute incorporating all of kylie's best known hits.
She is a true professional, and provides a show for 1 to 1hour 15mins and can be accompanied with or without two excellent female professional dancers, with 3 costume changes to make the visual effects out of this world.
Joanne will take you through the years of kylie's music successes, including the hits 'I Should Be so Lucky', 'Spinning Around', 'On A Night Like This', 'Can't Get You Out Of My Head', and 'Red Blooded Woman' to name but a few.
Please Note: The fees indicated below are approximate and based on a central location for each county. They are intended to provide a rough guide only and exact quotes can only be given once the date and exact location of your event have been provided.