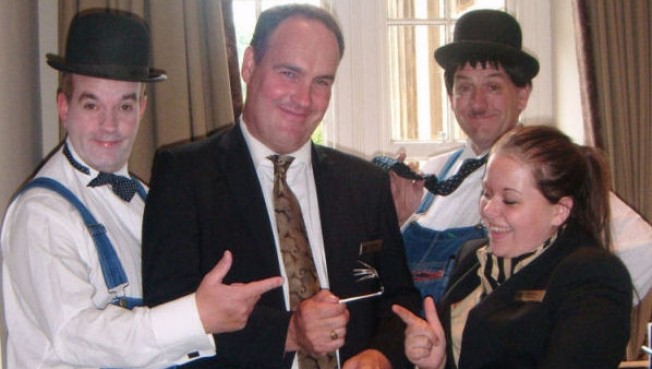 Location Merseyside
Starting from £600.00

Laurel and Hardy Lookalikes that Meet, Greet, Mix and Mingle with Comedy and Close Up Magic, which includes the amazing fork bending illusion!
Fantastic entertainment for all the family that can be hired for any event including: Wedding Receptions, Hotels, Restaurants, Themed Events and Corporate Events. But don't delay these guys book quickly!!
Number of Reviews and Counting... 4!
With over 30 years of experience between them
Gary and Rob are fantastic Stan and Ollie Look A Likes and Comedy Close Up Magicians! The guys are fantastic entertainment for all the family and can be hired for any event including: Wedding Receptions, Hotels, Restaurants, Themed Events and Corporate Events.
At Weddings Receptions, the guys will Meet and Greet the Bride, Groom, Family and Friends and be available for photographs. They will Mix and Mingle with the guests while the photographs are being taken. During the meal itself they will perform Comedy Close-Up Magic around the tables. Their magic is usually done after the speeches are over and the guys stay at the Reception for around 3 hours.
At functions, Stan and Ollie meet and greet the guests and perform close-up magic and illusions.
The duo are based in the North West of England and have Public Liability Insurance for £10 million.
Julia Lacey - Biffa Waste Services

, Corporate, St Georges, Derbyshire
Laurel and Hardy Magic were professional and very very funny, providing entertainment to over 200 people. Everyone thoroughly enjoyed the act. Thank you.
---
Leanne Marshall - Beverley & District Chamber

, Charity, East Yorkshire
These two guy's were fantastic, a great addition to any party or event.They went down a treat with guests, arrived in good time and were very professional. A real talking point and experience that guests took away with them. Thank you.
---
William Hildred

, Venue Club, West Yorkshire
The boys did us proud. We only expected them to work during the meal but spent a good 30 minutes meeting and greeting quests as they arrived. Well done and thank you.
---
Andrew Downie

, Wedding, Lancashire
Laurel and Hardy Magic were fantastic. They entertained and captivated all the tables during dinner at our wedding from the older adults down to the younger kids. Their table magic was first class, I still can't work out how they did the fork trick - and they did it twice for me!! Booking Laurel and Hardy in full outfits, rather than non-costumed table magicians, also meant that our guests wanted pictures with them, which was an added bonus. Finally it should also be noted that they were also very professional in terms of their communications before the event, their timekeeping before and during the event, (they arrived early on the day and worked the tables till the end of the dinner) and overall were a pleasure to deal with. I would certainly book them again - great job guys!
---
Hilton Hotels
Thomsons Holidays
NEC birmingham
ITV
Granada Reports TV Show
Hotel Inspector TV Show
May The Best House Win TV Show
Sky Paranormal TV Show
Sky Cruise Channel
Yes they perform amazing magic, yes they are a funny act, no you will never get a straight answer at the venue. They do tend to use slapstick comedy with everything they do.
Magic with forks, cards, rope, pens, elastic bands. Just about anything they lay their hands on.
Meet and Greet
Mix and Mingle
Close Up Magic
Comedy
Please Note: The fees indicated below are approximate and based on a central location for each county. They are intended to provide a rough guide only and exact quotes can only be given once the date and exact location of your event have been provided.
Scotland
Aberdeen
£720.00
Inverness
£720.00
Perth
£720.00
Sutherland
£720.00
Ayrshire
£720.00
Fife
£720.00
Stirlingshire
£720.00
West Lothian
£720.00
Dumfries-shire
£720.00
East Lothian
£720.00
Lanarkshire
£720.00
Midlothian
£720.00
Glasgow
£720.00
Edinburgh
£720.00
North East
Durham
£720.00
Northumberland
£720.00
North Yorkshire
£720.00
South Yorkshire
£720.00
Tyne and Wear
£720.00
West Yorkshire
£720.00
Yorkshire
£720.00
East Yorkshire
£720.00
Leeds
£720.00
North West
Cheshire
£600.00
Cumbria
£600.00
Manchester
£600.00
Lancashire
£600.00
Merseyside
£600.00
Liverpool
£600.00
East Midlands
Derbyshire
£660.00
Leicestershire
£720.00
Lincolnshire
£720.00
Northamptonshire
£720.00
Nottinghamshire
£720.00
Rutland
£720.00
East
Cambridgeshire
£720.00
Norfolk
£720.00
Suffolk
£720.00
Norwich
£720.00
Wales
Anglesey
£600.00
Caernarvonshire
£600.00
Denbigh
£600.00
Flint
£600.00
Cardigan
£720.00
Brecon
£720.00
Carmarthen
£720.00
Glamorgan
£720.00
Monmouth
£720.00
Pembroke
£720.00
Cardiff
£660.00
West Midlands
Gloucestershire
£720.00
Herefordshire
£720.00
Shropshire
£660.00
Staffordshire
£660.00
Warwickshire
£720.00
Worcestershire
£720.00
Birmingham
£660.00
South East
Bedfordshire
£720.00
Berkshire
£720.00
Buckinghamshire
£720.00
East Sussex
£720.00
Essex
£720.00
Hampshire
£720.00
Hertfordshire
£720.00
Isle of Wight
£720.00
Kent
£720.00
Oxfordshire
£720.00
Surrey
£720.00
Sussex
£720.00
West Sussex
£720.00
London
£720.00
Middlesex
£720.00
South West
Cornwall
£780.00
Devon
£780.00
Dorset
£780.00
Somerset
£780.00
Wiltshire
£780.00
Bath
£780.00
Bristol
£780.00