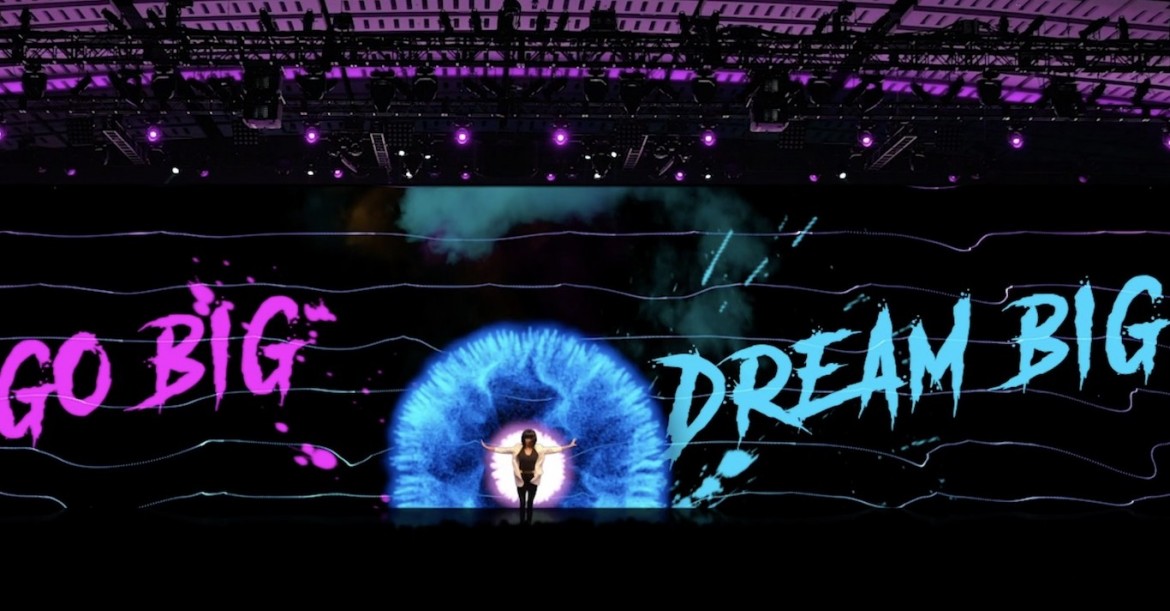 Location UK Wide
Starting from £6,000.00
Leave a lasting impression with live motion presentations that bring your messages alive in stunning fashion.
How you bring your message alive is up to you - outstanding imagery and animations can be coupled with unique choreography to give a fully immersive and engaging message and leave a huge wow factor.

These performances have been used at award ceremonies, product launches and high profile events globally - including presentations for Nike, Samsung, VW, United Airlines and many more.
Live Motion Presentations deliver branded live media performances with mind-blowing motion graphics and animations at its core.The specially developed live media performances help tell your story in an exciting and immersive way that is guaranteed to wow your audience and showcase your brand like never before.

By collaborating with your team, they will identify your key messages and values and transform them into a unique exhilarating visual experience.

Whatever the theme or message you want to portray, you will get a custom presentation to match. All logo animations can be paired with custom made sound effects to truly set them over the top.
VW
United Airlines
Dicks Sporting Goods
Nike
Samsung
Huawei
Evolve
Performances begin from 2 minutes in length.
Please Note: The fees indicated below are approximate and based on a central location for each county. They are intended to provide a rough guide only and exact quotes can only be given once the date and exact location of your event have been provided.
Scotland
Aberdeen
£6,000.00
Inverness
£6,000.00
Perth
£6,000.00
Sutherland
£6,000.00
Ayrshire
£6,000.00
Fife
£6,000.00
Stirlingshire
£6,000.00
West Lothian
£6,000.00
Dumfries-shire
£6,000.00
East Lothian
£6,000.00
Lanarkshire
£6,000.00
Midlothian
£6,000.00
Glasgow
£6,000.00
Edinburgh
£6,000.00
Dundee
£6,000.00
North East
Durham
£6,000.00
Northumberland
£6,000.00
North Yorkshire
£6,000.00
South Yorkshire
£6,000.00
Tyne and Wear
£6,000.00
West Yorkshire
£6,000.00
Yorkshire
£6,000.00
East Yorkshire
£6,000.00
Leeds
£6,000.00
North West
Cheshire
£6,000.00
Cumbria
£6,000.00
Manchester
£6,000.00
Lancashire
£6,000.00
Merseyside
£6,000.00
Liverpool
£6,000.00
East Midlands
Derbyshire
£6,000.00
Leicestershire
£6,000.00
Lincolnshire
£6,000.00
Northamptonshire
£6,000.00
Nottinghamshire
£6,000.00
Rutland
£6,000.00
East
Cambridgeshire
£6,000.00
Norfolk
£6,000.00
Suffolk
£6,000.00
Norwich
£6,000.00
Wales
Anglesey
£6,000.00
Caernarvonshire
£6,000.00
Denbigh
£6,000.00
Flint
£6,000.00
Cardigan
£6,000.00
Brecon
£6,000.00
Carmarthen
£6,000.00
Glamorgan
£6,000.00
Monmouth
£6,000.00
Pembroke
£6,000.00
Wrexham
£6,000.00
Cardiff
£6,000.00
West Midlands
Gloucestershire
£6,000.00
Herefordshire
£6,000.00
Shropshire
£6,000.00
Staffordshire
£6,000.00
Warwickshire
£6,000.00
Worcestershire
£6,000.00
Birmingham
£6,000.00
South East
Bedfordshire
£6,000.00
Berkshire
£6,000.00
Buckinghamshire
£6,000.00
East Sussex
£6,000.00
Essex
£6,000.00
Hampshire
£6,000.00
Hertfordshire
£6,000.00
Isle of Wight
£6,000.00
Kent
£6,000.00
Oxfordshire
£6,000.00
Surrey
£6,000.00
Sussex
£6,000.00
West Sussex
£6,000.00
London
£6,000.00
Middlesex
£6,000.00
South West
Cornwall
£6,000.00
Devon
£6,000.00
Dorset
£6,000.00
Somerset
£6,000.00
Wiltshire
£6,000.00
Bath
£6,000.00
Bristol
£6,000.00