Warble Entertainment's
London Flute & Harp Duo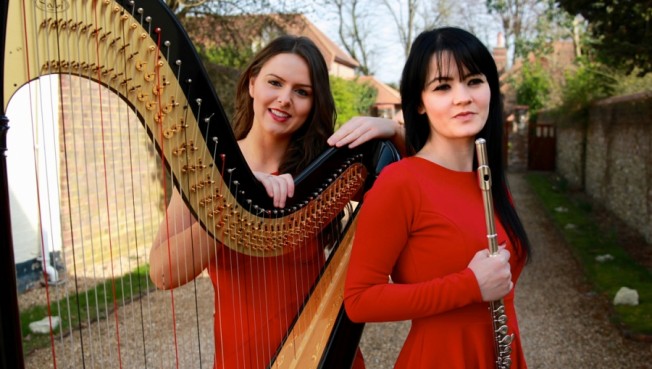 Location London
Starting from £420.00
The London Classical Flute and Harp Duo are suitable for a range of functions from wedding ceremonies to background music during receptions or corporate events.
1 reviews
Song List
Light Classical / Corperate Events / Weddings
Air on the G string ( Bach)
The arrival of the Queen of Sheba ( Handel )
Ave Maria ( Schubert)
Spring/ from four season ( Vivaldi )
Arioso ( Bach)
Berceuse ( Faure)
Adagio ( Khachaturian)
Barcarolle ( Offenbach)
Clair De Lune ( Debussy)
The Blue Danube ( Johann Strauss II)
Bolero ( Ravel)
Canon ( Pachelbel)
Carmen ( Bizet)
Chanson Boheme (Bizet)
Moonlight sonata ( Beethoven )
Chanson De Matin (Elgar)
Choral Symphony ( Beethoven)
Dance of the hours (Ponchielli)
Farandole (Bizet)
Nocturne ( Borodin)
Gymnopedie No:1 (Satie)
Jupiter (Holst)
Largo ( Dvorak)
Morning (Grieg)
Nessun Dorma (Puccini)
Peter and the Wolf (Prokofiev)
Nimrod (Elgar)
Swan ( Saint-Saens)
Oh! Mio Babbino Caro ( Puccini)
Pavane (Faure )
Pomp and circumstance March No:1 (Elgar )
Radetsky March ( Johann Strauss I )
Recuerdos de la Alhambra ( Tarrega)
Romeo Juliet ( Tchaikovsky )
Scheherazade ( Rimsky Korsakov)
Scene ( Tchaikovsky )
Turkish Rondo (Mozart)
Vesti La Giubba ( Leoncavallo )
Sheep may safely graze (Bach )
Waltz ( Delibes)
Waltz from the sleeping beauty ( Tchaikovsky )
Bridal March ( Wagner )
Wedding March / Midsummers night dream ( Mendelssohn)
You raised me up ( Lovland)
Neapolitan
Santa Lucia
Tesoro Mio
Funiculi funicula
O sole Mio
Torna a Surriento
Ohie Meneche
Classical
W.A.Mozart concerto in C
J.S.Bach Sonata BWV 1033
J. Ibert Entr'acte
Passacaille ( J. Bosch)
Reverie ( Claude Debussy)
Auld Robin Grau ( Karl Oberthur)
Nocturne ( Lili Boulanger)
Alla Rustica (Andre Jolivet)
Dance Lente (Joseph Jongen)
Intermezzo ( Hendrik Andriessen)
Sonata da camera ( Marius Flothuis)
Cinque piccolo duetti ( Jean Francaix)
Nocturne ( Francois Joseph Naderman)
Naiades fantasy sonata ( William Alwyn)
Jazz / Blues / Popular
Alexander's Ragtime Band (Bessie Smith)
Begin The Beguine (Ella Fitzgerald)
Bewitched (Ella Fitzgerald)
Cheek To Cheek (Louis Armstrong)
Don't Let Me Be Misunderstood (Nina Simone)
Embraceable You (Ella Fitzgerald)
Fascinatin' Rhythm (Jamie Cullum)
Home (Michael Bublé)
I Get A Kick Out Of You (Frank Sinatra)
I Got Rhythm (Barbara Streisand)
I Happen To Like New York (Cole Porter)
I Love Paris (Lilo)
I Put A Spell On You (Nina Simone)
I've Got You Under My Skin (Frank Sinatra)
The Lady Is A Tramp (Rosemary Clooney)
The Look Of Love (Diana Krall)
Lost (Michael Bublé)
Love For Sale (Aretha Franklin)
Love Me, Or Leave Me (Nina Simone)
Love Walked In (Ella Fitzgerald)
The Man I Love (Barbara Streisand)
Miss Otis Regrets (Nat King Cole)
Mood Indigo (Nina Simone)
Moondance (Michael Bublé)
Mr Bojangles (Nina Simone)
My Baby Just Cares For Me (Nina Simone)
My Funny Valentine (Chet Baker)
Ne Me Quitte Pas (Nina Simone)
Night And Day (Cole Porter)
Oh, Lady Be Good! (Ella Fitzgerald)
Round Midnight (Carmen McRae)
Say It Isn't So (Julie London)
Smoke Gets In Your Eyes (The Platters)
So In Love (Peggy Lee)
Stormy Weather (Dinah Washington)
What A Difference A Day Makes (Sarah Vaughn)
Witchcraft (Ella Fitzgerald)
Musical Theatre
All That Jazz
Angel of Music
Chicago
Close Every Door
Don't Cry for Me Argentina
I Don't Know How To Love Him I Dreamed a dream
Memory
Over The Rainbow
On My Own
Pie Jesu
Somewhere
Starlight Express
Sunrise, Sunset
Tell Me on a Sunday Think Of Me
The Music of the Night The Phantom of the Opera
Tomorrow Who Will Buy?
Traditional Music
Cockles and Mussels
David of the White Rock
All Through the Night
Bugeilio'r gwenith gwyn (Watching the wheat)
The Ash Grove
Drink to me Only
English Country Garden
Greensleeves
Auld Lang Syne
Film Music / Popular
Hard Day Night (Beatles)
Angel (Sarah McLachlan)
Angels (Robbie Williams)
Beautiful (Christina Aguilera)
Because you loved me (up close & personal) Believe (The Polar Express)
Candle in The Wind (Elton John)
Can't fight the moonlight ( Coyote Ugly)
Clocks (Coldplay)
Close To You (The Carpenters)
Don't Let The Sun Go Down on Me (Elton John) Don't Look Back in Anger (Oasis)
Everybody Hurts (REM)
Everything I Do (Bryan Adams)
Feather Theme (Forrest Gump)
Fields of Gold (Sting)
For the Love of a Princess (Braveheart)
For you I will (Space Jam)
Hero (Enrique Iglesias)
Hero (Mariah Carey)
How Do I live ( Con Air)
Ice Castles Main Theme
I Believe in You and Me (The Preacher's wife)
Kissing You (Love Theme from Romeo & Juliet)
Lara's Theme (Dr. Zhivago)
Singin' in The Rain
Stairway to Heaven (The Song Remains the Same)
Star Wars Main Theme
Take My Breath Away (Top Gun)
The Note book Main Theme ( The Notebook)
Theme from Schindler's List
The Long And Winding Road (Beatles)
The Pink Panther
The Prayer (Quest for Camelot)
There You'll Be (Pearl Harbour)
Titanic Theme (Celine Dion)
Unchained Melody
What The World Needs Now Is Love
When You Believe (Mariah Carey, Whitney Houston)
Will You Be There (Free Willy)
You Light Up My Life
Yellow Submarine (Beatles)
Disney Music
A Whole New World (Aladdin)
Be Our Guest (Beauty and The Beast)
Beauty and The Beast
Can You Feel The Love Tonight (Lion King)
Chim Chim Cher-ee (Mary Poppins)
Colours of The Wind (Pochahontnas)
Circle of Life (Lion King)
Go The Distance (Hercules)
God Help The Outcast (The Hunchback of Notre Dame)
Hakuna Matata (Lion King)
If I Never Knew You (Pocahontas)
Kiss The Girl (Little Mermaid)
Once Upon a Dream (Sleeping Beauty)
Part of Your World (Little Mermaid)
Reflection (Mulan)
Someday (Hunchback of Notre Dam)
So This is Love (Cinderella)
You've Got a Friend in Me (Toystory)
Zip-A-Dee-Do-Da (Song of The South)
Christmas
A Child This Day Is Born
All Through the Night
Angels from the Realms of Glory
As with Gladness Men of Old
Auld Lang Syne
Away in a Manger
Christians Awake
Coventry Carol
Deck the Halls
Ding Dong! Merrily on High
God Rest You Merry, Gentlemen
Good King Wenceslas
Hark! The Herald Angels Sing
How Far Is It to Bethlehem
I Saw Three Ships
In Dulci Jubilo
In the Bleak Midwinter
Infant Holy, Infant Lowly
It Came Upon the Midnight Clear
Jingle Bells
Joy to the World
Lullay My Liking
Mary Had a Baby
My Dancing Day
O Christmas Tree (O Tannenbaum)
O Come, All Ye Faithful
O Come, O Come, Emmanuel
O Little Town of Bethlehem
Once in Royal David's City
Past Three O-Clock
Quem Pastores
Rocking
Sans Day Carol
See, Amid the Winter's Snow
Silent Night
Sing Lullaby
Sussex Carol
The Boar's Head Carol
The First Noel
The Holly and the Ivy
The Truth from Above
The Twelve Days of Christmas
Unto Us a Boy Is Born
Wassail Song
We Three Kings of Orient Are
We Wish You a Merry Christmas
What Child Is This?
Whence Is That Goodly Fragrance Flowing?
While Shepherds Watched Their Flocks By Night