Warble Entertainment's
London Harp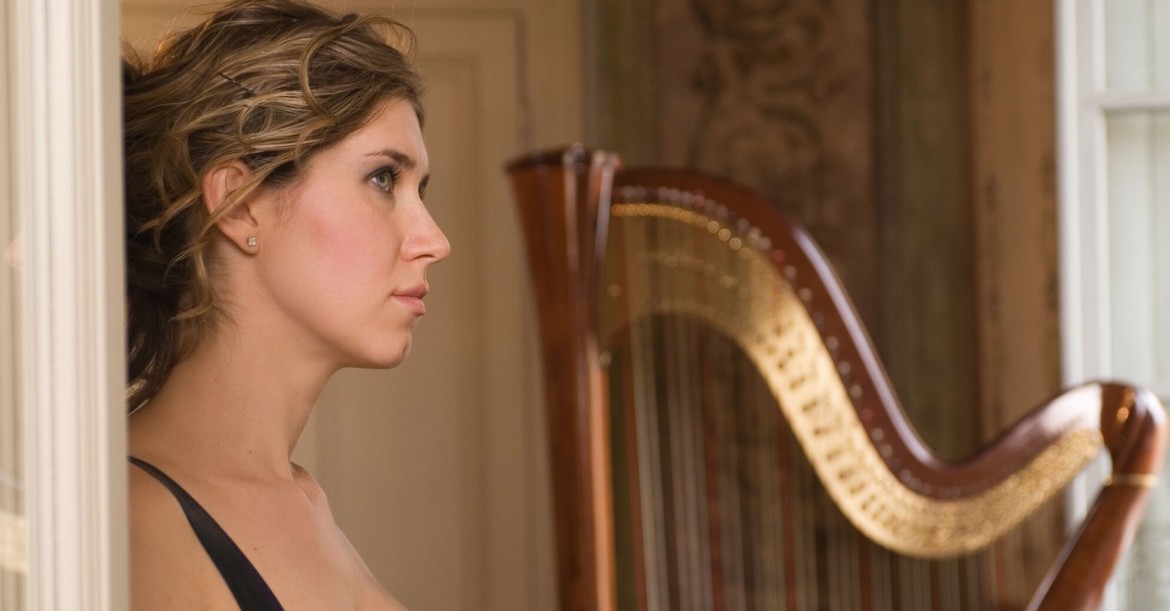 Location London
Starting from £300.00
Alongside her Harp solo career, London Harp also specialises in playing music for many different occasions. She has a great experience in the area of 'Private Events' gained in her years spent in London, as well as in Italy and Spain.
Her music has been the soundtrack of several 'high teas' organized in the halls of the most famous London hotels such as the Hilton, Ritz, Sheraton and Carlton Tower. It has accompanied the 'yes' in many weddings in places such as St Paul's and Westminster Cathedral, has delighted exclusive parties in the City and added that touch of style to many dinner and business meetings. London Harp has also played for high-fashion catwalk events, relaxed many customers at spa retreats and even entertained movie-fans waiting for the Venice Film festival
The carefully selected play list and the attention given to every small detail make London Harp the right choice for all your special and exclusive events. London Harp will tailor each performance to suit every individuals need with her diverse musical repertoire ranging from classical to folk, jazz and pop.
Her professional skills allow her to offer a magical and unique performance that will make the most important days of your life unforgettable.
4 reviews
Song List
There are many additional pieces that are not listed here:
Classical Music:
Handel Concerto for Harp
Bach Arioso
Bach Air on the G string
Pachelbel's Canon
Mascagni Intermezzo from Cavalleria Rusticana
Wagner Bridal Chorus
Bach Jesu, Man's Desiring
Handel Largo
C.P.E Bach Sonata for solo harp
Beethoven Ode to joy
Franck Panis Angelicus
Bach Prelude in C
Marcello Psalm XIX
Handel The Rejoicing
Purcell Trumpet Tune
Clarke Trumpet Voulntary
Handel Water Music
Mendelssonhn Wedding March
Handel Where'er You Walk
Naderman 7 Sonatas
Krumpholz Romance
Morricone Gabriel's Oboe
Dubez 2 Songs without words
Naegeli Blest be the tie that binds
Gustavston Minuet
Kastner Etudes
Shaw Prelude
Salzedo Little Stars
Debussy La fille aux cheveux de lin
Czibulka Evening Voices
Oberthur Play of the waves
Gounod Ave Maria
Schuber Ave Maria
Caccini Ave Maria
Mozart Minuet form Don Juan
Paradies Gigue
Plas March
Mozart Ave Verum
Verdi La vergine degli angeli
Cohen Hallelujah
Marson El Picaflor
Massenet Meditation
P.Alvars Romances
Albeniz Sonata
Toussaint Nostalgy
Thomas Etude
Dvorak Largo
Beethoven Adagio from Sonata Pathetique
Delibes Valse Lente
Liszt Liebestraum
Greensleves
Debussy Claire de lune
Spohr Fantasie
Piazzolla Inverno porteno
Great Srias from the Opera:
Puccini O mio babbino Caro
Donizetti Una furtiva lagrima
Puccini Un bel dì vedremo
Mozart La ci darem la mano
Puccini Nessun Dorma
Verdi Drinking song from la Traviata
Puccini E lucean le stelle
Puccini Musetta Waltz
Mozart Voi che sapete
Verdi La donna è mobile
Offenbach Barcarole
Verdi Prelude from Traviata
Verdi Overture from the Force of Destiny
Puccini Vissi d'arte
Bizet The Pearl Fishers' Duet
Purcell Dido's Lament
Wagner O star of Eve
Verdi Chorus from Nabucco
Di Capua O sole mio
De Curtis Come back to Sorrento
Cardillo Core N'grato
The Beatles greatest hits:
Across The Universe
All My Loving
All Together Now
And I Love Her
Can't Buy Me Love
Eight Days A Week
Eleanor Rigby
The Fool On The Hill
Golden Slumbers
Good Night
Hey Jude
I Should Have Known Better
I Will
I'll Follow The Sun
I'm Happy Just To Dance With You
I'm Looking Through You
I've Just Seen A Face
If I Fell
Let It Be
Little Child
The Long And Winding Road
Michelle
Mother Nature's Son
Norwegian Wood (This Bird Has Flown)
Not A Second Time
Nowhere Man
Ob-la-di, Ob-la-da
Paperback Writer
Penny Lane
Rain
She's Leaving Home
Thank You Girl
This Boy (Ringo's Theme)
We Can Work It Out
With A Little Help From My Friends
Yellow Submarine
Yes It Is
You Won't See Me
You've Got To Hide Your Love Away
Because
Girl
In My Life
Yesterday
For No One
Get Back
Here, There And Everywhere
Groovy Songs of the 60s
59th Street Bridge (Feelin' Groovy)
A Groovy Kind of Love
A Lover's Concerto
A Time for Us
The Addams Family
Aquarius
As Tears Go By
Blowin' in the Wind
Bookends,
Both Sides Now
Can't Help Falling in Love
Do You Know the Way to San Jose,
Don't Let the Sun Catch You Crying
Downtown
End of the World
Ferry Cross the Mersey
Meet the Flintstones
Fun, Fun, Fun
Let's Get Together
Happy Together
The House of the Rising Sun
I Know How You Love Me,
I'll Never Fall in Love Again
In My Room
Itsy Bitsy Teenie Weenie Yellow Polka Dot Bikini
Jenifer Juniper
Mr. Bojangles
Mr. Tambourine Man
Nights in White Satin
Old Friends
Pipeline
Puff the Magic Dragon
Rain on the roof
San Fransisco (Be sure to wear some flowers in your hair)
Since You've Asked
Surfer Girl

Then You Can Tell Me Goodbye
The Times They Are A-Changin
Venus in Blue Jeans
Windy
Disney Songs
Main themes from Aladdin, Alice in Wonderland, The Aristocats, Babes in Toyland, Bambi, Beauty and the Beast, Bedknobs and Broomsticks, Cinderella, Darby O'Gill and the Little People, Davy Crockett, DuckTales, Dumbo, It's A Small World, The Jungle Book, Lady and the Tramp, The Little Mermaid, Mary Poppins, Mickey Mouse Club, The Parent Trap, Pete's Dragon, Peter Pan, Pinocchio, The Reluctant Dragon, The Rescuers, Robin Hood, Snow White, Song of the South, Tale Spin, Three Little Pigs, The Three Lives of Thomasina, Westward Ho the Wagons, Winnie The Pooh and the Honey Tree, Zorro, 20,000 Leagues Under the Sea.
Jewish Wedding Music
Hana'ava Babanot
Hodaya
Al Kol Eleh
L'Kha Dodi
Artza Alinu
Bashana Haba'ah
Hevenu Shalom Alekhem
Mitzva G'dol
Od Yishoma
Huge Selection of Celtic Tunes
Welsh, Irish, Scottish, Cornish, Hebridean, and Bretton, including pieces by Turlough O'Carolan , Robert Burns and Enya.
Bollywood Favorites
Aa Meri Jaan (Chandni)
Chalo Tumko Lekar Chale (Jism)
Chand Sitare Ohool Aur Khushboo (Kaho Naa... Pyaar Hai)
Chandni O Meri Chandni (Chandni)
Ek Ladki Ko Dekha (1942 A Love Story)
Ek Shararat Hone Ko Hai (Duplicate)
Hum Chup Hain (Faasle)
Kaho Naa... Pyaar Hai (Kaho Naa... Pyaar Hai)
Kal Raat Ho Gayee (Kasoor)
Kuchh Na Kaho (1942 A Love Story)
Main Hoon Krushrang Henna (Henna)
Mehndi Laga Ke Rakhna (Dilwale Dulhania Le Jayenge)
Mere Humsafar (Refugee)
Mere Khwabon Ka Har Ek Naqsh Mita De Koi (Jism)
Mere Mehboob Mere Sanam (Duplicate)
Mere Rang Mein (Maine Pyaar Kiya)
Mujhe Rang De (Thakshak)
Na Tum Jano Na Hum (Kaho Naa... Pyaar Hai)
Naya Naya Dhula Dhula (Fihaal)
Raat Ki Hatheli Par (Refugee)
Satyam Shivam Sundaram (Satyam Shivam Sundaram)
Soni Soni (Rehanaa Hai Terre Dil Mein)
Sun Sahiba Sun (Ram Teri Ganga Maili)
Tere Bina Jiya Jaaye Na (Ghar)
Tu Hi Meri Shab Hai (Gangster)
Tum Aa Gaye Ho Noor Aa Gaya Hai (Andhi)
Tumko Hi Chahenge Hum (Parwana)
Yeh Galiyan Yeh Chaubara (Prem Rog)
Yeh Kahan Aa Gaye Hum (Silsila)
Zara Sa Jhoom Loon Main (Diwale Dulhania Le Jayenge)
From the Movies
Beauty and the Best
The Godfather
Life is Beutiful
She
Love Story
Over the Rainbow
I will always love you
Romeo and Juliet
Once upon a time in America
Ghost
Moon River
Everything I do i do it for you
Come what may
My heart will go on
Braveheart
Lara's Theme
From the Musicals
All I ask of You - Phantom of the Opera
Angel of Music - Phantom of the Opera
Love Unspoken- From the Merry Widow
Don't Cry for me Argentina - Evita
I Don't Know How to Love Him - Jesus Christ Superstar
Last Night of the World - Last Night of the World
Love Changes Everything - Aspects of Love
Me and My Girl - Me and My Girl
On My Own - Les Miserables
Phantom of the Opera - The Phantom of the Opera
Send in the Clowns - A Little Night Music
Jazz Standards
A Foggy Day - Gershwin
As Time Goes By - Louis Armstrong
Autumn Leaves - Kosma/Mercer
Embraceable You - Gershwin
Fly me to the Moon - Howard
I've got you Under my Skin - Cole Porter
Let's Call the Whole Thing Off - Gershwin
Misty - Garner
Moon River - Mancini/Mercer
My Favourite Things - Rodgers/Hammerstein
Take Five - Dave Brubeck
What a Wonderful World - Weiss/Thiele/Louis Armstrong
Ain't Misbehavin'
Body and Soul
Everybody loves somebody
I want to be happy
Tea for two
Georgia on my mind
Someone to watch over me
Love is here to stay
But not for me
Pop and Romantic / Popular
Time tos ay goodbye
Beautiful Cristina Aguilera
Candle in the wind. Elton John
Can't take my eyes off you
Evergreen
Fiels of Gold
Hero
I say a Little prayer
No matter what
She's the one
Trouble Coldplay
When you say nothing at all
Wonderful tonight
Le onde . Einaudi
The Anniversary Waltz
Congratulations
Lady in Red
Besame Mucho
Arrivederci Roma
The wing beneath my wings
New York New York
La paloma
Magic is the moonlight
Perhaps, perhaps, perhaps
Volarre
The girl from ipanema
Mambo in the moonlight
Mambo Italiano
Quando quando quando
And many many more...