Warble Entertainment's
London Latino Duo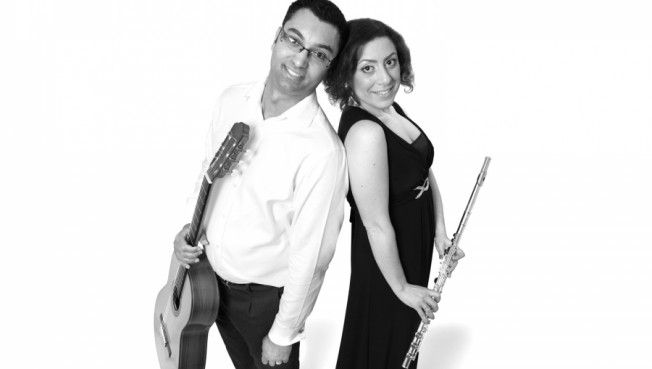 Location Surrey
Starting from £540.00
The London Latino Duo is a Flute and Guitar ensemble based in Surrey. They formed the London Latino Duo after their wedding in 2006.
This ensemble will perform live background music from a warm and relaxing classical repertoire for your wedding, cocktail, afternoon tea, hotel lounge or reception, garden party, corporate event, private function, gallery preview and such.
Their repertoire, essentially inspired by South American composers (Piazzola, Pujol, Machado...), will be the perfect touch to create a smooth and agreeable atmosphere for an unforgettable moment.
1 reviews
Listen




Song List
Morenita de Brazil by G. Farrauto
Spanish Romance - Anonymous
Choro No 1 (Silver & Wood Romance, Flute and Guitar Duo arrangement) by H. Villa Lobos
Aranjuez by J. Rodrigo
Sambamar Suite by C. Machado
Chorinho pra Ioria
Sambamar
Chorinho sem Lagrima
Vamos Nessa
Sao Paulo a Noite
Frevando na Rua
Suite Buenos Aires by M. D Pujol
Pompeya
Palermo
San Telmo
Pieces Faciles et Agreables op. 74 (15 Pieces) by M. Giuliani
Grande Sonate op.85 by M. Giuliani
Andante Molto Sustenuto
Scherzo
History of Tango by A.Piazzola
Bordel 1900
Cafe 1930
Nightclub 1960
Dos Aires Candomberos by M. D Pujol
Nubes de Buenos Aires
Candombe de Los Buenos Tiempos
Brazilian Popular Music Suite by C. Machado
Pacoca
Piazza Vittorio
Algodao Doce
Sambossa
Pe de Moleque
Libertango by A. Piazzola
Vidalita by R. Maldonaldo
Aire in G by J. S. Bach
Siciliano by J. S Bach
Pavane by G. Faure
Fly me to the Moon by F. Sinatra
Girl of Ipanema by T. Jobim
Quiet Night of Quiet Stars by T. Jobim