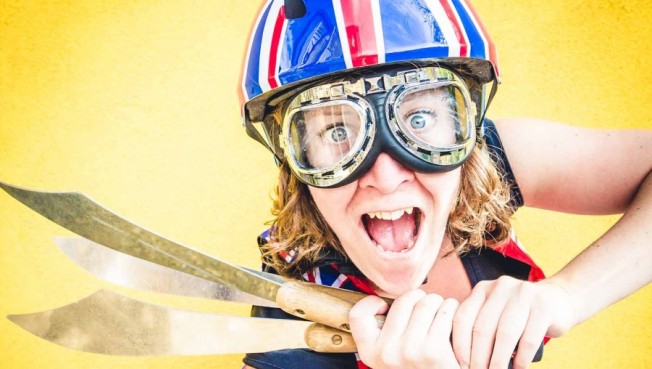 Location Bristol
Starting from £150.00
Children's magic shows, stilt-walking, circus skills, balloon modelling, these are all just some of the wonderful talent Lucy the Entertainer can offer you and your clients. With over 15 years in the industry, Lucy knows exactly what you need to bring smiles, laughter and happiness to your event.
Lucy's high skill level mixed wth her humble and playful nature, makes children warm to her immediately. She will make sure everyone feels included and has a few tricks up her sleeve should they feel a little shy or timid.
A fabulous female entertainer, who combines her many talents to offer you a unique blend of entertainment suitable for all occasions and any budget. Add to this some fabulously dressed characters and all she needs now is... well, YOU.
Book Lucy and you will not be disappointed!
Number of Reviews and Counting... 2!
Lucy is driven by her passion to entertain and loves to wear fabulous colourful costumes whenever possible. But don't worry she won't be painting her face like a clown anytime soon.
Lucy's magic shows are bursting with all sorts of tricks, games, balloons, comedy, circus tricks and puppets. With special moments of interaction this show is unique and modern, bringing out the superstars in everyone. Not only will you get 45 minutes of fun packed entertainment but LuCo also provides a magic wand kit, birthday card, magicians certificat and a special remade balloon sculpture of your choice!
With over 15 years experience working all over the UK and abroad, Lucy is both professional and committed to making any event the best it can be. With her high skill level and unique approach to entertaining, Lucy can engage and entertain all ages young and old.
The only thing left for you to do is sit back, and take the weight off your feet and let Lucy The Entertainer take all that stress away.
Lucy can offer the perfect package for any event, choose from:
Balloon Modelling
Balloon Modelling workshops
Stilt-Walking
Ventriloquism / Puppetry
Circus Skills
Storytelling
Katie Briscoe - Enford Parish Community

, Other, Wiltshire
Lucy was fantastic! She entertained our parish children ranging in age from 1yr to 14yrs with ease and also made the parents laugh. Her balloon model making was a huge success and I think she would still be there today if the children had their way! Lots of parents commented on how good she was, and everyone left the Christmas party feeling happy and well entertained. Thanks very much Lucy - You are a Star!
---
Cosham County Council

, Festival, Hampshire
Lucy was a great asset to our Christmas Lights Switch On, was happy to join in the fun - and proved a huge hit with everyone. We'd book her for another event without hesitation.
---
Sheffield Children's Hospital
House of Frazer
Mc Alpine
Thompson Holidays (Egypt, Spain)
Funderworld
Kiddiecare
Circomedia
Baskerfest (Serbia)
European Juggling Festival (Finland)
Woodstock
Production Suite
Horseworld
Camp Magic (Singapore)
Cosham City Council
Oxford Pegasus Theatre
Durham Street festival
Derby Fest
Margam Orangery (South Wales)
Just So Festival
Greenman Festival
Some helpful information when booking a children's party...
How much do you charge?
This depends on several factors like time, distance, number of children etc. The price listed here is for the first hour and just a guide in which to work from. I like to be able to offer my services to all budgets so get in touch and we can start talking.
Is it best to book the hall first?
It is always better to book your first choice entertainer before you do anything else as there are always a large variety of venues in every area but a great entertainer will be in high demand and therefore booked up quickly.
What time will you arrive at the party?
Lucy likes to get to the venue nice and early to set up the show. She will aim to arrive at least 30 minutes before hand. This will give her plenty of time to introduce herself to the birthday child and get set up.
Will the magic show be suitable for all age groups?
The magic show is geared towards younger children aged 3 - 8 although Lucy regularly performs at parties and other events where there are children of mixed ages. Children under the age of 3 are always welcome to join in but please be aware that it can get quite overwhelming for the tiny ones and its always best to get a grown up to sit with them to make sure everyone has a fun magical time!
How much notice do you require?
Lucy can get booked up very quickly and is a very popular entertainer. Weekends tend to get booked up quite far in advance, sometimes as much as 3 months or more. As soon as you decide to have a party, give us a call. If you really want to book Lucy as your entertainer but find that she is already booked for the weekend of your party then why not book a mid-week after school party?
How long will you perform for at the party?
Parties are usually two hours long, however Lucy can provide an hour's show or even just half an hour for the very little ones.
How many children can I invite to the party?
The minimum recommendation would be at least 12 children, this creates a better atmosphere all round. The maximum suggested is 30 children, give or take a few siblings.
Can I have the party at home?
Yes of course, Lucy is happy to bring her show to your home. The only thing she asks is that you clear as much space as possible for the children to participate in the entertainment and enjoy themselves.
How much space do you need?
Most church halls and function rooms are of a sufficient size for the magic show and party games and allow plenty of room for the children to run around. On the rare occasion when there is a huge space to fill, Lucy will section off a smaller area.
What areas do you cover?
Lucy is happy to travel far and wide, but mainly covers Bristol, Somerset, South West and South Wales area.
Can I have a joint party?
Yes, joint parties are welcome as long as the children are of a similar age.
Are you registered with DBS and covered by PLI?
Yes and yes.
Do you bring a disco/music?
I supply a sound system that is loud enough for even the largest of church halls.
Are you available for midweek parties?
Yes, midweek bookings are available, not just after school, but any time of the day.
Do you perform outdoors?
Given the correct conditions, yes. I can perform on a flat surface and insist on all of the children being in the shade for the magic show and preferably with grass or rugs to sit on. I would also need to be close to an electrical socket with the aid of an extension lead, although this is not essential. You should however have alternative arrangements and enough room inside in case of rain or windy weather conditions.
Do you play party games with the children?
Lucy loves playing games, and all games are non-elimination to ensure that no children are left out. She will also lead lots of party dances and action songs.
Magic Show 1 - 2 hour packages
Balloon Modeller 3 x 45 minute sets
Stilt – Walker 3 x 45 minutes sets
Circus Skills Workshop 1 - 2 hours
Balloon Twisting Workshop 1 - 2 hours
Please Note: The fees indicated below are approximate and based on a central location for each county. They are intended to provide a rough guide only and exact quotes can only be given once the date and exact location of your event have been provided.
Foreign Locations
Europe
£600.00
Rest of the world
£600.00
North East
South Yorkshire
£360.00
Yorkshire
£360.00
North West
Cheshire
£360.00
Manchester
£360.00
Merseyside
£360.00
Liverpool
£360.00
East Midlands
Derbyshire
£282.00
Leicestershire
£240.00
Wales
Anglesey
£360.00
Caernarvonshire
£360.00
Denbigh
£360.00
Flint
£288.00
Cardigan
£276.00
Brecon
£300.00
Carmarthen
£252.00
Glamorgan
£246.00
Monmouth
£246.00
Pembroke
£252.00
Cardiff
£180.00
West Midlands
Gloucestershire
£222.00
Herefordshire
£252.00
Shropshire
£276.00
Staffordshire
£270.00
Warwickshire
£270.00
Worcestershire
£270.00
Birmingham
£240.00
South East
Bedfordshire
£282.00
Berkshire
£282.00
Buckinghamshire
£288.00
East Sussex
£282.00
Hampshire
£282.00
Hertfordshire
£282.00
Isle of Wight
£330.00
Kent
£288.00
Oxfordshire
£282.00
Surrey
£282.00
Sussex
£282.00
West Sussex
£282.00
London
£288.00
Middlesex
£282.00
South West
Cornwall
£300.00
Devon
£300.00
Dorset
£282.00
Somerset
£240.00
Wiltshire
£240.00
Bath
£156.00
Bristol
£150.00