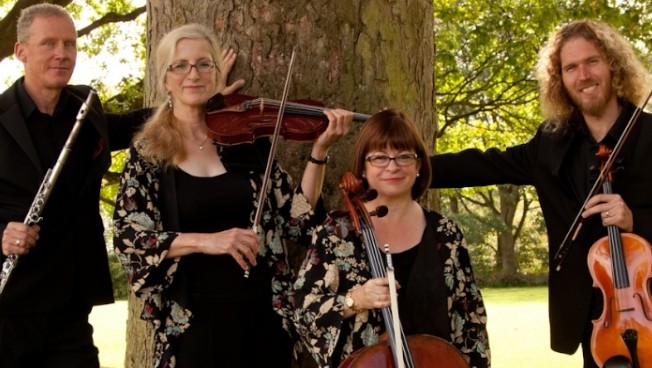 Location Manchester
Starting from £600.00
Manchester Flute Quartet - a quartet for weddings, wedding receptions, parties and corporate functions throughout Greater Manchester, Stockport, Cheshire, Derbyshire, Merseyside and Lancashire.
Number of Reviews and Counting... 1!
Manchester Flute Quartet are a quartet based in Manchester, comprising of Flute, Violin, Viola and Cello.
Formed from musicians associated with the Hallé Orchestra either as past or present members, the ensemble provides light classical music - from 18th century masterpieces to Viennese waltzes and also arrangements of Broadway and film favourites - for all types of special occasions from weddings, parties and balls through to corporate dinners and conferences either in the form of background music during the event or as a special concert providing a highlight in the proceedings.
The musicianship is always of the highest standard and the presentation always immaculate.
Quartet: Flute, Violin, Viola, Cello
Trio: Flute, Viollin, Cello
J.C. Bach – Flute Quartets Op.19
J.S.Bach – Air on a G String
Badinerie from Suite No.2
Bizet – Carmen selection
Boccherini – Minuet
Chopin – Valse Op.70 no.3
Dvorak – Slavonic Dances
Elgar – Chanson de Matin and Salut d'Amour
Fauré – Dolly Suite
Grieg – Wedding Day at Troldhaugen
Godard – Suite de Trois Morceaux
Handel – Arrival of the Queen of Sheeba
Joseph Haydn – Flute Quartets
- Serenade
W.A. Mozart – Flute Quartets in D, G, C and A
Rondo alla Turca
Offenbach - Barcarolle
Pachelbel – Canon in D
Rachmaninov – Vocalise
Ravel – Bolero
Satie – Gymnopodies
Vivaldi – Flute Concertos
Popular Repertoire - the quartet's enormous range includes:
Leroy Anderson – Sleigh Ride
Howard Blake – Walking on the Air (The Snowman)
Bernstein – Maria (West Side Story)
Cole Porter – Anything Goes
Every Time We Say Good-Bye
Gay – Leaning on a Lampost
Gershwin – S'Wonderful
Nice Work if You Can Get It
By Strauss
I'll Build Astaire Way to Paradise
Somebody Loves Me
For You, For Me, For Evermore
Johnson – Pennies from Heaven
Scott Joplin – Slippery Elm Rag
Easy Winners
Lloyd Webber – Memory (from Cats)
- Love Changes Everything
Myers – Cavatina (from the Deer Hunter)
Mendelssohn – Wedding March
Sherwin – A Nightingale Sang In Berkeley Square
Irish Sherry (Irish Medley)
Birthday Medley
Christmas Medley including:-
Santa Clause is Coming to Town,
Rudolph the Red-Nosed Reindeer
Have Yourself a Merry Little Christmas
White Christmas, Winter Wonderland
Jeffrey Lowe

, Wedding, Manchester
Hi Jonathan, just back from honeymoon. I want to say thank you for the way the ensemble performed at our champagne breakfast. Everybody who was there commented how good you were. It made our day. Once again, Thank you. Jeff.
---
Persil Washing Powder New Product Launch Garden Party, Midland Hotel Manchester, Britannia Country House Hotel Manchester, Chester Zoo Manor House, Mitton Hall Hotel, Hougton Tower Preston, Glossop Rugby Club...
Is your group a string quartet?
No, but the music we play is virtually identical. The flute replaces one of the two violinists that normally make up a string quartet. Flute quartets were very popular in the late 18th/early 19th centuries and Mozart, Haydn and J.C. Bach all wrote specifically for the ensemble.
Do you play requests?
We will play requests if we are given sufficient notice prior to the booking (3 - 4 weeks). If we can find the request already arranged for quartet we will play it or, if an arrangement doesn't exist, one of our members can make a bespoke arrangement for an agreed fee. We do not play requests on the day of the booking.
Wedding Ceremony (approx 45 - 60 mins): 30 min set as quests arrive. Music for Entry of Bride, Signing of Register, Exit of Newly-Weds and Guests.
Wedding Reception/Corporate Function (2 hrs): 2 x 60 min sets to include 5 - 10 min break
Wedding Ceremony and Reception (approx 3 hrs): combination of timing outlined above
Please Note: The fees indicated below are approximate and based on a central location for each county. They are intended to provide a rough guide only and exact quotes can only be given once the date and exact location of your event have been provided.
North East
South Yorkshire
£648.00
West Yorkshire
£648.00
Yorkshire
£660.00
Leeds
£636.00
North West
Cheshire
£636.00
Cumbria
£660.00
Manchester
£600.00
Lancashire
£648.00
Merseyside
£636.00
Liverpool
£636.00
Wales
Denbigh
£660.00
Flint
£660.00
Wrexham
£648.00
West Midlands
Shropshire
£660.00
Staffordshire
£660.00
Warwickshire
£672.00
Birmingham
£672.00