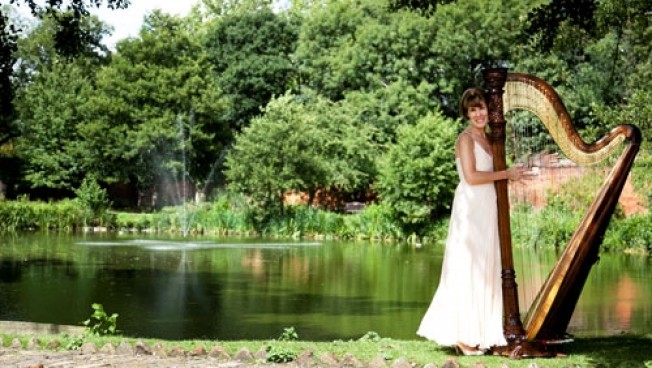 Location London
Starting from POA
Maria is one of the UKs most experienced and versatile harpists.
Each year she plays at over 70 weddings as well as at countless corporate functions. Previous clients and their guests include The Savoy Hotel, Sir Elton John, Merill Lynch and Tate Britain.
Last December, Maria played at Buckingham Palace for The Royal Household Social Club and most recently for the Wimbledon Champions Dinner at The Savoy.
*Maria plays the world's most romantic, classical and popular wedding music on her harp, for your Wedding Ceremony, Drinks Reception and Wedding Breakfast*
Listen




Number of Reviews and Counting... 8!
Maria is one of the UK's most experienced and versatile harpist's. Each year she plays at over 70 weddings as well as at countless corporate functions. Previous clients and their guests include The Savoy Hotel, Sir Elton John, Merill Lynch and Tate Britain. Last December she played at Buckingham Palace for The Royal Household Social Club and most recently for the Wimbledon Champions Dinner at The Savoy.
Maria has over 1,000 pieces in her repertoire, from the light classical of Vivaldi's Four Seasons Pachelbel Canon in D, Debussy Clair de Lune to Puccini's Nessun Dorma. She also plays music from Broadway and West End shows, Phantom of the Opera, Cats and my Fair Lady. Contemporary pop songs include My Heart Will Go On (Titanic), Endless Love, Unforgettable, Flying Without Wings and Eternal Flame.
Classical
Air From The Water Music
Air On A G String
Air From Martha
Aria From Rusalka
Annie's Song
Anvil Chorus
Aria From Goldberg Variations
Aria From Orfeo
Aria
Arioso From Harpsichord Concerto
Arrival Of The Queen Of Sheba
Artist's Life
Art Thou Troubled?
Autumn From The Seasons
Ave Maria
Ave Verum
Barcarolle From The Tales Of Hoffmann
Berceuse Form Dolly
Berceuse From Jocelyn
Birdcatcher's Song
Blue Danube Waltz
Bridal Chorus From Lohengrin
Canon In D
Caro Mio Ben
Casta Diva
Cavatina
Celeste Aida
Chaconne
Chanson De Matin
Che Gelida Manina
Chorus From Water Music
Chorus Of The Hebrew Slaves
Clair De Lune
Clarinet Concerto 2nd Mvt Theme
Concerto No 21 Theme
Concierto De Aranjuez 2nd Mvt
Dance Of The Hours
David Of The White Rock - Dafydd Y Garreg Wen
Double Violin Concerto Theme
Drinking Song From Traviata
Duet From The Pearlfishers
Dou For Magic Flute
Eighteenth Variation
Eine Kleine Nachtmusik
Emperor Waltz
Estrellita
Entertainer
Evening Song
Fantaisie Impromptu
Finale From Firework Music
Finlandia Theme
Flower Duet
Flute And Harp Concerto 2nd Mvt
Fur Elise
Gabriel's Oboe
Girl With The Flaxen Hair
Greensleeves
Guitar Romance
Gymnopodie No 1
Habenera From Carmen
Harmonius Blacksmith
Harpsichord Concerto No 5 Slow Mvt
Hedge Roses
Hornpipe From Water Music
Humming Chorus
Humoreske
Intermezzo From Cavalleria Rusticana
Jardin Feerique
Jesu Joy Of Man's Desiring
Jupiter From The Planets
La Cii Darem La Mano
La Donna E Mobile
Largo
La Golondrina
Lascia Ch'io Pianga
Laudate Dominum
Life And Times Of Lloyd George
Lost Chord
Love Unspoken
Love's Dream
Lullaby
Lute Concerto Slow Mvt
Maple Leaf Rag
March From Scipio
March From Magic Flute
Mattinata
Mazurka From Coppelia
Meditation From Thais
Minuet From String Quartet
Minuet In G
Minuet Form Bernice
Mission Theme
Moonlight Sonata
Morgenblatter
Morning
Ne Andro Lontana La Wally
Nella Fantasia
Musetta's Waltz Song
Nessun Dorma
Nimrod
Nocturne
Nocturne In Eb
Non Piu Andrai
O For The Wings Of A Dove
O Mio Babbino
On Wings Of Song
One Fine Day
Over The Waves
Pas De Fleurs
Passacglia
Pavane
Piece In C
Pie Jesu
Piano Concerto 2nd Mvt Theme
Pizzicato Polka
Plasir D'amour
Poeme
Porgi Amour
Prelude In C
Prelude For Traviata
Prelude In G
Prelude Op 28 No 4
Prelude To Te Deum
Premiere Arabesque
Promenade From Pictures
Radetzky March
Recuerdos De La Alhambra
Reverie
Rhapsody On A Theme
Romance From Eine Kleine
Romance From Gadfly
Romeo And Juliet Waltz
Roses From The South
Sarabande From Suite In D
Scherezhade Theme
Second Mvt Piano Concerto Theme
Sheep May Safely Graze
Shepherd's Farewell
Skaters Waltz
Sleeping Beauty Waltz
So Deep Is The Night
Soave Sia Il Vento
Sonata
Sonata Pathetique
Song Of The Seashore
Song Of The Toreador
Songs My Mother Taught Me
Spring From The 4 Seasons
Suo Gan
Swan
Swan Lake Waltz
Sweet Dreams
Tales From Vienna Woods
Tango
Theme From Piano Concerto No 1
Theme From Unfinished Symphony
To A Wild Rose
Triumphal March
Trout
Trumpet Tune
Vilia
Voi Che Sapete
Waltz From Faust
Watching The Wheat
Wedding March
Where E're You Walk
Wiener Blut
Winter From The Four Seasons
Your Tiny Hand Is Frozen
Popular Music
A Blossom Fell
A Certain Smile
A Hard Day's Night
A Fine Romance
After You've Gone
Against All Odds
Ain't Misbehaving
Alfie
All I Ask Of You
All My Loving
All The Things You Are
All The Way
All Out Of Love
Almost Like Being In Love
Always
Always There
Amapola
Am I That Easy To Forget?
Amor
An Affair To Remember
And I Love Her
And I Love You So
Angels
A Nightingale Sang In
Annie's Song
Anniversary Song
Anniversary Waltz
Another Day In Paradise
Any Dream Will Do
Answer Me
April Love
April Showers
Aquarius
Are You Lonesome Tonight?
Arriverderci Roma
Arthur's Theme
As Long As He Needs Me
As If We Never Said Goodbye
A Spoonful Of Sugar
As Time Goes By
A Time For Us
Autumn Leaves
A Whiter Shade Of Pale
A Whole New World
Baby Can I Hold You
Bali Hai
Ballerina Girl
Beautiful Dreamer
Because Of You
Because You Loved Me
Because You're Mine
Begin The Beguine
Be My Love
Ben
Best Of Me
Best Of Times
Bewitched
Beyond The Sea
Catch The Wind
Cavatina
Chanson D'amour
Chariots Of Fire
Charmaine
Cherokee
Clair
Climb Every Mountain
Close Every Door
Close To You
Colour My World
Colour Of My Love
Come Back To Sorrento
Come Fly With Me
Congratulations
Could I Have This Dance?
Crazy
Danny Boy
Day By Day
Days Of Wine And Roses
Dearly Beloved
Desperado
Didn't We Almost Have It All?
Do I Love You?
Domino
Don't It Make My Brown Eyes Blue
Don't Wanna Lose You
Do You Know Where You Are Going To?
Do You Love Me?
Dream Lover
Dreams Of You
Easter Parade
Easy
Edelweiss
Eleanor Rigby
Embraceable You
Endless Love
Entertainer
Estrellita
Eternal Flame
Eternally
Every Breathe You Take
Everything I Do
Everytime We Say Goodbye
Falling In Love Again
Feelings
Five Foot Two
Fly Me To The Moon
Flying Without Wings
Folks Who Live On The Hill
Fool On The Hill
For All We Know
Forgotten Dreams
For Me And My Girl
For Once In My Life
For The Good Times
From This Moment
Georgia On My Mind
Get Here
Getting To Know You
Gigi
Girl From Impanema
Give My Regards To Broadway
Godfather (Theme)
Goodbye Girl
Goodbye To Love
Goodnight Sweetheart
Greenleaves Of Summer
Groovy Kind Of Love
Hard To Say I'm Sorry
Hawaiin Wedding Song
Happy Birthday
Have I Told You Lately
Have You Ever
He Ain't Heavy
Heart And Soul
He'll Have To Go
Hello
Hello Again
Hello Dolly
Here, There And Everywhere
He Was Beautiful
Here's That Rainy Day
High Noon
Hold Me Now
Hotel California
How Am I Supposed To Live Without You?
How Are Things In Glocca Morra
How Deep Is Your Love?
How Do I Live?
How To Handle A Woman
I Believe That I Can Fly
I Can See Clearly
I Could Have Danced All Night
I Could Write A Book
I'd Do Anything
I Dreamed A Dream
I'd Rather Leave While I'm In Love
I Dreamed A Dream
If
If Ever I Would Leave You
If I Only Had Time
If I Loved You
If Love Were All
If You Could Read My Mind
If You Go Away
If You Were The Only Girl In The World
I Get Along Without You
I Got Rhythm
I Have A Dream
I Have Nothing
I Honestly Love You
I Just Called To Say I Love You
I Just Can't Stop Loving You
I Know Him So Well
I Left My Heart
I Love The Way You Love Me
I Love You Because
I'll Be Seeing You
I'll Be There
I'll Know
I'll Never Love This Way Again
I'll Never Say Goodbye
I'll Take You Home Again Kathleen
Imagine
I'm For Ever Blowing Bubbles
I'm Going To Wash That Man
I'm In The Mood For Love
I'm Looking Over A Four Leaf Clover
I'm Not In Love
I'm Old Fashioned
I'm Stone In Love With You
In The Good Old Summertime
In The Still Of The Night
In The Wee Small Hours
In Your Eyes
I Only Have Eyes For You
I Remember It Well
Isle Of Capri
Isn't It Romantic?
Isn't She Lovely?
Blowing In The Wind
Blue Room
Blue Velvet
Bridge Of Troubled Waters
Bright Eyes
Bring Him Home
Bubbles
But Not For Me
By The Time I Get To Phoenix
Bye, Bye Blackbird
Cabaret
Call The Man
Can't Buy Me Love
Can't Help Falling In Love
Can't Help Loving That Man
Can't Smile Without You
Can You Feel The Love Tonight?
Can You Read My Mind?
Careless Whisper
Carolina In The Morning
Castle On A Cloud
It Had To Be You
It Might As Well Be Spring
It's All Coming Back
It's Impossible
It's Not Unusual
It's Wonderful
It Was A Very Good Year
I've Got You Under My Skin
I've Heard That Song Before
I've Never Been In Love
I've Grown Accustomed To Her Face
I Want To Hold Your Hand
I Will Always Love You
I Will Survive
I Will Wait For You
I Write The Songs
Just The Way
Just Put Some Love In Your Heart
Just Walk Away
Killing Me Softly
Kissing You
Lady
Lady In Red
Lady Is A Tramp
Last Rose Of Summer
Last Thing On My Mind
Lately
Laughter In The Rain
Las Vie En Rose
Leaving On A Jet Plane
Let Me Be The One
Let It Be
Let Me Try Again
Let There Be Love
Let The River Run
Long Ago And Far Away
Long And Winding Road
Look For The Silver Lining
Love Changes Everything
Love Is All Around
Love Is Here To Stay
Love Is A Many Splendoured Thing
Love Is A Song
Love Is Blue
Love Letters
Loveliest Night Of The Year
Love Me Tender
Lover, Come Back To Me
Love's Old Sweet Song
Love's Roundabout
Love On The Rocks
Love Walked In
Loving You
Lullaby Of Broadway
Summertime
Sunny
Sunrise, Sunset
Take That Look Off Your Face
Talking In Your Sleep
Tammy
Tara's Theme
Tea For Two
Tears In Heaven
Tell Me On A Sunday
Tenderly
That Old Feeling
Thanks For The Memory
Thank Heavens For Little Girls
That's Amore
There Goes My Everything
There Goes My Heart
There Goes That Song Again
These Foolish Things
They Didn't Believe Me
This Can't Be Love
This Guy's In Love With You
This Is My Day
Maggie
Ma, He's Making Eyes At Me
Make Believe
Making Whoppee
Mandy
Maybe This Time
Maria
Massachusetts
May Each Day
Meet Me In St Louis
Melody Of Love
Memory
Memories Are Made Of This
Michelle
Miss You Like Crazy
Miss You Nights
Misty
Mona Lisa
Moonglow
Moonlight And Roses
Moonlight Becomes You
Moonlight Serenade
Moon River
More Than You Know
More
More I See You
More Than You Know
Mr Tambourine Man
Music Of The Night
My Favourite Things
My Foolish Heart
My Funny Valentine
My Heart Stood Still
My Heart Will Go On
My Love
My Own True Love
My Resistance Is Low
Mrs Robinson
My Romance
Mysterious People
My Thanks To You
My Way
Nearness Of You
New York, New York
Never Can Say Goodbye
Never Had A Dream Come True
Never On A Sunday
Nobody Does It Better
No Matter What
No Regrets
Nothing's Gonna Stop Us Now
Now Is The Hour
Not While I'm Around
On Golden Pond
Oh, How I Miss You Tonight
Old Fashioned Way
Old Man River
One Alone
One Day In Your Life
One Day I'll Fly Away
One Hand One Heart
One Moment In Time
One Of Those Songs
One Night Of Love
Once In A Lifetime
On My Own
Only One Road
On My Way To You
On The Street Where You Live
On This Night Of A Thousand Stars
O Sole Mio
Out Of My Dreams
Out Of Reach
Over The Rainbow
Oh What A Beautiful Morning
Paper Roses
Party's Over
Pennies Form Heaven
Penny Lane
Penny Serenade
People
People Will Say We're In Love
Perfect Moment
Power Of Love
Promise Me
Puppy Love
Put You Head On My Shoulder
Raindrops Keep Falling On My Head
Red Red Roses
Red Sails In The Sunset
Release Me
Right Here Waiting For You
Rock A Bye Your Baby
Roses Of Piccardy
Saving All My Love For You
Save The Best For Last
Scarlet Ribbon
Schindler's List (Theme)
Sea Of Love
Second Time Around
Secret Love
Send In The Clowns
Separate Lives
September Morning
Shadow Of Your Smile
She
She's Always A Woman To Me
She Loves You
She's Out Of My Life
Shine On Harvest Moon
Singing In The Rain
Sisters
Skylark
Smile
Smoke Gets In Your Eyes
So In Love
Solitaire
Some Enchanted Evening
Somebody Loves Me
Someone Like You
Someone To Watch Over Me
Something
Something Is Happening
Something Stupid
Sometimes When I'm Dreaming
Sometimes When We Touch
Somewhere
Somewhere My Love
Somewhere Out There
Song Sung Blue
Sound Of Silence
Spanish Eyes
Spanish Harlem
Stairway To Heaven
Stand By Your Man
Stardust
Stay As Sweet As You Are
Stella By Starlight
Still
Strangers In The Night
Stranger On The Shore
Sugar Sugar
Summer Knows
This One's For You
Three Coins In A Fountain
Till I Loved You
Till There Was You
Till We Meet Again
Time In A Bottle
Times Are Changing
Touch Me In The Morning
Tonight
Tonight I Celebrate My Love For You
Top Of The World
Too Late Now
Too Young
This Is My Song
Three Coins In A Fountain
Three Times A Lady
Trains And Boats
True Love
True Love Ways
Truly
Try To Remember
Turn, Turn, Turn
Two Sleepy People
Unchained Melody
Unforgettable
Until Its Time For You To Go
Uptown Girl
Up Where We Belong
Very Thought Of You
Walking My Baby Back Home
Way You Look Tonight
Way We Were
We Have All The Time In The World
We Kiss In A Shadow
We'll Meet Again
We Shall Overcome
We've Got Tonight
We've Only Just Begun
What A Wonderful World
What Can I Do?
What I Did For Love
What Kind Of Fool Am I?
What Makes A Man?
What Now My Love
What The World Needs Now
What Will I Do?
When A Man Loves A Woman
When Day Is Done
When I Fall In Love
When I Grow Too Old
When I'm Sixty Four
When I Need You
When Sunny Gets Blue
When You And I Were Seventeen
When You Say Nothing
When You Tell Me That You Love
When You Wish Upon A Star
When You're Smiling
Where Do Broken Hearts Go?
Where Do You Go To?
Where Is Love?
Whispering Grass
Who Can I Turn To?
Wind Beneath My Wings
Windmills Of Your Mind
Wishing You Were Here Somehow
With A Little Help From My Friends
With A Song In My Heart
With One Look
Without You
With You I'm Born Again
Woman
Woman In Love
Wonderful Tonight
Wooden Heart
Words
World In Union
Wouldn't It Be Lovely?
Yesterday
Yesterday Once More
You Are My Lady
You Are So Beautiful
You Are The Sunshine Of My Life
You Don't Bring Me Flowers
You Made Me Love You
You'll Never Know
You'll Never Walk Alone
You'll See
You Make Me Feel Brand New
You Mean More To Me
You Needed Me
Younger Than Springtime
Young Love
You're My Everything
Your Song
You're My World
You've Got A Friend
You've Lost That Loving Feeling
Zing Went The Strings
Louise Knight

, Wedding, Kent
Maria was amazing, I had heard her play at my friends wedding and loved the contemporary music she played, especially Disney, and just knew I had to have Maria at my wedding. Maria is also very lovely and is happy for you to give her requests even if she has never played them before, she will happily learn to play it for you - for example we requested the Jurassic Park Theme tune and Maria was more than happy to give it ago and it sounded amazing. Warble Entertainment are easy to use and give a good service. I do have a suggestion I don't know how possible it is but I think it would be a nice idea if you could buy a recorded onto CD copy of the songs played at your wedding as I would happily listen to it again and again. Thanks again Maria for helping to make our wedding day special.
---
Aaron Brown

, Wedding, London
Maria played at our wedding on the 30th March 2016. She has a beautiful gold harp which words will not do justice. Maria was well on time for setting up and extremely nice and professional. She played all the songs we requested, including A Thousand Years. She played for our ceremony and afterwards, we went outside for photos and canapés, Maria moved her harp close to the exit door so we could hear her outside as well as indoors. She is a very nice lady and we would highly recommend her to anyone wanting a harpist.
---
Katy Seppings

, Wedding, Cambridgeshire
Maria was absolutely amazing! She played all of the songs I had requested even though they were more modern than her set list. I would highly recommend.
---
Michelle Lewis - Ocean Media Group Ltd

, Other, London
Maria was great. She arrived in plenty of time was really easy to work with and played beautifully. Thank you Maria.
---
Keely Robins

, Wedding, Essex
I would like to say how impressed I was with Joanne and staff, everyone I spoke to was very helpful. Maria was wonderful, no stress no hassle, did exactly what we asked for, beautifully presented, music was fabulous. Made my daughters wedding perfect. Thank you to all involved x
---
Sam Bowman - Phoenix Group Plc

, Corporate, London
Maria was a fabulous addition to our company Christmas party - she played a variety of songs (as we requested) very well and was totally professional. I even had comments from some that they wished Maria had stayed later rather than moving onto a DJ - praise indeed! Would definitely recommend and use again.
---
Zoe Kenny

, Wedding, London
Maria was great. Not only was she professional in every sense and played like she was born to play, Maria never stopped. Guests commented on Maria's amazing ability to play the harp. Maria took the drinks reception to the next level. I would highly recommend.
---
Sue Brodie

, Private Party, London
Thanks so much to Emily and Sam at Warble for finding us a perfect harpist at unbelievably short notice - Maria was great!
---
Maria has played her harp for many venues throughout the southern counties of England.
Here are just a few of them:
Addington Palace, Ansty Hall, Coventry, Ashwells Country Club, Belvedere, Holland Park, Berkeley Hotel, Bickley Manor, Blenheim Palace, Braxted Park, Bull Hotel, Gerrards Cross, Carlton Tower Hotel, Castle Hotel, Windsor, Channels Golf Club, Chigwell Manor, Claridge's, De Rougemont Manor, Dorchester Hotel, Eastwell Manor, Excel Novotel, Fennes Estate, Five Lakes, Maldon, Forty Hall, Four Seasons, Park Lane, Grand Hotel, Brighton, Grosvenor House Hotel, Hampton Court Palace, Herstmonceux Castle, Hilton, London,Hotel Du Vin, Winchester, Madame Tussauds, Natural History Museum, Palms, Hornchurch, Park Lane Hilton, Ritz Hotel, Roof Gardens, Kensington, Savoy Hotel, Searcy's, Knightsbridge, Selfridges, London, Shendish Manor, Sheraton Park Tower, Simpsons in the Strand, Twickenham Rugby Club, Warldorf.
Please Note: The fees indicated below are approximate and based on a central location for each county. They are intended to provide a rough guide only and exact quotes can only be given once the date and exact location of your event have been provided.