Warble Entertainment's
Mike B The Caricaturist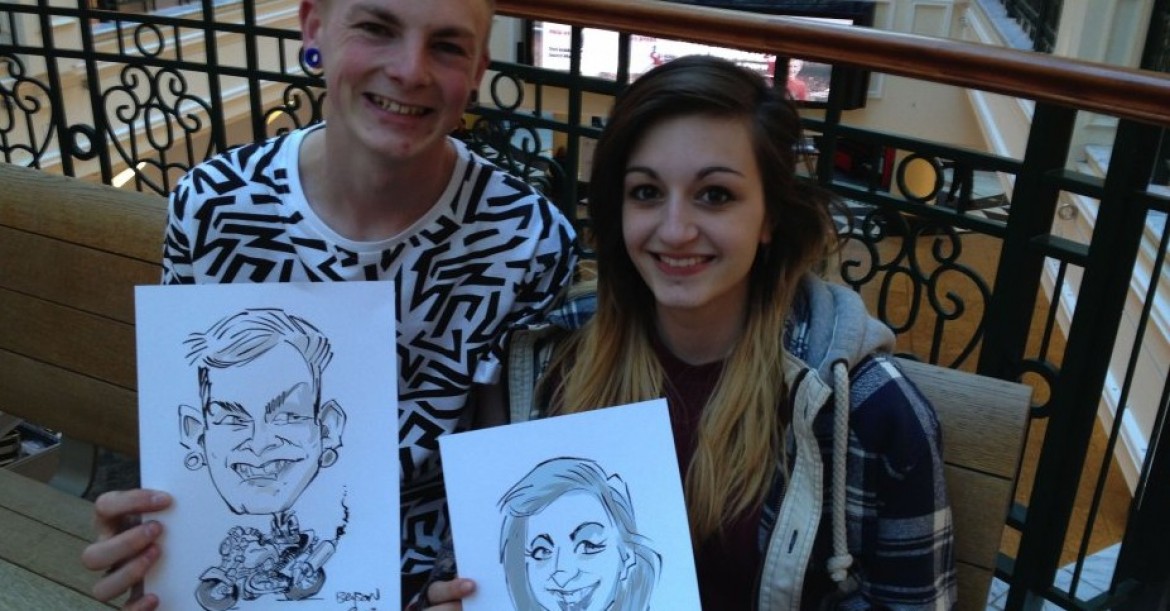 Location Lancashire
Starting from £282.00
Location Lancashire
Starting from £282.00
Introduction
Get a feel for them
Intro
Weddings, Open days, Student Balls, Corporate Functions, Barmitzvahs, Batmitzvahs, 18th Birthdays, 21st Birthdays, 30th, 40th, 50th, 60th, 70th, 80th, 90th, 100th Birthdays! Exhibition Stands, Training Days, Team Building, Award Ceremonies, Charity Balls, Anniversaries, Mess parties, Ladies days, Sportsmans dinners, Christenings, Christmas parties,Theme nights... Whatever the occasion, Mike B's spot on caricatures provide a unique entertainment for your event.
Based in Lancashire and available to book throughout the North of England.
34 reviews
Mike B The Caricaturist
Number of Reviews and Counting... 34!
Based in Lancaster, Mike is well known as a fantastic caricature entertainer at corporate and private functions in Lancashire, Yorkshire, Cheshire, Derbyshire, North Midlands and the Lake District. His caricatures are lightning fast, funny, but accurate and flattering (within reason!).
Mike is happy to draw people individually or in couples or in small groups. He rattles along getting through 20 people and more every hour.
If given advance notice Mike can draw large groups (20 plus) - live and on the spot!
Mike uses permanent ink directly on white card, using a brush pen and grey toner, which dry instantly, and won't run even when you spill your lemonade on it!
Beth Thompson

, Wedding, Abbey House Hotel, Cumbria
Mike was absolutely brilliant! Everyone commented how amazing he was - 3hours of drawing is incredible! Thank you! Would fully recommend!
---
Sue Lacey - RSA Motability

, Corporate, Crowne Plaza, Liverpool
Amazing - what else can I say?
---
Donna Cartmel

, Wedding, Astley Bank Hotel, Lancashire
He was brilliant and everyone loved it! I just wish I'd booked him for longer than the 2 hours!
---
Alan Chadwick and Helen Berry

, Wedding, Lancashire
Absolutely fabulous, what a great talking point! Mike just came and introduced himself and starting working straight away. Everyone who received a picture from him was impressed with the likeness that he had captured. Out of 105 guests, there were only a few who didn't receive a picture or who didn't want one. Mike was very friendly with all the guests. Well worth booking Mike B.
---
Louise Charlesworth - Spire Cheshire Hospital

, Corporate, Nunsmere Hall Hotel, Cheshire, Cheshire
Really lovely man who made every effort to see everyone. Team shots to single shots. Thank you for the night!
---
Anne Thorpe

, Wedding, Lancashire
Absolutely fantastic, arrived on time and got to work straight away. All of our guests thought Mike was amazing and his sketches are spot on. We would definitely recommend him to everyone. We all had a real giggle at each others pictures and they were a great keepsake from our wedding. We cannot thank Mike enough for making our wedding so memorable to our guests.
---
Lizz Beahan

, Other, Samlesbury Hall, Lancashire, Lancashire
Mike B arrived early to prep for his work at my party. He started work on time and worked tirelessly and extremely quickly to get round to drawing many people. Everyone was delighted with their caricatures that Mike produced and all were amazed at the results. Some of my guests have already put Mike's artwork in a frame for their wall at home. He was an excellent choice and I highly recommend him. Thanks, Lizz.
---
Kerry-Louise Powrie

, Wedding, Beeston Manor, Cheshire, Lancashire
Absolutely fantastic! Mike was perfect for our wedding and all our guest loved having his great drawings to take away with them. 5* and would definitely book him again!
---
Aoife Nugent

, Wedding, Manchester Monastery, Gorton, Manchester
Mike was brilliant from start to finish and our guests loved their drawings. Thank you so much Mike!
---
Stefanie Makin

, Wedding, Liverpool
Fantastic! The guests were made up. :) Highly recommended, thanks Mike.
---
Michelle - CIH Conference

, Corporate, Hotel Gotham, Manchester
Mike was simply superb. A professional with a ready wit, he was happy to create caricatures of not only our guests, but also their families and pets! He took it all in his stride and produced some wonderful mementos that our guests will cherish. Thank you! Our thanks also to Adam at Warble, who was very patient as we explored entertainment options for our corporate event. Despite going back and forth over a series of months, he was endlessly patient and helpful in coordinating the details.
---
Amy Valley

, Wedding, The Inn on the Lake, Glenridding, Cumbria, Cumbria
I can not praise Mike enough. He has been fantastic from start to finish. Mike's communication has been brilliant. On the day he mingled very well with guests and everyone spoke very highly of him. I love his quirky nature and he's a genuine nice guy! His drawings are absolutely amazing. I was blown away with how realistic they were and how fast he was. I would have no hesitation in recommending him and hope to use him again in the future. Thanks Mike... very talented and lovely man!
---
Louise Wagstaff - Sanderson Weatherall LLP

, Other, Leeds
Mike attending our staff Christmas party and was brilliant. Everyone was happy with their pictures there were no tears. I would definitely recommend Mike to other companies, friends & family events.
---
Karen Whittaker

, Wedding, Leeds
Pleasant gentleman, arrived on time and covered the majority of the wedding party (250).
---
Rachel Moorhead

, Wedding, West Yorkshire
Excellent service provided by Mike. All of our guests were really impressed with his exceptional skills and we would definitely recommend him to family and friends.
---
SH

, Festival, West Yorkshire
Mike was a great artist and really wowed our shoppers with his sketches.
---
Sarah Dobson

, Wedding, Cumbria
Mike just got to the venue and started right away, moving through the room. His pictures were fantastic and he managed to get a good amount of guests done, everyone was really impressed by his work. I am very pleased we booked him, and would reccomend to anyone.
---
Julie Aimson

, Wedding, Cheshire
Mike was incredible and everybody loved him and his drawings. It really gave an extra buzz to the evening to have him there and I am very grateful for his efforts and for his work.
---
Olivia Checa-Dover

, Wedding, Leeds
He was fantastic, all our guests loved him.
---
Karen Whittaker

, Other, West Yorkshire
efficient and super fast good communicator
---
Lindsay Dunn

, Wedding, Lancashire
Just want to thank Mike for delivering a wonderful professional service at my wedding. I was amazed at the pictures he could draw so quickly. Everyone commented to me at the wedding and afterwards at how good he was. I will definately recommend him! Thank you so much! Love Lindsay and Dean (bride and groom).
---
Gareth Stokle - Redmayne-Bentley

, Corporate, West Yorkshire
Very good and very professional.
---
Jade Price - Rosemont Pharmaceuticals

, Private Party, Leeds
Very good!
---
Helen Finnerty

, Wedding, West Yorkshire
A great service from Danielle at Warble entertainment, thank you. Mike was a real bonus at the wedding, all the guests were thrilled with their drawings, thank you Mike. I would certainly recommend and use again, a real pleasure.
---
Jonathan Spall

, Birthday Party, North Yorkshire
The acts Silk Street booked for our client's Birthday Party through Warble Entertainment were very professional, reliable, friendly and accommodating. The entertainment was to a very high standard and we would have no hesitation in recommending or using their services again.
---
Tina Flowers

, Wedding, East Yorkshire
Mike turned up early and was ready at the appointed time and had a queue all night which I think speaks for itself. Wedding guests still talking about it. So, thank you Mike.
---
Chris Marsh & Claire Weatherall

, Wedding, Northumberland
Mike B was an amazing part of our wedding day. We would highly recommend him and all our guests loved the idea.
---
Sue Cawood-Train

, Private Party, Cumbria
Mike was brilliant, could not fault his work in any way. 100% every one was delighted. True professional, would recommend your service to anyone thank you so much. Cheers Sue
---
Alan Darby

, Corporate, East Yorkshire
Mike was an excellent addition to our exhibition stand at the conference we attended. He was a hit with the delegates and really set our stand apart from the competition.
---
Caroline Wilkinson

, Wedding, North Yorkshire
The booking process was simple. Communication was excellent. The agency found someone for us with only 3 weeks notice. Mike was absolutely brilliant! I chose him because he had the most positive feedback on the agency website. He truly deserves it! Mike mingled unobtrusively with the guests straight away and worked hard for 3 hours drawing his wonderful caricatures, much to the delight of all the guests. He was a massive and popular hit with everyone enhancing the occasion. Our wedding guests were thrilled to be given their pictures to take home. Quite a few have become FB profile piccies! I am so sorry that he was not thanked in the speeches as everyone would have given Mike a huge standing ovation. I cannot recommend him enough! Thank you Mike for helping to make our wedding day memorable and very special! Caroline and Giles
---
Steve Dance

, Wedding, Derbyshire
Perfect professional, personable and very good with all our guests. Worked very hard throughout the evening, completing more drawings than we expected. Very high quality work, all the guests commented on how superb Mike's work was and we would highly recommend him to anyone wanting to book a caricaturist for an event. Can't praise Mike highly enough and would you please pass on our thanks to him for making our day extra special. Booking process was simple and Warble were very helpful in keeping us informed as to what we needed to do at all points throughout. Perfect marks to all concerned.
---
Sarah Smith

, Wedding, North Yorkshire
Mike B is an excellent artist and did not disappoint. Very professional standard and service was a great addition to our wedding reception and would very highly recommend to anyone. Sarah and Jonathan Kingston
---
Ann Pratt

, Wedding, Shropshire
Mike attended my daughters wedding reception and was such a big hit with all the guests. He arrived on time and working tirelessly for the 2 hours we had booked him. He was very pleasant and his work was very professional. Everyone was eager to have their faces sketched and were impressed enough to add them on various social media sites. One word to sum Mike B up is BRILLIANT!!
---
Katie Matthewman (Opus)

, Corporate, Leicestershire
Mike was fantastic - the guests loved him and I would recommend him to anyone. Thank you for helping make a great event
---
Nike, The RAF, The Army, Coca Cola, Merck, Astra Zeneca< BAE systems, Deloittes, The Co-op, Asda, Halifax PLC, Barclays Ccapital, IKEA, Lloyds, Arla Foods, The Law society, JP Morgan, Meadowhall, Burton on Trent MBC, Korklees MBC, Oxford Uni, Durham Uni, NHS, Rolls Royce, and hundreds of weddings and private parties...
How long does each picture take?
About 3 minutes per person.
Are the pictures free to guests?
Yes, absolutely free to your guests.
What size are the drawings?
I usually work on A4, as its easier to carry around at a function. If asked in advance I will work on larger paper, especially if I'm commissioned to draw people in groups.
Each drawing is presented in a clear plastic folder to protect it.
Mike performs for two, three and sometimes four hours.
Please Note: The fees indicated below are approximate and based on a central location for each county. They are intended to provide a rough guide only and exact quotes can only be given once the date and exact location of your event have been provided.
Scotland
Ayrshire
£420.00
Dumfries-shire
£348.00
Glasgow
£480.00
Edinburgh
£480.00
Foreign Locations
Europe
£600.00
Rest of the world
£780.00
North East
Durham
£360.00
Northumberland
£360.00
North Yorkshire
£324.00
South Yorkshire
£360.00
Tyne and Wear
£384.00
West Yorkshire
£300.00
Yorkshire
£300.00
East Yorkshire
£360.00
Leeds
£312.00
North West
Cheshire
£324.00
Cumbria
£300.00
Manchester
£282.00
Lancashire
£282.00
Merseyside
£288.00
Liverpool
£288.00
East Midlands
Derbyshire
£360.00
Leicestershire
£360.00
Lincolnshire
£432.00
Northamptonshire
£342.00
Nottinghamshire
£384.00
Rutland
£408.00
Wales
Anglesey
£360.00
Caernarvonshire
£360.00
Denbigh
£360.00
Flint
£360.00
Wrexham
£348.00
West Midlands
Gloucestershire
£360.00
Herefordshire
£360.00
Shropshire
£324.00
Staffordshire
£330.00
Warwickshire
£348.00
Worcestershire
£360.00
Birmingham
£360.00
South East
Oxfordshire
£480.00
London
£480.00
South West
Cornwall
£600.00
Devon
£540.00
Dorset
£540.00
Somerset
£540.00
Wiltshire
£540.00
Bath
£480.00
Bristol
£480.00
You may also like
Customers who have enquired for Mike B the Caricature artist for Weddings have also been interested in the following Caricaturists available in Lancaster and in the North of England. For more information or further options, please call 0845 643 9384.